Content
Why is EUR/CHF important to traders?
The currency pairing of the euro and Swiss franc is one of the most popular pairs for traders on the forex market. It's actually what's known as a cross-currency pairing, which means that the pair is traded directly as opposed to first being converted into a base currency such as the USD.
As the third-most frequently traded cross currency pairing on the forex market, the volume and daily movement in EUR/CHF trading can often offer up big opportunities for traders and investors.
Of course, as with all currency pairings, there is a lot more to EUR/CHF than meets the eye. Throughout the next few sections, we're going to dive into the history of the two currencies, what major factors influence the EUR CHF exchange rate, and why people choose to trade it.
Start trading currency majors with the largest range of forex markets at Capital.com.

EUR/CHF trading hours
Theoretically, you can trade forex pairs 24/7, but there are prime times to trade the EUR/CHF when the currency pair is more volatile. The EUR/CHR is generally busy between 08:30 and 15:30 (GMT).
EUR/CHF history
The history of the euro is much shorter than the majority of other currencies. Despite this, the euro has proved to be one of the most popular currencies to trade.
Conceived towards the end of the 20th century, the euro hit a few stumbling blocks during its early years through various European crises, both economic and political in nature. Now, it is considered one of the most popular monetary units to trade in around the globe.
The history of the Swiss franc goes back much further than the euro. During the 1700s and 1800s, Switzerland had a huge variety of separate coins in circulation, including a large number of foreign currencies being used on a regular basis. In an effort to consolidate the currency, the Swiss franc was introduced as the main monetary unit throughout the country.
Trade Euro / Swiss Franc CFD
Throughout its history, the Swiss franc has often been regarded as something of a safe-haven currency. Historically, there was virtually zero inflation in the franc and, because of legal requirements, a minimum of 40% was backed by gold reserves.
Both the sovereign debt crisis of Greece and the US sub-prime lending crash pushed the Swiss franc rates upwards as investors sought a safe destination. The franc was the natural answer, as the strength and safety of the currency have long been hailed as one of its most popular and attractive features.
Throughout EUR/CHF history, the pairing has proven to be popular and EUR/CHF trading is actually the third-most frequent cross-currency trade being made in the foreign exchange market. With that in mind, in the next section, we're going to explore what factors can actually influence prices.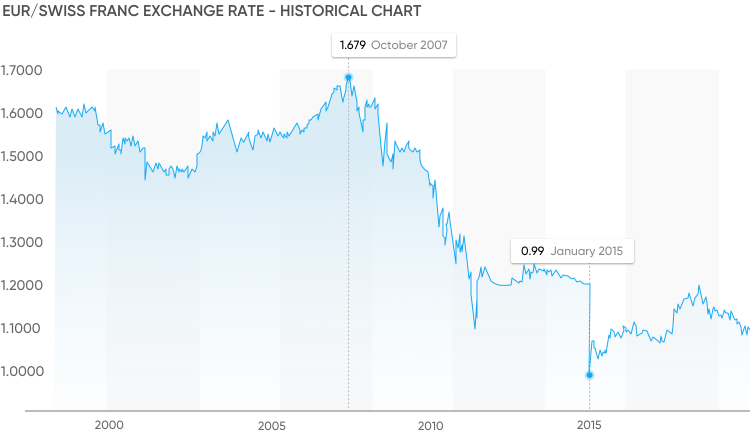 Factors influencing the EUR/CHF rate
Every currency pairing has distinct factors which can cause the rate to rise or fall. Let's take a look at what specifically can affect the EUR/CHF rate and what information traders should look at. We'll start with the euro and then take a look at the franc.
Role of EUR
The European Central Bank (ECB) releases monthly reports about the economic health of the European economy. This information can be essential for traders and investors and can affect the value of the euro. Interest rates and other details that can help traders figure out which way the euro could move can be found in reports like these.
There are, however, other factors which come into play when determining which way the euro will move, including: employment figures around Europe, import/export data, and the various crises that can occur throughout the economic and political landscape.
Role of CHF
Despite having a relatively small economy, Switzerland has very strict banking policies in place which can massively affect the overall movement of the price of the franc. This is partly due to the fact that the country has historically been viewed as somewhat of a neutral country politically, and a leading force for financial privacy and security.
GDP data is regularly released which details many factors which can influence the CHF. Figures about trade balances, inflation rates, retail sales, industrial production, employment figures can be scoured for information which could help indicate how the Swiss franc price could move.
How to trade EUR/CHF
Trading CFDs on EUR/CHF
In EUR/CHF investing and trading, the use of CFDs on the forex market is immensely popular. CFDs are 'contracts for difference' and are a speculative form of trading.
Looking for a reliable CFD trading provider? If so, just spend 3 minutes of your time to sign up and start trading EUR/CHF CFDs with Capital.com. Try our award-winning trading platform or download our mobile app, which will become your smart CFD trading assistant.
Why trade EUR/CHF CFDs on Capital.com?
Advanced AI technology at its core: A Facebook-like news feed provides users with personalised and unique content depending on their preferences. If a trader makes decisions based on biases, the innovative News Feed offers a range of materials to put him back on the right track. The neural network analyses in-app behaviour and recommends videos, articles, news to polish your investment strategy.
Trading on margin: Providing trading on margin (30:1 for forex pairs), Capital.com gives you access to the EUR/CHF pair with the help of CFDs.
Trading the difference: By trading CFDs on EUR/CHF, you speculate on the rise or fall of its price. CFDs trading is no different from traditional trading in terms of its associated strategies. A CFD trader can go short or long, set stop and limit losses and apply trading scenarios that align with his or her objectives.
All-round trading analysis: The browser-based platform allows traders to shape their own market analysis and forecasts with sleek technical indicators. For instance, a trader could choose to have EUR/CHF analysis and forecasts as a big part of their feed. Capital.com provides live market updates and various chart formats, available on desktop, iOS, and Android.
Focus on safety: Capital.com puts a special emphasis on safety. Licensed by the FCA and CySEC, it complies with all regulations and ensures that its clients' data security comes first. The company allows to withdraw money 24/7 and keeps traders' funds across segregated bank accounts.
FAQ
How is forex different to other markets?

For somebody new to the world of the foreign exchange market, it can seem like an intimidating place. However, once you've grasped the basics, trading on forex is actually quite similar to other markets. There are just a few key differences.

Because there is no central exchange, the volumes can be huge in comparison to other markets. This results in lowering the overall cost to traders.
What is it that I'm buying and selling in forex?

This is a question that many people ask when they're first getting to grips with how the system works. If you're used to traditional trading, you might wonder what exactly is different here.

The simple answer is this; If you believe that the euro rates will rise, and the Swiss franc will fall, then you would buy the euro and sell the franc. All of this is done in one simple transaction when trading using CFDs.
I keep seeing the word 'pip,' what does it mean?

A pip is merely the smallest increment of trade in the foreign exchange market. It stands for 'percentage in point.' EUR/CHF is quoted to four decimal points, so a pip is just the lowest amount that can possibly be added to (or subtracted from) this figure.
Does Capital.com charge commission for forex trading?

The simple answer is 'no' – Capital.com makes money through the bid-ask spread. This is different from traditional trading where a broker would earn commission on every buy and sell that the customer takes part in.