Ethereum Classic price prediction: Can ETC thrive?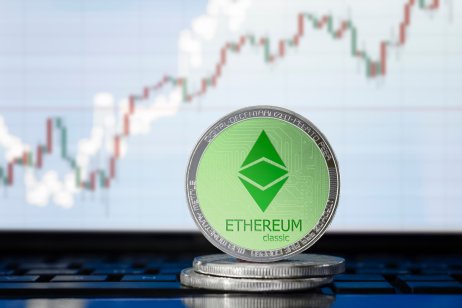 Ethereum (ETH) is one of the two top cryptocurrencies, along with bitcoin (BTC).; However, there is another version of ethereum that claims to be the truly authentic one.
That is ethereum classic (ETC), the coin that stuck to the original blockchain after a hard fork prompted by network hacks in 2016.
Now that ETH has completed its transition to a proof-of-stake (PoS) consensus mechanism from a proof-of-work (PoW) one while ETC maintains its PoW status, the latter could turn out to prove more popular as a store of value, thanks to its cheaper price.
Let us take a closer look at ethereum classic (ETC), and also look at some of the ethereum classic price predictions that were being made as of 13 April 2023.
Ethereum classic explained
The Ethereum blockchain was launched in 2015 after two years of development by co-founders Vitalik Buterin and Gavin Wood, along with Charles Hoskinson and Anthony Di Iorio.
In June 2016, members of the Ethereum community began an intense debate over a potential hard fork, or split, after a hack of the decentralised autonomous organisation (DAO) that resulted in the theft of 3.6 million ether coins.
Though the members of the community (and which side of the debate they took) remain anonymous, the side urging for a revision to the blockchain eventually won the argument and on 20 July 2016 created a hard fork of Ethereum, which is now ETH, the second biggest crypto.
What is your sentiment on ETC/USD?
Vote to see Traders sentiment!
Original Ethereum blockchain diverges after split
Ethereum Classic, on the other hand, is a continuation of the original blockchain after a substantial number of miners decided not to go with the fork. They held to the principle that "code is law," despite the hack. Exchanges supported both blockchains, allowing the Ethereum Classic legacy network to continue with ETC as its native coin.
The two blockchains have diverged as the ETH blockchain moved towards a series of updates to create Ethereum 2.0, including a shift from the energy-intensive proof-of-work (PoW) algorithm to the more environmentally friendly proof-of-stake (PoS) mining algorithm.
There are no plans for Ethereum Classic to convert to PoS. There is also no official development team for Ethereum Classic. Instead, several development groups are working on updates to the open-source code.
The Merge offered opportunities for Ethereum Classic to pick up users that may prefer the previous version. The Mantis IOHK Twitter account tweeted ahead of the Ethereum hard fork on 5 August 2021: "Ethereum's move to PoS and Sharding may disrupt many in the community who prefer PoW and a strong base-layer approach to blockchain security. This is where #EthereumClassic becomes a viable alternative for #Ethereum projects to migrate to."
A number of attacks have affected the ecosystem, prompting blockchain infrastructure research and engineering company IOHK, which was founded by Charles Hoskinson, to launch the Mantis project to roll out upgrades and support the community.
Like Ethereum, Ethereum Classic operates as a smart contract network and can host decentralised applications (dApps). As the ETC price rises, the rewards miners receive for verifying blocks increase, incentivising more miners to join the network and increase its network security.
As activity on the Ethereum Classic blockchain fell, it became more vulnerable to attack. In January 2019, there was a double spend of $1m in ETC on the Coinbase cryptocurrency exchange in a 51% attack, which can only occur if one entity or collective owns at least 51% of the network. Coinbase and several other exchanges paused ETC transactions, and the price dropped in response.
On 24 July 2021, Ethereum Classic executed a hard fork called Magneto to implement a series of features from the Berlin hard fork on the Ethereum blockchain that happened earlier in the year, as these features offered network security enhancements.
Last year the co-operative started to support work on the Hyperledger Besu client and recruited key developers for the ETC Core Team. On 22 December 2021, it announced that development work on the Core-Geth client would be funded by the ETC Cooperative.
ETC price history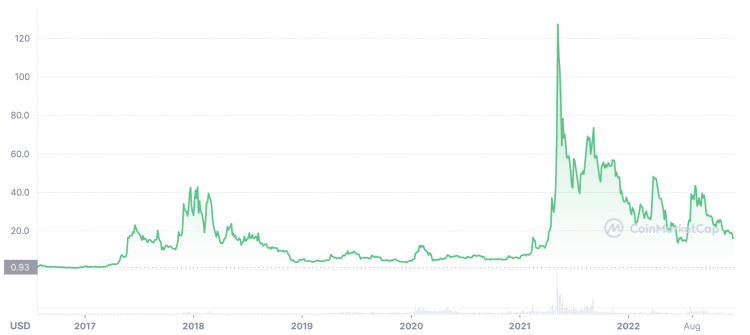 Let's now cast our eyes over the ETC price history. While past performance should never be taken as an indicator of future results, knowing what the coin has done in the past can give us some much-needed context when it comes to either making or interpreting an ethereum classic price prediction.
ETC was worth $2.08 when the blockchain split in July 2016. The price had fallen to $0.75 by November 2016, where it bottomed out. The coin then accelerated to reach $46 by December 2017. A subsequent crash took the price back down to $3.76 by December 2018.
It had returned to $12.34 in February 2020, its highest level since 2018. The price f ell to $4.51 in March 2020 as markets across the board as a result of anxiety related to the COVID-19 pandemic, and ETC traded in a range between $4 and $6 for the rest of the year.
The start of 2021 was a good time for crypto, and ETC was able to take advantage of more and more people getting involved. It reached an all-time high of $176.16 on 6 May 2021, then dropped back sharply as the market crashed. As with other crypto prices, ETC bottomed out on 22 June, dropping to a low of $32.51.
Ethereum classic reached $76.94 on 15 August 2021, its highest level since the fall from May's highs while, on 6 September, it reached a periodic high of $77.07. After that, though, it slipped back down and fell to close the year at $34.12.
2022 has been a poor year for crypto and ETC has not escaped various downturns. It hovered around the $30 mark for most of January, but rebounded in March to reach a high of $52.17. From there, a series of market crashes saw it drop to a low of $12.60 on 18 June. It recovered and spent a few months hovering between $20 and $30, before the collapse of the FTX (FTT) exchange saw a market crash which sent the coin down to a low of $14.89 on 19 December.
By the end of the year, it had recovered to $15.69, representing an annual drop of nearly 55%. Although the coin had suffered losses throughout 2022, it had outperformed the crypto market, which dropped around 65% over the course of the year.
So far, 2023 has been a somewhat positive year for cryptocurrency, and ETC has risen in price. Its zenith came on 4 February, when it traded at a high of $24.79. There was then a fallback, with things made worse by the collapse of the Silvergate bank. This led to ETC trading at a low of $16.25 on 10 March. The crypto was able to recover, aided in part by a growing interest in ETH caused by a new hard fork and, on 13 April, ethereum classic was worth about $22.55.
At that time, there were just over 140.4 million ETC in circulation out of a total supply of 210.7 billion. This gave the coin a market cap of about $3.1bn, making it the 23rd largest crypto by that metric.
Ethereum Classic price predictions
Before we look at some of the ethereum classic price predictions that were being made as of 13 April, it is important to remember that price forecasts, especially for something as potentially volatile as cryptocurrency, are very often wrong. Long-term crypto price predictions are often made using an algorithm, which can change at a moment's notice.
CoinCodex had a short-term ethereum classic price prediction for 2023 that suggested the price could rise to $24.24 by 18 April and $21.12 by 14 May. The site's technical analysis wasneutral, with 23 indicators making bullish signals and eight making bearish ones.
WalletInvestor made a downbeat ETC coin price prediction, suggesting the coin could fall down over the course of the next 12 months to stand at just $5.31 on 13 April next year.
DigitalCoinPrice gave an ETC crypto price prediction that said the coin could reach an average of $42.91 this year. Its ethereum classic price prediction for 2025 forecast it would stand at $78.23. The site predicted that ETC would reach $236.57 in 2030.
The ETC price prediction from Gov Capital put the price of the coin at around $52.95 on 13 April next year, rising to $225.01 in five years' time.
When considering an ETC price prediction, it is important to keep in mind that cryptocurrency markets remain extremely volatile, making it difficult to accurately predict what a coin or token's price will be in a few hours, and even harder to give long-term estimates. As such, analysts and algorithm-based forecasters can and do get their predictions wrong.
If you are considering investing in any cryptocurrency, we recommend you always do your own research. Look at the latest market trends, news, technical and fundamental analysis, and expert opinion before making any investment decision. Keep in mind that past performance is no guarantee of future returns, and never trade with money that you cannot afford to lose.
FAQs
Is ethereum classic a good investment?

We don't know. While ETC has been doing well over the past couple of months, there is nothing to guarantee that it will not decline into a tailspin at any point.

Remember, you should always carry out your own thorough research before making an investment. Even high-market-cap cryptocurrencies have proved vulnerable to the current bear market, so investors should be prepared to make losses and never purchase more than they can afford to lose.
Will ethereum classic go up or down?

It is hard to say. A lot will depend on how the market responds to Shapella, and whether ETC can end up attracting former ether miners. As it stands, the likes of WalletInvestor are bearish while sites such as DigitalCoinPrice are bullish. Remember, price predictions very often end up being wrong, and prices can and do go down as well as up.

In volatile cryptocurrency markets, it is important to do your own research into a coin or token to determine if it is a good fit for your investment portfolio. Whether ETC is a suitable investment for you depends on your risk tolerance and how much you intend to invest, among other factors. Never invest any money that you cannot afford to lose.
Should I invest in ethereum classic?

This is a question that you will have to answer for yourself. Before you do so, however, you will need to conduct your own research. Never invest more money than you can afford to lose, because prices can go down as well as up.