Who owns the most bitcoin?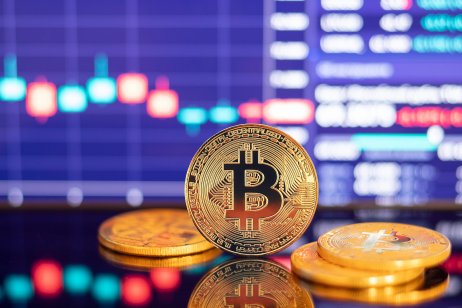 Content
Bitcoin (BTC) is pretty much the first cryptocurrency and, with a market cap of $529bn as of 23 March 2023, it is certainly the biggest. The coin's market dominance is such that any crypto coin that isn't BTC is classified as an altcoin, meaning that its defining characteristic is that it is not bitcoin. In fact, it could be said that, in the eyes of many, bitcoin and cryptocurrency are the same thing.
The number of active BTC-holding addresses surged from about 1,000 in July 2010 to a peak of more than 1.3 million by April 2021 at the height of that year's cryptoboom and, by 2 March 2023, there were more than 850,000 people who held the coin.
But who are the largest holders of bitcoin and many bitcoin holders have enough of the crypto to be classified as major players, the so-called whales? Let's take a look who owns the most bitcoin.
Bitcoin explained
First, though, let's take a look and see if we can explain a little about what bitcoin actually is.
Bitcoin is a peer-to-peer electronic cash system that allows its holders to make online payments directly from one party to another without going through a financial institution.
The system's pseudonymous founder Satoshi Nakamoto published the Bitcoin whitepaper in October 2008. The first block on the Bitcoin network was mined in January 2009, which rewarded its miner with the first BTC.
New bitcoin are rewarded to so-called miners, people who validate transactions and add the history of transactions to the public blockchain ledger by solving complex mathematical equations using what is known as a proof-of-work (PoW) consensus mechanism.
BTC's market cap hit more than $1.27trn at its peak in November 2021 when it reached an all-time high of $68,789.
In 2022, however,a series of market crashed damaged both bitcoin and crypto in general, with BTC dropping by nearly 65% over the course of the year. By 23 March 2023, the price of bitcoin stood at roughly $27,380.
Bitcoin has a hard cap, which means that only a certain number of bitcoin can ever be minted. The maximum supply of bitcoin is capped at 21 million.
Furthermore, the emission rate of bitcoin is designed to reduce over time in a process called halving. Halving takes place every 210,000 blocks, which is roughly every four years, and sees the rewards for mining bitcoin cut in half.
The most recent halving event occurred in May 2021, when mining rewards dropped from 12.5 BTC per block to 6.25 BTC per block. The next halving event is expected to occur in 2024 after which BTC emissions will drop to 3.125 BTC a block.
As of 23 March 2023, more than 19.3 million BTC has been mined, representing 92% of maximum BTC supply, according to CoinMarketCap. Less than two million bitcoin are left to be mined. The last bitcoin is expected to be mined in the year 2140.
Who owns the most bitcoin: Meet the whales
According to bitcoin-focused asset manager River Financial, Satoshi Nakamoto is estimated to be the biggest bitcoin holder in possession of more than one million BTC stored in roughly 22,000 addresses. The site argued that none of Nakamoto's holdings, barring a few test transacctions have ever been moved,
Wallet address data compiled by BitInfoCharts found that the top holders of bitcoin were addresses linked to the Binance (BNB) and BitFinex crypto exchanges.
A Binance wallet was the single richest address, with 248,597 BTC worth more than $6.8bn and representing almost 1.3% of the circulating BTC supply. The BitFinex wallet held 168,010, or about 1.02% of BTC's current circulating supply, while the third wealthiest, which held 127,351 bitcoin, was also linked to Binance. .
It should be noted that while blockchain data is transparent and wallet balances are viewable to the public, the identity of a wallet address holder remains anonymous unless voluntarily disclosed. The largest anonymous whale came in at number four on the list, with 119,347 BTC worth around $3.27bn.
According to a report by American think tank the National Bureau of Economic Research, published in October 2021:
"Determining the concentration of ownership is more complicated than just tracking the holdings of the richest addresses, since many of the largest addresses belong to cold wallets of exchanges and online wallets, which hold bitcoin on behalf of many investors."
Several corporations have accumulated BTC over the years. US-based software company MicroStrategy (MSTR) was the world's biggest publicly traded corporate owner of bitcoin.
MicroStrategy said in its earnings report for the fourth quarter of 2022 earnings results had holdings to 132,500 BTC, worth about $2.194bn on 2 February 2023.
Tesla (TSLA), the company headed by noted crypto enthusiast Elon Musk, was also among the biggest bitcoin holders at one point. However, the company announced on 20 July 2022 that it had sold 75% of its bitcoin holdings by the end of the second quarter of that year.
The electric carmaker did not disclose the amount of bitcoin it held. In its fourth quarter 2022 earnings result, the company reported "digital assets" worth $2.563bn, as of 31 December 2022 on its balance sheet, up from $2.016bn a year previously.
Meanwhile, the total number of bitcoin held by the nation of El Salvador was about 2,301, as of 15 June 2022, according to news agency Fortune, based on purchase announcement by El Salvador president Nayib Bukele on Twitter.
The central American nation's total bitcoin holdings is shrouded with mystery. El Salvador's Anti-Corruption Legal Advisory Center tweeted on 31 October 2022 that the nation's development bank, BANDESAL, refused "for the second time" to provide information on the purchase and sale of bitcoin by the Salvadoran government.
In summary
For retail bitcoin holders, it might be useful to know who has the most bitcoin, as wallets holding large quantities of BTC can have significant influence over its price. As the National Bureau of Economic Research said:
"From a public policy perspective, it is important to understand the ownership and concentration of bitcoin holdings since it determines who is positioned to benefit most from any price appreciation.".
The wallet addresses belonging to individuals or organisations with large holdings are known as whale addresses, and the holder is known as a whale.
According to Binance Academy, a BTC whale is someone who holds at least 1,000. Data from BitInfoCharts said that, as of 2 March 2022, there were 2,012 addresses which qualified as whales by that measurement.
It should be noted that BTC is more evenly distributed than other cryptocurrencies. According to crypto analytics site IntoTheBlock, BTC's concentration among large holders stood at 11% of its circulating supply on 2 March 2022.
In comparison, smart contract leader ETH's concentration among large holders stood at 39%, while Polygon's MATIC crypto had a large-holder concentration of 85% and the DOGE memecoin had a 65% concentration of large holders.
The National Bureau of Economic Research noted that the Bitcoin ecosystem "is still dominated by large and concentrated players, be it large miners, bitcoin holders or exchanges.
"This inherent concentration makes bitcoin susceptible to systemic risk and also implies that the majority of the gains from further adoption are likely to fall disproportionately to a small set of participants."
Note that all trading contains risk of losses. Always conduct your own due diligence before trading, looking at the latest news, fundamental and technical analysis and analyst commentary.
Remember that your decision to trade should depend on your risk tolerance, account size and trading strategy, and your experience in the markets. Never trade money you cannot afford to lose.
FAQs
How many bitcoin holders are there?

The number of active BTC-holding addresses rose from about 1,000 in July 2010 to a peak of more than 1.3 million by April 2021, according to data from blockchain research firm Glassnode before settling at around 850,000 on 23 March 2023.
How many bitcoin millionaires are there?

According to data from BitInfoCharts, there were 72,117 wallets with bitcoin worth more than $1m as of 2 March 2023.
What is the total supply of bitcoin?

Bitcoin has a hard cap, which means that only a certain number of bitcoin can ever be mined. The maximum supply of bitcoin is capped at 21 million. As of 23 March 2023, more than 19.3 million bitcoin have been mined, representing 92% of maximum BTC supply.
Who created bitcoin?

Bitcoin is said to be created by its pseudonymous founder Satoshi Nakamoto, who released the Bitcoin whitepaper in October 2008.
What makes bitcoin unique?

Bitcoin is known to be the first cryptocurrency to gain global attention. The absence of venture capitalists, seed investors and initial coin offering, which is very common in the cryptocurrency sector today, has helped BTC maintain a low concentration of large holders.