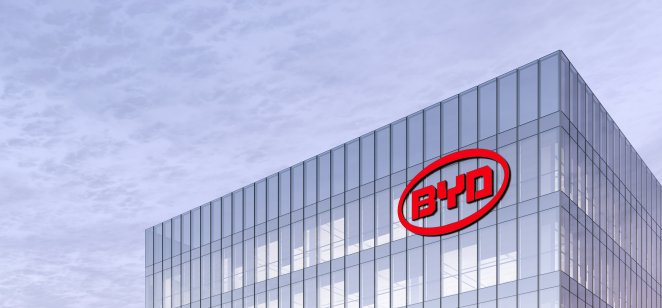 Content
BYD (1211), the Chinese electric vehicle manufacturer, saw its stock price temporarily plummet 12% on speculation that leading investor Warren Buffett was selling his stake in the company.
The rumours started when a 225 million share BYD (1211) stake, which matched the holding of Buffett's Berkshire Hathaway conglomerate, appeared in Hong Kong's clearing system. And they were enough to send the share price of the world's third largest automaker tumbling from HK306.8 to HK268.2 during mid-July 2022.
Although the BYD stock price has since recovered, what does this mean for the company's longer-term prospects? In this BYD stock forecast, we take a look at BYD's recent earnings, examine the broader electric vehicle market, and ask analysts for their predictions.
What is BYD? Facts about the company
BYD's history can be traced back to 1995 when it started developing rechargeable batteries, with the goal of creating a clean-energy ecosystem that reduces our reliance on fossil fuels.
Its growth has been rapid. Over the past 27 years it's transformed from a relatively small start-up with 20 employees, to a global giant employing more than 230,000 people. Overall, the company now has more than 30 industrial parks across six continents and is involved in electronics, automobiles, new energy, and rail transit.
BYD has been involved in electric vehicles since 2003. The company has focused attention on research and development, with chief designer Wolfgang Egger leading an international team.
According to Morningstar, the automobile segment contributes about half of company revenue.
This includes manufacturing and selling electric and internal combustion vehicles, primarily passenger vehicles and buses, as well as low-carbon urban rail transportation products.
What is your sentiment on 1211?
Vote to see Traders sentiment!
BYD stock performance
BYD stock started trading on Hong Kong Stock Exchange (HKEX) in 2002 at RMB 1.00 a share. In 2011 the company also listed in Shenzhen (SZSE), at CNY 18.
In 20 years, BYD's share price has grown over 10,000% stock-split adjusted. The stock enjoyed most of its growth since 2020 as the company benefited from the electric vehicle revolution.
The BYD stock price stood at HK74 in July 2020 but is currently (21 July) 284% higher at HK284.4 – and was trading at more than HK300 at the end of June 2022.
Year-to-date, however, the BYD stock price has been rather volatile. It had virtually doubled from a March 2022 low of HK166 to HK331 in early July 2002 before the Warren Buffett rumours hit the news cycle.
Over the past five years the stock has achieved trailing returns of 41.75%, according to Morningstar data to 20 July 2022. In July, BYD was included in the Hang Seng 50 index amid a major index reshuffle.
Sales overtake rival Tesla
One of the driving factors behind the share price performance has been the sales figures released by BYD in 2022.
The company has sold substantially more electric vehicles than rival Tesla (TSLA), according to a comparison of figures released by both companies for the first six months of this year.
Tesla delivered 564,743 vehicles during the period – despite ongoing supply chain challenges and factory shutdowns due to Covid-19.
"June 2022 was the highest vehicle production month in Tesla's history," it revealed in a statement.
However, these numbers were beaten by BYD, which had sold 641,350 by the end of June 2022, fuelling the bull case for the BYD stock forecast.
Latest results
BYD has estimated first half net profit will be between RMB 2.8bn and RMB 3.6bn for the six months to the end of June 2022. It pointed out that this result would represent an increase of between 138% and 206% over the corresponding period last year.
In a statement, it emphasised the new energy vehicle industry performed well, despite the macroeconomic downturn, pandemic, a shortage of chips, and raw material price increases.
"The sales volume of new energy vehicles of the Group showed a strong growth momentum, repeatedly hitting record highs, and its market share was far ahead of the market, achieving a rapid year-on-year growth, promoting a significant improvement in profitability, and partially offsetting the profitability pressure brought by upstream raw material prices," it stated.
The dynamic electric car market
Few areas in the world of clean energy are as dynamic as the electric car market, according to the International Energy Agency's (IEA) global electric vehicle outlook 2022. This may be good news for the BYD stock forecast.
It pointed out that just 120,000 electric cars were sold worldwide in 2012 – but more than that number were sold each week last year.
"Nearly 10% of global car sales were electric in 2021, four times the market share in 2019. This brought the total number of electric cars on the world's roads to about 16.5 million, triple the amount in 2018," IEA stated.
The study attributed the success to sustained policy support, with public spending on subsidies and incentives for EVs nearly doubling in 2021 to USD $30bn.
China leads the way
The increase in EV sales in 2021 was primarily led by China, which accounted for half of the growth, according to the IEA's report.
"More vehicles were sold in China in 2021 (3.3 million) than in the entire world in 2020," it stated.
The study also noted that electric cars in China are typically smaller than in other markets.
"This, alongside lower development and manufacturing costs, has contributed to decreasing the price gap with conventional cars," it added.
BYD stock forecast: Key price targets
What are the latest BYD stock predictions? Well, the consensus analyst BYD stock forecast for 2022 was that the stock's a 'buy', with an average price target of HK317.07, according to Investing.com data, as of 21 July.
According to the algorithmic forecasting of Wallet Investor, BYD stock was expected to rise 35% to HK$383.56 over the coming year. The site's BYD stock forecast 2025 put the stock at HK582.99.
Looking further ahead, its five year forecast put the stock at HK$769.53, which would represent a 170% premium over the HK$284.4 price at close on 21 July 2022.
Note that analysts and algorithm-based predictions can be wrong. BYD share price forecasts shouldn't be used as a substitute for your own research. Always conduct your own due diligence before trading. Remember that past performance is no guarantee of future returns. And never invest or trade money you cannot afford to lose.
What do the analysts say?
Danni Hewson, financial analyst at AJ Bell, pointed out that standout investor Warren Buffett's Berkshire Hathaway group is a prominent backer of the auto group.
"Warren Buffett knows a thing or two about picking stocks and when BYD recently overtook Tesla as the world's biggest EV producer by sales it was clear he's still got his mojo," she told Capital.com.
Of course, that doesn't mean to say it's been problem-free.
"It's not all plain sailing as the company's got to contend with twin headwinds of Chinese Covid-19 lockdown uncertainty and global supply issues and price hikes. It will also have to win over western consumers who don't know the brand and might initially be reluctant to embrace it," she said.
However, these potential downsides need to be viewed against the wider backdrop.
"Asia has a lot of consumers also looking to make the switch which puts the company in a pretty good place for mega growth," she added.
FAQs
Is BYD a good stock to buy?

Whether BYD is a good stock for you will depend on your personal circumstances such as risk tolerance, portfolio size and goals, and experience in equity markets. You must carry out your own analysis to decide whether BYD stock is likely to rise further in the future and whether it will face any headwinds. And never invest or trade money you cannot afford to lose.
Will BYD stock go up or down?

No-one knows for sure. It's crucial to do your own research to form an opinion of BYD stock performance and likelihood of achieving analysts' targets. You must also remember that markets are volatile and past performance is no indication of future returns.
Should I invest in BYD stock?

Whether BYD stock is a suitable investment for you will depend on your personal research, investing strategy and needs, risk tolerance. You need to perform your own due diligence and decide if the stock meets your needs and appetite for risk. And never invest or trade money you cannot afford to lose. ф
Further reading: