Top 20 Berkshire Hathaway holdings: What's in Warren Buffett portfolio going into 2023?
Subscribe to Weekly Highlights
The major market events for the week ahead right in your inbox.
Subscribe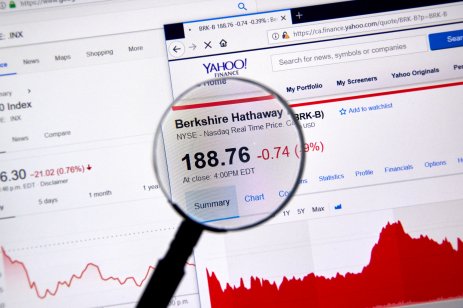 Content
Warren Buffett is one of the world's most famous investors due to his successful career in the capital markets.
The so-called "Oracle of Omaha" makes investments through his company, Berkshire Hathaway (BRK.A and BRK.B). In 2023, the company's Class A shares (BRK.A) and Class B shares (BRK.B) stayed largely flat, as of 8 February.
BRK.B Live Stock Price Chart
In this article, we dive into the top 20 Berkshire Hathaway holdings, exploring how and why they made it to the Oracle's portfolio, and how much has been invested in them.
What is Berkshire Hathaway?
Berkshire Hathaway was a poorly-performing textile company before it was bought by Warren Buffett in 1965. Since then it has become one of the world's largest conglomerates. As of 8 February 2023 it was valued at $691.04bn.
Buffett's strategy has two facets. He either acquires a business and turns it into a subsidiary of Berkshire or buys a certain number of a company's shares. Berkshire's success has made Buffett something of a celebrity among investors and businessmen.
Berkshire Hathaway's stock is listed on the New York Stock Exchange (NYSE) under the ticker symbols BRK.A and BRK.B. Class B shares represent 1/1,500 of a Class A share, hence its lower price.
In the past five years, Berkshire Hathaway Class A stock produced gains of 63%, as of 8 February. During this same period, the S&P 500 (US500) and the Nasdaq 100 (US100) delivered gains of 59% and 97%, respectively.
What is your sentiment on BRKb?
Vote to see Traders sentiment!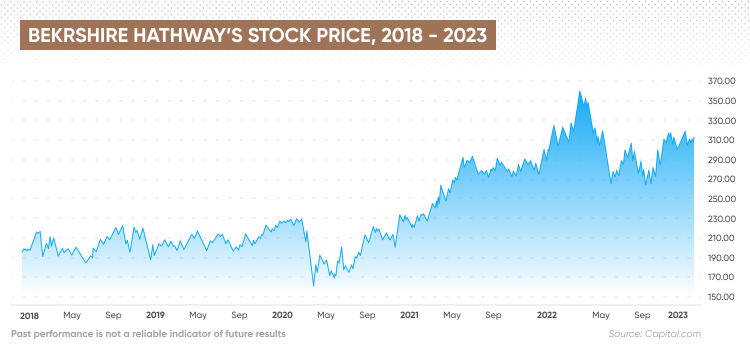 Top 20 Berkshire Hathaway holdings
The following list contains the top 20 stocks owned by Berkshire Hathaway, assembled by the company's latest 13F filing with the US Securities and Exchange Commission (SEC), submitted on 14 November 2022.
These Berkshire Hathaway holdings accounted for 94.91% of the company's stock portfolio by that date. Berkshire's latest third-quarter of 2022 earnings report stated that the conglomerate had purchased nearly $9bn in stocks and sold $5.3bn over that period.
Apple (AAPL)
The Berkshire Hathaway CEO started to incorporate Apple (AAPL) stock into Berkshire Hathaway holdings in 2016 under the influence of some of his closest lieutenants, Todd Combs and Ted Weschler. Buffett has praised both the company and its CEO Tim Cook on multiple occasions due to their ability to come up with products that have changed how people live. Back in 2020, billionaire Buffett said that Apple is "probably the best business I know in the world".
The conglomerate owned about 895 million shares in Apple as of the report date. Berkshire Hathaway's position was worth $137.8bn, based on a market price of $154.06 on 8 February 2023, accounting for a big chunk of the entire Berkshire Hathaway portfolio of stocks.
Bank of America Corp (BAC)
Bank of America (BAC) is one of the largest American banks. With nearly 4,000 branches in the US and is considered a pinnacle of the country's financial industry.
Buffett started investing in the US lender in 2011, roughly three years after the financial crisis of 2008 threatened to disrupt the entire financial system. Berkshire owned 1.01 billion shares in the financial institution as of the latest report.
The value of this position in the Warren Buffett portfolio would be $37.24bn based on the share price of $36.87 as of 8 February.
Chevron Corporation (CVX)
Oil companies have managed to make their way into the top 20 Berkshire Hathaway holdings this year as the price of crude has surged amid rising geopolitical tensions between Russia and Ukraine. As a result, the stock of Chevron (CVX) and other oil companies has seen a fair deal of upside and has pushed CVX close to the top of the list of Warren Buffett stocks.
Berkshire is the largest stockholder of the oil giant. Chevron, as part of Berkshire's stock portfolio, would be valued at $28.77bn based on CVX share price as of 8 February.
Coca-Cola Company (KO)
The Coca-Cola Company (KO) is considered one of the legacy holdings in Warren Buffett's portfolio. The CEO started amassing a position in the carbonated beverage back in 1988 and has since ramped up Berkshire's stake in the company to 400 million shares.
Buffett is not just a Coca-Cola shareholder. He loves to drink Cherry Coke and regularly praises the "tasteless" nature of the beverage, which makes it a type of drink that people can't get tired of.
His Coca-Cola position would be valued at $24bn as of KO share price on 8 February.
American Express Company (AXP)
American Express (AXP) is a well-known payments company that offers an ample portfolio of products, including its flagship credit cards along with solutions for businesses to collect money from their customers.
Berkshire Hathaway started acquiring AXP shares back in 1993. Its stake in the payment processor has risen to 151.61 million shares, making it the company's largest individual shareholder.
Berkshire's shares in AXP are currently valued at $27bn as of the AXP share price of $178 on 8 February. This makes AXP the fifth-largest holding among Berkshire Hathaway investments.
Occidental Petroleum Corporation (OXY)
Berkshire Hathaway owned nearly 200 million of Occidental Petroleum (OXY) as of the latest report, making the second-largest oil-and-gas investment of Warren Buffet.
The stake accounted for $12.92bn of Buffett's portfolio as of 8 February OXY share price of $64.6.
Kraft Heinz Co (KHC)
Berkshire acquired a stake in Kraft Heinz (KHC) in 2015 as part of a deal that merged the two food giants into a single entity in collaboration with Brazilian private equity firm 3G Capital.
Buffett's company owned 325.6 million shares of Kraft Heinz as of November 2022 report, which would account for $12.874bn of the Berkshire Hathaway stock portfolio, as of 8 February share price of $39.54.
Moody's Corporation (MCO)
Moody's (MCO) is a financial services firm best known for rating the debt of corporations and countries. Buffett's position amounted to 24.7 million shares as of the latest report. Its value would be $7.8bn based on the share price of $317.98 on 8 February.
Activision Blizzard (ATVI)
Activision Blizzard, Inc. is a member of the Fortune 500 and S&P 500, and is self-described as "one of the world's most successful standalone interactive entertainment and gaming corporations".
Berkshire has reduced its holdings of Activision Blizzard (ATVI) in a November 2022 report from 68.4 million to 60.1 million. As of today's ATVI market price of $75.6, Berkshire's stake would be valued at $4.5bn.
Taiwan Semiconductor (TSMC)
TSMC is the latest newcomer to the Berkshire Hathaway portfolio. The Taiwanese semiconductor manufacturing and design company reported a revenue of $20.23bn in the third quarter of 2022.
Berkshire Hathaway was the largest investor in TSMC, with 60 million shares as of November 2022, accounting for a $5.7bn in the Buffett's corporation's stock portfolio.
What other stocks does Berkshire Hathaway own?
Below are the remaining top 20 Berkshire Hathaway holdings. Even though the size of these investments in absolute terms is large, they accounted for only a small fraction of Berkshire's entire stock portfolio as of the November 2022 report.
Final thoughts
It is important to note that while it may be insightful to follow famous investors such as Warren Buffet, his portfolio composition shouldn't be used as a substitute for your own research.
Always conduct your own due diligence before trading a stock. You could look at the latest news, technical and fundamental analysis and a wide range of analyst commentary.
Note that markets are volatile, and your decision to trade should be based on your risk appetite, experience in the markets, the spread of your portfolio and your overall trading goals. Remember, past performance does not guarantee future returns.
What are the main holdings of Berkshire Hathaway?

Apple (AAPL), Bank of America (BAC), and Chevron (CVX) were Berkshire's biggest holding as of the company's latest report in November 2022.
Who owns the most Berkshire Hathaway stocks?

According to data from MarketScreener as of 8 February, Warren Buffett was the largest individual stockholder of Berkshire Hathaway, with 227,416 shares.
What are Warren Buffett's top five holdings?

The five largest holdings of Berkshire Hathaway were Apple (AAPL), Bank of America (BAC), Chevron Corporation (CVX), Coca-Cola Co (KO) and American Express Company (AXP), according to the company's latest report in November 2022.
Related reading