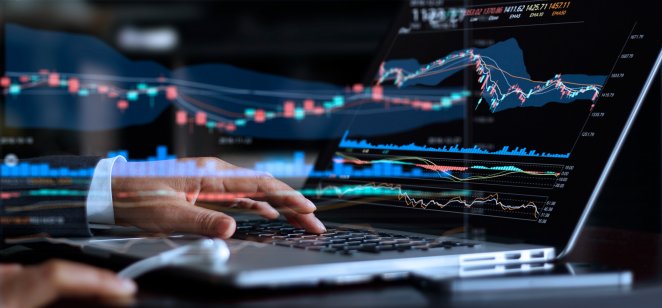 Content
Synthetix offers a different way to trade in cryptocurrencies and other commodities. So what is Synthetix (SNX)?
Let's take a look, and examine Synthetix price predictions, too.
Synthetix explained
One of the most important concepts in the world of blockchain technology in general and cryptocurrency specifically is that of decentralised finance (DeFi). This is the idea that people do not need to have bank accounts to access financial services. A report by the World Bank in 2017 found that there were 1.7 billion people across the world who had no bank account. However, with a large number of the "unbanked" having access to a mobile phone, there is the potential for them to access financial service online. It could be argued that this concept which, it is hoped, could promote financial inclusion, has actually led to cryptocurrency itself. After all, crypto is, basically, a form of currency which can, at least in theory, be accessed by anyone with an internet connection.
There are now many protocols, networks and platforms that operate in the world of DeFi, and Synthetix is one of them. The idea behind Synthetix is that it should let people trade in a range of products, such as cryptocurrencies, fiat currencies and commodities in a tokenised manner. When we talk about tokens in this context, we mean that these are derivatives, things that derive their value from a particular commodity, but are not necessarily the commodity itself.
Synthetix is, ultimately, based on two systems. It uses the Ethereum (ETH/USD) blockchain, and it also uses something called Optimistic Ethereum. Optimistic Ethereum is a layer 2 scaling solution. Basically, this means it exists as a separate system linked to Ethereum, but not actually part of it. The idea is that it allows people to carry out transactions on a separate layer before putting them back on the main blockchain, thus, at least in theory, making things quicker and cheaper.
The Synthetix whitepaper says:
"Synthetic assets are collateralized by the Synthetix Network Token (SNX) which, when locked in the contract, enables the issuance of synthetic assets (Synths). This pooled collateral model allows users to perform conversions between Synths directly with the smart contract, avoiding the need for counterparties."
It goes on: "Many protocols have [been] built on top of the Synthetix infrastructure. These include, but are not limited to, Kwenta, which offers perpetual futures and spot exchanges, Lyra which offers options trading, Curve which offers cross asset swaps, and dHEDGE which allows traders to pool capital and offer a decentralised hedge fund service."
Every blockchain-based system needs its own native token, and Synthetix has the Synthetix token, also known by the ticker handle SNX. This is used for staking, with holders able to stake the token in return for synthetic assets. It is also used for governance purposes, with people who hold SNX able to vote on changes to the network.
Synthetix was founded by Kain Warwick, an Australian crypto entrepreneur who set up the system in December 2016. Since it is based on the Ethereum blockchain, it is a token rather than a coin. You might see references to such things as the Synthetix coin or a SNX coin price prediction but, technically speaking, these are wrong.
Synthetix price history
Now, let's cast our eyes over the SNX price history. While past performance should never be taken as an indicator of future results, knowing what the token has done in the past can give us some much-needed context when it comes to either interpreting a Synthetix price prediction or making one of our own.
When Synthetix first came onto the open market in March 2018, it was worth about $0.45. It was around this time that the market entered a so-called crypto winter following the bursting of the bubble that characterised the end of 2017 and the start of 2018. SNX was affected by the slow and low prices over the next two years or so, with the worst moment coming on 5 January 2019, when it fell to an all-time low of $0.03258.
Atl the start of 2021, the crypto market really started blooming, and SNX was able to capitalise on the growth caused, at least in part, by American Covid-19 stimulus cheques entering the cryptoverse. The token reached an all-time high of $28.77 on 14 February. There was, inevitably, a fallback after that, but the crypto still performed well enough, until the Great Crypto Day Crash of 19 May 2021 saw it sink back down. The summer of 2021 was a weak time for crypto but, while SNX dropped below $7 in June, there was recovery of sorts in July, with it topping $10 at some points in the middle of the month.
Things were back on a more even keel in August, as the market benefitted from a growing interest in non-fungible tokens (NFTs). Following that, though, not even Bitcoin (BTC/USD) reaching new heights in November could arrest a decline and SNX closed the year at $5.50.
In 2022, SNX has, on the whole, performed poorly. While the token started the year looking positive, reaching $7.43 on 5 January, it sank to a low of $3.36 on 24 February after Russia's invasion of Ukraine. There was some recovery, with a bullish phase in late March culminating in a periodic high of $8.11. China's crypto ban and the depegging of the UST stablecoin, with the collapse of the associated LUNA cryptocurrency, saw the SNX price drop to $2.22 on 12 May. June saw the cancellation of withdrawals on the Celsius crypto platform confirm the bearishness of the crypto market and, on June 18 SNX fell to a periodic low of $1.45. There has been some recovery since, and by 28 July 2022, the SNX token price stood at around $3.75.
At this time, there were a little over 114.8 million SNX in circulation out of a total supply of more than 215 million. This gave the token a market capitalisation of $429m, making it the 86th largest cryptocurrency by that metric.
Synthetix price prediction
Let's take a look at Synthetix price predictions as they stood on 28 July 2022. It is important to keep in mind that price predictions, especially when it comes to a commodity as potentially volatile as cryptocurrency, are very often wrong. We also need to mention that long-term crypto price forecasts are often made using an algorithm, which can change at a moment's notice.
CryptoNewsZ hedged its bets somewhat when it came to making a Synthetix crypto price prediction. The site thought that the token could reach anywhere between $4.18 and $5.70 in 2022, before saying it thought SNX could reach $6.71 in 2023. CryptonewsZ argued that SNX could be worth $6.93 in 2024, before it made a Synthetix price prediction for 2025 that thought the token could trade at $9.09 that year. The site also argued for that it could rise slightly to $9.12 in 2026.
CoinPriceForecast made an SNX price prediction which said Synthetix could get to $4.93 by the end of the year, before hitting $6.90 the following year and $7.75 the year after that. 2025 could see a small rise to $7.78, before the token closes 2026 at $9.08, it predicts. The site thought that SNX could break through $10 to stand at $10.71 in 2027 before it potentially reached $12.19 in 2028 and possibly closed the decade at about $13.06. CoinPriceForecast then made a Synthetix price prediction for 2030 which saw the token close the year at $13.14, before it dropped slightly to 2031 at $12.34, rising to $13.45 in 2032, with SNX falling again to $12.67 in 2033 and $13.62 in 2034.
Meanwhile, LongForecast had a Synthetix price prediction for 2022 which argued that the token could close the year down to $3.46, before losing more than half its value to finish 2023 at $1.61. The site said that 2024 could be a year of recovery, with SNX potentially closing the year at $3.04, before experiencing another year-on-year rise to $4.49 in December 2025. The site went on to suggest that, by August 2026, the token could slump again to $3.21.
Finally, WalletInvestor was a lot more gloomy and bearish in its SNX token price prediction. It said that, by July 2023, SNX could be worth a mere $0.22.
Final thoughts
When considering an SNX price prediction, it is important to keep in mind that cryptocurrency markets remain extremely volatile, making it difficult to accurately predict what a coin or token's price will be in a few hours, and even harder to give long-term estimates. As such, analysts and algorithm-based forecasters can and do get their predictions wrong.
If you are considering investing in cryptocurrency tokens, we recommend that you always do your own research. Look at the latest market trends, news, technical and fundamental analysis, and expert opinion before making any investment decision. Keep in mind that past performance is no guarantee of future returns. And never trade with money that you cannot afford to lose.
FAQs
How many Synthetix are there?

On 28 July 2022, there were a little over 114.8 million SNX in circulation out of a total supply of 215,258,834.
Is Synthetix a good investment?

In volatile cryptocurrency markets, it is important to do your own research on a coin or token to determine if it is a good fit for your investment portfolio. Whether the RIF token is a suitable investment for you depends on your risk tolerance and how much you intend to invest, among other factors. Keep in mind that past performance is no guarantee of future returns. And never invest money that you cannot afford to lose.
Will Synthetix go up?

It could do, but equally it might not. You have to keep in mind that cryptocurrencies can be extremely volatile and prices can go down just as easily as they can go up. Analysts and algorithm-based forecasters can and do get their predictions wrong. Keep in mind that past performance is no guarantee of future returns. Always do your own research. And never invest what you cannot afford to lose.
Should I invest in Synthetix?

This is something that you will have to decide for yourself. Before you do so, you will need to do your own research. Remember prices can go down as well as up. Keep in mind that past performance is no guarantee of future returns. And never invest what you cannot afford to lose.
Further reading: