Stacks price prediction: What is stacks (STX)?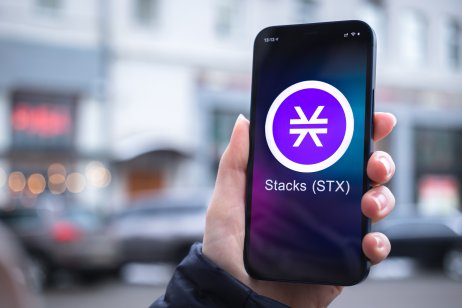 It aims to expand the range of features available on the world's most famous blockchain, but what is stacks (STX)?
Let's see what we can find out, and also examine some of the stacks price predictions that were being made as of 17 March 2023.
BTC/USD price chart
Stacks explained
Bitcoin (BTC) was first launched in the wake of the financial crisis of the late 2000s, aiming to become a new kind of currency, one that could be both used in the real world and traded on the blockchain.
All in all, one might consider the crypto to have been a success. After all, despite a rather unfortunate 2022 – though it is by no means the worst performer so far this year – BTC has ended up being the spearhead for the entire cryptocurrency sector.
One example of how dominant it is, is that for many people the terms 'bitcoin' and 'crypto' are pretty much synonymous. Indeed, there is a category of crypto called altcoins, consisting of every cryptocurrency that exists on its own blockchain but is not bitcoin. In other words, an altcoin is defined as an alternative to BTC, which means its main characteristic is that it is not Satoshi Nakamoto's pioneering crypto.
Despite that, there are some potential problems with bitcoin. One of these is that there are concerns about its slow speeds, while another is that the Bitcoin blockchain only really does one thing, which is supporting BTC. Therefore, there have been various gaps in the market for a blockchain and a crypto which can operate quicker, saving people money in transaction fees and also allowing them to create decentralised applications (dApps).
One potential solution comes in the form of the Stacks blockchain. This network links up with the Bitcoin blockchain and lets people use features like dApps and smart contracts – computer programs which automatically execute once certain conditions are met – on Bitcoin.
Transactions are carried out on Stacks and finalised on Bitcoin, meaning users can, at least in theory, make use of the newer blockchain's speed and the older one's strength. The version of the Stacks blockchain which is now being used came out in late 2020, replacing another one which was launched in 2018.
Every blockchain needs to have its own native token, and Stacks has one in the form of the conveniently-named stacks coin, also known by its ticker handle of STX. This crypto is used to create smart contracts on the platform and is mined through BTC.
As the whitepaper says: "Stacks miners use bitcoin to mine newly minted stacks. Stacks holders can lock their STX in consensus to earn bitcoin, making STX a unique crypto asset that is natively priced in BTC and gives BTC earnings."
Stacks uses a consensus mechanism called proof-of-transfer (PoX) to add blocks to the blockchain and reward the people who do so, in contrast to Bitcoin's proof-of-work (PoW). Stacks says the main difference is that, "PoX does not require energy expenditure; it instead 'recycles' the energy required to produce a PoW chain's tokens. Running Stacks takes negligible energy on its own; the expenditure of Bitcoin's scarce token extends Bitcoin's energy use to secure both chains".
Stacks was set up by software engineers Muneeb Ali and Ryan Shea in 2013, although the blockchain as we know it was ultimately started in 2018, with the STX coin coming out the following year.
Stacks price history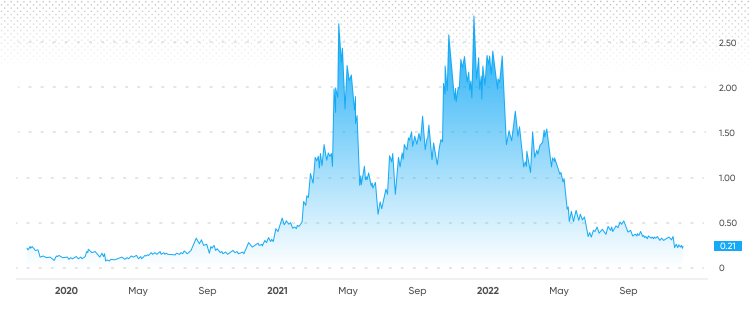 Stacks price history from launch to present – Credit: Capital.com
Let's now cast our eyes over some of the STX price history. Although past performance should never be taken as an indicator of future results, knowing what the coin has done in the past can help give us some important context when it comes to either making or interpreting a stacks price prediction.
When stacks first came onto the open market in late 2019, it was worth about $0.20, and it experienced a pretty immediate drop to close the year at under $0.10. 2020 was a year of ups and downs, with it ending up at $0.3962.
Early 2021 was a time when the cryptocurrency market enjoyed a bear market and STX responded well, passing the $1 mark on 24 February and breaking the $2 barrier on 5 April, when its intraday price of $2.82 represented a periodic high. After that, though, there was a decline, and it slipped below the dollar in June.
There was something of a recovery after that and, by the middle of October, it was worth more than $2 again. In November 2021, the market grew and, again, STX was caught up in it, reaching an all-time high of $3.61 on 16 November 2021 before falling back down to close the year at $2.17.
If 2021 represented growth, 2022 has represented decline for the stacks coin. Although it reached a high of $2.64 on 18 January, it then fell back, dropping to a low of $0.9875 on 24 February as Russia invaded Ukraine. There was some recovery following that, as it rallied to a high of $1.90 on 10 March, but it was then time to drop again. A series of market crashes left it at a low of $0.3091 on 14 June.
The coin then recovered somewhat, trading at a high of $0.5203 on 13 August 2022, but then it fell back down. By 5 November it was worth $0.3426, but then the collapse of the FTX (FTT) exchange into bankruptcy saw it sink to a low of $0.2005 on 14 November. After that there was a recovery and it closed the month at $0.2551. December started off well, with STX reaching a high of $0.3199 on 13 December, but then things turned sour and it closed the year at $0.2097, representing an annual loss of more than 90%.
So far, 2023 has seen both the crypto market and stacks make something of a recovery. The coin's price grew steadily in January, before reports that stacks could potentially host Bitcoin-based non-fungible tokens (NFTs) saw its price shoot up in late February, breaking past $1 for the first time since the end of April 2022 on 1 March. Although the collapse of the Silvergate bank saw it drop to $0.5264 on 10 March, it recovered to reach $1.09 on 15 March before trading at around $1.05 on 17 March.
At that time, there a little under 1.367 billion STX in circulation out of a maximum supply of 1,818,000,000. This gave the coin a market cap of around $1.4bn, making it the 41st-largest crypto by that metric.
Stacks price prediction round-up
With that all out of the way, let's now take a look at some of the stacks price predictions that were being made as of 17 March 2023. It is important to remember that price forecasts, especially when it comes to a commodity as potentially volatile as cryptocurrency, can often be wrong. Also, it is worth pointing out that many long-term crypto price predictions are made using an algorithm, which means that they can change at a moment's notice.
First, CoinCodex looked rather upbeat when it came to making a short-term stacks price prediction for 2023. The site said that the coin could rise to $1.96 by 22 March before moving down slightly to $1.85 on 16 April. Fittingly, the site's technical analysis was bullish, with 27 indicators making positive signals and just one making a bearish one.
Next, DigitalCoinPrice made a stacks coin price prediction that argued the crypto could reach $2.05 this year, $2.56 next year and $3.60 the year after that. By 2026, the site said, STX could trade at a potential $4.52 before going on to possibly stand at $5.64 in 2028, with it possibly closing the decade at $7.72.
The site then went on to make a stacks price prediction for 2030 that saw it potentially break past the $10 mark to stand at $11, before saying it could reach $14.90 the following year.
Meanwhile, CaptainAltCoin had a stacks crypto price prediction which said the coin could fall to $0.8715 by May 2023 before potentially recovering to $1.41 by March next year. The site then made a stacks price prediction for 2025 that saw it possibly trade at $4.83.
While it did not commit to a precise figure for what it thought the stacks coin price could be in either 2030 or 2040, the site did suggest that the crypto could experience more growth in the long-term, saying that it could be "a couple of orders of magnitude higher" than where it was forecast to trade at in 2025.
Finally, Wallet Investor was rather more gloomy and bearish when it came to making a stacks price prediction for 2023. The site said that the coin was in for a pretty tough upcoming 12 months, saying that it could fall to a mere $0.06041 by the middle of March next year.
When considering an STX coin price prediction, it's important to keep in mind that cryptocurrency markets remain extremely volatile, making it difficult to accurately predict what a coin or token's price will be in a few hours, and even harder to give long-term estimates. As such, analysts and algorithm-based forecasters can and do get their predictions wrong.
If you are considering investing in cryptocurrency coins and tokens, we recommend that you always do your own research. Look at the latest market trends, news, technical and fundamental analysis, and expert opinion before making any investment decision. Keep in mind that past performance is no guarantee of future returns, and never trade with money that you cannot afford to lose.
FAQs
Is stacks a good investment?

It is hard to tell. The coin has suffered along with the rest of the market this year, and we do not know if and when it will make a recovery. A lot will depend on how the market performs as a whole.

Remember, you should always carry out your own thorough research before making an investment. Even high-market-cap cryptocurrencies can be affected by bear markets, so investors should be prepared to make losses and never purchase more than they can afford to lose.
Will stacks go up or down?

No one can really tell right now. While sites like DigitalCoinPrice were upbeat in their assessment of the future STX price at the time of writing (17 March 2023), the likes of Wallet Investor were far more bearish in their stacks price forecasts. Remember that price predictions often turn out to be wrong, and that prices can and do go down as well as up.

In volatile cryptocurrency markets, it is important to do your own research on a coin or token to determine if it is a good fit for your investment portfolio. Whether STX is a suitable investment for you depends on your risk tolerance and how much you intend to invest, among other factors.

Keep in mind that past performance is no guarantee of future returns, and never invest money that you cannot afford to lose.
Should I invest in stacks?

Before you decide whether or not to invest in stacks, you will have to do your own research, not only on STX itself but on other coins and tokens which allow people to do new and different things with bitcoin.

Ultimately, though, this is a question that you will have to answer for yourself. Before you do so, however, you will need to conduct your own research. Never invest more money than you can afford to lose, because prices can go down as well as up.