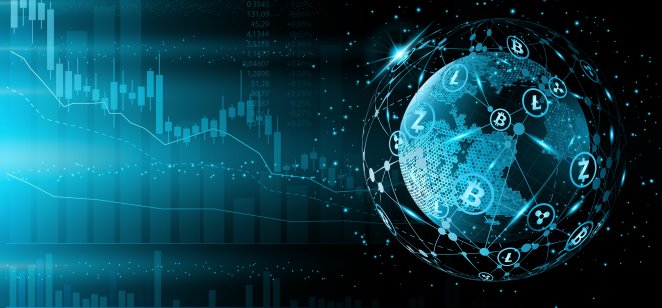 Stacks (STX), a decentralised application (dApp) platform, declined to a 90-day low of $0.9875 on 24 February amid the meltdown of the global cryptocurrency market, according to CoinMarketCap.
At the time of writing (5 April), STX token price rebounded to $1.45, up nearly 46% from the recent low. However, it has still been trading more than 60% below the all-time high of $3.61 hit on 16 November 2021.
With multiple price swings last year, will STX manage to retest its previous highs in 2022? Let's conduct a deeper STX cryptocurrency price analysis and a round-up of recent news and developments. Together, this could help you form a plausible Stacks coin price prediction.

What is a stacks coin?
Stacks is a layer-one blockchain that enables the creation of decentralised apps (dApp) on its network using smart contracts.
Stacks is linked to Bitcoin via its consensus mechanism, which establishes a connection between Bitcoin and Stacks via Proof of Transfer (PoX).
Proof of Transfer improves Bitcoin's Proof of Work (PoW) to achieve high levels of decentralisation and scalability without harming the environment.
The company
stated
that Stacks "recycles" Bitcoin's energy for additional safety: "The key difference between the two [PoX and PoW] is that PoX does not require energy expenditure; it instead "recycles" the energy required to produce a PoW chain's tokens. Running Stacks takes negligible energy on its own; the expenditure of Bitcoin's scarce token extends Bitcoin's energy use to secure both chains".
Proof of Transfer is also used for stacking, allowing stacks holders to earn bitcoin (BTC) rewards. Stacking is a unique feature available to STX holders. Stacking is done when a user locks STX for a period of time to earn BTC.
Moreover, Bitcoin serves as the foundation of Stacks, providing a secure and trustworthy platform for all transaction settlements. Then, apps and smart contracts are added to Stacks. Stacks apps can communicate with the Bitcoin ecosystem, allowing users to create applications that take bitcoin (BTC) as payment.
On the first anniversary of Stacks in January 2022, Hiro, the developer tools company for Bitcoin, said that Stacks became the largest and fastest growing Web3 project on Bitcoin. According to Hiro, "the Stacks ecosystem has gone from 0 to 350+ million monthly API requests, 50,000 Hiro Wallet downloads, 2,500 Clarity smart contracts deployed, and dozens of companies launched".
Dr Muneeb Ali, CEO of Hiro, said: "Stacks has seen incredible growth in the last year. As of December 2021, Stacks is the fastest growing Web3 project on Bitcoin, and the tools Hiro has built have powered truly innovative use cases of smart contracts on the world's original blockchain, from Bitcoin DeFi, DAOs, and gaming to expressing Bitcoin culture through Bitcoin NFTs."
STX/USD price analysis: Will the uptrend last?
The Stacks token price has been gradually increasing during the past month. Could the recent rebound continue? Despite the bullish trajectory within the recent weeks, STX is still trading far below its all-time high of $3.61, hit in November 2021. The cautious outlook is supported by the bearish short-term sentiment, compiled by CoinCodex based on multiple technical analysis indicators.
The short-term STX projection saw 21 indicators giving bearish signals and only 10 bullish signals, as of 5 April 2022. The majority of daily and weekly Simple Moving Averages (SMAs) and Exponential Moving Averages (EMAs), along with the Relative Strength Index (RSI), and Williams Percentage Range, were giving 'sell' signals. The Average Directional Index (ADX), Hull Moving Average (HMA) and Volume-Weighted Moving Average (VWMA) were giving a 'buy' signal. The Moving Average Convergence Divergence (MACD) and Awesome Oscillator remained neutral.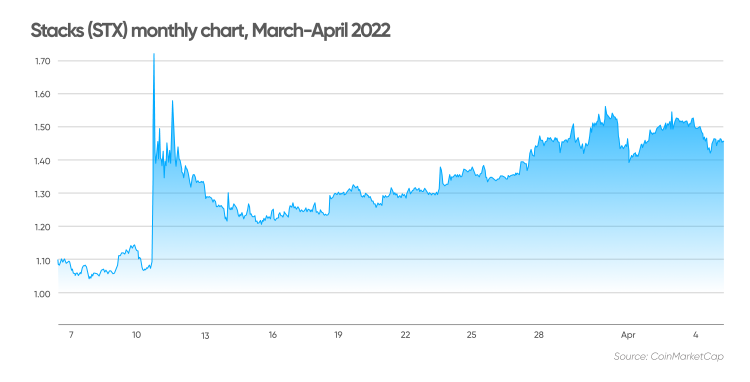 Meanwhile, the STX historical price chart shows that the STX token price saw several strong spikes last year. The first one was in April 2021, when the price hit $2.70. The positive momentum was driven by the STX listing on the Upbit KRW market in April 2021, a leading cryptocurrency exchange in South Korea.
However, the rally was short-lived and the STX plunged to around $0.58 in June 2021. After that, between July and December 2021, Stacks's price gradually moved in a bullish trajectory with several periods of retracement. By 16 November, Stacks reached its all-time high of $3.61, and by 14 December, prices dropped to $1.85, implying a nearly 50% decrease. It closed the year at $2.17.
During the start of 2022, STX token was trading in a bearish market and declined to a 90-day low of $0.9875 on 24 February, down nearly 57% from its closing price of $2.28 on 1 January. However, a strong bull rally pushed the price to its 30-day high of $1.90 on 10 March.
STX was trading at $1.45 at the time of writing (5 April), with a market cap of $1.9bn (£1.4bn), according to CoinMarketCap.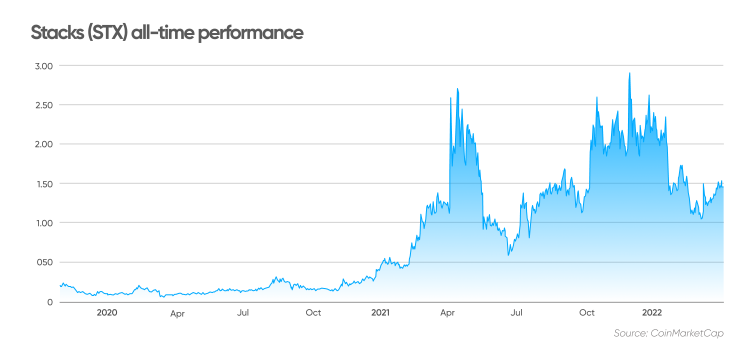 Stacks coin news and price drivers
Stacks has undergone several important milestones lately, which may drive the STX token future target price:
Launch of $165m Bitcoin Odyssey fund
In March 2022, Stacks announced the launch of a $165m 'Bitcoin Odyssey' fund alongside Okcoin, a cryptocurrency exchange, and numerous venture capital companies to speed global Bitcoin adoption. Among the firms participating are Digital Currency Group, GSR, and White Star Funds, which will invest capital and resources in projects based on Stacks.
The Bitcoin Odyssey will focus on Bitcoin and Stacks-based projects that provide solutions across Web3, including the metaverse, play-to-earn games, DeFi, non-fungible tokens (NFTs), and decentralised autonomous organisations (DAO).
Along with financing, chosen Odyssey projects will receive hands-on help from industry-leading organisations. Support will be provided in critical areas such as project scaling, legal, smart contract creation and audits, hiring, and market development.
"Last year, we witnessed a record-setting amount of venture capital invested throughout web3, and now we're watching that narrative transition towards including the beginnings of DeFi on Bitcoin. Thus far, we have seen self-repaying loans, borrowing and lending, yield-generating NFTs, and new protocols including the maturing CityCoins protocol, all on Bitcoin," said Kyle Ellicott, partner at the Stacks Accelerator and co-chair of Bitcoin Odyssey. "Bitcoin Odyssey is going to empower the next wave of founders and projects building decentralised applications on Bitcoin with the needed growth capital and increased liquidity required to on-ramp the next billion consumers to the new digital-first world."
Launch of DeFi platform ALEX on Stacks mainnet
In January 2022, ALEX, a decentralised finance (DeFi) platform built on Bitcoin, launched its mainnet on Stacks. As an outcome of this launch, ALEX established a launchpad for budding projects to release their own tokens and for community members to vote on potential token listings inside the Stacks ecosystem.
Additionally, the platform's initial token launch was ALEX's native token, $ALEX, debuted on 10 January at $0.32 for the Stacks community.
Integration with BitGo to bring Bitcoin DeFi
BitGo implemented support for Stacks in October 2021, enabling bigger token holders, such as institutions, to participate in Bitcoin DeFi through stacking.
With this integration, BitGo customers can receive bitcoin yield by holding STX and activating the stacking feature, joining a growing Bitcoin DeFi user base with approximately $1bn locked in stacking.
BitGo's co-founder and CEO Mike Belshe said: "Financial institutions have been wanting a safe and secure way to enter the DeFi space. By onboarding support for Stacks and STX, we are giving our clients what they want – bitcoin and paradigm-shifting cryptoassets like STX, without the need for expensive infrastructure investments."
Integration with Paycoin
In May 2021, Stacks announced its integration with the Paycoin network, enabling it to be fully integrated into Paycoin's crypto-powered e-commerce platform. Paycoin is a fast-rising participant in the South Korean market, with over one million users and 70,000 merchants currently on board.
Paycoin makes STX a key payment option for well-known businesses, including 7-Eleven, KFC, Domino's Pizza and BBQ Chicken. Additionally, users can earn extra bitcoin rewards on their STX holdings by stacking.
Stacks price prediction: Targets for 2022, 2025 and 2030
According to a report by Ark Invest, an American asset management company, by 2030, Web3 would lower yearly offline consumption by $7.3trn while increasing direct online spending by 28% annually, from $1.4trn in 2021 to $12.5trn in 2030.
"We believe Web3 virtual ecosystems will thrive if online human participants can own – as opposed to use or rent – digital assets," said Ark Invest in the report.
As the popularity of decentralised applications (dApps) grows, Stacks, the fast-growing web3 project on Bitcoin, has chances to expand its network. However, it will face strong competition from other notable smart contract platforms such as Ethereum (ETH), Cardano (ADA) and Avalanche (AVAX).
According to LunarCrush, a social intelligence cryptocurrency platform, the STX token was number nine out of the 10 most trending coins on its platform on 4 April.
Meanwhile, several algorithm-based forecasting services gave bullish long-term STX price forecast as of 5 April:
Wallet Investor's stacks prediction was bullish. The average price of STX could increase to $1.985 by the end of 2022 and $2.662 by the end of 2023. The stacks price prediction 2025 expected the average price to hit $4.075 by the end of the year. Its five-year STX prediction expected the coin to reach $4.897 in March 2027.

Digital Coin's stacks crypto price prediction estimated that STX could hit an average of $1.90 in 2022, $2.12 in 2023, $2.75 in 2025, $6.57 in 2030 and $7.65 in 2031.

Price Prediction also gave a bullish long-term STX crypto price prediction. It projected that the average price of STX could hit $1.77 in 2022, $2.58 in 2023, $5.13 in 2025, $29.87 in 2030 and $42.98 in 2031.
When looking for STX coin price prediction, bear in mind that analysts and algorithm-based forecasters can be wrong. Their stacks expectations are based on making fundamental and technical studies of a cryptocurrency's past performance. Past performance is no guarantee of future results.
It's essential to do your own research and always remember your decision to trade depends on your attitude to risk, your expertise in the market, the spread of your investment portfolio and how comfortable you feel about losing money. You should never trade money that you cannot afford to lose.
FAQs
Stacks is involved in various popular blockchain-related fields, including DeFi, NFT and metaverse. It is the 63rd-largest cryptocurrency project, according to CoinMarketCap, as of 5 April. Still, whether the STX token is a good fit for your portfolio depends on your circumstances and risk tolerance. You should estimate the level of risk you are ready to take before trading.
According to the STX/USD forecast from Price Prediction (as of 5 April 2022), it could hit $42.98 by 2031.
Algorithmic forecasting tools, including Wallet Investor, Digital Coin and Price Prediction considered (as of 5 April) that the coin had a potential for future gains. Still, their price targets varied greatly. Nonetheless, Price Prediction estimated that stacks could exceed $10 by 2027.
According to CoinMarketCap, the current (5 April) circulating supply of SPX token stood at 1.31 billion, while its total supply exceeded 1.30 billion.