Oasis Network (ROSE) price prediction: Will ROSE rise or fall?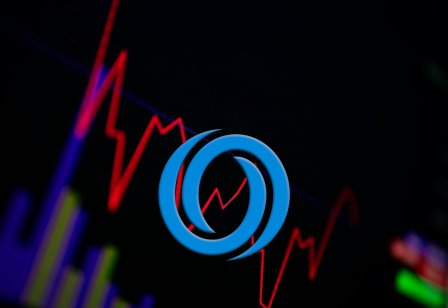 The Oasis Network (ROSE) has been on a bearish trend recently, despite a promising August when the token peaked at $0.1151, following the announcement that the blockchain would be pairing with Meta.
According to an article published by Medium, "As Meta's technology partner, Oasis Labs built the platform that uses Secure Multi-Party Computation (SMPC) to safeguard information as Meta asks users on Instagram to take a survey in which they can voluntarily share their race or ethnicity."
At the time of writing, however, ROSE is trading at $0.05895, and significantly down from the all-time high of $0.5964 that it reached at the start of the year.
The network has recently launched decentralised finance (DeFi) applications and formed partnerships for cross-chain interoperability. In this article, we look at the latest Oasis Network news and the outlook for the ROSE token price.
What is Oasis Network?
The core developer of the Oasis Network is Oasis Labs, which was founded in 2018 by Professor Dawn Song from the University of California at Berkeley .
Oasis Network develops DeFi apps and cross-chain interoperability. It bills itself as the "first privacy-enabled, scalable blockchain network for open finance and a responsible data economy".
Launched in October 2020, the network is backwards compatible with the Ethereum blockchain, enabling developers to bring decentralised applications (dApps) across to the Oasis blockchain, such as the decentralised exchange (DEX) Uniswap.
ROSE is the native utility token for the network, and is used to pay transaction fees and for staking and delegation at the consensus layer. The token was launched with a circulating supply of 1.5 billion tokens, out of a total fixed cap of 10 billion. Around 2.3 billion tokens will be paid out to stakers and delegators over time as rewards for securing the network.
There are currently approximately 5.03 billion ROSE tokens in circulation, giving it a market capitalisation of just over $297m at the time of writing (28 September 2022) and ranking it the 107th-largest cryptocurrency.
Oasis network (ROSE) price analysis: Further moves towards interoperability
On 11 January 2022, Oasis said that Binance Labs, the investment arm of crypto exchange Binance, contributed to the Oasis Ecosystem Fund, bringing its total available capital to $200m.
The Oasis Ecosystem Fund invests in developing applications on the Oasis Network, including DeFi, non-fungible tokens (NFTs), metaverse and privacy applications, as well as the tokenisation and governance of data.
Oasis will provide further financial support with the $500,000 DappRadar x Oasis Accelerator Programme introduced on 9 February 2022. The fund will support developers building apps on the Oasis Network, especially for DeFi, play-to-earn gaming and privacy. Out of those, 10 of the best projects will be selected, starting in April, to receive a grant of up to $50,000 in ROSE coins each.
Oasis also announced on 11 January that DeFi went live on the network, with the YuzuSwap DEX and Wormhole Bridge launching on the mainnet.
YuzuSwap enables token holders to participate in liquidity pools, trade and earn yields. The Wormhole Bridge connects Oasis with almost $1bn of total valued locked (TVL) across the Avalanche, Binance Smart Chain (BSC), Ethereum, Polygon, Solana and Terra blockchains. Users can transfer Ethereum-based ERC-20 tokens across the bridge.
On 17 February 2022, the WePiggy lending protocol launched on the Oasis Network, starting with lending USDT, ETH and ROSE, with other tokens to come.
"The Oasis Network is scalable and ideal for DeFi due to its instant finality, 99% lower
gas fees
versus Ethereum, high throughput, privacy protection, and defence against MEV [miner/maximal extractable value]," the announcement said.
Oasis announced further moves towards interoperability on 7 February 2022, via a partnership with Celer cBridge. The partnership gives Oasis Network users instant, low-cost transfers between Oasis and other cBridge-supported blockchains and layer-2 networks.
"Furthermore, Oasis Network and Celer Network will explore ecosystem opportunities in the newly-launched Celer Inter-Chain Message (Celer IM) Framework, which will allow Oasis-based dApp developers to create inter-chain applications with efficient liquidity utilisation, coherent logic, and shared states. This means that users can benefit from a multi-chain ecosystem with a single-transaction user experience," the announcement said.
On 16 February 2022, Oasis Network said it had integrated with Multichain, a router for the third-generation internet (Web3) developed for arbitrary interactions across blockchains:
"From now on, cross-chain transfers of five assets (ETH, WBTC, USDT, USDC, DAI) between Oasis Network and Ethereum, and two assets (BUSD, BNB) between Oasis Network and BSC are available on Multichain."
Oasis Network said that more assets will be added in the future.
On 22 February 2022, Oasis said that GemKeeper.Finance had completed its Peckshield security audit, becoming the second DeFi protocol on Oasis to have completed an audit.
GemKeeper is providing BLING (its governance token) incentive rewards for the Oasis ROSE coin paired with Wormhole USDT, as well as ROSE pairs with Multichain BUSD, LINK, AVAX, FTM, USDC and BNB.
The Oasis Network token price rallied by more than 933% in 2021, climbing from $0.04158 in January to end the year at $0.4298. The price reached an all-time high of $0.5964 on 15 January 2022, but then dropped back to a low of $0.2103 by the end of February, and closing at $0.1783 in March.
Multiple flash crashes continued to cause problems in the first half of 2022, and the token fell further to $0.08404 by the end of July. After an extended bearish period, the token rebounded slightly back up to a high of $0.1151 following the announcement that the blockchain is partnering with Meta.
However, at the time of writing on 28 September 2022 the token is trading at $0.05895.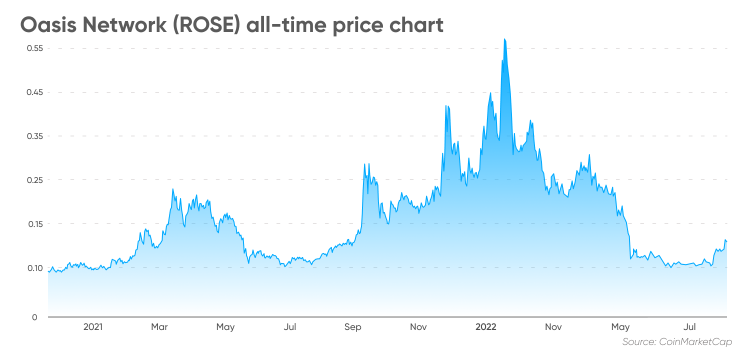 Oasis Network price prediction for 2022 and beyond
The short-term sentiment on the ROSE coin was bearish at the time of writing (28 September 2022), according to CoinCodex, with only one technical analysis indicator giving a bullish signal compared with 23 bearish signals.
Looking forward to the Oasis Network price prediction for 2025, the site states: "In the best case scenario, ROSE price prediction for year 2025 is $ 0.921312 if it follows Facebook growth. In case Oasis Network would follow Internet growth the prediction for 2025 would be $ 0.181604".
DigitalCoinPrice's ROSE price prediction was more bullish, expecting the price to trend higher over the next few years. Based on historical data, the site's Oasis Network prediction saw the price averaging $0.0612 in 2022 and $0.13 in 2023, rising to $0.24 in 2025. DigitalCoinPrice made an Oasis Network price prediction for 2030 of $0.82.
PricePrediction's Oasis Network crypto price prediction for 2030 was also optimistic, estimating that the coin could average $1.38. That would be up sharply from $0.22 in 2025 and $0.073 in 2022, according to the site's deep artificial intelligence-assisted technical analysis.
It's important to keep in mind that cryptocurrency markets remain extremely volatile, making it difficult to accurately make a ROSE coin price prediction, and even harder to give long-term estimates. As such, analysts and algorithm-based forecasters can and do get their ROSE crypto price predictions wrong.
If you are considering investing in cryptocurrency tokens, we recommend that you always do your own research. Look at the latest market trends, news, technical and fundamental analysis, and expert opinion before making any investment decision. Keep in mind that past performance is no guarantee of future returns.
FAQs
Is Oasis Network a good investment?

In volatile cryptocurrency markets, it is important to do your own research on a coin or token to determine if it is a good fit for your investment portfolio. Whether the ROSE coin is a suitable investment for you will depend on your risk tolerance and how much you intend to invest.
Will Oasis Network go up or down?

Forecasting sites including PricePrediction and DigitalCoinPrice expected the price for the ROSE token to go up over the next few years, as of 28 September 2022, although they differed in how far the price could rise.

You should research the coin yourself to take a view on how it could trade in the future.
Can Oasis Network hit $2?

As of 28 September 2022, PricePrediction projected the token price could reach above $1.38 in 2030, while DigitalCoinPrice assumed a value of $0.82.

However, analysts' forecasts can be wrong and have been inaccurate in the past. Always do your own research, and remember to never invest money you cannot afford to lose.