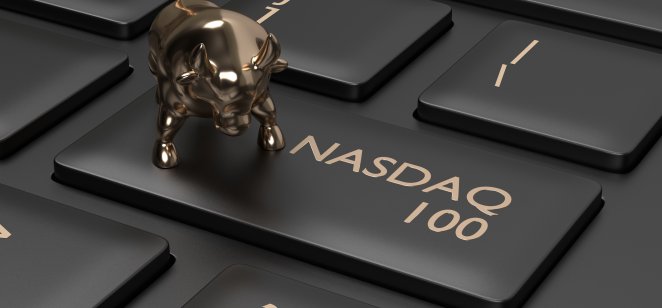 Content
The NASDAQ 100 Composite Index (US Tech 100) has seen a rebound in recent weeks after going into a relative freefall through the first half of 2022. The index has given up much of its 2021 gains as Omicron-induced shocks set the tone for further contractions from inflationary pressures and Russia's invasion of Ukraine.
The NASDAQ has risen more than 11% in the past month but remains down 20% year-to-date (YTD) due to the weight of accelerating inflation, a series of interest rate hikes by the US Federal Reserve (Fed) and fears of an impending recession.
Will the recent upward momentum continue and what factors shape the NASDAQ forecast for 2022?
What is the Nasdaq 100?
The NASDAQ 100 (NDX), sometimes referred to as US Tech 100, or US100, is a composite index of the largest non-financial companies from across the globe that are traded on the Nasdaq stock exchange.
The NASDAQ 100 index's biggest components, as of 5 August, included Apple (AAPL), Microsoft (MSFT), Alphabet (GOOGL), Amazon (AMZN) and Tesla (TSLA) with stocks weighted in proportion to their market capitalisation.
The index is varied by industry, with major tech stocks making up a majority of the pack, bolstered by other sectors, such as retail, automotive, pharmaceutical and hospitality brands.
What is your sentiment on US100?
Vote to see Traders sentiment!
Price performance 2021-2022: Technical view
Taking a long view on the US Tech 100 analysis, it could appear that the heavy gains in 2021 are challenged by a highly uncertain 2022.
In many ways, the index and its companies came of age during the Covid-19 pandemic, growing more than 47% in 2020 and around 26% in 2021, as tech companies realised their value in no small part to lockdowns and new patterns in home working.
At the time of writing, the index has fallen 20.38% YTD, dropping from 16,501.77 in early January 2022 to trade around the 12,600 mark in early August.
Stock price falls have seen a number of companies languish near the bottom of their 52-week ranges, with names like Netflix (NFLX) and Okta Inc (OKTA) losing more than half of their value in the first half of the year.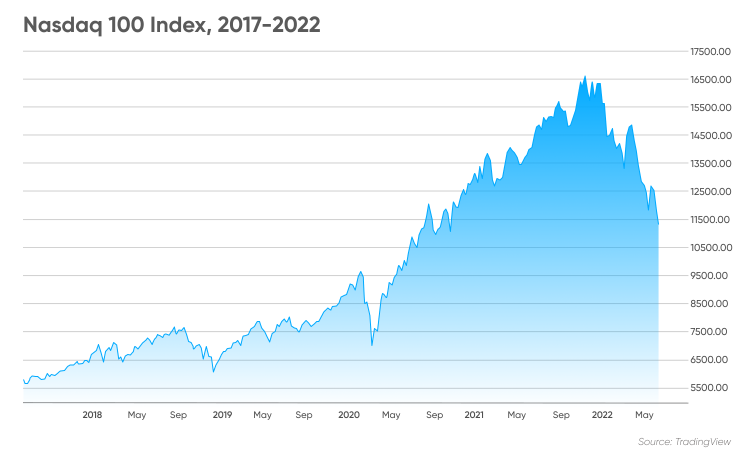 In the last 12 months, the five worst performers in the index were tech stocks. The struggles of Netflix (NFLX) have emphasised a sudden shift in investor confidence for tech.
Meanwhile, Zoom Video Communications (ZM) and DocuSign (DOCU) both lost over 70% of their value in the last year as Covid-19 gains were pared back.
A short-term Nasdaq 100 technical analysis on 5 August showed mixed signals for the future of the index.
Oscillators were mostly 'neutral', with a balanced Relative Strength Index (RSI) of 68.60. Meanwhile, the index's momentum (10) oscillator showed 'sell' at 691.63, aand the moving average convergence divergence (MACD) showed 'buy' at a level of 307.39. The index was trading above its 10-and 20-day moving averages (MA), indicating bullish momentum.
Strongest three-year run
The NASDAQ 100 was not unique across major indices in realising big gains in 2021, as a macroeconomic context of recovery accelerated most stocks over the year.
Tech stocks have been rewarded for servicing the increased demand for home working, allowing the sector to grow throughout 2021.
Chipmaker NVIDIA (NVDA), for example, was up around 225% through 2021, while Apple (AAPL) added to its already massive market cap with 2021 growth of 38%.
Peter Stumpner, solution associate partner in strategy and corporate finance at McKinsey & Co, noted that the majority of the market cap added to the stock market in 2020 to 2021 came from American and Asian tech companies.
But even as Covid-19 forced contractions among the index's hospitality and retail cohorts, most companies managed to offset losses with mid-year runs, including Airbnb (ABNB) and Starbucks (SBUX), that helped smooth out the tail-end of the index last year. Costco (COST), similarly consumer-oriented, continued to reach new heights.
Those factors contributed to the NASDAQ's 100's strongest three-year run since the late 1990s, when the dotcom bubble halted five-year gains that had seen the index double in 1999 alone.
Post-pandemic correction turning into depression
But the circumstances that characterised the rise in 2021 have been turned on their head this year, with the current NASDAQ 100 trend likely to offset any sector-specific gains the index may realise.
In the latest NASDAQ 100 news, inflation is beginning to look like a big problem for Western economies, with the annual rate hitting a 40-year-high of 9.1% in the US, 8.6% in the eurozone and 9.4% in the UK in July 2022.
The US is seemingly fighting a number of fires on inflation, most recently the jump in commodity prices following Russia's invasion of Ukraine.
Crude oil is hovering around a 14-year high as Western economies begin to cut ties with Russia and look to other sources for energy, adding to the effects of massive liquidity in the stock market and on consumers' balance sheets last year that encouraged a wave of spending.
The rollout of US President Joe Biden's $1.2trn infrastructure bill throughout the year might be expected to put further upward pressure on the prices of goods, services and materials. That has pushed central banks into action – accelerated tapering and multiple interest rate hikes are expected this year.
The effect of that on stock-based indices is likely to be two-fold. First, the pullback of government stimulus amid rising prices, in addition to the cost of borrowing set to rise in the remainder of 2022, means retail and hospitality-focused companies on the NASDAQ are more likely to see their margins hurt.
Most tech companies are also dependent on a bullish investing environment which encourages risk-taking and innovation, something looking increasingly unappealing during times of economic war. The ARK Innovation fund's performance, headed by Cathie Wood, has been emblematic of risk aversion, falling close to 50% year-to-date.
Second, the promise of stronger yields has seen investors begin to move money into safe havens. The yield on the benchmark US 10-year treasury note recently topped 3.483% – a high not seen since April 2011 – in a sign of conservatism among investors looking to consolidate previous gains. The US dollar, meanwhile, is floating around 20-year highs.
That sentiment has been strengthened by aggressive contractionary monetary policy, with the Federal Reserve Monetary Committee (FOMC) invoking a 0.75% rate hike on 27 July, after already rising rates in March, May and June. The level of the Fed's benchmark funds is now at a range of 1.5%-1.75%.
However, the Nasdaq 100 has been rising lately – the index rose 1.8% to close at 13,311.04 on 4 August, as recession fears appeared to ease following comments by leading US economists. St. Louis Fed President James Bullard commented on 24 June that fears of a US recession were overblown.
"I actually think we will be fine," Bullard said during the speech in Zurich. "It is a little early to have this debate about recession probabilities in the US."
The brief rally in stocks was also supported by a comment by Goldman Sachs Chief Economist Jan Hatzius, who stated that the leading investment bank did not have a US recession in its baseline forecast.
A reversion to pre-pandemic behaviour has been met with battered confidence through economic contraction and the Russian invasion of Ukraine, pointing to a sustained bear market at least until demand destruction pulls down inflation and begins to reverse rate hikes. But if sanctions and supply crises continue, even that may not be enough to spark another bull run.
"Concerns are ricocheting about plummeting advertising spend which is being seen as a bellwether of economic strength. It highlights the ongoing sensitivity in the market surrounding tech stocks and the super-high valuations they have enjoyed as investors piled in after the initial shock of the pandemic," Susannah Streeter, senior investment and markets analyst at Hargreaves Lansdown, said in a note.
Nasdaq 100 forecast for 2022 and beyond
The outlook for the NASDAQ 100 Index is split between bulls viewing bumps this year as small hiccups, and bears more concerned that trouble lies ahead for equity markets. Algorithm-based Nasdaq 100 predictions were mildly positive, as of 5 August.
LeoProphet projected an expansion throughout 2022 after some mid-year volatility for its NASDAQ outlook, ending December 2022 with a price target of 14,277.50 to 15,084.80.
By December 2025, a price target of a minimum of 17,221.20 reflected an upside of over 30% on the current level, making for a pretty optimistic expectation.
Wallet Investor's US 100 forecast for 2022 was also positive, with the index expected to continue its ascent through the year, with a 9% upside to a December price of 14,415.67. The index was not expected to abate in the long run, closing in December 2025 at 22,086.54.
Please note that algorithm-based NASDAQ predictions can be wrong and change regularly. Forecasts shouldn't be used as a substitute for your own research. Always conduct your own due diligence before investing. And never invest or trade money you cannot afford to lose.
FAQs
Will the NASDAQ 100 go up or down in 2022?

Forecasts were split on the outlook for the NASDAQ 100 in 2022, with algorithm-based services projecting rises and falls through the year. Note that NASDAQ 100 performance forecasts shouldn't be used as a substitute for your own research. And never invest money that you cannot afford to lose.
Is the NASDAQ 100 a good investment?

The NASDAQ 100 has on average provided strong returns over the last three decades, mixed with sharp one-off contractions. Its weighting toward large companies tends to ensure stability within a growing sector. But investors are fleeing tech in what could be a long-term sell-off of risky assets in the face of war and inflation. Whether Nasdaq 100 is a suitable investment for you should depend on your risk tolerance, portfolio size, timeframe and goals, and experience in the markets. Note that past performance does not guarantee future returns. And never invest or trade money you cannot afford to lose.
What is the best time to trade NASDAQ 100?

An opportune time to trade the NASDAQ 100 is in a period of economic expansion, when governments and companies are investing in digital infrastructure. A positive earnings season can be a good time to capitalise on the fortunes of a number of companies in the index. However, note that markers are volatile. Always conduct your own due diligence before trading, and never invest or trade money you cannot afford to lose.
Why is the NASDAQ going up?

The NASDAQ 100 has risen 5.11% in the last week along with other US stock indices as recession fears appear to be easing. Note that markets are volatile and the future direction of the index can go both up and down. Always have a risk-management strategy in place when trading.
Further reading: