Kava price prediction: What is kava?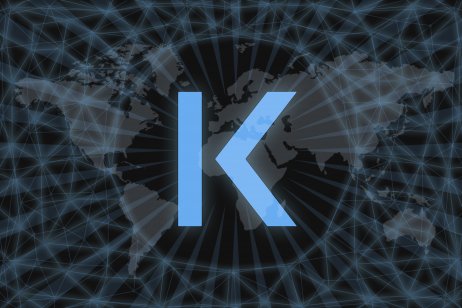 Kava is an intoxicating drink made on islands in the Pacific – and also the token that helps power a decentralised finance (DeFi) platform. Let's take a look at kava, the token rather than the drink, and examine some of the kava price predictions that were being made as of 5 January 2023.
Kava explained
The Kava Network was founded in 2018 by Kava Labs, a company focused on making financial services easily accessible to all via the power of DeFi – decentralised finance. It was founded by Brian Kerr, Ruaridh O'Donnell and Scott Stuart. On 14 November 2019 the Kava mainnet launched.
The Kava blockchain acts like a decentralised bank. It is, according to its whitepaper at least, the first DeFi platform to offer users the opportunity to borrow and lend major crypto assets without the need for a traditional financial intermediary. It supports a number of cryptocurrencies, including Bitcoin (BTC), Ripple (XPR), Binance (BNB) and Cosmos (ATOM).
Many DeFi platforms are powered by the Ethereum (ETH) network. Kava claims to be the first to be built on Cosmos, which, according to its creators, allows Kava to be "lightning-fast", something that is the platform's major unique selling point.
The network is powered by Co-Chain architecture, which claims to combine the potential flexibility and speed of the Ethereum blockchain with the interoperability of Cosmos.
This allows users to access more popular blockchains and establishes the free flow of assets and projects within the Kava ecosystem.
The platform has three parts. First, Kava Lend allows users to earn rewards by supplying and borrowing assets from money markets. Second, Kava Swap allows users to buy and sell assets across the Kava blockchain and earn rewards by providing liquidity pools. Finally, Kava Mint lets people mint the USDX stablecoin by using their crypto assets as collateral.
In order to mint USDX, a user must deposit more crypto assets in USD value than they wish to create of USDX. Different crypto assets have a different collateralisation ratio.
Incidentally, there is no clear way to ensure USDX stays at parity with the dollar. There are some stablecoins, such as Tether, (USDT) which are apparently backed by real assets, and there are others which maintain their equilibrium by relying on a mechanism that sees either the stablecoin or another crypto burned, depending on the level that the stablecoin is trading at.
These so-called algorithmic stablecoins attracted a lot of controversy when the ill-fated UST coin became depegged in May, causing the linked LUNA crypto to collapse and sending the overall market into a very dark place.
However, it does not appear that USDX is either of these. According to a blog written by Stuart: "There is nothing inherent to the USDX digital asset design which itself guarantees it trade in markets around $1, or even that it will trade in a stable range.
"Market price and volatility is a function of an asset's rate of supply and demand flows in that market. USDX asset design has features which can be tuned to potentially impact the rate of supply or demand of the asset and thereby the price in markets, but only indirectly."
Although the post goes on to say that USDX could be a success without matching $1, this still might well leave potential investors with a problem. If there is no specific way of pegging USDX to the dollar, then how can those investors be sure that a USDX token will be worth $1 at any time? We have contacted Kava, but have not heard back.
While Kava has USDX, like pretty much every other blockchain-based platform, it needs to have its own native crypto, which comes in the form of the KAVA token. This is used to give users rewards for minting USDX, and can be also be used for governance and staking.
Since it operates on the Cosmos and Ethereum blockchains, KAVA is a token, rather than a coin. You might see references to such things as a KAVA coin price prediction, but these are, technically speaking, inaccurate.
Kava price history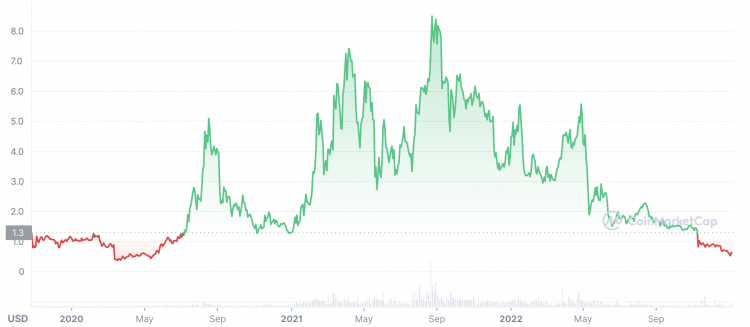 While past performance should never be taken as an indicator of future results, knowing kava's price history. can help give us some context when it comes to either interpreting a kava price prediction or else making one of our own.
Kava was worth $0.965 at its launch on 26 October 2019. It surged by 32% to $1.28 on 19 November 2019 after the announcement on 16 November that the system's mainnet had officially launched into full gear, "making DeFi on Cosmos a reality".
It rose to $5.091 on 16 August 2020 after an announcement that Kava had embarked on a partnership with Injective Protocol. The token's price achieved new heights at the end of March 2021 as it went over $6 for the first time, after the announcement that Kava Labs had acquired Crank Studio, a Canada-based user experience and user interface design firm.
Kava Labs is thrilled to announce it has closed a strategic acquisition of Crank Studio to accelerate the adoption of $KAVA DeFi Platform. ????https://t.co/URpvZUozib

— The Kava Network (@kava_platform) March 17, 2021
By 23 August 2021, the KAVA token reached its all-time high of $8.72, a rise of 161% since its low of $3.34 on 20 July, amid anticipation of the launch of Kava Swap on 30 August. The next major kava crypto news came at the end of October 2021 when the company announced it was planning to launch its Kava 9 update. The token, which had been falling since September, failed to gain much momentum, eventually slumping back down to close the year at $3.95.
2022 was been a weak year for crypto and kava suffered as a result. While there was an intial upturn around the time of the launch of Kava 9 to a high of $5.81 on 17 January, Russia's invasion of Ukraine shook the market and it dropped to $2.57 on 24 February.
The depegging of the UST stablecoin and the collapse of the associated LUNA cryptocurrency saw kava fall to $1.41 on 12 May. After the collapse of the FTX (FTT) exchange, not even the news that kava could be used on the Axelar network could stop it from closing the year at $0.5732, representing a year on year loss of more than 85%. It looked like the bad news would continue into 2023, as kava fell to a low of $0.5182 on 2 January, but then the token mounted a fightback and, on 5 January 2023, it was worth around $0.66.
At that time, there were just over 369 million kava in circulation representing the total supply. This gave the token a market cap of about $243.9m, making it the 99th largest crypto by that metric.
Kava price predictions
Let's now take a look at some of the kava price predictions that were being made as of 5 January 2023. It is important to remember that price forecasts, especially when it comes to something as potentially volatile as cryptocurrency, very often end up being wrong. Long-term crypto price predictions are often made using an algorithm, which means that they can change at a moment's notice.
CoinCodex made a short-term kava price prediction for 2023 that suggested the token could be worth $0.645776 on 10 January before climbing to $0.809655 by 5 February. Despite that, the site's technical analysis was bearish, with 15 indicators sending out negative signals, against 13 making bullish ones.
DigitalCoinPrice was rather more optimistic in its kava crypto price prediction, saying the token could average $1.39 in 2023. The crypto's price was estimated to rise to $2.34 in 2025, and then on to $3.53 in 2028, before the site went on to make a kava price prediction for 2030 of $6.83.
CaptainAltCoin had a kava token price prediction that suggested the crypto could drop to $0.4118 by March 2023 but potentially recover to $0.7806 in January next year. The site then made a kava price prediction for 2025 that said yjhe token could trade at $1.21.
Finally, WalletInvestor was rather more bearish in its kava price prediction, saying that the token had a tough 12 months coming up and forecasting that it could drop to as low as $0.0328 by early January 2024.
When considering a kava token price prediction, it is important to keep in mind that cryptocurrency markets remain extremely volatile, making it difficult to accurately predict what a coin or token's price will be in a few hours, and even harder to give long-term estimates. As such, analysts and algorithm-based forecasters can and do get their predictions wrong.
If you are considering investing in cryptocurrency tokens, we recommend that you always do your own research. Look at the latest market trends, news, technical and fundamental analysis, and expert opinion before making any investment decision. Keep in mind that past performance is no guarantee of future returns. Never trade with money that you cannot afford to lose
FAQs
Is kava a good investment?

It is difficult to tell. The token has struggled since the market crashed in the middle of 2022, and it is hard to see what the token can do to recover. Much will depend on how the market behaves as a whole.

Remember, you should always carry out your own thorough research before making an investment. Even high market cap cryptocurrencies have proved vulnerable to the current bear markets. Investors should be prepared to make losses and never purchase more than they can afford to lose.
Will kava go up or down?

It is hard to say. While the likes of CaptainAltCoin are optimistic, sites like WalletInvestor are far more bearish in their kava price forecasts. Remember that price predictions often turn out to be wrong and that prices can go down as well as up.

In volatile cryptocurrency markets, it is important to do your own research on a coin or token to determine if it is a good fit for your investment portfolio. Whether kava is a suitable investment for you depends on your risk tolerance and how much you intend to invest, among other factors. Keep in mind that past performance is no guarantee of
Should I invest in kava?

Before you do, you should carry out research, not just on kava, but on other DeFi coins and tokens.

Ultimately, though, this is a question that you will have to answer for yourself. Before you do so, however, you will need to conduct your own research and never invest more money than you can afford to lose because prices can go down as well as up.