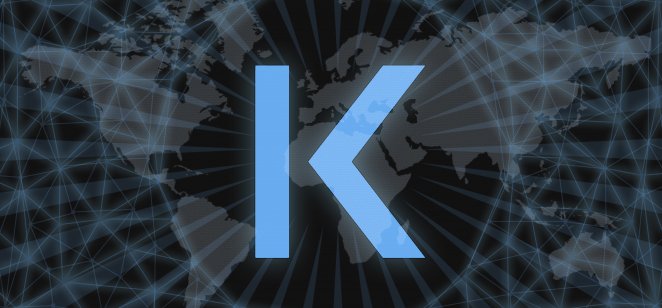 The native token of the decentralised financial services platform Kava Network, KAVA, has bucked the depressing trend that has hit the cryptocurrency sector in April and posted a rise of 33% since the middle of the month to hit $5.57 today (29 April).
The token has now risen more than 96% since hitting a low in February. In that time it has launched its Ethereum Co-Chain Beta and is now building up to the launch of the mainnet on 10 May, it launched a $750m developer incentive programme and has added new partrnerships to the ecosystem such as Moonfarm.
Can the coin keep up this momentum? What is a realistic target price for this struggling coin in the near future?
This article explores the decentralised finance (DeFi) platform and looks at the latest news and developments. We shall review the latest KAVA price predictions and analysis to see what a plausible outlook for the coin in 2022, 2025 and 2030.

What is the KAVA coin?
The Kava Network was founded in 2018 by Kava Labs, a company focused on making financial services easily accessible to all. On 14 November 2019 the Kava mainnet launched.
The Kava blockchain acts like a decentralised bank. It's the first DeFi platform to offer users the possibility to borrow and lend major crypto assets without the need for a traditional financial intermediary, according to its whitepaper. It supports a number of cryptocurrencies, including Bitcoin (BTC), Ripple (XPR), Binance (BNB) and Cosmos (ATOM).
Many DeFi platforms are powered by the Ethereum network. Kava is the first to be built on Cosmos, which, according to its creators, allows Kava to operate "lightning-fast" – the platform's major unique selling point.
The network is powered by Co-Chain architecture, which combines the flexibility and speed of the Ethereum blockchain with the interoperability of the Cosmos SDK, merging the two most used permissionless ecosystems into a single, scalable, network.
This allows users to access the most popular blockchains and establishes the free flow of assets and projects within the Kava Ecosystem.
The platform has three functions:
Kava Lend: allows users to earn rewards by supplying and borrowing assets from money markets.

Kava Swap: allows users purchase and sell assets across the Kava Blockchain and earn rewards by providing liquidity pools.

Kava Mint: allows users to take USD-pegged stablecoins called USDX loans by using their crypto assets as collateral.
Kava's crypto-backed stablecoin can be minted by anyone who owns crypto assets. To mint USDX a user must deposit more crypto assets in USD value than they wish to create of USDX. Different crypto assets have a different collateralisation ration.
Users receive rewards for minting USDX in the form of Kava Network's native cryptocurrency, the KAVA token, which can be used for governance and staking. The number of rewards an owner receives in KAVA varies Accor to the type of their owned crypto assets.
There were 100m KAVA tokens initially released by the network. According to CoinMarketCap, at of the time of writing (29 April 2022), some 180 million KAVA tokens were in circulation, with their total supply exceeding 173m. The token's market capitalisation amounted to over $9606m, giving it a rank of 82nd.
KAVA crypto price: Latest drivers
The chart below show the KAVA token was priced at $0.965 at its launch on 26 October 2019. It surged by 32% to $1.28 on 19 November 2019 following the announcement on 16 November that the KAVA mainnet had officially launched into full gear "making DeFi on Cosmos a reality".
Through the end of 2019 and the start of 2020, the token's price started to fluctuate. It dropped to its all-time low of $0.344 on 16 March 2020, despite the token being listed on three different exchange platforms throughout January and February that year.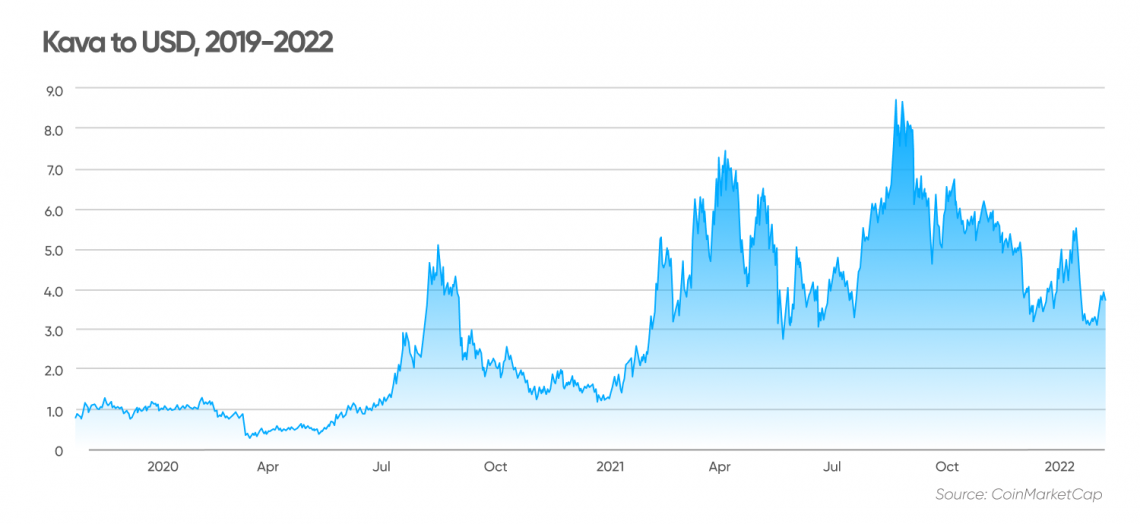 Since it's all-time low in March, the token regained momentum in the summer of 2020. By 8 August, the token's price reached $4.67 – a 1257% surge since that all time low.
The KAVA token then kept a steady rate of growth, rising 9.12% to $5.091 on 16 August after an announcement that Kava had embarked on a partnership with Injective Protocol.
The token's price achieved new heights at the end of March 2021 as it went over $6 for the first time. The rise followed the announcement that Kava Labs had acquired Crank Studio, a Canada-based user experience and user interface (UX/UI) design firm.
Kava Labs is thrilled to announce it has closed a strategic acquisition of Crank Studio to accelerate the adoption of $KAVA DeFi Platform. ????https://t.co/URpvZUozib

— The Kava Network (@kava_platform) March 17, 2021
By 23 August 2021, the KAVA token reached its all time high of $8.72, a rise of 161% since its low of $3.34 on 20 July, amid anticipation of the launch of Kava Swap on 30 August.
What is your sentiment on KAVA/USD?
Vote to see Traders sentiment!
Between 23 and 26 August the coin's price started to decline. It gained momentum on 26 August when the platform rebranded by introducing the Kava Mint, Kava Lend and Kava Swap Protocols. This led to a 14.19% rise in the token's price from$7.5813 on 26 August to $8.6573 on 28 August.
The next major catalyst in KAVA crypto news came at the end of October 2021 when the company announced that it was planning to launch its big Kava 9 update. The token, which has been falling since September, failed to gain much momentum rising by 5.18% between 21 and 26 October, from $5.64 to $5.93.
The Kava 9 mainnet update successfully launched on 19 January 2022, however, the token's price stayed in a bearish trend falling by 39% from $5.53 to $3.38 between 16 and 23 January 2022 amid a general dip in the cryptocurrency markets.
On 8 March Kava Network bridged the Cosmos and Ethereum ecosystems with an Ethereum Virtual Machine (EVM) Co-Chain. Kava's aim is to make it easier for blockchain developers to onboard to drive growth. To help this process it will also be offering incentives to developers.
As part of its upgrade to Kava 10 in May the existing Kava blockchain will become the Cosmos Co-Chain, while the Ethereum Co-Chain, which is currently under development, will launch with the upgrade.
Technical analysis provided by CoinCodex showed that short-term sentiment on the KAVA token was neutral as of the time of writing (29 April), with eight indicators showing bearish signals and 21 showing bullish signals. In its short term Kave price prediction it reckoned the price would rise 1% to $5.37 by 4 May.
What's to come in 2022?
In recent KAVA crypto news, the company uncovered plans that the blockchain will undergo another major upgrade known as Kava 10 which will introduce the Ethereum Co-Chain along with the currently used Cosmos blockchain. According to the platform, bringing Ethereum and Cosmos together will create a surge of activity on the Kava Network. The launch of Kava 10 is anticipated for 10 May 2022.
Other upcoming projects on Kava's roadmap that could influence the token's price include the GameFi and non-fungible tokens (NFT) incentive program scheduled for May 2022.
BigONE Exchange's chair Anndy Lian explained that Kava's function to lend and borrow assets using a number of cryptocurrencies as collateral still serves as a big plus for the platform.
"[Kava's] debt-to-collateral ratio is reasonable too. For example, based on a 300% ratio, the cryptocurrency locked in the network would be liquidated if it falls below 3 X of the USDX loaned," he told Capital.com.
"Their codes are sound and their treasury is still holding up well."
by
Anndy Lian, BigONE exchange chair
"The slide in the price recently is due to the overall market conditions. Some investors may see steeper plunges due to the performances of their collateralised assets. In my humble opinion, there is nothing to be worried about at this point, their codes are sound and their treasury is still holding up well."
KAVA price prediction 2022-2030
Algorithm-based forecasting service Wallet Investor gave a bullish KAVA crypto price prediction, as of the time of writing (29 April), calling it a "not so good long-term investment".
Based on its analysis of the cryptocurrency's past performance, the forecasting service predicted that KAVA could trade at $5.57 in 12 months and $7.92 by April 2027.
In its KAVA coin price prediction DigitalCoinPrice supported the bullish Kava forecast, seeing the coin average $6.98 in 2022. The coin's price was estimated to rise to $10.41 in 2025, and then on to $12.12 in 2027, and to $24.36 in 2030.
Note that these algorithm-based Kava coin price predictions can be wrong. Forecasts should not be used as a substitute for your own research. Always conduct your own due diligence before investing. And never invest or trade money you cannot afford to lose.
FAQs
Whether KAVA is a good investment for you depends on your personal circumstances and risk appetite. Cryptocurrencies are very high-risk assets.
You should do your own research and evaluate the level of risk you are prepared to accept before investing. Never invest money you cannot afford to lose.
Algorithm-based forecasting service Wallet Investor gave a bullish Kava crypto price prediction, as of the time of writing (29 April), calling it a "not so good long-term investment". DigitalCoinPrice supported the bullish KAVA coin price prediction, seeing the coin average $7 in 2022.
It should be noted that KAVA predictions can be wrong. Forecasts shouldn't be used as a substitute for your own research. Always conduct your own due diligence before investing. And never invest or trade money you cannot afford to lose.
Read more: