HEX price prediction: What is HEX crypto? Could it be a scam?
Subscribe to Weekly Highlights
The major market events for the week ahead right in your inbox.
Subscribe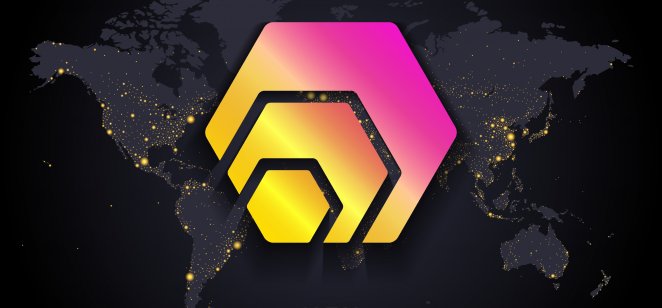 Content
HEX, launched in December 2019 by Richard Schueler, aims to make certificates of deposit available on the blockchain. The HEX token hit an all-time high of $0.5561 on 16 November 2021.
Within seven months, however, it had plunged to a low of $0.0286 on 18 June 2022. Let's find out more, and take a look at some of the HEX price predictions that were being made as of 21 November 2022.
What is HEX?
Schueler, better known as Richard Heart, is a serial entrepreneur, author, YouTube personality, philanthropist and the founder of the PulseChain network, for which he raised more than $27m for medical research.
According to HEX's official website, the project is designed to become the first certificate of deposit (CD) in the cryptocurrency world. In traditional banking, a CD is a product that yields a return slightly higher than the average savings account for the customer, after the customer agrees to lock up the invested funds for a fixed period.
A HEX CD works in the same way as in traditional banking, since it pays a return to investors who decide to lock up their HEX holdings for a set period, ranging from one day to several years.
HEX claims to follow a proof-of-wait (PoW) protocol that does not require the participation of miners. Instead, investors mint new coins by holding HEX during the agreed holding period. Once the holding period comes to an end, the HEX smart contract is designed to create new coins to pay off the holder, who then becomes a "miner" in this particular ecosystem.
HEX is a layer-2 (L2) application (an off-chain solution which helps to increase throughput on the main chain) built on top of the Ethereum network and powered by a smart contract that regulates how tokens are minted and distributed to investors.
At the moment, HEX offers an average annual percentage yield (APY) of 40%, depending on the length of the holding period.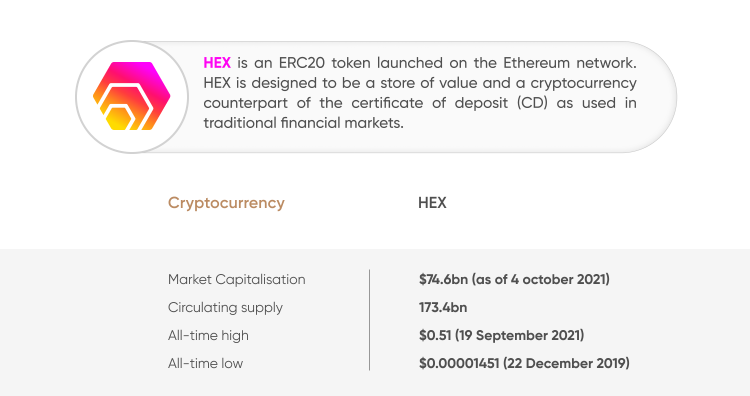 Diagram showing HEX properties – Credit: Capital.com

HEX tokens are minted to pay off existing holders when their lock-up period is due.
The project is structured so that as the price increases, the total number of HEX crypto that needs to be minted to pay off users will be lower. However, if the price suddenly collapses, token inflation will grow at an accelerated pace because more tokens will have to be created to pay the same amount.
In essence, the structure of the project guarantees that people will always be paid in HEX tokens, and since the price has gone up significantly in the past, new investors have piled on with the expectation of benefiting from the token's elevated APY and a subsequent rise in its price.
Because HEX is based on the Ethereum (ETH) blockchain, it is a token, rather than a coin. You might see references to, for eample, a HEX coin price prediction, but these are wrong.
HEX cryptocurrency security audit: Is it safe to invest in HEX?
Since its inception in 2019, HEX has been surrounded by questions about whether the project is safe and whether or not it is a scam.
Doubters pointed to the HEX founder's background. Heart allegedly participated in unlawful activities back in 2002, including a violation of US spam laws.
However, in December 2019, the HEX smart contract underwent a security audit by CoinFabrik. According to CoinFabrik's report, no critical security issues were found.
CoinFabrik did reveal several minor problems, including "replay signature with modified parameters" and "excessive gas for computation", which were addressed by the HEX team. The auditor confirmed that the HEX contracts in Solidity were "well written and properly documented".
HEX fundamental analysis
There are some risk factors to consider while evaluating the future expectations of HEX cryptocurrency:
Scam controversy. HEX addressed allegations of being a scam or even a Ponzi scheme in a special scam section on its website. All the same, the level of controversy is high, and we suggest you conduct your own very thorough research before trusting a HEX crypto price prediction.

Availability. HEX crypto is available on around 20 cryptocurrency exchanges, but it is not listed on any of the world's largest exchanges. It's worth considering this factor, as smaller exchanges tend to be more attractive targets for hacking attacks.

The project relies significantly on its credibility. If the project loses credibility, the price of HEX can collapse. The reason for this is that a large volume of tokens would have to be issued to pay off current CD holders. This would increase the token's supply dramatically, which would result in a price drop, as the gap between supply and demand would be quite high.
According to Capital.com analyst Mikhail Karkhalev, the HEX project is a logical continuation of the development of the DeFi sector in the crypto market.
| | |
| --- | --- |
| Long position overnight fee | -0.0500% |
| Short position overnight fee | 0.0140% |
| Overnight fee time | 22:00 (UTC) |
| Spread | 0.2909 |
| | |
| --- | --- |
| Long position overnight fee | -0.0500% |
| Short position overnight fee | 0.0140% |
| Overnight fee time | 22:00 (UTC) |
| Spread | 66.00 |
| | |
| --- | --- |
| Long position overnight fee | -0.0500% |
| Short position overnight fee | 0.0140% |
| Overnight fee time | 22:00 (UTC) |
| Spread | 0.00349 |
| | |
| --- | --- |
| Long position overnight fee | -0.0500% |
| Short position overnight fee | 0.0140% |
| Overnight fee time | 22:00 (UTC) |
| Spread | 0.0014086 |
"The desire to get rid of the middleman in the form of the banking system is progressing," he said. "Following the ability to make cross-border P2P [peer-to-peer] transactions and to take loans secured by cryptocurrencies, now we've got the possibility to open deposits (stake) at high interest rates without being involved in Ponzi schemes.
"This is indeed progress, and I would even say a revolution in the banking system. Unlike a bank, which offers slightly higher interest rates on time deposits than standard deposits that barely cover inflation, DeFi projects like HEX offer the opportunity to earn more without being an intermediary and profit-maker like a bank."
Karkhalev said that "staking is one of the most profitable investments in the cryptocurrency market today." However, he highlighted the necessity of considering the risks of "hacks, smart contract errors and exit scams".
HEX price history
While past performance should never be taken as an indicator of future results, knowing HEX's price history. can help give us some context if we want to either interpret a HEX price prediction, or else make one of our own.
HEX/USD price chart, all-time performance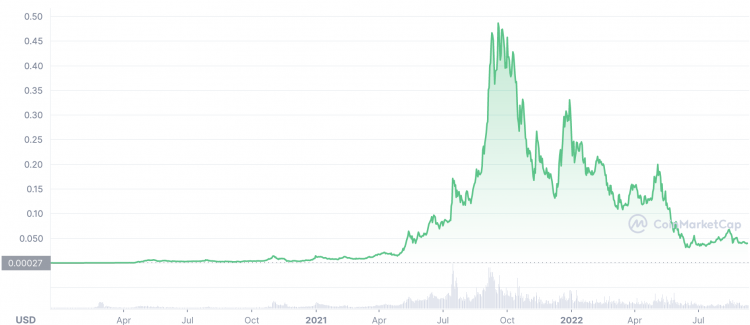 Source: CoinMarketCap
When HEX came onto the open market in late 2019, it was worth around $0.00025. It hovered around that level for the next year or so, but the market turned bullish in early 2021 and saw the token's value top $0.06 in early May.
While there was something of a downturn after that, HEX defied the market by growing throughout the summer, breaking through the $0.10 barrier in July and trending upwards to a high of a little over $0.48 on 18 September 2021. After that, another downturn was reversed when it hit an all-time high of $0.5561 on 16 November 2021, before it ultimately fell to close the year at $0.285.
So far, 2022 has been a pretty poor year for the overall crypto market. The HEX token, similarly, has shown a notable decline, with the nadir coming in a low of $0.02866 on 18 June.
Since then, there has been some slow, halting recovery, and on 21 November 2022 the token's price stood at around $0.02868. At that time, there were just over 173 billion HEX in circulation out of a total supply of a little over 633.5 billion. This gave the token a market cap of around $4.9bn, making it the 202nd-largest crypto by that metric.
HEX price predictions
Let's take a look at some of the HEX price predictions that were being made as of 21 November 2022, bearing in mind that price forecasts, especially for something as potentially volatile as cryptocurrency, are often wrong. Long-term crypto price predictions are often made using an algorithm, which means they can change at any time.
The HEX crypto price prediction from CaptainAltCoin suggested the token could be worth $0.0267 in December 2022, before recovering somewhat to $0.0406 in November 2023. The site then went on to make a HEX price prediction for 2025 that saw it potentially reach $0.0699. However, the downbeat assessment then came back, with the site suggesting the coin could have fallen into oblivion by 2027, becoming effectively worthless. Even by the time the site made a HEX price prediction for 2040, there was still no sign of a recovery, meaning that it thought HEX could be a dead coin.
A HEX coin price prediction from CoinArbitrageBot said it could reach $0.029 this year before climbing to $0.12527 in 2023. In 2024, the site said, the token could stand at a little over $0.22304, before possibly reaching $0.36088 in 2025.
PricePrediction suggested the token could reach $0.048 in 2023 and $0.069 in 2024. By 2025, the site argued that the crypto could be worth $0.10, before continuing its rise over the years to possibly close the decade at around $0.48. The site then made a HEX price prediction for 2030 that indicated the token could hit $0.71, before reaching $1.04 the following year.
Finally, the HEX price prediction for 2022 from Gov Capital believed the price could be $0.0890 by the end of December. The site also gave a one-year forcast of $0.289 and a five-year forecast of $1.977.
When considering a HEX token price prediction, it is important to keep in mind that cryptocurrency markets remain extremely volatile, making it difficult to accurately predict what a coin or token's price will be in a few hours, and even harder to give long-term estimates. As such, analysts and algorithm-based forecasters can and do get their predictions wrong.
If you are considering investing in cryptocurrency tokens, we recommend that you always do your own research. Look at the latest market trends, news, technical and fundamental analysis, and expert opinion before making any investment decision. Keep in mind that past performance is no guarantee of future returns, and never trade with money that you cannot afford to lose.
FAQs
Is HEX a good investment?

It is difficult to tell. A lot will depend on whether the token can recover from recent losses, together with the overall performance of the crypto market.

Remember, you should always carry out your own thorough research before making an investment. Even high-market-cap cryptocurrencies have proved vulnerable to the current bear market, so investors should be prepared to make losses and never riskmoney they cannot afford to lose.
Will HEX go up or down?

It is hard to say. Some sites, like PricePrediction, were upbeat and believed it could reach $1 in 2031, while CaptainAltCoin suggested the token could lose much, if not all, of its value. Remember that price predictions are often wrong, and that prices will go down as well as up.

In volatile cryptocurrency markets, it is important to do your own research on a coin or token to determine if it is a good fit for your investment portfolio. Whether HEX is a suitable investment for you depends on your risk tolerance and how much you intend to invest, among other factors.

Keep in mind that past performance is no guarantee of future returns, and never invest money that you cannot afford to lose.
Should I invest in HEX?

This is a question that you will have to answer for yourself. Before you do so, however, you will need to conduct your own research. Never invest more money than you can afford to lose, because prices can go down as well as up.
Related reading