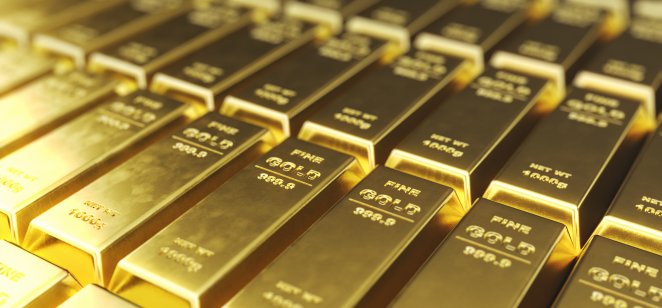 The gold market narrative has been driven by the contrasting effects of persistent high inflation and central banks raising interest rates in response. With the US dollar hitting a 20-year high, gold fell to a three-month low on 13 May. The commodity rallied at the start of June, hitting the highest price levels it has seen since 9 May, but dipped in anticipation of a 75-basis-point rate hike by the Federal Reserve.
With the $1,700 an ounce range in sight, gold remains well below the $2,000 level seen in early March. Although a weaker US dollar is providing the commodity with some positive momentum, the fundamental reason for most analysts not having a longer-term bullish perspective on gold — rising US Treasury yields — remains intact.
What are the prospects for the gold market for the rest of the year given the current macroeconomic and geopolitical environment? Should you invest in gold now?
In this article, we look at the recent drivers and gold price predictions from commodities analysts.
Gold struggles to keep lustre as dollar rallies
The gold market closed at $1,808.20 an ounce on 13 May, having dipped below the $1,800 mark for the first time since 4 February to $1,797.20. Gold tends to trade in an inverse direction to the US dollar, as it becomes more expensive for buyers with other currencies and does not yield interest.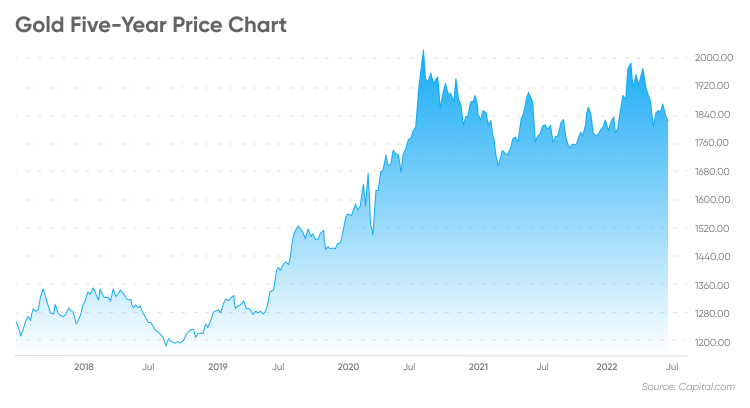 The dollar has benefited from the uncertain macroeconomic environment, with concerns about high inflation, the prospect of recession, slowing growth in China and the impact of the Russia-Ukraine war prompting investors to sell other assets in favour of holding dollars. The US Dollar Index (DXY), which measures the performance of the dollar against a basket of other currencies, soared to 105.08 on 13 June, its highest level since late 2002, as the US 10-year bond yield broke above 3.25%. The DXY has since edged down to 103.93 as of 27 June.
Gold, on the other hand, moved in the opposite direction on 13 and 14 June, shedding 3% from 1875.5 to 1831.8 and 1813.5 as traders braced for the Federal Reserve rate hike on 15 June.
Bob Haberkorn, senior market strategist at RJO Futures, explained the market dynamics to Bloomberg:
"Gold competes against the bond markets as a safe haven... a potential rate hike of 75 to 100 basis points by the [Federal Reserve] might make the bond market a little more attractive to safe-haven buyers than the gold market would normally be."
Gold had climbed to a high of $2,043.30 on 8 March, a rise of 13.5% from the $1,800 level seen at the start of the year, as the Russia-Ukraine war escalated. That was close to the all-time high in dollar terms seen in August 2020 – above $2,070 – and a new record in euro terms.
The US Federal Reserve (Fed) has hiked interest rates three times so far in 2022. The Fed implemented a 25-basis-point hike in mid-March, a 50-basis-point increase on 4 May, and a 75-basis-point rise on 15 June — its biggest rate increase since 1994. Economists polled by Reuters expected the Fed to lift rates further by 75 basis points in July and 50 basis points in September. These expectations have the potential to limit the upside for the gold market in the near future.
A recession would be supportive to gold prices, but the sharp increase in interest rates being used to tackle inflation has so far been limiting the upside for the precious metal.
Limited market reaction to G7 ban on Russian gold imports
The Group of 7 has recently decided to ban the purchase of newly minted and refined gold from Russia, in the latest move by the US, Britain and their allies to ramp up sanctions on Russia in response to its invasion of Ukraine.
"Together, the G7 will announce that we will ban the import of Russian gold, a major export that rakes in tens of billions of dollars for Russia," US President Biden wrote on Twitter on 26 June.
The United States has imposed unprecedented costs on Putin to deny him the revenue he needs to fund his war against Ukraine.

Together, the G7 will announce that we will ban the import of Russian gold, a major export that rakes in tens of billions of dollars for Russia.

— President Biden (@POTUS) June 26, 2022
The market response to the move was fairly limited, as the gold industry had already imposed far-reaching restrictions on Russian gold since
Warren Patterson, Head of Commodities Strategy at ING Group's research arm THINK, commented on the move in a recent note:
It seems as though G7 countries are set to announce a ban on Russian gold imports, which on the surface sounds significant, given that Russia is the third-largest producer globally. However, the gold industry has already largely shunned Russian gold. The London Bullion Market Association back in March already suspended the accreditation of Russian gold refiners. This would explain why we are seeing a very limited reaction in gold prices [on the morning of 27 June], with spot gold trading only marginally higher.
How is gold expected to trade for the rest of the year and in the longer term?
Let's look at the latest analysis and price projections from analysts.
Gold price forecast for 2022 and beyond: Should you buy or sell the precious metal?
Technical perspective
"At present there does not appear to be a definitively bullish fundamental theme to offer hope to the bull camp in gold," according to US brokerage Zaner.
What is your sentiment on Gold?
Vote to see Traders sentiment!
Technical analysis by the company on 16 May showed: "Momentum studies are still bearish but are now at oversold levels and will tend to support reversal action if it occurs.
"The market's close below the 9-day moving average is an indication the short-term remains negative. The market's close below the pivot swing number is a mildly negative setup. The next downside objective is 1780.4. Some caution pressing the downside is warranted with the RSI under 30. The next area of resistance is around 1824.3 and 1841.1."
Analyst predictions
Projections from a number of financial analysts indicate that the gold price could decline over the long term, with Australian bank ANZ projecting that gold could fall to the $1,600 level by the end of 2023.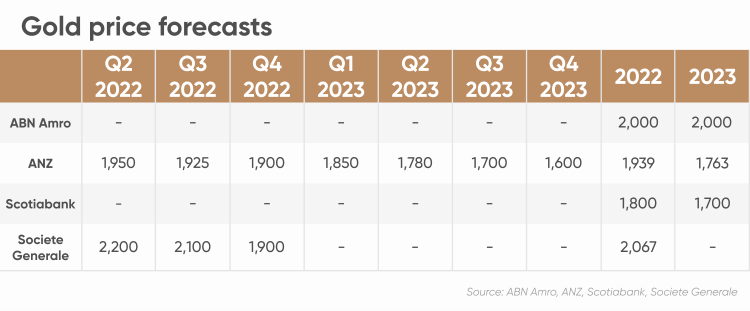 "Aggressive monetary tightening, rising yields and a stronger dollar are key drags for the gold prices. Rising inflation failed to impress the market, instead raising fears of a more hawkish stance by the central banks. That said, the spread between the fed funds rate and CPI is at its widest, suggesting the Fed is struggling to contain inflation," analysts at ANZ wrote in their latest gold forecast.
"Concerns about global economic growth, fuelled by sustained inflation and heightened geopolitical risks, should protect the gold price somewhat. We expect gold to remain supported at USD1,850/oz, with upside potential of USD1,950/oz."
Analysts at Canada's TD Securities noted on 16 May that traders are reducing their exposure to gold as they anticipate the price remaining in a downward trend:
"Speculative length and ETF positions continue to be sold off in gold with precious metals sentiment becoming increasingly bearish... Importantly, CTA trend followers have also joined into the liquidation party, and with prices now below the bull-market-defining uptrend as we expected, a significant liquidation event may now be unfolding as these funds target a large net short position. With the Fed telegraphing their every move, Fedspeak this week will be increasingly important, particularly as positioning is continuously squeezed with bearish sentiment building.
"In turn, we continue to expect substantial selling flow to weigh on the yellow metal at a time when liquidity is scarce."
Analysts at German technology group Heraeus also wrote in their recent gold price outlook, the Heraeus Precious Appraisal, on 27 June:
"Gold outperformed other precious metals in three of the last four stock bear markets. Real interest rates will likely be negative until the end of the year, and quite possibly longer, providing a good investment environment for gold. The gold price has been trading in a broad price range for two years and will eventually break out. On the upside, the price will need to climb above $1,900/oz to give an initial sign that the rally has resumed. Alternatively, if the price falls below support from $1,800/ oz to $1,780/oz, then further decline is likely."
US-based Citibank is bullish in its short-term outlook for the gold price in 2022. "Nominal gold prices may hold a high(er) range for the balance of 2022 as financial markets grapple with surging headline inflation, geopolitical uncertainty, and recession tail risks," the bank's analysts wrote in mid-May.
"Gold is a less volatile commodity, but still provides a high-quality risk hedge in a dangerous world. A rise in short-term inflation and inflation expectations should drive down real yields. This has been the most reliable driver of gold's value."
Citibank has a 0-3 month forecast of $2,125 for the commodity, but it expects the price to fall to $1,900 in 6-12 months and $1,760 over the long term.
At the time of writing (27 June), algorithm-based forecast site Wallet Investor was bullish in its long-term projections, indicating that the gold price could move to $1,913 by the end of 2022 and continue to rise over the next 5 years to $2,756.
When considering gold price predictions for 2022, it's important to keep in mind that high market volatility makes it difficult to give long-term estimates. As such, analysts and algorithm-based forecasters can and do get their predictions wrong.
We recommend that you always do your own research. Look at the latest market trends, news, technical and fundamental analysis, and expert opinion before making any investment decision. Keep in mind that past performance is no guarantee of future returns. And never invest money that you cannot afford to lose.
FAQs
Is gold a good investment now?

Some investors might opt to keep some exposure to gold in their portfolio for diversification as a hedge against a fall in stocks and bonds. However, whether gold is a suitable investment for you depends on your risk tolerance, outlook for the market and whether you expect it to rebound or fall further, among other factors. Always do your own research and remember that past performance is no guarantee of future returns. And never invest money that you cannot afford to lose.
Will gold go up or down in 2022?

The outlook for the gold price will likely depend on how geopolitical tensions unfold and how monetary tightening will impact the global economy, among other factors. Keep in mind that analysts can and do get their predictions wrong. You should do your own research to make informed trading decisions. Past performance is no guarantee of future returns.