GALA price prediction: What is GALA?
Subscribe to Weekly Highlights
The major market events for the week ahead right in your inbox.
Subscribe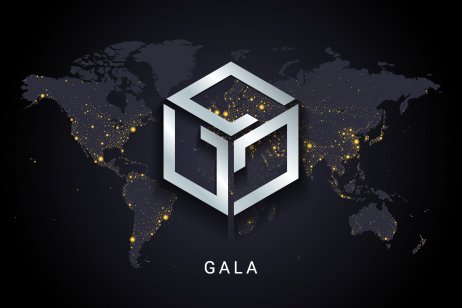 Content
Gala Games is one of the more notable metaverse platforms to have come along over the last few years but, in crypto terms, what is GALA?
Let's see what we can find out, and also examine some of the GALA price predictions that were being made as of 9 January 2023.
GALA explained
Gala Games was founded in 2018 by Eric Schiermeyer, the co-founder of the games developer Zynga, together with crypto miner Wright Thurston and Michael McCarthy, the creative director behind viral games such as FarmVille. Their declared aim was to make online gaming more decentralised, and they aimed to target a wide variety of gamers who wanted to change the way things were done in the gaming world.
The introduction of non-fungible tokens (NFTs) into the Gala Games ecosystem was the first step towards making gaming more decentralised, as well as helping players take ownership of their game items. NFTs can be collected, traded and sold, not just within their own game but throughout the entirety of the Gala Games ecosystem.
In order to give achieve its stated goal, Gala Games has established a blockchain network powered by GALA tokens. The system is built on the Ethereum (ETH) blockchain, and GALA tokens are transferable between users, who have full control over how to use them.
As GALA is based on Ethereum, it is a token, rather than a coin. You might see such questions as "What is GALA coin?" or references to the GALA coin value, the Gala Games coin price or a GALA coin price prediction, but such terms are all, technically speaking, incorrect.
Users can also purchase nodes in GALA, ether (ETH) or basic attention token (BAT) and acquire voting rights on which games will be published next on the platform, allowing players to have their say on changes to the system. This process is also known as the Founder's Nodes within the Gala Games Ecosystem, which is powered by more than 16,000 player-run nodes.
The GALA cryptocurrency is also used to reward holders and Founder's Nodes owners who have operated their computers on the network for at least six hours, with the rewards issued every day. In order for the network to run smoothly, 50,000 Founder's Nodes were released upon its launch.
In the long run, Gala Games is planning to establish multiple game studios that will each work on multiple games, creating a steady stream of NFTs which will get dropped to the node network in order to incentivise the system and keep it stable.
So far, the platform hosts games and an NFT collectible series, VOX. On 31 October 2022, the platform launched its latest game, Spider Tanks, which heralds itself as the first blockchain-based esports game. This launch came not long after the company announced that Mark Skaggs, the former vice-president of Electronic Arts, was to join Gala Games as its senior vice-president of games.
GALA did not have an initial coin offering (ICO) upon its launch. The figures of 1.3 million monthly active users acquired since launch, and more than 26,000 NFTs sold, are taken from the Gala website, where they have not been updated for several months.
Schiermeyer said: "I wouldn't be doing this if I didn't think this was literally the next phase of the internet. Everything that touches ownership is going to be affected by what's happening here. Art and music and everything that has a digital life is going to be touched by this. Anything that you thought was digital that you thought you owned but didn't really own – that's what's about to be revolutionised."
GALA price history
While past performance should never be taken as an indicator of future results, knowing the GALA price history can help give us some context if we want to either interpret a GALA price prediction or make one of our own.
The GALA token started to gain traction in September 2021, after being listed on the Binance (BNB) and Bibox crypto exchange platforms in the middle of the month. Its price surged to $0.113 on 23 September 2021, up more than 500-fold from its previous all-time low of $0.00022 on 28 December 2020.
After updates to Gala Games' inventory, which made transferring items from within the platform's ecosystem to Ethereum much easier, as well as the signing of a memorandum of understanding between Gala Games and Wemade Tree (the blockchain subsidiary of the Korean gaming giant Wemade), the GALA crypto price stagnated throughout October and mid-November 2021.
News on 15 November 2021 that the company would release its first limited supply of Game Node licences for Town Star boosted the GALA token threefold, up from $0.13 on 15 November 2021 to $0.37 a week later.
The token's price managed to keep a steady growth pace and surged to $0.71, still its all-time high, by 28 November 2021, after the announcement of the release of a new series of its VOX NFTs.
Anndy Lian, chair in Asia of BigONE Exchange, told Capital.com: "The surge in GALA token is mainly due to the interest in metaverse and gaming tokens worldwide. Its founders have done well in gaming and crypto mining. This becomes an added advantage. The token itself is based on Ethereum and is well supported by the community of faithful investors. Adding steam to the whole equation is that they are listed on most of the leading exchanges, including Binance, FTX, Coinbase, Bybit, Huobi and Kucoin."
Success, however, did not last long for the Gala Games crypto, despite the general hype surrounding play-to-earn platforms, which passed a record $1bn in NFT trading volumes in November, according to data published by DappRadar.
Between its all-time high at the end of November and 3 December 2021, the token's value dropped by 29% to $0.51. The Gala Games token continued on a downward trend over the following month until it reached $0.18 on 22 January 2022, despite securing a $100m blockchain gaming fund in partnership with C² Ventures and preparing for the launch of Phase 2 of the nodes ecosystem at the start of January.
The token then moved sideways for a little over a week before doubling from its 22 January value to $0.38 on 8 February 2022, as anticipation built around the upcoming release of 8,888 membership NFTs in the Flare realm, where Gala Games had integrated with the Flare Network.
In more recent GALA coin news, the platform announced that it had partnered with the American rapper Snoop Dogg and would release his latest record, B.O.D.R, on the blockchain, with the tracks to be sold as NFTs.
The token's value started to rapidly decline by mid-February 2022, falling by 37% in one week from $0.36 on 15 February to $0.22 after Russia's invasion of Ukraine. The token has yet to return to that level.
Current state of play and Galaverse
Since 15 February 2022, the GALA crypto price has been falling, despite endorsements from the likes of Snoop Dogg and Paris Hilton.
On 12 May 2022, after the depegging of the UST stablecoin and the collapse of the associated LUNA cryptocurrency, GALA fell to a low of $0.04944. After that, it made something of a recovery, reaching $0.07253 on 13 August before falling back down again to a low of $0.03161 on 21 October.
A combination of the news about Skaggs's hiring and growing interest ahead of the launch of Spider Tanks saw GALA reach a high of $0.0441 on 31 October. After that, though, one single wallet appeared to mint more than $1bn worth of GALA out of nowhere, prompting fears of a rug pull.
While Gala Games moved to reassure investors, tweeting that its system "was not hacked, breached, or exploited in any way," as pNetwork, the system which allowed GALA to operate on the BNB Chain (BNB), formerly known as Binance Smart Chain, claimed it had carried out a so-called white hack attack to check how safe the platform was, the price collapsed to $0.02837 on 3 November, before it recovered somewhat to around $0.3485 on 4 November.
After that, though, GALA was hit by the collapse of the FTX (FTT) exchange, and dropped to a low of $0.01555 before closing the year at $0.01666.
The token moved up in early January and, on 9 January 2023, it received a notable boost when it was announced that Gala Games' movies division, Gala Film, was working on projects with Hollywood superstar and professional wrestler Dwayne 'The Rock' Johnson and Academy Award-nominated actor Mark Wahlberg. This saw GALA trade at around $0.03738, an increase of more than 100% since the start of the year.
At that time, there were just under 6.98 billion GALA in circulation out of a total supply of a little over 35 billion. This gave it a market cap of around $260m, making it the 103rd-largest crypto by that metric.
In early June 2022, the platform hosted Galaverse, an immersive world experience for each one of its games, in Malta. According to the Times of Malta, rappers Snoop Dogg, Ice Cube, E-40 and Too Short appeared at the event via a recorded message in which they introduced their new supergroup, Mount Westmore, with the Metaverse release of their debut album Bad MFs.
As the GALA token was built on the Ethereum network, it heavily relies on ETH's performance, making it quite volatile. Moreover, the token could start facing competition as tensions rise in the gaming/NFT space amid their growing popularity, Invezz data analyst Dan Ashmore told Capital.com.
However, he also noted that there could be brighter times ahead for the GALA token.
Ashmore told Capital.com: "GALA, the community-led gaming platform, spiked 20% in 24 hours at the start of February following the news that Galaverse will occur in June. At the last event last December, numerous projects were launched (including Legacy and The Walking Dead: Empires), and there is speculation more will be announced this June. 20% represents a huge jump for merely an event, and markets have pulled the token back below levels even before the announcement.

"GALA earlier announced a $5bn investment to expand their NFTs, and if that or the Galaverse don't work out, this token could continue to tumble. If, however, projects remain on track and Galaverse does not disappoint, GALA could rise above a $3.5bn market cap. The all-time highs of $5bn set last November seem a reach."
GALA price predictions
Let us now look at some of the GALA price predictions that were being made as of 9 January 2023.
Price forecasts, especially for something as potentially volatile as cryptocurrency, are often wrong. Also, long-term price predictions are often made using an algorithm, which means they can change at a moment's notice
CoinCodex had a rather mixed short-term GALA price prediction for 2023, saying that the token could drop to $0.034925 by 14 January before mounting a recovery to $0.040184 by 9 February. Despite that, the site's technical analysis was neutral, with 20 indicators making bullish signals and 11 sending out bearish ones.
CoinsKid made a GALA crypto price prediction that saw the token potentially worth $0.0818 in December 2023, before reaching a possible $0.1360 by the end of 2024. The site then made a GALA price prediction for 2025 that saw it potentially start the year at $0.1259 and close it at $0.1792.
CaptainAltCoin had a GALA token price prediction which argued it could drop to $0.031 by March 2023, before potentially climbing back up to be worth $0.0507 in January 2024. By 2025, the site said, GALA could be worth about $0.1364, but there could be a substantial drop by January 2028, when it could be down to $0.0775.
The site went on to make a GALA price prediction for 2030 of $0.3409, before suggesting that it could get to $0.6819 in 2040.
Finally, Wallet Investor struck a far more bearish note in its GALA price forecast, saying that the token could be in for a rough 12 months, potentially dropping to $0.00156 by January 2024.
When considering a GALA token price prediction, it is important to keep in mind that cryptocurrency markets remain extremely volatile, making it difficult to accurately predict what a coin or token's price will be in a few hours, and even harder to give long-term estimates. Analysts and algorithm-based forecasters can and do get their predictions wrong.
If you are considering investing in cryptocurrency tokens, we recommend that you always do your own research. Look at the latest market trends, news, technical and fundamental analysis, and expert opinion before making any investment decision. Keep in mind that past performance is no guarantee of future returns. Never trade with money that you cannot afford to lose.
FAQs
Is GALA a good investment?

That depends on whether Gala Games, the metaverse sector as a whole, and the entire crypto market can turn things around.

Remember, you should always carry out your own thorough research before making an investment. Even high market cap cryptocurrencies have proved vulnerable to the current bear market, so investors should be prepared to make losses and never purchase more than they can afford to lose.
Will GALA go up or down?

It is hard to say. While some forecasters including CoinsKid were optimistic about the token's future as of 9 January 2023, others such as WalletInvestor struck a far more downbeat note. It is important to remember that forecasts can be wrong, and that prices can go down as well as up.

In volatile cryptocurrency markets, it is important to do your own research on a coin or token to determine if it is a good fit for your investment portfolio. Whether GALA is a suitable investment for you depends on your risk tolerance and how much you intend to invest, among other factors.

Keep in mind that past performance is no guarantee of future returns, and never risk money that you cannot afford to lose.
Should I invest in GALA?

This is a question that you will have to answer for yourself. Before you do so, you will need to conduct your own research.

Never invest more money than you can afford to lose, because prices will go down as well as up.
Related reading