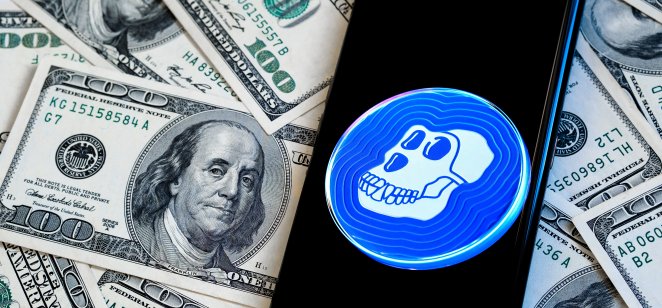 Ape coin (APE), the native cryptocurrency of the popular non-fungible token (NFT) collection Bored Ape Yacht Club (BAYC), became the biggest metaverse token by market capitalisation a little over a month after its release. The coin has dethroned Decentraland's coin (MANA), which has been around since early 2020.
Recent news that ApeCoin will implement a staking mechanism in the coming weeks as well as Elon Musk briefly changing his profile picture on Twitter to a collage of a number of avatars from the BAYC NFT collection, drove the APE NFT coin price up on 5 May as it managed to gain nearly 19% of its value in less than 24 hours.
Will the future APE coin price prediction be as bullish as its early start, and what are the key projections for the popular NFT cryptocurrency?
What is ApeCoin?
ApeCoin (APE), was launched on 17 March 2022 by the founders of the BAYC NFT collection Yuga Labs, which also formed the APE Foundation, a means of aiding the decentralised development of the APE ecosystem.
Created with the goal of becoming the "heart of art, gaming, entertainment and events on the blockchain", the APE Foundation will be in charge of overlooking the decisions of the ApeCoin Decentralised Autonomous Organisation (DAO).
The crypto will be responsible for administration, bookkeeping, project management and other tasks necessary to ensure the DAO community can build new Web3 applications and services, such as the APE NFT coin itself.
ApeCoin's main focus is decentralisation and through the APE Improvement Proposal Process it will allow ApeCoin DAO members to make decisions regarding Ecosystem Fund allocations, governance rules, upcoming projects, partnerships and more.
The ApeCoin Foundation is managed by a board which oversees the community and carries out DAO proposals. The initial board serves a term of six months and is voted in by DAO members.
The current members of the board are:
Reddit co-founder Alexis Ohanian

FTX head of ventures and gaming Amy Wu

Sound Ventures principal Maaria Bajwa

Animoca Brands co-founder and chair Yat Siu

Horizen Labs president and general counsel Dean Steinbeck
The APE NFT coin is an ERC-20 cryptocurrency designed on the Ethereum protocol. Apart from governance, the token:
Provides holders with access to certain parts of the ecosystem unavailable to others, such as exclusive games, merchandise, events and services.

Can be incorporated into other services, games and projects.
ApeCoin was launched through an airdrop, which allowed certain groups of holders to receive the tokens as rewards. The cryptocurrency's total supply stands at one billion. No new tokens can be minted.
Upon release, the tokens' total supply was distributed as follows:
62% was allocated to the ecosystem's fund and given to BAYC and Mutant Ape Yacht Club (MAYC) NFT holders.

16% was allocated to Yuga Labs and charity.

14% was allocated to the companies and people that helped to create the project.

8% was allocated to the BAYC founders.
At the time of writing (9 May), over 284 million APE coins were in circulation according to CoinMarketCap. APE's market capitalisation surpassed $3.18bn, making it the 33rd biggest cryptocurrency.
Apecoin price analysis following successful debut
The APE NFT coin saw its value surge 126.8% on the first day of launch, reaching $16.47, up from $7.2604 in less than 24 hours, as seen on the price chart below. The coin retreated to $14. 03 by the end of the day and continued to move sideways throughout 19 March 2022 before falling to values just above $9 on 21 March 2022.
By 24 March, the APE token price climbed back to over $14 as anticipation grew ahead of the first ever ApeCoin DAO voting event, which was due to take place on the day. The cryptocurrency peaked at $15.43 on 28 March 2022 before embarking on a bearish journey into April 2022.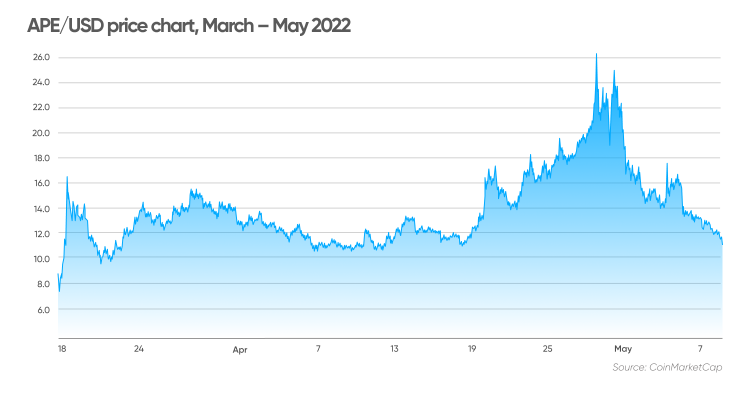 In April 2022, the APE token price peaked on three occasions:
On 10 April at $12.27 – the Bored & Hungry restaurant in California became the first ever catering establishment to accept payments in ether (ETH) and APE.

On 21 April at $17.31– following announcements that ApeCoin was cooperating with the OliveXFitness Metaverse to grant APE token holders special access to the metaverse's move-to-earn Dustland games.

On 29 April at $26.19 – its all-time high value, as three new proposals were opened for ApeCoin DAO members to vote on.
On 30 April 2022, one of the largest NFT marketplaces, OpenSea, announced that it would start accepting the APE cryptocurrency for NFT purchases on its platform. This led to an over 30% one-day gain as the APE price rose to just below $25.
Following 102% April 2022 gains, the APE NFT coin chart started on a downwards trend, losing over 45% of its value by the time of writing (9 May). Today the coin is trading at $11.24.
In terms of APE token technical analysis, short-term sentiment for the token at the time of writing (9 May) was largely bearish.
A Relative Strength Index (RSI) reading of 41.89 was pointing towards neutral territory. A reading of 30 or below would indicate that the asset is becoming undervalued. Meanwhile, the token was trading below its three, five and 10-day moving averages, indicating a bearish trend.
Will apecoin go back up? Future outlook
The debut success of the coin and its speedy price reversal leaves a question on investors' lips: is apecoin a good investment? There are multiple factors at play.
Recent ApeCoin news saw ApeCoin DAO members approve two measures that would let them lock their tokens for a period of time in exchange for more apecoins in future. The finalisation of this decision on 5 May 2022 led to a mini surge in the APE price, which jumped by 23.9%, up from $14.13 on the previous day to $17.52.
Voting has now closed on a set of three AIPs, all of which have passed: https://t.co/VQEtMwsh98

This includes proposals on restructuring the ApeCoin forum (AIP-7) as well as staking (AIPs-21&22).

— ApeCoin (@apecoin) May 5, 2022
In an announcement in a Twitter thread, ApeCoin noted that the new updates would be implemented "within the next week or two" following the end of the voting.
In addition to that, on 5 May, another proposal was going live for a community-wide vote to deal with security tools and education. The vote is set to end by 12 May 2022. If successful, the plan will be implemented in three phases.
Other ApeCoin news that could move the APE price in the future includes the launch of Otherside on 1 May 2022 – the largest expansion of the Bored Ape NFT universe, powered by apecoin.
Otherside is an online metaverse and role-playing game connected to the BAYC ecosystem where players can purchase lands and real estate. It was reported that 45 minutes after the metaverse's launch BAYC sold over $100m worth of digital real estate.
Following the 1 May successes, crypto analyst and the founder of Eight Global, Michaël van de Poppe, said on Twitter that the APE price prediction had potential to embark on a bullish trend towards $19 and even $20.
One of the main reasons to why the APE cryptocurrency has managed to generate a lot of buzz was because it was built on the Ethereum blockchain, BigOne Exchange chair in Asia, Anndy Lian, told Capital.com.
"Looking at some of the volumes transacted on Whalealert and Whalestats, I can safely say that APE is one of the most purchased altcoins amongst the Ethereum whales. This is a very positive sign for the token and I must say APE is not just another ordinary meme coin," he added.
However, the token could benefit from some more utility, Lian noted.
"The faith and comradeship within their community help keep the price and volume going, while doing so the other immediate thing they should really look at is to increase utility online and offline. APE is currently being used in Benji Bananas as an in-game currency and E11EVEN Residencies in Miami has also accepted APE as payment."
Lian concluded that the prpops lars from APE owners to lock up and stake their coins are "very sound measures to keep the token sustainable, especially in bear markets".
ApeCoin price prediction 2022-2025, 2030
Algorithm-based forecasting service Wallet Investor gave a bullish outlook on the future of the APE/USD forecast at the time of writing (9 May), calling apecoin "an awesome long-term investment".
Based on its analysis of past price performance, Wallet Investor expected the APE target price to grow to $30.501 by 2023, $43.940 by 2024 and reach $87.357 by 2027.
DigitalCoinPrice echoed an upbeat apecoin crypto price prediction, projecting that the token's value could steadily grow in the coming years. The site noted that APE could end this year at $16.23 and reach $25.30 by the end of 2025.
By the end of 2027, the site's APE crypto price prediction suggested that the coin could trade at $35.25. Its long-term APE prediction showed that the cryptocurrency has the potential to reach $54.26 by 2030.
Note that predictions can be wrong. Forecasts and analysts' expectations shouldn't be used as a substitute for your own research. Always conduct your own due diligence. And never invest or trade money you cannot afford to lose.
FAQs
What is the future of apecoin?

The APE crypto price prediction provided by algorithm-based forecasting services at the time of writing (9 May) suggested the value of the NFT cryptocurrency could surge in the coming years. Note that price predictions can be wrong. They should not be used as substitutes for your own research.
How high can apecoin go?

At the time of writing (9 May), algorithm-based company Wallet Investor gave a bullish APE/USD forecast, noting that the coin could reach $87.357 by 2027. DigitalCoinPrice echoed that sentiment, expecting the token to reach $16.23 by the end of 2022 and $25.30 by the end of 2025. Note that price predictions could be wrong. You should always conduct your own due diligence before trading or investing.
Can apecoin (APE) reach $30?

Algorithm-based forecasting service Wallet Investor expected APE future price to surpass the $30 value by 2023 at $30.501. Meanwhile DigitalCoinPrice predicted that the APE cryptocurrency could surpass the $30 value by the end of 2027 at $35.25. These predictions can prove wrong, as they use historical price action in their analysis. Note that past performance does not guarantee future returns. And always conduct your own due diligence before trading or investing.