Wrapped LUNA price prediction: Can WLUNA resurface?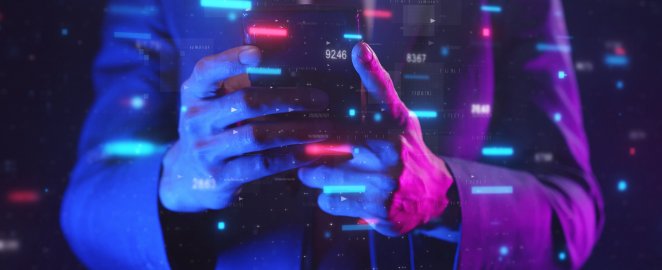 The collapse of the Terra blockchain ecosystem in May 2022 put the Terra Classic network and its tokens into a state of limbo. While a new LUNA coin and blockchain were created, the original cryptocurrency, along with its wrapped version, was left behind by the original developers.
However, it appears to still have the attention of investors after releasing a new staking feature.
The LUNA classic (LUNC) and wrapped LUNA (WLUNA) tokens were trading at about $0.0001555 and $0.0001547 respectively as of 16 December, despite reaching highs of over nearly $120 in early 2022.
In this article, we will look into the Terra ecosystem, its founders and the price history of the wrapped LUNA token. You will also come across relevant news, on-chain data analysis and wrapped LUNA price predictions for 2022 and beyond.
What is wrapped LUNA?
A wrapped token is a mirror form of a cryptocurrency that exists outside its native blockchain network. The value of wrapped tokens is backed on a 1:1 basis to their native cryptocurrencies.
For example, wrapped LUNA (WLUNC) is a form of the LUNA classic (LUNC) token that exists outside outside its native Terra Classic blockchain network. The value of wrapped LUNA is pegged to the value of LUNA classic. Wrapped coins can be redeemed for the cryptocurrency that they represent at any given moment.
Wrapped coins increase interoperability between blockchains, as standalone blockchains are not designed to pass information between them. WLUNA is minted on Ethereum according to ERC-20 standards.
Founder profile: Do Kwon
Blockchain network Terra was founded by South Korean developer Do Kwon. Kwon envisioned the use of an algorithmic dollar-pegged stablecoin to power transactions on and off blockchain networks.
Do Kwon's company, Terraform Labs, the entity behind the Terra blockchain, attracted more than 40 million users to work with the company at its launch in 2018, according to Forbes. It also raised $32m from various investors including Binance, Arrington XRP and Polychain Capital.
According to Do Kwon's LinkedIn profile, Kwon studied computer science at Stanford University in California between 2010 and 2015. Kwon is known to have an outspoken personality and has used Twitter to voice his bullish opinions about the Terra ecosystem on numerous occasions.
After the collapse of Terra, many investors have filed lawsuits against Kwon and other Terra entities for allegedly misleading investors. On 12 June, Kwon denied claims that he allegedly cashed out $2.7bn in the months leading up to the collapse of Terra.
South Korea issued an arrest warrant for Kwon, who is currently thought to be in hiding in Serbia following the collapse of the cryptocurrency.
Wrapped LUNA: Origins
Launched in August 2021, the wrapped LUNA cryptocurrency is a version of the LUNA classic token outside its native blockchain.
The LUNA classic token is the native cryptocurrency of the Terra Classic blockchain. The token is used for staking and for governance purposes on the network. More importantly, LUNA classic tokens were designed to maintain the dollar peg of Terra Classic's algorithmic stablecoin terraUSD (UST).
However, in early May 2022, the Terra Classic ecosystem collapsed after UST depegged to trade at about $0.02 by the end of the month. UST holders, who were once drawn to Terra's passive income protocol Anchor (ANC) for its 20% interest rate on deposits, started withdrawing their UST funds in a panicked exit from Terra's ecosystem.
In parallel, LUNA classic saw hyperinflation and the token's value crashed from about $80 at the start of May 2022 to about $0.0001 by the end of the month.Terra founder Do Kwon soon proposed a plan for the network to undergo a hard fork. The proposal was passed and the launch of a new chain and LUNA2 cryptocurrency was confirmed, which would go on to exist without its failed algorithmic stablecoin.
The old chain was rebranded to Terra Classic and its native token was renamed LUNA classic.
Price history: WLUNA's fall
It should be noted that WLUNA's price action is directly correlated to the performance of LUNA classic (LUNC).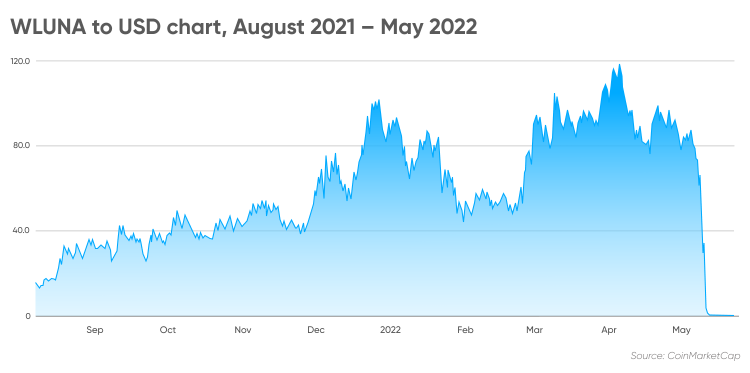 WLUNA was trading at about $14 at the time of its launch in August 2021. As Terra's ecosystem gained traction and saw increased investor and developer activity, WLUNA prices surged to over $86 by the end of 2021.
As Terra became a leading network for DeFi, with the total value locked (TVL) on the network skyrocketing to over $20bn according to blockchain data website DefiLlama, WLUNA coin soon hit an all-time high of $263.98 by 16 November 2021.
However, WLUNA/USD's price saw a jaw-dropping fall in early May 2022, as UST began depegging and investors started withdrawing their capital from the Terra ecosystem. WLUNA, which had been trading at about $84 at the end of April 2022, fell over 60% to about $30 in the first 10 days of May.
By 12 May 2022, WLUNA was valued at less than a dollar. It stooped to its all-time low of $0.00003564 on 28 June.
1/ This should be obvious, but the claim that I cashed out $2.7B from anything is categorically false

— Do Kwon ???? (@stablekwon) 12 June 2022
Outlook: Does WLUNA have a future?
The new community vote proposed by Kwon saw the Terra blockchain split in two separate chains.
The vote was passed on 26 May 2022 and the old chain was rebranded to Terra Classic, while its native token was renamed Luna Classic.
The old and new chains operate separately and exist in parallel to each other. The new Terra 2.0 chain has also decided to ditch the algorithmic UST stablecoin. While the new Terra 2.0 chain has put a recovery plan in place, the future of the Terra Classic chain remains in limbo.
Recent price action
Compared to its successful year in 2021, the price of LUNA classic has remained stagnant since its crash in May, with it failing to break the $0.001 barrier, let alone come close to its all-time high of $263.98 in November 2021.
WLUNA/USD price chart, all-time performance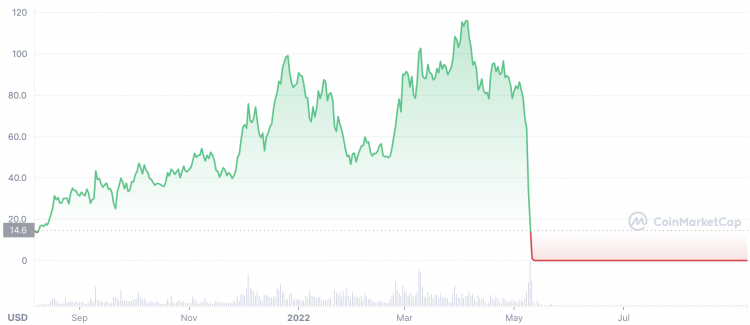 Source: CoinMarketCap
However, WLUNA recently experienced a surge in its value, rising by 450% over the course of September. This resurgence came after a staking feature went live on the classic blockchain.
An unofficial LUNC Twitter account shared that 528.8 billion LUNC had been staked since it launched in late August, making up 7.66% of the total supply.
This matches a trend picked up by CoinMarketCap that showed wallet addresses owning WLUNA had been gradually increasing over the past three months.
As of 16 December 2022, wrapped LUNA was trading at about $0.0001547. According to CoinMarketCap, wrapped LUNA was the 3,568th-largest cryptocurrency in the world by market capitalisation.
Wrapped LUNA price prediction for 2023 and beyond
Algorithm-based forecasting service Wallet Investor provided a bullish WLUNA price prediction on 16 December 2022.

Based on its analysis of past price performance, Wallet Investor predicted that WLUNA could trade at an average price of $60 in a year's time. Its wrapped LUNA price prediction for 2025 expected the token to trade above $200 by the end of that year.
DigitalCoinPrice was less optimistic about WLUNA's future. According to its wrapped LUNA crypto price prediction, it saw the token achieve an average price of $0.000183 this year. DigitalCoinPrice's wrapped LUNA price prediction for 2030 expected the token to have inched up to an average price of $0.00221.
Finally, Gov Capital's wrapped LUNA price prediction for 2023 saw it trading at $0.000589 in a year's time. The site's wrapped LUNA token price prediction also suggested that WLUNA could reach a price of $0.00189 in five years' time.
Note that analyst and algorithm-based wrapped LUNA crypto price predictions can be wrong, and can change at any time. Forecasts shouldn't be used as a substitute for your own research: Always conduct your own due diligence and remember that your decision to trade or invest should depend on your risk tolerance, expertise in the market, portfolio size and investment goals.
FAQs
Is wrapped LUNA a good investment?

Wrapped LUNA saw its value plunge from an all-time high of about $263 hit in November 2021 to trade at $0.0001547 as of 16 December 2022.

Cryptocurrency markets are highly volatile. Always conduct your own due diligence and remember that your decision to trade or invest should depend on your risk tolerance, expertise in the market, portfolio size and investment goals.
Will wrapped LUNA go up or down?

As of 16 December 2022, there were some optimistic WLUNA price predictions being made by forecasters, including those from DigitalCoinPrice and WalletInvestor. However, price predictions are often wrong.

In volatile cryptocurrency markets, it is important to do your own research on a coin or token to determine if it is a good fit for your investment portfolio. Whether WLUNA is a suitable investment for you depends on your risk tolerance and how much you intend to invest, among other factors.

Keep in mind that past performance is no guarantee of future returns, and never invest money that you cannot afford to lose.
Should I invest in wrapped LUNA?

Wrapped LUNA saw its value plunge from the all-time high of about $263 that it hit in November 2021, to just $0.0001547 as of 16 Decembwe 2022.

Whether you should invest in WLUNA is a question that you will have to answer for yourself. Before you do so, however, you will need to conduct your own research. Never invest more money than you can afford to lose, because prices can go down as well as up