Woo network price prediction: What is woo network (WOO)?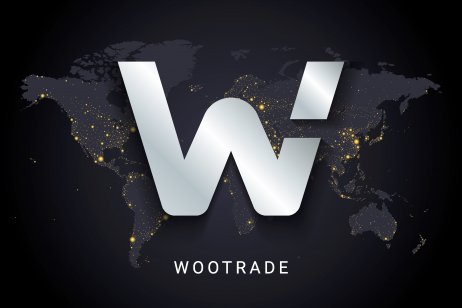 It aims to help exchanges trade more easily, but what is woo network (WOO)? Let's explore the company's background and also examine some of the woo network price predictions made as of 13 April 2023.
Woo network explained
WOO Network was developed by cryptocurrency trading company Kronos Research in 2019 and comprises three parts – the WOO X exchange, the WOO Trade liquidity provider and the Woo Fi crypto exchange.
It provides liquidity, as well as trading and yield generation to exchanges, traders, institutions and decentralised finance (DeFi) platforms. Clients connect to WOO's centralised network through application programming interfaces (APIs) or the WOO X user interface.
The WOO cryptocurrency is the network's native token and allows holders to vote on changes to the network. It can be staked in return for rewards, as well as be bought, sold and traded on exchanges.
WOO initially launched on the Ethereum blockchain in October 2020, but now runs on multiple blockchains across bridges, including Arbitrum, Binance (BNB), Fantom (FTM) , Polygon (MATIC) and Solana (SOL).
The token went live on the Avalanche (AVAX) blockchain in December 2021. It was added to the Avalanche Bridge – WOO Network seeded the bridge with $15m (€13.2; £11m) in liquidity to support the token's uptake on the network.
Incidentally, because it is based on separate blockchains, WOO is a token, rather than a coin. You might see references to things like a woo network coin price prediction but these are wrong.
The WOO token has a maximum supply of three billion. It operates a deflationary model in which the network buys and burns tokens monthly to keep the price up. Half the income from WOO is used to buy back tokens on the open market. Tokens are burned on the 10th of the month.
Three billion tokens created at launch were distributed as follows:
10% were sold in private and public sales.

10% were sold to seed and equity investors, vesting (basically, being unavailable to be sold) over one and a half years between April 2021 and October 2022.

20% were allocated to the Woo team, vesting for three-and-a-half years with a large share in reserve for future hires.

5% were allocated to advisers, vesting for three-and-a-half years.

50% were earmarked to support the WOO ecosystem, with 25% earmarked as rewards to provide incentives for network usage; 10% earmarked for an insurance fund; 10% earmarked as a reward for ecosystem partners; 5% set apart for WOO Ventures to invest in early-stage projects; and 5% set for liquidity management.
Woo network price history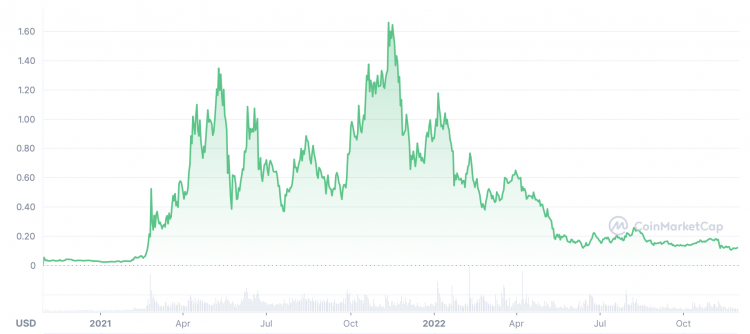 WOO price history chart from launch to present - Credit: CoinMarketCap
Let's take a look at the WOO price history. While past performance should never be taken as an indicator of future results, knowing what the token has done in the past can help us when it comes to either making or interpreting a woo network price prediction.
WOO first came onto the open market in late 2020 and that November it was worth a little over $0.03. In early 2021, though, the market took off – it reached highs of just under $1.10 in April and a little over $1.34 on 9 May.
After that, the price dropped as the crypto market stagnated over the summer. Things picked up again in the autumn when market conditions helped it to an all-time high of $2.48 on 16 November 2021. That price could not be sustained and WOO closed the year at $0.8677.
While 2021 had seen both WOO and crypto hit new heights, the same could not be said for either the token or the sector in 2022. While WOO hit $1.27 on 5 January, it soon fell down to a low of $0.3407 on 24 February as markets shrank in response to Russia's invasion of Ukraine.
There was then an upsurge at the end of the following month, with the token hitting $0.6866 on 31 March. After that it was back down again, with a series of market crashes leaving it at $0.102 on 13 June 2022. WOO was then able to make a small recovery, reaching $0.2715 on 9 August, with the autumn seeing things turn bearish again.
When the FTX (FTT) exchange collapsed the market was shocked again and WOO dropped to $0.1021 on 22 November. The token was then able to move upwards, reaching a high of $0.1399 on 15 December before closing the year at $0.12, representing an annual loss of about 85%.
The New Year saw a recovery and it made its way to a peak of $0.2847 on 19 February. The token's price fell after this and, with the crypto market shaken by the collapse of the Silvergate bank, it traded at a low of $0.1495 on 10 March, before recovering to around $0.229 on 17 March 2023. By 13 April, following the news that WooFi was set to become a cross-blockchain platform, the price rallied and it traded at around $0.254.
At that time, there were a little over 1.68 billion WOO in circulation out of a total supply of around 2.25 billion. This gave the token a market cap of about $427m, making it the 96th largest crypto by that metric.
Woo network price prediction round-up
Let's now cast our eyes over some of the woo network price predictions being made on 13 April 2023.
It is important to remember that price forecasts, especially when it comes to a commodity as potentially volatile as cryptocurrency, very often turn out to be wrong. Also, it is worth pointing out that a great many long-term crypto price predictions are made using an algorithm, which means that they can change at a moment's notice.
First, CoinCodex had a rather mixed short-term WOO price prediction for 2023, suggesting that the token could rise to $0.291165 on 18 April before potentially dropping to $0.188738 by 12 May. The site's technical analysis was bullish, with 24 indicators making upbeat signals and just three sending out bearish ones.
Next, DigitalCoinPrice made a woo network crypto price prediction which suggested that the token could average $0.48 this year and $0.63 next year, before it potentially reaches $0.88 in 2025. The site also made a woo network price prediction for 2030 that argued it could trade at $2.59 that year.
Meanwhile, CryptoPredictions.com had a woo network token price prediction that claimed the crypto could close 2023 at $0.336 and 2024 at $0.34095. The site then made a woo network price prediction for 2025 which had the token start the year at $0.3491575, reach $$0.372515 in April and close the year at $0.43114.
Finally, WalletInvestor was far more bearish when it came to making a WOO price prediction. The site said that the token was in for a tough 12 months, falling to a potential $0.0198 by the middle of April next year.
When considering a WOO token price prediction, it's important to keep in mind that cryptocurrency markets remain extremely volatile, making it difficult to accurately predict what a coin or token's price will be in a few hours and even harder to give long-term estimates. As such, analysts and algorithm-based forecasters can and do get their predictions wrong.
If you are considering investing in cryptocurrency coins and tokens, we recommend that you always do your own research. Look at the latest market trends, news, technical and fundamental analysis, and expert opinion before making any investment decision. Keep in mind that past performance is no guarantee of future returns. And never trade with money that you cannot afford to lose.
FAQs
Is woo network a good investment?

It is hard to say. A lot will depend on how the market performs as a whole going forward.

Remember, you should always carry out your own thorough research before making an investment. Even high-market-cap cryptocurrencies can be affected by bear markets. So investors should be prepared to make losses and never purchase more than they can afford to lose.
Will woo network go up or down?

No one can really tell. While sites like DigitalCoinPrice were optimistic in their evaluation of the WOO future price, the likes of WalletInvestor were far more downbeat and bearish. Remember that price predictions very often end up being wrong and prices can go down as well as up.

In volatile cryptocurrency markets, it is important to do your own research on a coin or token to determine if it is a good fit for your investment portfolio. Whether WOO is a suitable investment for you depends on your risk tolerance and how much you intend to invest, among other factors. Keep in mind that past performance is no guarantee of future returns. Never invest money that you cannot afford to lose.
Should I invest in woo network?

Before you decide whether or not to invest in woo network, you will have to do your own research, not only on WOO but also on other DeFi-related coins and tokens.

Ultimately, though, this is a question that you will have to answer for yourself. Before you do so, however, you will need to conduct your own research and never invest more money than you can afford to lose, because prices can go down as well as up.