Wink coin price prediction: back in the game?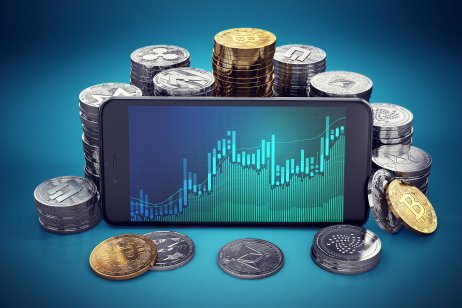 Decentralised gaming platform Wink rode the recent wave of positive market sentiment seeing the value of its coin, WIN rise 33% during March.
However, April saw that wave crash to the beach losing the coin 32% of its value including 5% to today's (25 April) price of $0.00028.
It is still well down from a small peak last November of $0.00096 and the coin has been notably volatile in 2022.
In February WIN's price shot up 30% to $0.0038 and in April it hit $0.00041 but those peaks were small fry in comparison and the price drifted more than 90% off its all time high last April and 70% off its November 2021 high.
What expectations should we have of Wink this year? What is a realistic target price for the near future? Which variables could influence its price?
In this WIN price prediction we look at the latest technical analysis, the forecasts and projections of experts and the latest developments in the coin's network.
What is Wink cryptocurrency?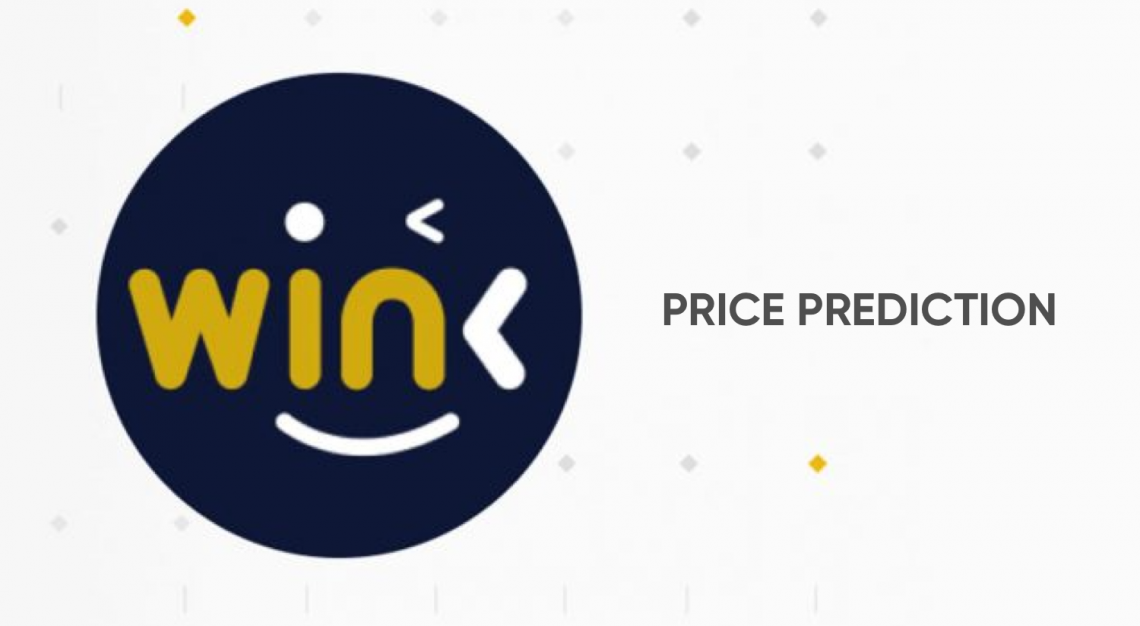 Wink, previously known as TRONBet, is a blockchain-based gaming platform built on the TRON network. Its native token, WIN, is used to place bets and make transactions within the platform – one of the most important sources of demand for the coin.
The smart contracts that power each of the games offered by Wink can be viewed by users, which increases the transparency and credibility of its entertainment alternatives.
Wink aims to be a project that benefits every party involved, including its developers, players (community) and investors. This is accomplished by giving WIN holders governance rights, while also extending gameplay discounts to players who have also invested in WIN, along with other perks.
According to the project's whitepaper, the maximum supply of WIN will be 999 billion, while data from CoinMarketCap indicates that the current (25 April) circulating supply stands at 961.74 billion, around 96% of the total.
Among the most popular games offered by Wink are Dice, Moon, Ring and Duel, together with other more casino-like options, including slot machines and table games like blackjack and poker.
As for the token's distribution, the platform was built through a Binance Launchpad sale of 5% of the token's supply. Additionally, there is a platform development allocation of 7% of the supply, a 15.25% allocation that goes to gaming and strategic partnerships, and an initial community allocation of 12%.
Finally, 15% of the token was sold at the seed sale, 10% went to the developing team and 27% of the supply went to the ecosystem – these are the tokens that people use to play Wink.
The development team raised as much as $1m to launch the project and the initial circulating supply was roughly 21%.
The community that tracks Wink includes 7,300 members in a Telegram group and 9,100 followers on Twitter. The Wink project is headed by its CEO Lucia Wong.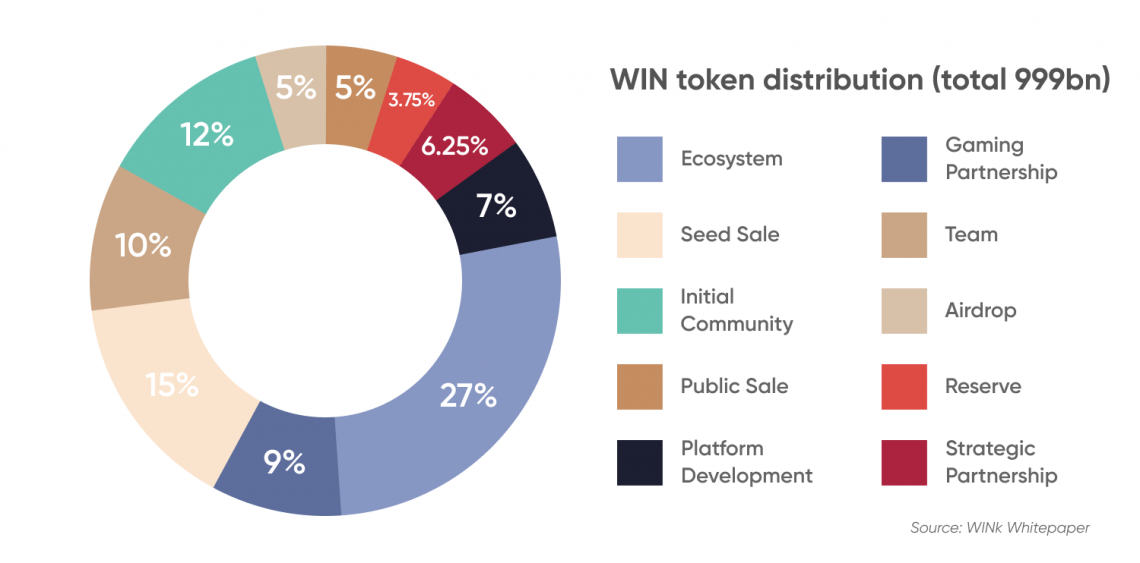 Wink coin price prediction: price drivers
The following is a list of some of the variables that can drive the price of Wink coin either higher or lower in the future.
Increased adoption of decentralised online gaming: Usage volumes of online gaming platforms surged during the pandemic as gamers searched for alternatives during lockdowns, according to Statista.
Wink is a decentralised gaming platform that's seeking to make its way in this growing industry. The adoption of decentralised platforms like Wink by gamers due to its offering (earn-to-play, staking, HODLing) might push the price of this crypto token.
Securing partnerships with game developers: WIN has developed a TRON-based layer-2 decentralised app on which games can run. Players are rewarded following the protocols set forth in the smart contracts that power each game. WIN investors are compensated via staking and capital gains resulting from a potential increase in the price of WIN.
If the project manages to attract top developers looking to build games on the Wink platform, it might lead to an increase in the demand for the WIN token.
Bearish Wink coin outlook: analyst view
Commenting on Wink's performance and prospects, Capital.com's market analyst, Mikhail Karkhalev, takes a bearish stance.
"The Wink project could potentially be interesting, as the gambling industry is a very lucrative business, and blockchain-based gambling, which prevents casino owners from cheating their customers, could revolutionise the industry", said Karkhalev.
"However, The Wink project is based on the Tron blockchain, and trust in Justin Sun's brainchild is very low in the industry. This is probably the reason why the project was renamed from TRONbet to Wink.
"The only reasonable explanation for investing in this project might come from the desire to earn some free small capital on yet another gambling project. I could be wrong, but a Tron blockchain-based gambling project should be considered with caution. After all, the project doesn't show outstanding results. It just works and collects money."
Wink crypto price prediction 2022, 2025, 2030
The following algorithm-based price trend analysers share pretty conservative views on the Wink coin price predictions, as of 25 April 2022.
In its Wink price prediction GovCapital suggested the token's price would be at $0.0014 in a year's time and $0.0072 in five years.

Wallet Investor labeled WIN as an "outstanding" one year investment in its Wink crypto price prediction which said that the price of WIN could be $0.00013 in 12 months. Its five year Wink price prediction suggested that the token might hit $0.0000034 in 2027.

In its WIN prediction Coin Price Forecast estimated that the year-end value of the token this year could be $0.0014, while its estimates for 2023 and 2025 see the price rising to $0.0016 and $0.0025, respectively, by the end of each year.
If you are wondering if Wink coin can reach $1 in 2021 or beyond, it seems far off based on an analysis of the price trend, as indicated by the forecasts outlined above and the chart below.
When looking for a Wink prediction, it's important to bear in mind that analysts' forecasts can be wrong. Analysts' predictions are based on making a fundamental and technical study of the crypto's performance. Please note that past performance is no guarantee of future results.
It's important to do your own research, and always remember that your decision to trade depends on your attitude to risk, your expertise in the market, the spread of your investment portfolio and how comfortable you feel about losing money. You should never invest money that you cannot afford to lose.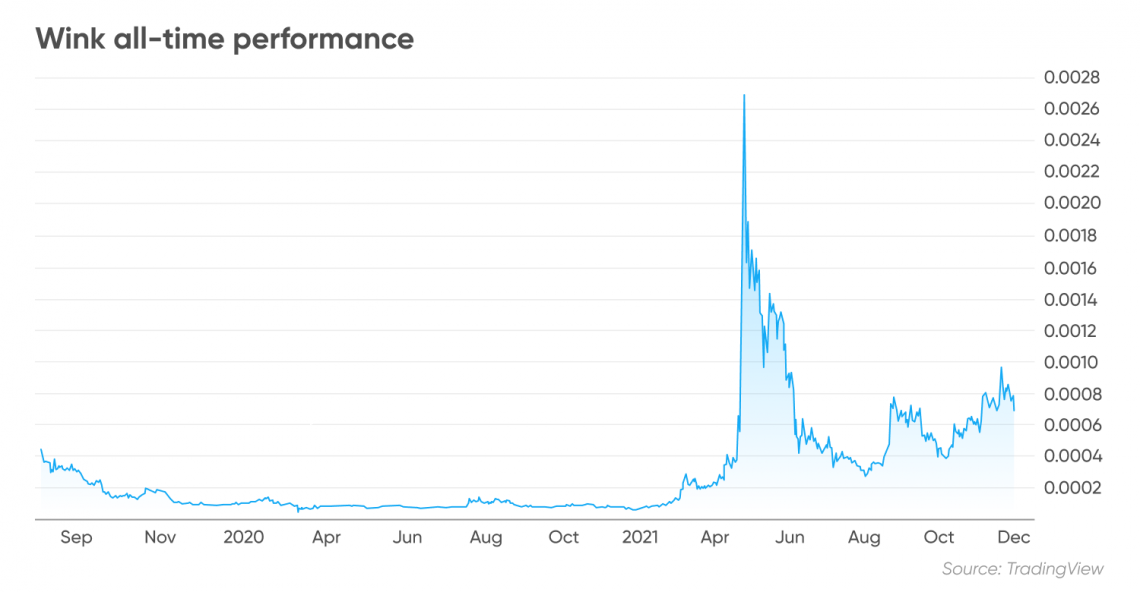 FAQs
Is Wink a good investment?

Cryptocurrencies as a whole are quite volatile and projects such as Wink tend to be even riskier. While some crypto experts from Wallet Investor, GovCapital, and Coin Price Forecast share conservatively bullish views on the Wink price prediction, investors should not take these predictions as a recommendation to invest in Wink crypto. Many factors could affect the price.
Will Wink (WIN) price go up in the future?

Nobody can predict with 100% accuracy if the price of a financial asset will rise or fall. However, algorithm-based trend analysis services believe the price of WIN could rise in 2022, 2023, and 2025.
How many Wink coins are there?

According to Wink's whitepaper, a total of 999 billion tokens is the maximum supply for WIN. Meanwhile, data from CoinMarketCap (as of 25 April) indicates that the current circulating supply stands at 961.74 billion.
Read more: NEO price prediction 2022: what's next for 'Chinese Ethereum'?