Content
Why is the FTSE MIB index important to traders?
The Italy 40, or FTSE MIB, is an index of the 40 largest and most actively traded companies listed on the Borsa Italiana. Launched in 1997, the Italy 40 serves as a national and international benchmark index, and the major indicator of the Italian stock market performance.
Before June 2009 the index was managed by Standard & Poor's and was called the S&P/MIB. Today the Italy 40 is published and calculated by the London Stock Exchange Group, which is Borsa Italiana's parent company.
Capturing approximately 80% of the domestic market capitalisation, the Italy 40 (FTSE MIB) includes the highly liquid companies in Italy. Some of the most well-known index constituents include Ferrari, Fiat Chrysler Automobiles, Pirelli, Intesa Sanpaolo, Salvatore Ferragamo and Moncler.
Traders like to follow the Italy 40 index because it can offer exposure to substantial market price volatility and significant day-to-day fluctuations. It also serves as the underlying asset for a wide range of derivative financial instruments. The FTSE MIB is known for its volume and volatility, and attracts numerous day traders trying to profit from short-term price movements.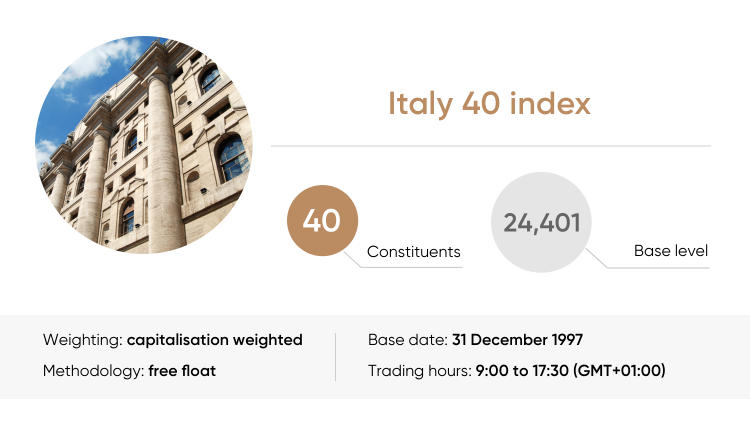 Italy 40 trading hours
The Italy 40 companies are all listed on the Borsa Italiana, the major Italian stock exchange which is open from Monday to Friday. The main trading hours for the Italy 40 are between 9:00 to 17:30 (GMT+01:00) 5 trading days a week.
You can also trade the Italy 40 index with Capital.com from Monday to Friday, 08:00 – 16.40, and monitor the Italian FTSE MIB index live price changes using our FTSE MIB chart.
How is the FTSE MIB calculated?
Like other popular stock market indices, the FTSE MIB index tracks a basket of individual companies, and changes in their share prices will affect the index throughout the trading day.
The Italy 40 index is Euro‐denominated and calculated in real-time during the trading hours of the Borsa Italiana within the European time zone.
The index weights its components according to their market capitalisation, adjusted by a free-float factor. Therefore, the biggest constituents enjoy a higher percentage weighting, while the smaller ones have a lower impact.
Italy 40 admission criteria
The FTSE MIB constituents are generally reviewed quarterly in March, June, September and December by the FTSE Italia Index Series Technical Committee.
Traditionally, the index is made up of 40 companies with the highest trading volume in Euros during the previous six months. The index constituents are categorised in accordance with the Industry Classification Benchmark (ICB) and are capped at 15% to avoid over-concentration.
How to trade Italy 40 CFD
The Italy 40 is a way to gain exposure to the Italian stock market without having to analyse the performance of individual companies. The Italian FTSE MIB stock market index typically provides traders with a high degree of liquidity, long trading hours and tight spreads.
One of the easiest and most popular ways to trade FTSE MIB index is with CFDs (contracts for difference). A contract for difference (CFD) is a contract between a trader and a broker, used to try and profit from the price difference between opening and closing the trade.
Trade Italy 40 - IT40 CFD
Using CFDs to trade the Italy 40 will allow you to go long or short the market without having to deal with conventional exchanges. You trade direct with your CFD broker.
No matter whether you have a positive or negative view of the Italy 40 forecast and predictions, you can try to profit from either upward or downward future price movements.
The index has good volume and volatility as it is made up of a wide cross-section of liquid trading instruments, making the FTSE MIB popular with CFD traders around the world.
Why trade Italy 40 CFD with Capital.com
Advanced AI technology at its core: A Facebook-like news feed provides users with personalised and unique content depending on their preferences. If a trader makes decisions based on biases, the innovative News Feed offers a range of materials to put him back on the right track. The neural network analyses in-app behaviour and recommends videos and articles to help polish your investment strategy. This hopefully helps you refine your approach when you trade FTSE MIB index.
Trading on margin: Providing trading on margin (20:1 for major indices), Capital.com gives you access to the FTSE MIB index with the help of CFDs.
Trading the difference: By trading CFDs on the FTSE MIB stock market index, you don't buy the underlying asset itself, meaning you are not tied to it. You only speculate on the rise or fall of its price. CFD trading is no different from traditional trading in terms of its associated strategies. A CFD investor can go short or long, set stop and limit orders and apply trading scenarios that align with his or her objectives. So whether your view is positive or negative, you can trade MIB 40 in both directions.
All-round trading analysis: The browser-based platform allows traders to shape their own market analysis and forecasts with sleek technical indicators. Capital.com provides live market updates and various chart formats, available on desktop, iOS, and Android.
Focus on safety: Capital.com puts a special emphasis on safety. Licensed by the FCA and CySEC, it complies with all regulations and ensures that its clients' data security comes first. The company allows to withdraw money 24/7 and keeps traders' funds across segregated bank accounts.
Businesses on the FTSE MIB
A list of the current companies trading on the Italy 40 today, correct as of November 2018:
FTSE MIB constituents

A2a

Cnh Industrial

Leonardo

Salvatore Ferragamo

Atlantia

Enel

Luxottica

Snam

Azimut Holding

Eni

Mediaset

Stmicroelectronics

Banca Generali

Exor

Mediobanca

Telecom Italia

Banca Mediolanum

Ferrari

Moncler

Tenaris

Banco Bpm

Fiat Chrysler Automobiles

Pirelli & C

Terna - Rete Elettrica Nazionale

Bper Banca

Finecobank

Poste Italiane

Ubi Banca

Brembo

Generali

Prysmian

Unicredit

Buzzi Unicem

Intesa Sanpaolo

Recordati

Unipol

Campari

Italgas

Saipem

Unipolsai
Italy 40 index are: Eni, Enel, Intesa Sanpaolo, Unicredit and Generali.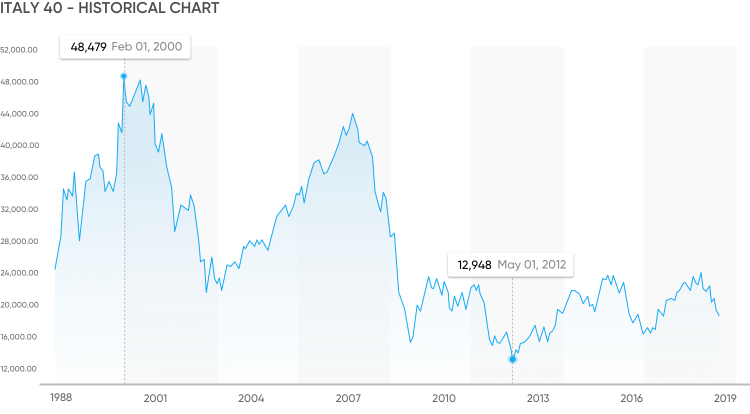 History of the FTSE MIB index
Maintained and regulated by FTSE Russell, the Italy 40 index was first published on 31 December 1997.
Historically, the FTSE MIB 40 stock market Index reached an all-time high of 50,108.56 in March 2000. The MIB's record low of 12,362.50 was set in July 2012.
The list of milestone dates for the Italian major stock market index include the following:
| | |
| --- | --- |
| Date | The Italy 40 major highs and lows |
| 31 December 1997 | The FTSE MIB 40 was first published with a base value of 24,401 points |
| March 2000 | The MIB 40 reached its all-time record high of 50,108.56 |
| April 2007 | The FTSE MIB reached another peak of 43,755.00 |
| 2007-2008 | A period of high volatility and a bear market, due to the global financial crisis |
| October 2009 | The FTSE MIB index climbed up to the 24,000 level and hasn't been higher since then. |
| July 2012 | The MIB 40 reached its record low of 12,362.50 |
| 2016-2018 | The years of strong performance with prices fluctuating from 18,000 to 23,000 |
On Monday 19 November 2018, the Italy 40 increased 227 points (or 1.20%) up to 19,105 from 18,878 in the previous trading session. To follow the most recent ups and downs of the Italy 40 index, check out our live FTSE MIB 40 price chart.
FAQ
What are the major indices related to the FTSE MIB index?

Though the Italy 40 is the most frequently quoted index for the Italian stock market, there are a number of other related indices.

These include:

FTSE Italia All Share
FTSE IT Mid Cap
FTSE IT Small Cap
FTSE MIB TR EUR
What are FTSE Italia PIR Indices?

In 2016, the Italian government launched a tax-advantaged personal savings plan, called "Piani Individuali di Risparmio" (PIR). The plan focused on investments in domestic small and mid-cap companies.

The FTSE Italia PIR indices, designed to meet the asset allocation requirements of this PIR plan, were established in May 2017.