Top crypto traders to follow based on their social media popularity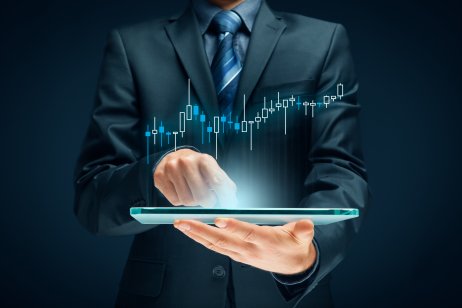 The increased popularity of cryptocurrency has coincided with a proliferation of 'crypto influencers', as they have come to be known. These crypto traders use multiple channels – Twitter, Instagram, TradingView and YouTube – to share information to their followers on a weekly or sometimes daily basis.
There is a reason why cryptocurrency has become a trending topic within global popular culture. As it currently stands, there are more than 13,330 cryptocurrencies in existence across the world, according to CoinMarketCap. This month, the total-value market capitalisation of all cryptocurrencies reached a new record of $2.5trn, as CryptoSlate data shows.
Yet when you are buying or selling cryptocurrencies online, where would you go to search for guidance and learn about the latest crypto market trends?
One way would be to use social media – for example, by following more experienced crypto traders who have gone through the same learning curve. Here, we've put together a list of the top-followed crypto traders based on our research across Twitter, YouTube, Instagram and TradingView platforms.
Note that the crypto influencers mentioned in this article can get their analysis and predictions wrong. Social media shouldn't be used as a substitute for your own research. Always conduct your own due diligence before trading, and never invest or trade any money you cannot afford to lose.
1. Ben Armstrong (aka BitBoy Crypto)
With over 1.33 million followers on his YouTube channel, Ben is one of the most popular crypto traders on social media.
His channel offers over 1,000 videos with in-studio graphic designs and pre-roll video segments. He is known to post several videos a week outlining his deep knowledge of technical and fundamental analysis.
The influencer also has an impressive Instagram following of 317,000 users, which makes him one of the best crypto traders on Instagram based on his social media popularity.
Under the alias BitBoy Crypto, Armstrong posts the latest updates on bitcoin (BTC), Ethereum (ETH) and other cryptocurrencies, as well offering project reviews and trading advice.
2. Anthony 'Pomp' Pompliano
Starting with the most famous crypto traders on social media, at the top of this is the founder of Pomp Investments, Anthony Pompliano, who has an astonishing 1.2 million followers on Twitter.
Pompliano is an entrepreneur and investor who was formerly a product manager for Facebook, where he led Growth Teams at Facebook Pages and launched a number of products, including Amber alerts and voter registration. According to his website, Pompliano has invested in over 100 early-stage tech companies and manages a portfolio valued at more than $500m.
As well as his Pomp Podcast, which he claims has been downloaded over 20 million times, Pompliano is known for regularly sharing information with his followers about what the price of bitcoin is trading at – including analysis of how the market perceives cryptocurrencies as a whole. He has also appeared on CNBC discussing the digital currency.
3. Tyler Winklevoss
Tyler Winklevoss is a crypto investor and founder of both Winklevoss Capital Management and cryptocurrency exchange Gemini, and co-founder (with his twin brother, Cameron) of HarvardConnection. One of the earliest and most prominent advocates of cryptocurrencies, Winklevoss has amassed 893,200 followers on Twitter.
While Winklevoss is best known for his highly publicised legal dispute against Facebook founder Mark Zuckerberg in 2004, he is also known as a crypto investor and Olympic rower, who competed in the 2008 Summer Olympics with his brother and fellow rower Cameron.
As one of the most-followed crypto accounts on Twitter, Winklevoss frequently shares his thoughts on the overall crypto market, as well as opinions on various aspects of the industry. Forbes recently estimated that each of the Winklevoss twins holds crypto worth $1.4bn.
4. Andreas Antonopoulos (aantonop)
Andreas Antonopoulos could be one of the best crypto traders to follow on Twitter for a number of reasons. The Greek-British tech entrepreneur and blockchain advocate has authored several books, including Mastering Bitcoin: Unlocking Digital Currencies and The Internet of Money. He currently has over 637,800 followers on Twitter.
Antonopoulos is highly active on social media and shares useful resources that are educational and thought-provoking. As an early adopter of digital assets, Antonopoulos also dedicates his time to running two bitcoin-related podcasts that delve deeper into the technical aspects of digital currencies, the future of decentralised finance, the rise of neo-banking and non-fungible tokens (NFTs).
5. Peter Brandt
Peter Brandt is a veteran financial analyst and renowned trader who is currently the CEO of Factor, a global trading firm. With over 575,000 followers on Twitter, Brandt is widely considered to be one of the foremost experts on applying classical charting practices to futures and forex market trading. He published his book, Diary of a Professional Commodity Trader, in 2011.
Brandt regularly offers bitcoin price predictions and gives advice and examples of his own trades to his half a million Twitter followers.
6. Ivan Liljeqvist/Ivan on Tech
Known for breaking down complex topics into more digestible pieces for global audiences, Sweden-based Ivan Liljeqvist is one of the best crypto traders on YouTube, based on the 482,000-strong subscribers following him.
As one of the most popular crypto YouTube channels, Ivan on Tech offers content that is well-researched and includes insights into crypto industry changes that affect the markets. If you are looking for a YouTube account that analyses the cryptocurrency sector from a technological angle, Ivan on Tech might be the one to subscribe to.
7. Nicholas Merten/DataDash
If you want to learn more about the fundamentals and technical aspects of cryptocurrency, then DataDash – founded by popular crypto trader and analyst Nicholas Merten – is a YouTube channel that may be worth subscribing to.
According to his website, Merten is an international speaker with over eight years' experience in the traditional financial markets, which ultimately led him to gain a deeper understanding of the potential of cryptocurrencies.
DataDash is undoubtedly one of the most well-known and established cryptocurrency YouTube channels, with over 476,000 subscribers. The channel dives into the technical side of trading cryptocurrencies, as well as offering trading tips on a range of other financial instruments.
8. Tone Vays
Another high-ranking figure in the 'top 10 cryptocurrency traders to follow' list is independent content creator, derivatives trader and consultant Tone Vays, who currently has 259,600 followers on Twitter.
As happens with many social media influencers, Vays is popular across different platforms. His YouTube channel has 115,000 subscribers.
An advocate of economic freedom through crypto technology, Vays worked on Wall Street for 10 years prior to entering the crypto markets. Vays regularly delivers bitcoin updates, projections and news on the crypto landscape.
In addition to this, Vays organises three conferences: Unconfiscatable, Understanding Bitcoin and The Financial Summit for traders and hedge funds.
9. Felix Hartmann
Less well-known than the other crypto traders, Felix Hartmann is a German-American tech entrepreneur and trader who founded Hartmann Digital Assets in 2018 after spending six years actively trading in equities, derivatives and crypto-assets.
With over 51,000 Instagram followers, Hartmann considers himself to be a thought-leader in the crypto space and shares opinions on various aspects of the industry, discussing everything from technology to crypto hedge funds.
On his Instagram, he regularly posts crypto trading tips, as well as up-to-date information on the overall crypto markets.
10. David Lavrov (@botje11)
One of the best crypto traders to follow on TradingView, a social-trading strategy platform that provides charting tools and analytics, is David Lavrov – also known as Botje11. Lavrov has amassed 41,599 followers on TradingView and shared over 680 posts on cryptocurrencies including bitcoin, ethereum, chainlink and tezos.
He is arguably best-known for predicting bitcoin's run-up past $20,000 back in December 2020.
ETH and The Parabolic Fight by botje11 on TradingView.com
Note that this article does not constitute financial or investment advice. Before following the guidance of any popular influencer or trader, remember that your decision to invest or trade should be based on your own research, attitude to risk, your expertise in the market, the spread of your portfolio and how comfortable you feel about losing money.