Tesla stock in 5 years: Will Elon Musk's company keep leading the EV market?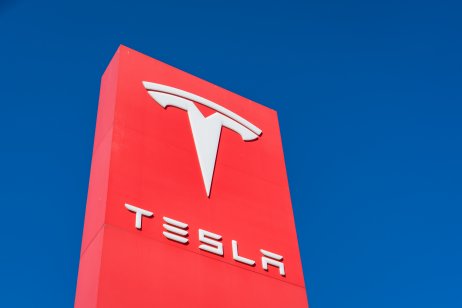 The performance of Tesla (TSLA) stock has seen a rebound this year, having risen over 50% at the time of writing on 6 April 2023. This marks quite a turn from 2022, when the TSLA stock shed almost 70% of its value.
Tesla (TSLA) live price chart
A key factor that has contributed to the Tesla stock price's rise so far this year has been its price cuts. In January, the electric vehicle (EV) maker lowered the prices of two of its most popular vehicles vehicles, the Model Y and Model 3, across US and European markets. Tesla said in a statement:
"Our focus on continuous product improvement through original engineering and manufacturing processes have further optimised our ability to make the best product for an industry-leading cost.

"As we exit what has been a turbulent year of supply chain disruptions, we have observed a normalisation of some of the cost inflation, giving us the confidence to pass these through to our customers."
In this article, we explore further details about the electric vehicle (EV) manufacturer, along with predictions from analysts about the stock's future.
Everything you need to know about Tesla
Tesla was founded in 2003 by Martin Eberhard and Marc Tarpenning, two engineers with a vision of revolutionising the auto industry by creating fully-functional, electric-powered vehicles.
The company was not, contrary to popular belief, founded by Elon Musk. However, Musk was instrumental in Tesla's success as he invested a sizeable amount of money in the company and helped to raise funds from venture capitalists and angel investors.
The first vehicle launched by Tesla was the Roadster, in 2008. It then introduced new models, including the Model S, Model X, Model Y and Model 3. The Tesla Semi followed, together with a pick-up truck called the Cybertruck and a new Roadster model.
Tesla is headquartered in Austin, Texas. The company has manufacturing facilities in the US (Texas, Nevada, California, and Buffalo), China and Germany.
During the first nine months of 2022, Tesla produced total revenues of $57.1bn, $50.2bn of which came from the sale of its vehicles. During this same period, Tesla produced a total of 929,910 vehicles and delivered 908,573 units.
Understanding the company's history and current situation is a good first step in the process of drafting a plausible Tesla long-term forecast.
What is your sentiment on TSLA?
Vote to see Traders sentiment!
A closer look at Tesla's share price history
Tesla stock has accumulated gains of 8,535% in the past 10 years compared to 348.9% and 187.6% returns produced by the Nasdaq 100 and the S&P 500 index, respectively, during that same period.
This means that the company's share value has grown at a compounded annual growth rate of 56.8% – an impressive return that hasn't necessarily come without hiccups along the way.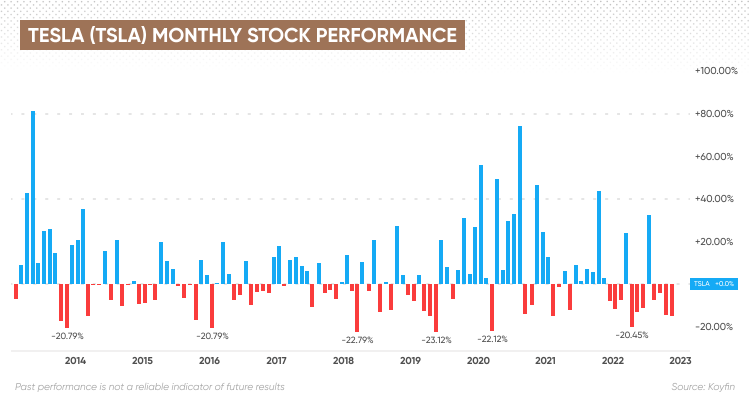 The chart above shows that in six months within the past 10 years, TSLA has experienced monthly drawdowns of more than 20%. This shows how volatile the stock has been and what it took from investors who adopted a buy-and-hold approach to stay the course to see the value of their holdings increase by the percentages described above.
Tesla hit all-time highs (post-splits) in November 2021 at $414.50 a share, but changes in the macroeconomic backdrop led to a significant decline in its stock value after that, as investors adopted a risk-off attitude due to the US Federal Reserve's increasingly hawkish actions.
Investors must be aware that past results are not a guarantee of future performance, which means they should not base their Tesla stock predictions on what its price has done in the past.
Price drivers to consider for a Tesla stock 5-year forecast
What kind of variables can investors look at to determine where the price of Tesla stock in 5 years may land?
The company's fundamentals are perhaps the first thing to consider when drafting a Tesla stock 5-year forecast. This includes an analysis of the demand for EVs in multiple corners of the world – primarily in the locations where Tesla is already offering its products, but also in markets the company may be planning to reach soon.
Additionally, investors should also look at the competition and what they are doing to see if their vehicles may eventually eat up a portion of Tesla's pie. According to data from S&P Global, Tesla's vehicles accounted for 65% of the sales in units of electric cars in the US in the first nine months of 2022.
However, Tesla is also looking to become a major player in other parts of the world such as China and Europe. They will have to compete with firms like Nissan, Ford, General Motors, VW, Toyota, Nio and Xpeng to either become the leaders or stay at the top of the EV market in these areas.
By analysing these elements, investors may be able to determine how much Tesla could bring in sales, cash flows and earnings in the next 5 years to possibly value the business by using price-to-earnings ratios and other similar techniques.
Other variables that could shape the Tesla stock price in 5 years include macroeconomic factors such as interest rates, as higher rates will typically lead to lower equity valuations. In addition, higher rates may also depress the demand for vehicles, as borrowing costs will tend to increase.
Tesla stock in 5 Years: Will it go up or down?
Lets look at the long term outlook for Tesla stock.
As of 2 March, MarketBeat had the consensus recommendation from analysts for Tesla stock stood at 'hold', with 21 out of 36 analysts rating the stock a buy, 11 rating it a hold and four a sell.
The average price target for TSLA for the next 12 months stood at $218.95 a share, implying an 7.98% upside potential if that target is hit. The highest prediction stood at $430.33 while the lowest sat at $33.33.
As for the Tesla long term forecast, Wallet Investor has estimated a Tesla 5 year forecast of $564.24 a share.
Additionally, Gov Capital, another algorithm-based forecasting service, has a baseline Tesla stock 5-year forecast of $2,326.138.
Both of these estimations indicate a sizeable upside potential for TSLA within the next five years, if those targets are hit. However, many things can happen during that period. Therefore, these forecasts should not be considered a recommendation to invest in Tesla stock.
Investors should always perform their own due diligence on any company before buying shares. And never invest money you cannot afford to lose.
FAQs
What will Tesla stock be worth in 5 years?

No-one can say for sure. According to the estimates cited above, Tesla stock could be worth between $564 and $2,326.138 a share in the next five years, implying potential over 1,000% gains based on the last closing price of $181.41, though this seems an ambitious target. Remember, these predictions can be wrong. Always do your own research before making any investment or trading decision. And never invest more money than you are comfortable losing.
Is Tesla a good long-term stock?

Tesla was one of the first companies to manufacture a top-quality and fully-functional electric-powered vehicle. The company remains the leader of the EV market in the US in units sold and continues to move forward in the development of new models and markets.

However, whether Tesla is the right stock for you depends on your trading objectives. It's important to do your own research. Your decision to trade depends on your attitude to risk, your expertise in the market, the spread of your portfolio and how comfortable you feel about losing money. You should never trade more than you can afford to lose.
Is Tesla stock a buy right now?

The consensus recommendation from analysts surveyed by MarketBeat sat at 'hold' as of 2 March. Even though 21 out of 36 analysts have rated the stock a buy while 11 rated it a hold, and four a sell.

However, how you invest is a personal decision depending on your risk tolerance and investing strategy. You should do your own research to take an informed view of the market and decide whether TSLA is an appropriate fit for your portfolio.