Tesla share price forecast: will Tesla stock go up past $2,000?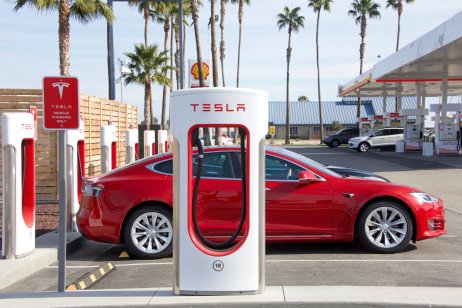 The chances are that you have already heard of the stellar performance of Tesla (TSLA) this year. Since the start of 2020, while many other companies have been struggling to fight the bankruptcy, shares in Elon Musk's creation have skyrocketed by more than 300 per cent, hitting an all-time high of almost $1,800 on July 13.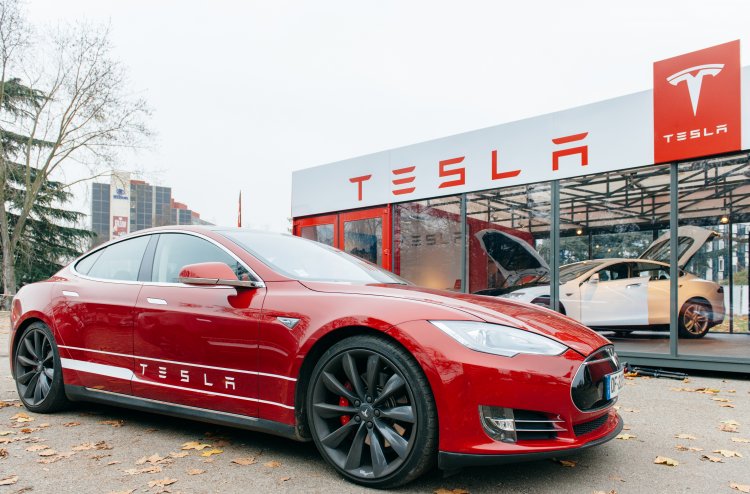 Read our new forecast here: Tesla stock prediction for 2021 and beyond: ready to soar all the way past $1,000?
The latest Tesla earnings report again beat the analyst estimates, making investors wonder: How high can Tesla stock go? Or will the bulls soon run out of breath? With the company taking all the financial headlines by storm, is now a good time to ride the wave of hype and invest in Tesla shares?
To answer this and many other questions traders may now have, in this article we review the company's recent share price performance, check out the key drivers behind those fluctuations and discover what analysts have to say about the TSLA stock outlook for 2020 and beyond.
Tesla stock performance: a bubble fuelled by millennials?
The company's stock started the year hovering around $430 per share, falling to $361 on March 18 during the broader stock market sell-off caused by the Covid-19 pandemic. However, what happened next came as a surprise to many market participants, both analysts and investors.
Like a SpaceX launching a Tesla Roadster into space, Tesla stock has been on a vertical trip to new highs for the past few months. Following the sell-off, the company's shares were already changing hands at $427.64 by March 19, gaining upside momentum and soaring in value quickly.
According to the Tesla share news, the stock hit its all-time high of $1,795 per share on July 13, representing a hike of over 300 per cent from the start of the year. At this price, shares were up by almost 66 per cent in July alone.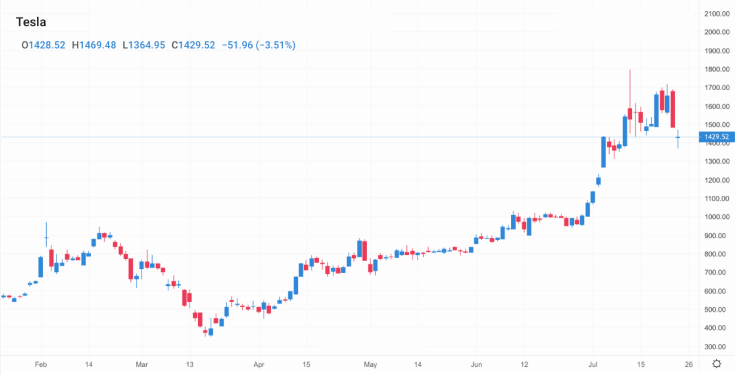 After reaching the peak, the price pulled back to $1,500 only to skyrocket in value again as soon as the company released its financial results for Q2 on July 22. On July 23, the stock opened the trading day at $1,678.95 per share, reaching an intraday high of $1,689.
At its current share price, the company boasts a market cap of almost $300bn, making it ten times more valuable than Ford (F). Moreover, at such a market cap, Tesla surpasses Toyota as the world's most valuable car manufacturer, while selling much fewer cars.
With shares surging by almost 70 per cent in the past 30 days, the company's gains are far outpacing those of the broader US market. But what exactly are the reasons behind such a stellar Tesla stock increase?
Tesla has always been a millennial favourite, with many market experts suggesting that it's those younger investors that are behind the stock's tremendous growth. Indeed, over the past 30 days almost 200,000 of new investors have purchased the carmaker's shares on electronic brokerage Robinhood, whose users skew toward the millennial demographic.

However, while the stock is very popular among the younger generation of traders, that number does not mean a whole lot if you consider that an average of 18.7m TSLA shares was traded daily over the past ten days according to data from Yahoo Finance.
What is your sentiment on EA?
Vote to see Traders sentiment!
Tesla stock price analysis: so, what really drives the rally?
Dan Ives, managing director of equity research at Wedbush, said this month that when it comes to the Tesla stock forecast, one thing matters above the rest: "What's the fundamental value? If you have a million-mile battery, what does that add to the stock? ... It comes down to scarcity. How do you play the EV market? ... It all comes down to the P word: profitability."
While governments across the globe incentivise drivers to switch from fossil-fuelled engines to help tackle climate change by reducing carbon emissions, Tesla enjoys its position at the forefront of the adoption of electric vehicles. The company has created one of the most popular EV ranges and built an extensive battery-charging infrastructure, encouraging wider acceptance among consumers.
The business has also entered the renewable energy sector, offering solar panel systems with battery storage for commercial and residential buildings.
Brian Johnson, a senior autos analyst at Barclays, who put a $300 price target on Tesla in February, is bearish on the stock, saying: "We think the reckoning that there is going to be could be more when we get to the second half and the fourth quarter ... If this were a real growth stock, we'd actually be talking about things like same-country, same-model sales, and so if you back out China from this quarter, back it out from a year-ago quarter, the rest of the world shrunk 28 per cent. Now, of course, there's Covid, of course, there are challenges, but that isn't that different from many of the legacy automakers."
After the company's Q2 results were published, Johnson told CNBC: "So, I'm not under the illusion that even though my $300 is based on the valuation of this as an automaker that the market is going to agree with me … anytime soon."
On the other hand, based on Colin Rusch's Tesla stock analysis, the company's shares have the potential to hike even higher. The managing director and senior research analyst at Oppenheimer said: "We're really going back to our numbers. It's run aggressively past our price target that was $968. We put that in place over a quarter ago, and as we look at what the company has planned out for 2024 and 2025, you know, we see the potential for 50 per cent to 70 per cent upside."
Paving its way into the S&P 500: Tesla stock news is all about the company's Q2 results
Tesla is known for posting second-quarter losses. In 2019, the electric car business reported a Q2 loss of $408m, despite delivering a record number of vehicles. In the second quarter of 2018, the company said it lost more than $717.5m.
However, this year seems to be a whole other story. On July 22, the company reported a fourth consecutive quarter of profits, with Tesla finally achieving its first full year of profitability on a GAAP basis. Beating analyst estimates of $5.23bn, Tesla's total revenue in Q2 was $6.04bn, while its net income was $104m.
Total deliveries were 3 per cent higher quarter-on-quarter at almost 90,900 units. However, regardless of higher vehicle deliveries, regulatory credit revenue and energy generation and storage revenue, automotive revenue was $5.179bn, representing a decline of 4 per cent year-on-year. Commenting on the matter, the business said in its report that this was due to "lower vehicle average selling price (ASP) and lower services and other revenue".
As Tesla had four consecutive quarters of GAAP profitability, the stock is now eligible to be considered for inclusion into the S&P 500 Index as early as September, according to the index's listing rules. If this were to happen, it could attract more institutional investor attention to the company.
So, will Tesla stock go up even higher in the foreseeable future?
Tesla share price forecast for the rest of 2020 and beyond: what to expect and when
Is now the right time to invest in Tesla stock or should you steer clear of its shares? Wall Street analysts seem to have mixed opinions on the future of the company, with some bullish on the stock and others suggesting it has formed a dangerous bubble.
Based on data provided by CNN Business, price estimates from 29 analysts offering 12-month price forecasts for Tesla range from as low as $300 per share to as high as $2,400 per share. A median target is $1,200 per share.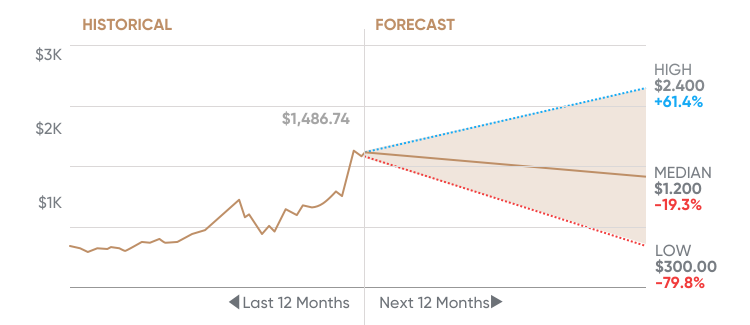 Last week investment bank Credit Suisse (CS) doubled its one-year Tesla stock projections from $700 to $1,400, while still expressing some caution by noting that the company's shares at current levels are "priced to perfection".
In a note to clients, analysts AJ Denham and Dan Levy said that with the stock "priced for perfection", "any material hiccup could drive a correction". Nevertheless, analysts added that they "expect it to continue garnering attention with a number of positive catalysts ahead". One of those catalysts may be Tesla's so-called Battery Day scheduled for September, when the company will present its long-lasting battery.
In Credit Suisse's "Blue Sky" scenario the stock is predicted to reach a price of $2,300, while the "Grey Sky" scenario suggests $800 per share.
Robert W Baird & Co, an American multinational independent investment bank, also raised its target on the stock this week from $984 to $1,658, while keeping a neutral rating on the shares. Analysts at Goldman Sachs updated their target from $1,300 to $1,475 per share after the company's Q2 report.
On the other hand BofA Securities kept its cautious stance on Tesla. The analysts raised their price target on the shares from $500 to $800, while remaining with their equivalent of a sell, adding that they view the recent hike in the stock as "more driven by the stock itself rather than fundamentals, as the higher the stock goes, the cheaper funding gets to support outsized growth, which is then rewarded by investors in the form of a higher stock price".
"The current ~$1,600+ stock price is detached from current fundamentals and rather reflects a view that TSLA could access effectively no-cost (equity) capital to fund future growth," BofA Securities analysts added.
Based on the Tesla share price prediction provided by Wallet Investor, an online forecasting service, the stock is expected to end 2020 at $1,524 per share. The website suggests the share price will close 2021 at $1,689.360 and 2023 at $2,020.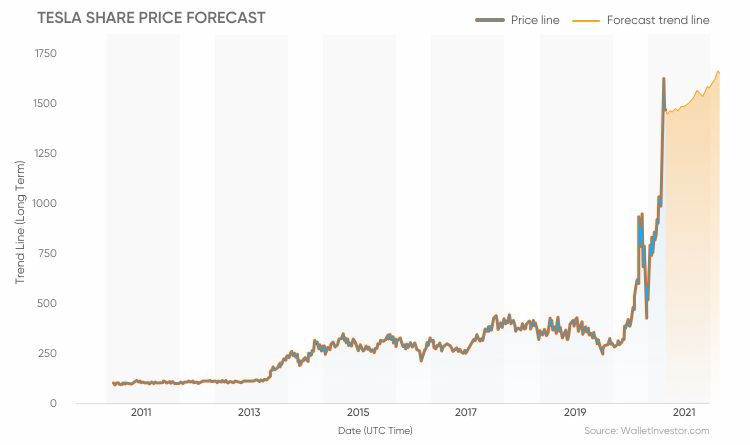 As for the longer term, the service's Tesla stock predictions go as high at $2,348 by July 2025.
The bottom line
As we can see, analyst views on the company's future valuations vary wildly. The truth is, it may be rather hard to provide some certain long-term Tesla share prediction as the market remains very unpredictable due to the ongoing Covid-19 pandemic. While the company does grow at a rapid pace and attracts a lot of investor attention, many still argue whether or not the business will be able to live up to the market's high expectations.
Just like with any other asset, investing in Tesla shares gives no guarantee of financial success.
Read more: The latest tesla stock analysis: is the rally another bubble that is ready to burst?