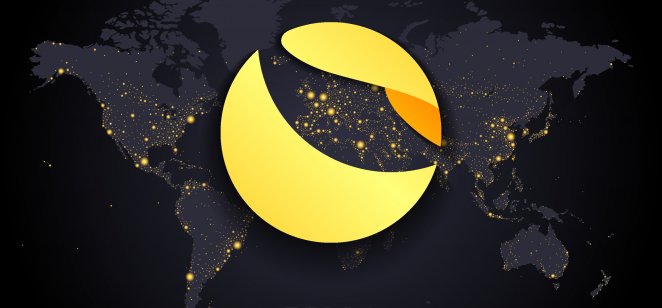 The TerraLuna community has voted in favour of founder Do Kwon's proposal to revive the failed cryptocurrency project in a plan that would see a hard fork and creation of a new Terra 2.0 blockchain, which will be constructed from the ground up with no previous transaction history.
The "old" blockchain will be renamed Terra Classic, while the failed LUNA token will now be called "Luna Classic" (LUNC). Terra 2.0 with LUNA tokens are meant to be the "new" chain — both sets of blockchains and tokens will coexist following the fork and the recent launch of the updated LUNA.
Importantly, the new token's ticker varies from platform to platform — the ticker for the new LUNA can sometimes be listed as LUNA2. The original LUNA token, or Terra Classic, has since assumed LUNC as its ticker.
Earlier in May, the Terra Luna crash rocked the cryptocurrency markets, pulling down the price for bitcoin (BTC). TerraForm Labs (TFL) and Luna Foundation Guard (LFG) sold off their bitcoin in an effort to stabilise the associated TerraUSD (UST) stablecoin. That affected sentiment across the crypto space as investors have responded to the Luna coin news.
Luna is part of Terra's dual-token structure along with UST, which burns LUNA when UST is created. The system burns UST when it is redeemed, thereby creating LUNA.
When UST unpegged from the US dollar on 9 May, UST redemptions massively inflated LUNA supply, driving the price down by 99%. Having traded at an all-time high above $100 in early April, LUNA's price collapsed within days, plunging to $0.003385 on 12 May. LUNA traded around the $0.00010 mark on 31 May.
Since the UST and LUNA tokens collapsed, many crypto exchanges — including Binance, OKX and Crypto.com — have also suspended their trading.
What happened to Terra Luna, and can the coin recover the losses under the new revival plan? We took a look at the Terra token price collapse, what it means for the future of the cryptocurrency and what other factors are shaping the latest Luna price prediction.
UST selloff created LUNA hyperinflation
"This means that LUNA is going through hyperinflation, if it will be possible to redeem every UST at all since there is close to no demand for LUNA."
To understand why Luna fell so sharply, it's important to grasp the structure and relationship between Luna and UST.
What is Luna coin? The Terra Luna cryptocurrency is based on a swap function that maintains the UST coin's peg to the US dollar at a rate of 1:1. UST is designed to always be swapped for $1 of LUNA.
UST is a stablecoin, which means its value is pegged to another currency, such as the US dollar. Stablecoins are used as a store of value in digital form and allow holders to use decentralised applications (dApps) that run on blockchain technology.
Traders began to sell high volumes of UST in the first week of May. When it unpegged from the US dollar on May 10, TerraUSD holders started to redeem it for LUNA – which they then sold for fiat currency. This not only increased the LUNA supply and reduced the price, but meant that TerraUSD sellers began to receive more LUNA to redeem each UST. That in turn prompted traders to short LUNA.
As the Terra protocol limits how much TerraUSD can be redeemed for $1 worth of LUNA an hour, holders began to sell it for US dollars or other assets on exchanges, further devaluing TerraUSD against the dollar.
The panic selling, equivalent to a bank run on fiat currencies, drove up LUNA's circulating supply, which had grown exponentially to 6.5 trillion (as of 2 June) from around 346 million previously.
Its market capitalisation plunged by over 99% as the supply increased and the price plummeted. There are still 10.3 billion UST coins in circulation worth $158.5m, down from a market cap of $18 billion prior to the crash.
"This means that LUNA is going through hyperinflation, if it will be possible to redeem every UST at all since there is close to no demand for LUNA," said Anders Nysteen and Mads Eberhardt, senior quantitative analyst and cryptocurrency analyst at Saxo Bank.
"UST is not collateralized by anything other than the market's belief that LUNA will always have value to some and thus always have interested buyers, and this belief is anyway closely related to the value they see in UST," they added in a note.
"This belief from the market in LUNA is exactly what is missing right now, disabling the pegging mechanism. During Terra's recent rally, many also criticised Terra for basically being non-collateralized due to this structure, as it does not have any backing in physical assets."
The analysts noted that the Terra foundation responded by buying $1.5bn worth of bitcoins at the start of 2022 to show some collateralization.
"This means that Terra was suddenly solely around 10% collateralized in another highly volatile asset and due to the fact that the foundation controlled the small collateralization there was, Terra was suddenly not that decentralised," they concluded.
The foundation's bitcoin holding has spread the contagion from the collapse to other cryptocurrencies, as it sold off the bitcoin in an attempt to maintain UST's dollar peg. UST was valued at $0.0157 as of 2 June 2022.
Will LUNA recover?
The LUNA token is primarily utilised for governance and staking. In exchange for benefits from transaction fees, users stake LUNA to validators that record and validate transactions on the blockchain. It has no value other than its use to create and redeem 1 UST.
The LUNA coin price in USD largely traded below $1 from its launch in 2019 until it took off in early 2021 with the broader cryptocurrency market rally and the growing popularity of decentralised finance (DeFi) apps.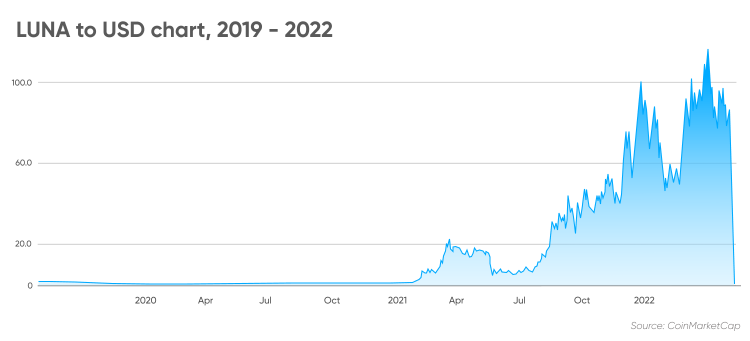 The terra crypto price chart shows that LUNA traded up to $22.33 on 21 March 2021, but fell back to $3.94 during the May crypto selloff. The price took off during the summer rally and accelerated in November, reaching $103.33 on 27 December 2021.
LUNA's value dropped when crypto prices fell in January 2022, sliding to $43.57 at the end of the month, but it rebounded to a new high of $119.18 on 5 April.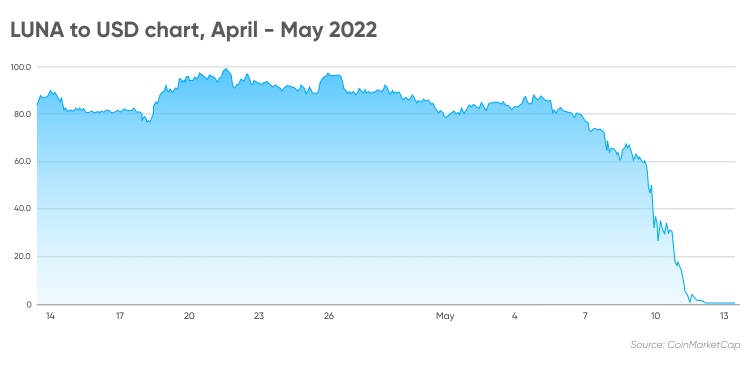 According to data from Defi Llama on 3 May, the total value locked (TVL) in DeFi apps in LUNA on the Terra blockchain reached $31.35bn on 6 April, putting it in the second spot behind ether, with $122.73b. Terra has since lost its positions, with TVL dropping to $184.64m.
Terra responds with a hard fork revival plan
Terra was founded in 2018 by Daniel Shin and Do Kwon, with the aim to drive blockchain and cryptocurrency adoption by focusing on usability and price stability.
Kwon, CEO of Terraform Labs, was previously the founder and CEO of decentralised wireless mesh networking startup Anyfi, and was a software engineer at Apple (AAPL) and Microsoft (MSFT). Shin co-founded and led South Korean e-commerce platform Ticket Monster, as well as startup incubator Fast Track Asia.
In a new plan proposed by Kwon the Terra blockchain would undergo a hard fork, with the creation of Terra Luna 2.0 and the old Luna tokens being renamed Luna Classic (LUNC). The new blockchain would also ditch the failed UST stablecoin. Kwon's revival plan passed with 65.5% majority approval, and came into effect on 27 May with the launch of the new LUNA token.
3/ It will effectively create a new Terra chain without the algorithmic stablecoin. The old chain will be called Terra Classic (token: $LUNC), and the new chain will be called Terra (token: $LUNA). The chain upgrade will commence a few hours after the Launch snapshot.

— Terra ???? Powered by LUNA ???? (@terra_money) May 25, 2022
Those who held LUNA or UST before the collapse received new LUNA coins, 35% and 10% respectively. Meanwhile, another 30% of the new tokens will be directed to a pool of investors in the community.
The new blockchain's testnet is now live, according to Orbital Command, a validator dedicated to educating the Terra community. The mainnet launched on 27 May, finalising the hard fork.
1/10 If you haven't heard, Terra 2 testnet is live. Mainnet goes live Friday. It's happening!

How much of an airdrop will I get? What is the point of Terra 2? What protocols will be participating?

Everything you need to know about Terra 2. ????????

— Orbital Command (????,????) (@orbital_command) May 24, 2022
The impact of the LUNA crash on the cryptocurrency markets beyond Terra will take some time to play out. The analysts at Saxo noted that could result in stricter market regulation.
"Regulators and policymakers are still working on national and international regulations for the cryptocurrency space, and fear is now that the regulatory framework will be even more strict, and it could limit some of the existing use-cases for cryptocurrencies. In case potential applications for cryptocurrencies are constrained, the sentiment will likely go down as well."
LUNC and LUNA2 coin price predictions 2022-2025, 2030
What is the outlook for the LUNC and LUNA2 coins now? Let's take a look at the projections from cryptocurrency forecasters.
CoinCodex's LUNC crypto price prediction signalled that the coin's value could drop further to $0.000091 by 31 May.
The long-term LUNC token price prediction from DigitalCoinPrice indicated that the price could remain in the low single digits in the future. According to the platform, the old token's price could average $0.000125 for the rest of 2022, then rise to $0.000135 in 2023 and reach $0.000185 by 2025. LUNA could drop to an average of $0.000170 in 2026 and rise to $0.000439 by 2030.
The sentiment on the new LUNA token (trading as LUNA2 on Capital.com) from CoinCodex is bearish, with no price prediction posted as of yet, as the coin's launch was fairly recent — it started trading on 27 May.
Despite its recent entry to the markets, DigitalCoinPrice has already posted a long-term price prediction for the new LUNA, indicating that it could average $7.99 throughout 2022, and potentially grow to an average of $8.83 in 2023 and $9.27 in 2024 respectively. According to the platform, LUNA could reach a price of $28.26 in 2030.
WalletInvestor's forecast for the new LUNA token is the most bullish of all — the website's one-year forecast states that the coin could reach a potential price of $63.30.
The LUNA token collapse demonstrates the extreme volatility of cryptocurrency markets, which makes it difficult to accurately predict long-term prices. Unexpected events can defy analysts' and forecasters' expectations.
If you are considering trading LUNC, LUNA2 or any other cryptocurrency, we recommend that you always do your own research. Look at the latest market trends, news, technical and fundamental analysis, and expert opinion before making any investing or trading decisions. Keep in mind that past performance is no guarantee of future returns. And never invest or trade money you cannot afford to lose.
FAQs
Is LUNA coin a good investment?

LUNA coin remains a high-risk investment in light of its extreme volatility. Whether you should buy into it depends on your risk tolerance, investing or trading goals and experience in cryptocurrency markets. Always conduct your own research.
Why did LUNA crash?

The LUNA price collapsed as a selloff of the UST stablecoin prompted hyperinflation in the supply of LUNA tokens, which are created when UST is redeemed.
Will LUNA reach 1 dollar again?

The future price for the LUNA coin will likely depend on whether the measures taken by TerraForm Labs after the price crash enable the token to gain in value, among other factors.
How many LUNA coins are there?

The number of LUNA coins — now called Luna Classic (LUNC) — in circulation has ballooned from around 346 million to 6.5 trillion as the de-pegging of the UST stablecoin and has resulted in redemptions of UST for LUNA. There are reportedly 210 million "new" LUNA tokens in circulation following the recent hard fork of the Terra blockchain.
When was LUNA coin launched?

Terra was founded in 2018 and the LUNA coin was launched in 2019. The Terra blockchain underwent a hard fork in May 2022 — the "old" blockchain is now called Terra Classic, while the failed LUNA token is now called "Luna Classic" (LUNC). An updated blockchain (Terra 2.0) and token (LUNA) relaunched on 27 May 2022. Both sets of blockchains and tokens will coexist following the fork in late May.
Will LUNA go up again?

Various algorithm-based forecasting services have suggested that the new LUNA token could exhibit growth in the coming months and years. However, price predictions and market sentiment can be wrong. Always conduct your own due diligence.