Stop-loss strategies: Where to put a stop loss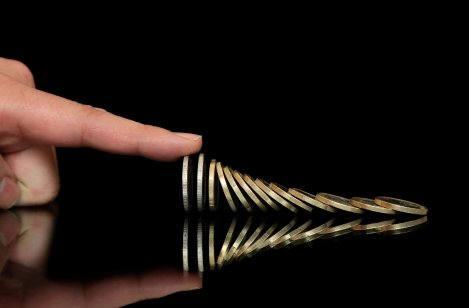 Cutting losses short and letting winners ride is one of the oldest tenets of trading and investing. The question that follows is: what is a stop loss strategy and how could it help determine where to set stop losses?
In this guide we attempt to answer these questions by explaining some of the most widely used stop loss techniques.
What is a stop loss?
A stop-loss order is a market order placed with a broker to buy or sell a security when it reaches a certain price. This is done to limit losses in the event that the price of the security moves against the position taken by the trader.
A stop loss on a long position would be an order to sell at a lower price than the entry price. A stop-loss order on a short position would be set above the entry price.
Risk-per-trade approach
This method revolves around protecting your own capital. As far as stop loss strategy options go, the risk-per-trade approach to reduce increasing losses is simple and is regarded as an effective way to manage risk when trading.
By determining the maximum amount of risk you are willing to take on each trade, you can set a stop loss that will limit your losses if the trade goes against you.
The maximum risk you are willing to accept on a trade should be a dollar amount, or whatever currency your trading account is based in. The dollar amount is determined as a percentage of the total value of the trading capital in your account.
There are a few different ways to calculate your risk-per-trade, but one of the most popular is the 2% rule. This principle says that you should never risk more than 2% of your account on any single trade. So, if you have a $10,000 account, you should never risk more than $200 on a trade.
Risk-reward strategy
The risk-reward stop-loss order strategy compares the size of your stop loss with the size of your intended take-profit order.
There are certain risk-reward ratios that can be used as guidelines. For example, a 1:3 risk-reward ratio means that for every 1 point of risk, the potential reward is 3 points. This ratio can be used when the market is trending strongly in one direction.
Another example is a 1:2 risk-reward ratio, which can be used when the market is range-bound or choppy. In this case, the trader is looking for a small movement in price in order to make a profit. Note, however, that all trading contains risk, and some losses are unavoidable.
Of course, these are examples and each trader will need to find the types of stop losses with risk-reward ratios that work best for them.
There is no right or wrong answer, but a risk-reward ratio may allow traders to minimise the downside without restricting the upside.
Note, however, that all trading involves risk. Always conduct your own due diligence before trading. And never invest money that you cannot afford to lose.
Volatility approach
The volatility stop loss is a strategy that uses the volatility of the market to determine where to place your stop loss.
Volatility varies – there can be more or less movement in the market over time. By using the volatility of the market, you can change the size of your stop to fit current market conditions, thus placing your stop loss in a more strategic location.
For example, if over the past 10 days the S&P 500 stock index has moved by an average of 20 points a day, it may make little sense to have a stop loss of over 20 points for an intraday trade.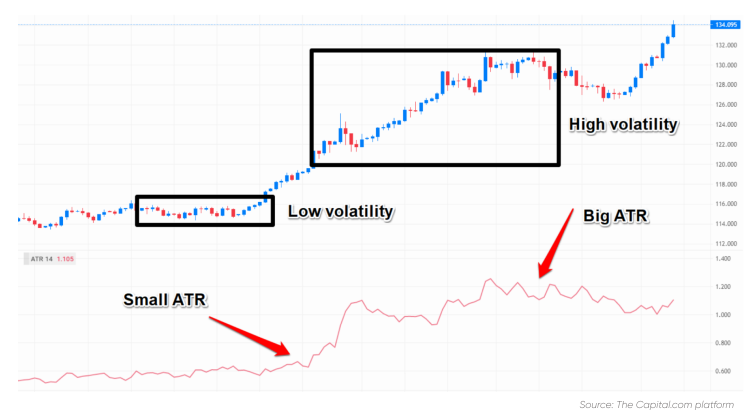 The classic volatility approach to stop losses is the 'average true range method', using the Average True Range (ATR) indicator.
The ATR is a measure of the volatility of the market. By using the ATR, you can place your stop loss at a point that's just beyond the furthest price likely to be reached under current volatility conditions.
While incorporating volatility into how you choose a stop loss can add value to your trading strategy, it is worth bearing in mind that the ATR is a lagging indicator, which means that it cannot predict future levels of volatility, only tell you what it was in the past.
Note that past performance is no guarantee of future returns. And never trade money you cannot afford to lose.
Support and resistance approach
Using areas of support and resistance (S/R) is a classic textbook way to place stop losses. This strategy may be the most clear-cut in terms of where to place stop losses.
The logic is that if the price moves past one of these price levels, then it invalidates the reason to be in the trade and is a cue to exit the trade. Support and resistance is the common way of putting a stop loss in swing trading.
The support and resistance approach to where to place a stop loss is a technical analysis strategy that is used to identify key price levels where the price may be likely to rebound or retrace.
A support level could stop the price from falling, and a resistance level could stop the price from rising. Therefore, placing a stop loss just beneath a support level or just above a resistance level could result in a better chance that a losing trade reverses in your favour before the stop loss is hit.
These S/R levels are typically identified using previous highs and lows, as well as using technical indicators such as moving averages (MA) or Fibonacci retracements.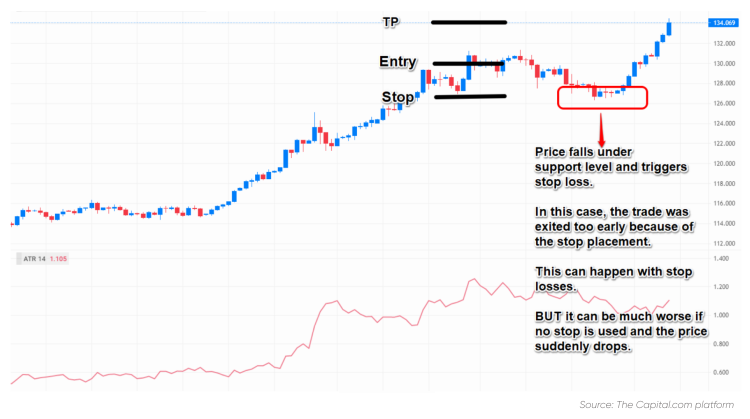 The advantage of this method to stop losses is that it can help to identify key price levels where the price is likely to find support or resistance. This can help to place stop-loss orders that are more likely to be effective in limiting losses.
The disadvantage of this approach is that it's based on technical analysis and is, therefore, subject to interpretation. Technical analysis is based on historical price action, which is no guarantee of future returns.
A trailing stop loss
A trailing stop loss strategy is the most applicable in trend following. Trend followers attempt to enter a price trend just after it has begun and exit just after it has finished.
Trend followers do not try to predict how long a trend will last. They do not set a 'take profit' level in advance. Instead, trend followers will normally use a stop-loss order to exit a trade, even if it's still profitable.
A trailing stop loss will be set at a certain number of points or at a percentage behind the entry price. If the market begins to trend in your favour, the stop loss will trail the market price by those same number of points.
When the market reveses, the trailing stop remains in place. If the market falls, the full size of the stop-loss order gets triggered.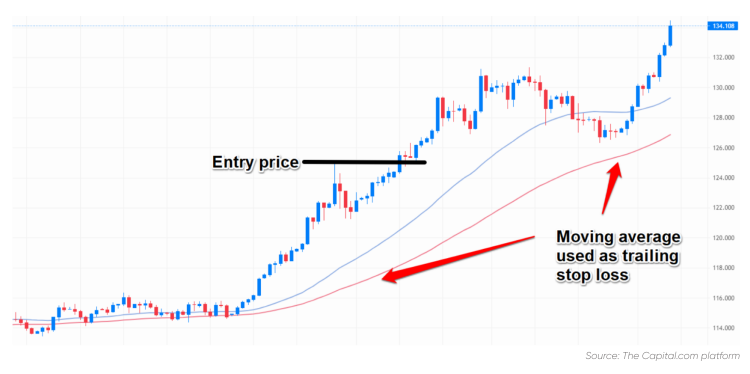 Some traders use a moving average such as the 50 DMA to stop loss entry so that as the moving average rises in an uptrend, the stop loss moves up accordingly.
Stop loss limitations
A stop loss is a tool for traders to reduce but not remove trading risk. Stop losses are not infallible and have some limitations. Even using the above techniques, it can be difficult to determine the correct level at which to set a stop loss.
If a tight stop loss strategy is used and the stop loss is set too close to the current price, then it may be triggered by a small fluctuation and result in a loss. On the other hand, if the stop loss is set too far away from the current price, then the potential loss may be too great.
Even if the stop loss is set at the correct level, there is no guarantee that it will be triggered – markets can be highly volatile and prices can move very quickly. Unless it is a guaranteed stop loss, which typically comes at an additional fee.
Market makers at large institutions like banks and hedge funds can see where stop losses are on their books. This gives them a huge advantage over retail traders and some will engage in a stop loss hunting strategy. That typically involves executing large sell orders to trigger stop losses, which cause an extra wave of sell-stop orders, creating a short-term profit.
Lastly, if a stop loss is triggered, it may be difficult to re-enter the market at a good price, as prices can continue to move in the same direction.
In conclusion, there is no best stop loss strategy, but there are a variety of techniques that are best used according to your trading strategy and risk management profile.
FAQs
What are the strategies used to implement a stop loss?

There are a few different strategies that can be used to implement a stop-loss order such as risk-per-trade approach and risk-reward ratio approach to prioritise risk management. Other common strategies use support and resistance levels, a trailing stop or volatility range to decide the stop-loss placement. You should decide for yourself which stop-loss approach would suit your trading strategy, risk tolerance, portfolio size and goals. Note that all trading contains risk.
Where to place stop loss and take profit

The ideal stop-loss and take-profit levels will vary depending on the specific market conditions and your own risk tolerance. We encourage you to conduct your own due diligence and find a stop-loss and take-profit approach that would suit your trading plan.
How to set a stop-loss strategy

The most important thing to set a stop-loss strategy is to have a well-defined plan with clear entry and exit points before entering any trade. By doing so, you will increase your chances of success and avoid making emotionally-driven decisions that can lead to costly mistakes.