Stellar lumens price prediction: What is stellar lumens (XLM)?
Subscribe to Weekly Highlights
The major market events for the week ahead right in your inbox.
Subscribe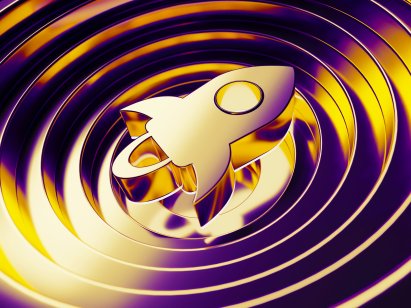 Content
It's based on a blockchain which wants to make transactions faster and cheaper, but what is stellar lumens (XLM)?
Let's see what we can find out, and take a look at some of the stellar lumens price predictions that were being made as of 30 September 2022, too.
Stellar lumens explained
Launched in July 2014, the Stellar blockchain aims to narrow the gap between cryptocurrencies and traditional finance. The blockchain enables fiat currencies and other assets to run in parallel with each other and cryptocurrencies, making it easier to transfer fiat currency into crypto.
Stellar was established as a hard fork, or split, from the Ripple blockchain (XRP). It was based on the Ripple Labs protocol, although parts of the code were re-written.
The network's native token is the stellar lumens, also known by its ticker handle of XLM. Users must hold a minimum balance of one lumen and pay a minimum transaction fee of 0.00001 XLM. According to the Stellar website:
"These are small enough to keep Stellar widely accessible, but big enough to discourage large-scale bad behaviour."
Low transaction fees aim to allow users to transfer money quickly without incurring extra processing costs.
The Stellar Development Foundation has partnered with some of the biggest companies in finance and tech, including Deloitte, IBM and Stripe, as well as a dozen financial institutions and payment processors in Asia and Europe. Financial institutions around the world can settle payments and issue assets on the decentralised and scalable network.
In early 2022, the SDF published its strategic roadmap for the year based on three building blocks:
Increase scalability and network innovation

Activate more network participation

Demand and promote inclusion
In March, the SDF announced Project Jump Cannon, a research and development venture to introduce native smart contracts for the Stellar blockchain.
This was prompted by the introduction of automated market maker (AMM) functionality for the Stellar protocol last year, inspired by other liquidity pool contracts in decentralised finance (DeFi).
According to the announcement: "What SDF realised during the AMM roll-out is that it's not sustainable to continue to limit key network innovation to protocol-level changes."
On 1 August, the SDF announced that it is working on a new smart contract platform, named Soroban:
"The Japanese soroban is the smallest and simplest abacus. Its design is compact and minimalist, focused on doing the essentials – and doing them well... it represents what we want our smart contracts platform to be: sensible, built to scale, batteries included, and developer-friendly. We want to set the standard for smart contracts, and we want to build our platform for the long term."
On 13 September, the SDF announced it had released a second preview version of the platform, but did not say when the work would finally be complete.
The SDF has also been working on integration, announcing on 28 July that Ledger Live, an open-source Web3 application that connects to the Ledger hardware wallet directly, has integrated the USD Coin (USDC) stablecoin on Stellar. On 11 August, SDF said that Bitwage, which provides payroll solutions for remote workers, has also integrated USDC on Stellar.
Stellar lumens price history
Let's now take a look at the XLM price history. While past performance should never be taken as an indicator of future results, knowing how the coin has behaved in the past can help give us some much needed context when it comes to either interpreting a stellar lumens price history, or making one of our own.
The XLM price chart shows that the coin started this year at $0.2674, having retreated from $0.7965 hit during the May 2021 cryptocurrency rally, and failed to rebound to that level during further rallies in September and November 2021. XLM's all-time high price was reached during the January 2018 crypto bubble, when it hit $0.9381.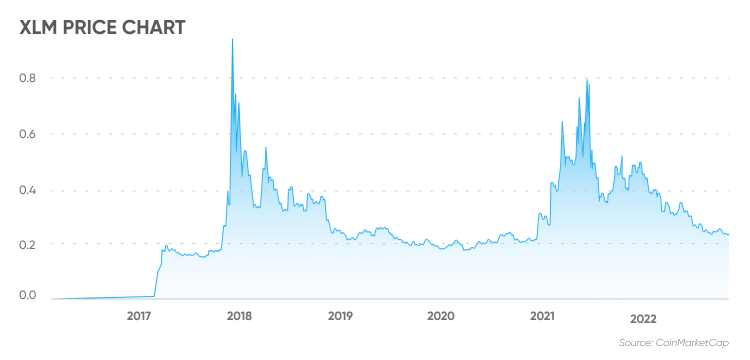 Stellar lumens' value hit $0.2956 on 3 January, but fell to $0.1734 on 24 January. The price rose to $0.2562 on 8 February, then dropped to $0.163 on 24 February as investors sold financial assets in light of Russia's invasion of Ukraine.
The coin moved up to $0.2409 at the end of March, but sold off again, this time in an extended decline that took the price down to $0.1067 on 12 May, when terra coins crashed.
The XLM price rebounded to $0.1529 at the end of May, but another sell-off pulled the price down to $0.1008 on 18 June. The market attempted a rebound to $0.1299 on 25 June, but dropped to trade around $0.11 in July. XLM moved up to $0.1375 on 8 August, but was again unable to hold onto the gains and dropped to $0.10, sliding below that mark on 6 September. The price soon recovered, hitting $0.1323 on 23 September before settling down to trade at around $0.1158 on 30 September 2022.
At that time, there were 25.48 billion XLM in circulation out of a total supply of 50,001,787,570. This gave the coin a market cap of $295bn, making it the 25th largest crypto by that metric.
Stellar lumens price prediction
With that out of the way, let's now take a look at some of the stellar lumens price predictions that were being made as of 30 September 2022. It is crucial to note that price forecasts, especially for something as potentially volatile as a cryptocurrency, very often end up being wrong. Also, many long-term crypto price predictions are made using an algorithm, which means that they can change at any time.
The short term stellar lumens price prediction for 2022 from CoinCodex sent out somewhat mixed signals, saying that the price could rise to $0.1163 by 5 October, before rising to $.1304 on 30 October. The site's technical analysis was neutral, with 16 indicators giving bullish signals against 13 sending out bearish ones.
DigitalCoinPrice's XLM coin price prediction estimated that the price could average $0.12 in 2022, $0.26 in 2023 and $0.36 in 2024, based on historical data. Its stellar lumens price prediction for 2025 estimated that the price could move up to $0.47, before it made a stellar lumens price prediction for 2030 of $1.61.
CryptoPredictions.com had a stellar lumens crypto price prediction that said the coin could close 2022 at around $0.156. By September 2023, the site said XLM could be worth $0.1572. It then went on to make a stellar lumens price prediction for 2025 that saw it potentially start the year at $0.1577, before dropping to $0.15701 in September and moving down even further to $0.1565 in December. The possible decline was predicted to continue into 2026, with the coin forecast to potentially close that year at $0.1532.
Finally, WalletInvestor made a pretty optimistic stellar lumens coin price prediction. The site said that the crypto could trade at $0.145 in September 2023 and potentially reach $0.26 in five years' time.
When considering an XLM coin price prediction, it's important to keep in mind that cryptocurrency markets remain extremely volatile, making it difficult to accurately predict what a coin or token's price will be in a few hours, and even harder to give long-term estimates. As such, analysts and algorithm-based forecasters can and do get their predictions wrong.
If you are considering investing in cryptocurrency tokens, we recommend that you always do your own research. Look at the latest market trends, news, technical and fundamental analysis, and expert opinion before making any investment decision. Keep in mind that past performance is no guarantee of future returns. And never trade with money that you cannot afford to lose.
FAQs
Is stellar lumens a good investment?

It is hard to say. A lot will depend on how its latest developments play out, as well as what happens to the crypto market in general.

Remember, you should always carry out your own thorough research before making an investment. Even high market cap cryptocurrencies have proved vulnerable to the current bear markets. So investors should be prepared to make losses and never purchase more than they can afford to lose.
Will stellar lumens go up or down?

It is difficult to tell. While the likes of CoinCodex are rather bearish, DigitalCoinPrice is more optimistic. Remember that price predictions very often end up being wrong, and that prices can go down as well as up.

In volatile cryptocurrency markets, it is important to do your own research on a coin or token to determine if it is a good fit for your investment portfolio. Whether XLM is a suitable investment for you depends on your risk tolerance and how much you intend to invest, among other factors. Keep in mind that past performance is no guarantee of future returns. And never invest money that you cannot afford to lose.
How much will stellar lumens be worth in five years?

At a time when markets have been tumuluous, this is not the easiest question to answer. However, DigitalCoinPrice suggests that XLM could potentially at an average of $0.56 in 2027. However, we do need to remind you that there is every chance that this prediction could end up being wrong.
How many stellar lumens coins are there

As of 30 September 2022, there were 25.48 billion XLM in circulation out of a total supply of 50,001,787,570.
Should I invest in stellar lumens?

This is a question that you will have to answer for yourself. Before you do so, however, you will need to conduct your own research and never invest more money than you can afford to lose because prices can go down as well as up.
Related reading