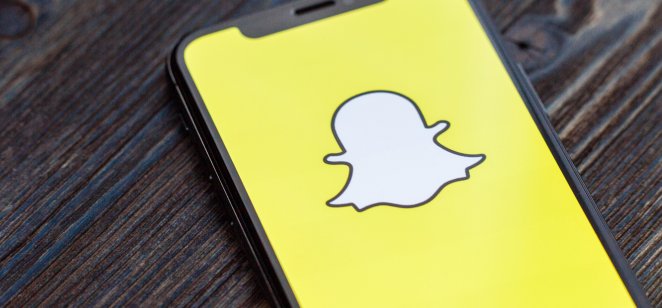 Content
The stock price of Snap (SNAP), the US-based operator of instant messaging application Snapchat, is still struggling to recover after crashing more than 40% on 23 May. The stock tumbled to $12.79 a share after the company revised downward its revenue and EBITDA target for this year.
As of 1 June, the company's stock closed at $13.93, and it has stayed below its initial public offering (IPO) price of $17 for the past week. The fall has shrunk the company's market capitalisation to $22.79bn, as of 2 June, from $131.48bn in September last year, when the stock closed at an all-time high, according to data from Companiesmarketcap.com.
SNAP's founder and CEO, Evan Spiegel, blamed deteriorating macroeconomic headwinds for the company's gloomy outlook. But the social media known for its 'ghost' logo that represents its vanishing video and messages is facing fierce competition.
ByteDance's TikTok surpassed Snap for the first time as the favourite social media platform among US teens, according to Piper Sandler's spring 2022 survey Taking Stocks with Teens. Instagram came third.
As the macroeconomic and competition headwinds are likely to stay, what are the chances for
SNAP
to recover? We look into the latest news, technical analysis and analysts' views that may affect Snap stock outlook.
Snap stock analysis: Major price drivers and technical view
Snap, along with its social media peers Meta Platforms' (FB) Facebook and Instagram, benefited from robust user engagement during the Covid-19 pandemic. Confined at home due to lockdowns, people turned to social media for entertainment and shared messages.
Snap, which identifies itself as a camera company, surged 206.61%, closing 2020 at $50.07 a share. It continued its strong performance at least until the first seven months of 2021.
Snap's historical stock price shows us that it surged 23.82% to close at $77.97 on 23 July 2021 after the California-based company reported solid second-quarter performance.
It posted a 116% year-over-year ( YoY) increase in revenue to $982m in the second quarter of 2021 , and Daily Active Users (DAUs) increased by 23% to 293m. However, in the report, the company warned that changes to Apple's (AAPL) iOS operating iOS could reduce demand and pricing of its advertising products.
The stock traded in a range of $70-$79 a share in the end of July to September before it hit an all-time high of $83.34 on 24 September. The record high level was short-lived and the stock set to a downtrend. The Snap stock value lost 6.07% during the roller-coaster ride in 2021.
The weak trend followed through 2022, when the stock opened at $47. However, the Snap stock market price managed to recoup losses by surging more than 58% on 4 February after it reported strong fourth quarter 2021 earnings.
The company booked revenue of $1.3bn in the fourth quarter last year, a 42% increase on the previous year. It also posted its first quarter of positive income as a public company of $23m.
But the stock could not keep the gains for long. Rising interest rates have prompted investors to dump growth stocks, particularly tech stocks such as SNAP and FB in favour of safe haven assets such as gold.
At the time of writing (2 June), the stock has lost 70% of its value year-to-date. The short-term technical analysis showed bearish consensus sentiment, with the majority of daily, weekl, and monthly indicators suggesting a 'sell', according to TradingView. The Relative Strength Index (RSI) reading was neutral at 24.
The stock has been trading below its 10-day, 20-day and 30-day simple moving averages (SMA), indicating a downward trend.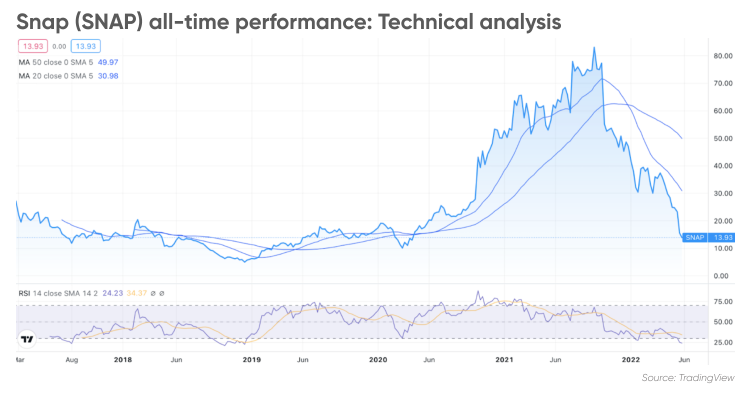 What is your sentiment on SNAP?
Vote to see Traders sentiment!
Snap stock news: 1Q earnings miss estimates
In April, Snap reported 2022 first quarter earnings, which missed analysts' estimates for revenue, profit and sales. The company posted $1.063bn of revenue in the first quarter of this year, a 38% increase YoY, but below analysts' estimates of $1.07bn, as compiled by MarketBeat.
For earning per share (EPS), it recorded a loss of $0.02 – analysts expected earnings of 1%. The company's adjusted EBITDA was $64m in the first quarter of this year, compared to minus $2m in the same period last year.
Its operating cash flow dropped to $127m from $137m YoY, while free cash flow fell to $106m from $126m.
Despite a disappointing financial performance, the company's global Daily Active Users (DAU) increased by 52 million (18%) to 332 million in the first quarter.
For 2022 guidance, the company at that time said it expected revenue to grow between 20% and 25%. It estimated an EBITDA of between $0 and $50m. But in a regulatory filing on 23 May, Snap said it is likely to miss its targets made five weeks ago.
"Since we issued guidance on April 21, 2022, the macroeconomic environment has deteriorated further and faster than anticipated. As a result, we believe it is likely that we will report revenue and adjusted EBITDA below the low end of our Q2 2022 guidance range," the company said.
The company planned to slow hiring and spending as social-media companies are adapting to disruptions in the digital ad market. It added that it is grappling with a slew of issues from rising inflation to changes in Apple's privacy policy and the war in the Ukraine.
"While many investors were aware of the softening digital ad market, the magnitude of the deceleration is surprising given updated guidance implies that revenue growth could slow to low teens y-o-y growth or worse in May/June," Jefferies' analysts Brent Thill, John Byun, and James Heaney wrote in in a note on 24 May.
Ali Mogharabi, Morningstar's senior equity analyst, wrote in a note on 25 May that because of the macro headwinds, the cut in ad spending has been mainly affected by branding or broad-based advertising, rather than direct response ads.
"On the user count and engagement front, our takeaway from Spiegel's statements was that Snap's platform continues to attract users; the issue remains monetization of those users on weakness," Mogharabi said.
Snap price projections: Analyst sentiment
Morningstar's Mogharabi was bearish on the outlook of brand advertising spending. Citing online trade magazine Digiday, Mogharabi said many ad buyers hinted that they and their clients were lowering ad spending.
| | |
| --- | --- |
| Long position overnight fee | -0.0064% |
| Short position overnight fee | -0.0059% |
| Overnight fee time | 21:00 (UTC) |
| Spread | 0.14 |
| | |
| --- | --- |
| Long position overnight fee | -0.0308% |
| Short position overnight fee | -0.0137% |
| Overnight fee time | 21:00 (UTC) |
| Spread | 0.07 |
| | |
| --- | --- |
| Long position overnight fee | -0.0308% |
| Short position overnight fee | -0.0137% |
| Overnight fee time | 21:00 (UTC) |
| Spread | 0.09 |
| | |
| --- | --- |
| Long position overnight fee | -0.0064% |
| Short position overnight fee | -0.0059% |
| Overnight fee time | 21:00 (UTC) |
| Spread | 0.09 |
"Also, while Snap management cited macro headwinds as reasons for the lower guidance, in periods of uncertainty, some advertisers may have begun to abandon up-and coming platforms (although reports about TikTok state otherwise) like Snap and are allocating a bit more toward YouTube and Meta (META)," wrote Mogharabi.
Morningstar lowered the fair value estimate for Snap's stock to $49 from $63.
On the other hand, Jefferies was bullish, predicting that mobile ad campaigns will attract new advertisers and that SNAP is well-positioned to take market share.
"SNAP's ARPU (average revenue per unit) is well below peers and allows for leverage in the business model by adding inventory and driving higher pricing," said Jefferies' analysts in the note.
Jefferies' analysts saw the opportunity for Snap to post more than 30% revenue growth over the next several years, more than 25% growth on EBITDA margins and achieve positive free cash flow.
Other advantages that could attract more ad revenue are SNAP's Discover platform and improved direct response ads. Meanwhile, Augmented Reality (AR), the Snap Map and Spotlight are "under-monetised assets that could drive incremental revenue" in 2023 and beyond, Jefferies' analysts wrote.
"We believe SNAP stock has more room to run driven by a 2H22 recovery in ad revenue and upside to user growth estimates, particularly internationally," they said in their Snap stock analysis.
Snap stock forecast: Targets for 2022-2025
With all the headwind factors, do analysts view Snap stock a buy, sell or hold?
Jefferies analysts put a 'buy' call on SNAP stock but cut its price target to $30 from $52. The firm had a high price target of $60 and a low price target of $10.
Overall, 34 analysts tracked by MarketBeat rated Snap's share a 'buy', with 27 recommending a 'buy' and seven recommending a 'sell.' They set the Snap stock price target at an average of $37.14, representing a 166.44% potential upside from the last closing price of $13.93 on 1 June. The lowest Snap share price forecast was set at $14 and the highest at $85.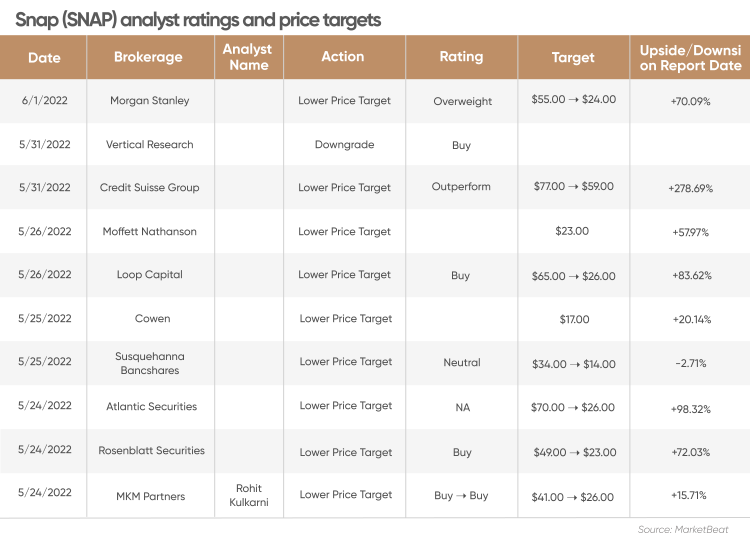 As of 2 June, the consensus rating for the stock was a "strong buy", based on 29 Wall Street analysts compiled by TipRank – 23 analysts recommended 'buy', five a 'sell' call and one recommended 'hold'.
The analysts' Snap stock price forecast suggested it could average at $34 in the next 12 months – a 144.08% increase from the last price.
Economic data provider Trading Economics was less optimistic, giving a projected stock price of $15.20 by the end of this quarter and $14.08 in one year.
According to Wallet Investor 's Snap stock forecast 2022, the stock could end the year at $18.113. For longer-term Snap future stock price predictions, it could climb to $18.003 by the end of 2023 and slightly decrease to $17.715 by the end of 2024.
Wallet Investor suggested the stock could trade at $20.298 in June 2025 and drop to $14.069 in May 2027. The algorithm predicting service did not provide a Snap future stock price for 2030.
Note that SNAP stock price forecasts provided by analysts or algorithm-based forecasting sites can be wrong. Forecasts shouldn't be used as a substitute for your own research.
Always conduct your own due diligence by looking into the latest Snap stock news, technical and fundamental analysis, and analyst commentary. Keep in mind that your decision to trade should be based on your risk tolerance, market expertise, portfolio size, and goals.
Remember that past performance does not guarantee future results. And never trade money that you cannot afford to lose.
FAQs
Is Snap stock a good investment?

As of 2 June, the Snap share price forecast by Wall Street analysts compiled by MarketBeat recommended a 'buy' for the stock. Whether Snap is a suitable asset for you depends on your attitude to risk, your expertise in this market, the spread of your portfolio and how comfortable you feel about losing money. Never invest money that you cannot afford to lose.
Will Snap stock go up or down?

According to analysts' views compiled by MarketBeat and TipRanks (as of 2 June), Snap's projected stock price could rise in the short and medium term. But forecasting service Wallet Investor suggested the stock could fall in the longer term. Remember that stock markets remain volatile and analysts' expectations can be wrong. Always conduct your own research.
Will Snap stock recover?

As of 2 June, the consensus Snap stock outlook from analysts was bullish, according to the data compiled by MarketBeat and TipRanks. However, bear in mind that analysts' expectations can be wrong.
Why has the Snap stock price been dropping?

The company has recently said it is likely to miss its 2022 guidance for revenue and EBITDA due to deteriorating macroeconomic headwinds. In addition, rate hikes to tame inflation have pushed investors to switch from growth stocks to safe haven assets.