SafeMoon price prediction: Can SFM reach the Moon and stay safe?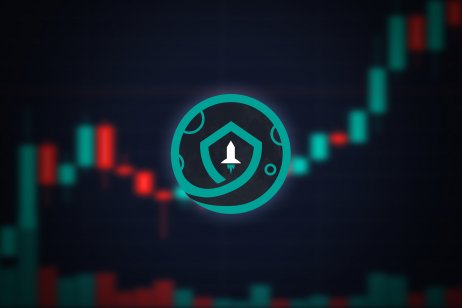 It's a crypto token that has attracted both fans and controversy, but what is SafeMoon (SFM)?
Let's take a look and see what we can find out about SFM, and consider some of the SafeMoon price predictions that were being made as of 11 October 2022.
SafeMoon explained
The idea behind the SafeMoon token is that it is a crypto designed to encourage people to hold onto their tokens. The crypto's founders says that anyone who sells a SafeMoon token will be subject to a 10% sales tax. Of this money, 40% of the taxed money is redistributed to the people still holding the token, while 30% is given to the SafeMoon system's liquidity pool, 20% is burned and 10% is sent to a growth fund.
The idea is that SafeMoon serves as a store of value, resisting volatility by encouraging people to hold onto it. This gives crypto holders a kind of reverse dividend, with a rather bizarre paradigm going on. One could, theoretically, make a bit of money from other people selling the token while you held on to it. In theory, you could even make a profit while the overall SafeMoon price went down.
Whether this is going to happen in the long term remains to be seen, but it could, at least in theory. That said, what might also potentially happen is that everyone keeps their SafeMoon, very few buy or sell, and the SafeMoon price stagnates, with investors left waiting for a price rise that ultimately never comes, and holders trapped in the middle of selling for a profit and holding for a profit.
If you are wondering why SafeMoon is called SafeMoon, it is a combination of two concepts. One is the idea that the crypto is fundamentally safe, since it is designed to withstand market volatility. The other comes from the crypto rallying cry of "to the Moon!" which is generally used to suggest that a coin or token is able to potentially make investors a lot of money. Whether or not this will be the case for SafeMoon might well be a matter of some debate, but the sentiment is there.
The SafeMoon protocol is community-driven and rests on four basic functions during each trade: Reflection, liquidity provider acquisition, a burn mechanism and contribution to the ecosystem growth fund.
A key aspect is its automatic liquidity provider feature, which acts as an arbitrage resistance mechanism, securing the volume of SFM as rewards for holders.
The project favours utilising smart contracts to automatically capture the liquidity used in decentralised exchanges (DEXs), which is then held in custody independent from user possession, as opposed to a traditional farming reward structure.
SafeMoon also offers a wallet that includes multichain storage, fiat on-ramp integration, a contacts list and reflections tracker.
One thing to be aware of, though, is that the crypto has been subject to a series of separate lawsuits in the United States. The cases claim that SafeMoon, which was founded in March 2021 by former US Department of Defense analyst John Karony, has cost investors hundreds of millions of dollars and has operated illegally.
SafeMoon claims to be a programme that uses its resources to benefit people, saying on its website: "We are now addressing the second part of our mission – the expansion and channelling of our technology to propel new innovations for good, and a Venture Philanthropy model to advance those innovations to every part of the world."
One thing to note about SFM is that, since it is based on the BNB Chain (BNB), it is a token, rather than a coin, meaning that references to such things as a "SafeMoon coin price prediction" are, technically speaking, wrong.
SafeMoon price history
SafeMoon (SFM) price history from launch to present – Credit: Capital.com
Let's now cast our eyes over the SFM price history. Keep in mind that past performance should never be taken as an indicator of future results. That said, knowing what the token has done in the past can help give us some important context if we want to either interpret a SafeMoon price prediction or else make one of our own.
One important thing to point out is that, originally, SafeMoon was powered by the SafeMoon (SAFEMOON) cryptocurrency. However, in December 2021, it released a new version, known by the ticker handle of SFM.
SFM started its journey on 16 December 2021 when it opened at $0.0017, according to CoinMarketCap. After some sideways price action, the bull run started in late December, when the coin surged from an opening price of $0.00159 on 30 December 2021 to $0.0029 a day later.
The SafeMoon token price reached its all-time high of $0.007232 on 4 January 2022, after which the price action moved slowly down, gradually losing momentum.
SFM bottomed out at $0.001537 on 22 January 2022, wiping out over half of its value in just 18 days, despite the news, three days later, that the millionth SafeMoon wallet had been downloaded.
There was more bad news to come, though, as the crypto consistently lost value over the next few months. The absolute nadir came on 11 May 2022 when, with the market badly shaken by the depegging of the UST stablecoin and the collapse of the associated LUNA cryptocurrency, it dropped to a low of $0.0002773.
Although there was some recovery, the news that withdrawals had been cancelled on the crypto lending platform Celsius Network (CEL), which confirmed that crypto was in a bear market, saw SFM fall to a daily low of $0.0004064 on 15 June 2022. While there was a recovery to a daily high of $0.0006581 on 17 June, the gains were short lived and by 26 July it was down to a low of $0.0003726.
Any recovery since then has been fleeting and, at the time of writing, SFM was trading at around $0.0002746.
At this time, there were a self-reported 561.26 billion SFM in circulation out of a total supply of one trillion. If this were accurate, this would give it a market cap of about $154m, which would make it the 3,020th largest crypto by that metric.
SafeMoon price prediction round-up
With that all said and done, let's take a look at some of the SafeMoon price predictions for 2022 and beyond that were being made at the time of writing on 11 October 2022.
It is important to remember that price forecasts, especially when it comes to a commodity as potentially volatile as cryptocurrency, are very often wrong. We should also point out that long-term crypto price predictions are often made using an algorithm, which means that they can change at a moment's notice.
First, CryptoPredictions made a SafeMoon price prediction for 2022 suggesting the coin could close the year at about $0.0003552. By October 2023, the site projected the token could rise to $0.0005456 and go on to reach $0.0007 a year from then. By October 2025, the site said SFM could trade at about $0.00082, before possibly closing the year at around $0.000837.
Next, CoinsKid's SafeMoon crypto price prediction as of 11 October 2022 estimated that the token could climb slightly to $0.0004 by the end of this year, and further to $0.0005 by October 2023. A year after that, the site argued that the crypto could stand at around $0.0006.
The site's SafeMoon price prediction for 2025 suggested that the coin could trade at $0.0007 at the start of the year, reach $0.0008 in October and stay at that level for the rest of the year. In 2026, it predicted SFM could be priced at $0.0014 in October, rising to $0.0016 by the end of the year.
Meanwhile, at the time of writing, PricePrediction projected that SafeMoon could trade at $0.00031347 in 2022, reaching $0.00045549 in 2023 and $0.00065541 in 2024. By 2025, the site's SFM token price prediction suggested that the coin could rise to $0.00095225, growing to $0.001 in 2026 and $0.002 in 2027.
By 2028, the site predicted the coin to keep surging to $0.003, before closing the decade at $0.005. The site's SafeMoon price prediction for 2030 saw the coin trading at $0.007, rising to $0.01 in 2031.
Finally, Wallet Investor struck a far more bearish sentiment with its SFM price prediction, estimating that the token could drop to $0.0000214 by October 2023.
When considering a SFM token price prediction, it's important to keep in mind that cryptocurrency markets remain extremely volatile, making it difficult to accurately predict what a coin or token's price will be in a few hours, and even harder to give long-term estimates. As such, analysts and algorithm-based forecasters can and do get their predictions wrong.
If you are considering investing in cryptocurrency tokens, we recommend that you always do your own research. Look at the latest market trends, news, technical and fundamental analysis, and expert opinion before making any trading decision. Keep in mind that past performance is no guarantee of future returns. Never trade with money that you cannot afford to lose.
FAQs
Is SafeMoon a good investment?

It is hard to say at this stage. A lot will depend on how the market performs going forward, while the outcome of the ongoing court cases will also have an impact on the crypto's future performance.

In volatile cryptocurrency markets, it is important to do your own research on a coin or token to determine if it is a good fit for your investment portfolio. Whether the SFM token is a suitable investment for you depends on your risk tolerance and how much you intend to invest, among other factors. Keep in mind that past performance is no guarantee of future returns. And never invest money that you cannot afford to lose.
Will SafeMoon go up or down?

It might do, but then again, it might not. While the likes of CoinsKid were pretty bullish about the coin's prospects, other sites such as Wallet Investor suggested that the coin's price could drop. Remember that crypto can be volatile and prices can go down just as quickly as they can go up.

In volatile cryptocurrency markets, it is important to do your own research on a coin or token to determine if it is a good fit for your investment portfolio. Whether SafeMoon is a suitable investment for you depends on your risk tolerance and how much you intend to invest, among other factors. Keep in mind that past performance is no guarantee of future returns, and never invest money that you cannot afford to lose.
Should I invest in SafeMoon?

As of 11 October 2022, the SFM token was down around 90% year-to-date (YTD), from its opening price of $0.002558 on 1 January to its latest price of $0.0002746.

Ultimately, though, this is a question that you will have to answer for yourself, after conducting your own research. Never invest more money than you can afford to lose, because prices can go down as well as up.