Who owns the most Ripple?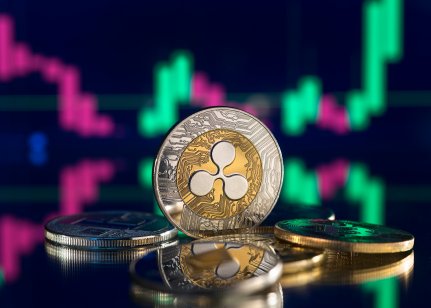 Ripple's XRP cryptocurrency has spent much of the last three years in a kind of limbo after it became the subject of a highly publicised court case.
The United States Securities and Exchange Commission (SEC) has taken Ripple to court, claiming that XRP is an unregistered security, claims that the crypto's parent company denies.
While the world waits for Judge Analisa Torres of the United States District Court for the Southern District of New York to make her ruling, XRP continues to be traded.
That said, with the ripple coin still one of the largest cryptos on the market, exactly who owns XRP? More to the point, who owns the most ripple out of all the players in the crypto market? Let's take a look and see what we can find out.
What is Ripple (XRP)?
Before we do that, though, let's take a quick look at what XRP does and how XRP works.
Ripple Labs was founded to, in effect, speed up international money transfers. There is even a belief in certain quarters that it will end up replacing the current Swift/BIC system of international bank transfers. In terms of the XRP coin itself, it can be used to transfer assets on the Ripple network and it can also be bought, sold and traded on crypto exchanges.
Ripple was founded in 2012 by programmer Jed McCaleb and entrepreneur Chris Larsen. Larsen still serves as Ripple Labs executive chairman and the company's CEO is Brad Westinghouse.
Unlike a lot of other cryptocurrencies, XRP only lets approved users validate transactions. That makes it a bit more centralised than other cryptos, but does allow it to be more secure, at least in theory.
Something that makes XRP stand out is that there is some debate as to whether it can be described as being based on a blockchain. This is because the Ripple ledger does not involve either mining or staking. Instead, every single one of the 100 billion XRP that will ever exist has been created by Ripple and is held by the company, with a certain amount released onto the open market every month. As of 12 April 2023, there were 51,688,470,797 in circulation. It is worth noting at this stage that there was a total supply of 99,989,014,677, indicating that a little under 11 million XRP had been burned, or destroyed, at one time or another.
Anyway, with that all out of the way, let's take a look and see if we can find out more about who has the most ripple.
Who owns the most ripple?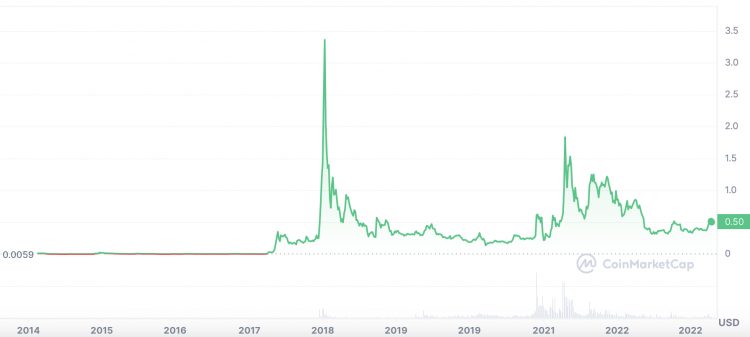 Ripple price history from launch to present - Credit: CoinMarketCap
One important thing to remember at this stage is that, because one of the key selling points of cryptocurrency is its anonymity, we cannot say with any certainty exactly who owns the most XRP. That said, there are some potential clues as to who the wallets which hold the largest amount of XRP could be linked to.
Anyway, data supplied by the CoinCarp website said that, as of 12 April 2023, there were 4,559,305 wallets which held XRP. The site suggested that the two top holders of ripple were wallets controlled by Ripple Labs itself. This should probably not come as too much of a surprise, considering that, as we have already explained, XRP is held by Ripple Labs and then released onto the open market. The site's statistics suggested that the wallet with the most XRP held 1,960,027,012 ripple coins, worth about $983m at the time of writing and comprising 1.96% of the maximum supply of the crypto. Likewise, the wallet with the second most ripple held 1,765,294,075, the equivalent of a little over $885m and about 1.765% of the maximum supply.
Moving down the list, the site said that the third largest amount of XRP was in a wallet linked to the Binance (BNB) crypto exchange. This wallet held around 1.48% of the total amount of XRP, with 1,477,168,712 ripple coins. Perhaps more interestingly, the fourth largest XRP wallet appears to be an individual's, holding 1,376,176,324 ripple, worth about $697m.
Going a bit further, the site claimed that the top 10 holders of ripple owned 10.81% of the maximum supply of XRP, with the top 20 accounting for 15.92%, the top 50 26.43% and the top 100 32.86% of the total amount of ripple.
One thing we should note here is that, according to CoinCarp's data, there are at least 100 wallets with more than 200 million ripple coins. That means, at least in theory, that there are hundreds of XRP millionaires, but not any confirmed ripple billionaires. Something that we need to mention is that it is always possible that someone has $1bn worth of XRP across several wallets. However, we cannot name the individual who owns the most ripple with any certainty. It is worth noting that, in 2018, Forbes reported that Larsen held 5.19 billion XRP in his personal wallet. It is unclear either whether this report was accurate, or what had happened to Larsen's holdings.
So that might help explain, if not precisely who owns the most ripple, then at least where the largest sums of XRP can be found. Remember that that question is, due to the anonymous nature of cryptocurrency, getting a handle as to who precisely owns what can be tricky. Nevertheless, despite the relatively high concentration of large investors in XRP, it is important to remember the following things if you are looking at possibly investing in the ripple cryptocurrency. First, make sure to do your own research. Second, remember that cryptocurrencies can be highly volatile and prices can go down as well as up. Finally, never invest more money than you can afford to lose.
FAQs
How many XRP are there in the world?

As of 12 April 2023, there were 51,688,470,797 XRP in circulation out of a total supply of 99,989,014,677. Ripple has a maximum supply of 100 billion, but around 10 million of that has been burned.
Who are the biggest XRP holders?

It is hard to say exactly who they are, but the two wallets with the largest amount of XRP are linked to the coin's parent company Ripple Labs. Meanwhile, the third-largest ripple wallet is linked to the Binance exchange and the fourth largest appears to be controlled by an individual.