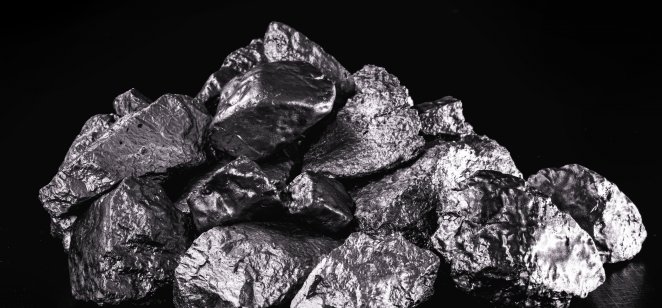 Content
A strong US dollar and inflation fears may have contributed to some heavy losses for platinum so far this year, with the precious metal having closed on 31 December 2021 at $968.19.
Platinum has experienced increased volatility as a result of geopolicial conditions, and although the commodity has recovered from the multi-year low hit on 1 September, it is currently trading around the $912 per troy ounce (t oz) mark as of 15 September 2022.
As well as being an investment commodity used as a portfolio hedge, platinum is widely used for jewellery and in the industrial and automotive sectors, where it is a key component in the catalytic converters used to create cleaner vehicle emissions.
How has geopolitical instability affected the supply/demand balance, and what do the latest platinum price predictions indicate for investors? In this article, we take an in-depth look at the market.
Platinum market in supply surplus
The global platinum market proved relatively resilient in the first quarter of 2022 despite a series of unprecedented events, such as Russia's invasion of Ukraine, with supply of the metal being hit harder than demand.
The World Platinum Investment Council (WPIC) commented back in May:
"Unprecedented events in Q1'22 had a huge impact on both the supply of and demand for platinum, adding a layer of complexity on top of pre-existing issues, which will continue well into 2022. During the quarter, both demand (-26%) and supply (-13%) fell year on year, leaving the market in surplus of 167 koz. However, for the full year, supply is expected to be 5% less than in 2021, yet demand to be 2% greater."
Reduced interest in investing in platinum in the second half of 2021 resulted in full-year investment demand turning negative by 43,000 ounces, after reaching a record high of 1.546 million ounces in 2020. The overall platinum supply increased by 21% in 2021, while demand dropped by 9%.
In its second quarter report, however, the WPIC commented:
What is your sentiment on Platinum?
Vote to see Traders sentiment!
"The second quarter was characterised by significant concerns around slowing economic growth combined with inflation, compounded by ongoing geopolitical tensions and continued supply chain disruptions. Despite the economic and supply chain challenges, demand for platinum from automotive, jewellery and industrial end uses remained robust, with ongoing tightness in the platinum market illustrated by continued elevated lease rates, which were accentuated by ongoing high levels of excess imports into China.
"However, investment demand was negative overall, with ongoing strong demand for bar and coin offset by significant negative demand for ETFs and exchange stock outflows."
Platinum price history
The platinum price fell by 10.8% in 2021 as the supply surplus grew, having spiked in mid-February to $1,308 an ounce from $1,078 at the end of 2020, before ending 2021 at $962.
The price moved back above $1,000 in January and edged lower in early February. It began to rally in the second half of the month in response to the escalating Russia-Ukraine conflict. Platinum spiked to $1,170 on 8 March, on concerns about the impact of the war on platinum supply out of Russia and Ukraine.
The metal dropped to trade around the $840 level in early July – a low not seen since late 2020 – but has since reversed course, rising for several consecutive weeks as US Federal Reserve chair Jerome Powell indicated a potential slowing of the pace of interest rate hikes amid contraction in the US economy.
Cheaper dollars are an encouraging factor for foreign investors who want to buy the dollar-denominated commodity.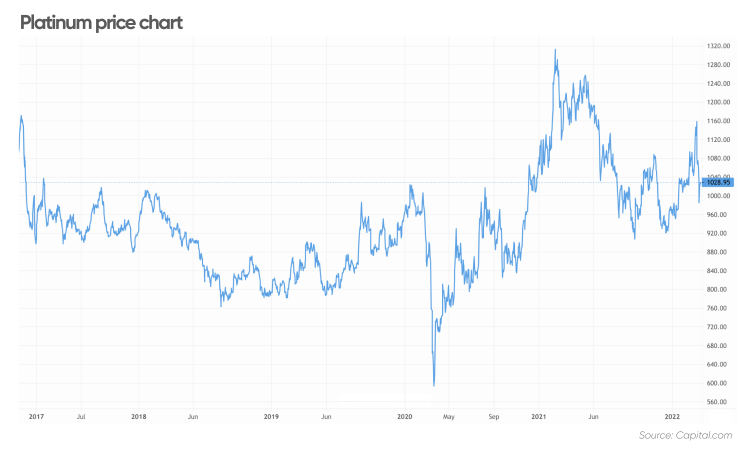 Russia accounts for 11% of global platinum mining output, producing 19,000kg of the total 180,000kg, making it the world's second-largest producer, according to data compiled by Dutch bank ABN Amro. Russia's Nornickel is also the world's largest producer of palladium, accounting for more than 40% of the global supply.
Over the long term, demand could shift away from Russian palladium due to both record high prices and ethical concerns, prompting automotive manufacturers to switch to using platinum as a substitute.
The WPIC commented further on the market dynamics in its September report:
| | |
| --- | --- |
| Long position overnight fee | 0.0236% |
| Short position overnight fee | -0.0430% |
| Overnight fee time | 21:00 (UTC) |
| Spread | 0.03 |
| | |
| --- | --- |
| Long position overnight fee | -0.1813% |
| Short position overnight fee | 0.1348% |
| Overnight fee time | 21:00 (UTC) |
| Spread | 0.005 |
| | |
| --- | --- |
| Long position overnight fee | 0.0516% |
| Short position overnight fee | -0.0781% |
| Overnight fee time | 21:00 (UTC) |
| Spread | 0.04 |
| | |
| --- | --- |
| Long position overnight fee | -0.0157% |
| Short position overnight fee | 0.0056% |
| Overnight fee time | 21:00 (UTC) |
| Spread | 0.18 |
"Security-of-supply concerns appear to have eased for the time being as Russia, contributing 11% of global platinum mine supply, still seems to be able to deliver to international customers, albeit by indirect routes. However, concerns may re-emerge as supply contracts come up for renewal if companies look to self-sanction and avoid Russian-origin material. This could push end users towards the spot market, drawing on above ground inventories if supply cannot be secured from non-Russian producers.
"Whilst automotive demand was slightly weaker at 708 koz (-5% quarter-on-quarter), it actually represents a strong result considering the supply-chain challenges the industry has been grappling with as a result of the semiconductor shortage as well as disruption due to Russia's invasion of Ukraine, and especially the severe lockdowns in China. This reflects the significant increase in loadings to ensure compliance with China VIa as well as continued substitution for palladium in gasoline vehicles more than offsetting market share lost to battery electric vehicles (BEV).
"Jewellery demand improved to 496 koz (+5% year-on-year), though still remaining below pre-COVID levels, with strength in all regions, particularly the US and India, partly offset by the zero-COVID policy related lockdowns in China. Meanwhile, industrial demand was flat year on year at 551 koz with stronger demand from petroleum, glass, medical and other demand offsetting weaker chemical and electrical demand."
What does the recent news mean for platinum prices over the short-term and the coming years?
Platinum price forecast: Will the price retreat or reach new highs?
"Apart from the ongoing escalation, the PGMs market should be tracking semiconductor availability. Any disruption in chip supply could delay auto catalyst demand recovery," analysts at Australian bank ANZ wrote in a recent report.
The bank's platinum price prediction is bullish for the long-term, rising from $1,100 an ounce at the end of March to $1,300 by the end of 2022 and $1,375 by the end of September 2023.
The WPIC expects the wider market volatility to persist throughout the year:
"Year-on-year quarterly supply and demand were down 7% and 13%, at 1,961 koz and 1,612 koz respectively, leading to a market surplus of 349 koz in the second quarter. For the full year of 2022, we forecast 8% and 7% declines in global supply and demand respectively. This will result in the global market surplus falling by 10% year-on-year to 974 koz.
"The current drivers behind the three categories of platinum investment demand differ significantly. Bar and coin demand remains elevated as overall retail investor appetite for hard assets offsets some regional profit taking. Significant continued negative ETF demand has been in the face of US dollar strength and interest rate increases, with precious metals potentially being used as a source of liquidity amidst high global uncertainty. The reduction in stocks held by exchanges has been caused by continued tightness in the physical market, largely the result of ongoing elevated imports into China. We believe that there are limits to how much further exchange stock holdings, already close to the pre-Covid 10-year average, are likely to fall."
According to German technology group Heraeus, based on data compiled in May:
"Last year was a year of recovery from the dramatic falls in supply and demand seen in 2020 as a result of Covid lockdowns. Rebounding supply from South Africa was boosted by stockpiled material being processed and this overwhelmed a small loss of Russian production from the temporary closure of two mines that suffered from a flooding incident. Recovering demand from the automotive, jewellery and industrial sectors paled in comparison to the supply increase, and the platinum market is estimated to have had a 1.6 moz surplus (ex. investment)."
Heraeus's Precious Metals Appraisal stated: "The industrial platinum market (excluding investment) remains significantly oversupplied. When the price declined last year, ETF investments fell. Without renewed buying interest from investors, it is difficult to imagine a price increase.
"Platinum, which is used primarily in diesel exhaust catalytic converters, is still favourably valued compared to gold and palladium. However, a high inflation rate could make tangible assets such as platinum attractive to investors again. The broad industrial use of platinum and its partial substitution in the automotive industry will make the metal more interesting again in the long term. According to Heraeus, the range is between $850 and $1,300 per troy ounce."
As of 15 September 2022, analysts at Trading Economics expected platinum to trade at $860.56 by the end of this quarter, falling to $802.06 in 12 months' time.
What about the longer term outlook? What will platinum be worth in 10 years' time?
Platinum long-term forecast 2022-2030
The long-term forecast from algorithm-based website WalletInvestor predicted that platinum could trade at around $1,114.66 in 12 months' time. The website's platinum price forecast for 2025 said the metal could trade at an average $1,019.14 by the end of that year.
CoinPriceForecast was more cautious in its shorter term prediction. The platform's platinum price forecast for 2022 saw the metal trading at $951 by year-end. However, the website also saw the platinum price reaching $1,050 by the end of next year, $1,150 by the end of 2024 and $1,243 by the end of 2025.
In its platinum price forecast for 2030, CoinPriceForecast saw the metal trading at $2,248 – a 146% gain on the current price – putting it on track for further gains by 2040.
It's important to keep in mind that financial markets remain extremely volatile, making it difficult to accurately predict what the platinum price will be in a few hours, and even harder to give long-term estimates. As such, analysts can and do get their predictions wrong.

We recommend that you always do your own research, and consider the latest market trends, news, technical and fundamental analysis, and expert opinion before making any investment decision. Remember that past performance is no guarantee of future success, and never invest more than you can afford to lose.
FAQs
Will platinum go up or down?

Among other factors, the platinum price will depend on the impact of a strong dollar amid fears of recession, as well as on how the ongoing semiconductor shortage and high palladium prices will affect platinum demand.
Is platinum a good investment?

Commodity prices are volatile investments that are driven by several different factors. Whether platinum is a suitable investment for your portfolio depends on your risk tolerance and how much you intend to invest, among other factors.
Is platinum a better investment than gold and/or silver?

Platinum is a less liquid market for investment than gold or silver, but high price volatility can result in bigger returns for investors. Industrial demand for platinum is influenced by different factors from gold and silver, affecting its relative performance.

You should do your own research before deciding whether platinum is a better fit for your investing goals.
Should I invest in platinum?

Whether you should invest in platinum is a personal decision you should make based on your risk tolerance, portfolio goals, and how much money you have to invest. You should do your own research on the market. Keep in mind that past performance is no guarantee of future returns, and never invest more than you can afford to lose.
Further reading