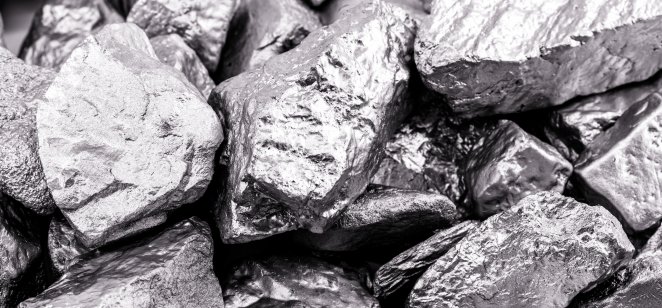 Content
The price of palladium has returned to levels seen before the Russian invasion of Ukraine sent it rocketing to new highs.
Concerns about supplies grew as economic sanctions on Russia, the world's largest producer of palladium with a lion's share of 40%, began to bite.
However today (4 April) the price has fallen to $2,286 per troy ounce (t oz) after hitting a high of $3,288 per t oz in March.
In May 2021 it reached a then all-time high hitting $3,000 per t oz for the first time after a supply deficit lifted the price. But the precious metal then fell following a drop in demand. It was down to $1,600 per t oz by mid-December, its lowest level since the March 2020 collapse in stocks and commodities prices.
Earlier price rise pressure may have been a reflection that the semiconductor chip shortage that hit the automotive industry so badly is easing and the demand for palladium for catalytic converters is growing.
Now with supplies from Russia likely to dry up for the forseeable future that is likely to become the dominant driver.
Can this latest rise be sustained or is there a drop on the horizon?
In this article, we look at the market's key drivers and the latest forecasts for the future value of palladium.
Semiconductor shortage and EV growth hit demand
One of the platinum group metals (PGMs), palladium is primarily used in catalytic converters for light-duty vehicles to reduce harmful emissions. It also has some uses in electronics and medical devices as well as jewellery.
The palladium spot price rallied in the first five months of 2021 after a supply deficit for six consecutive years. Palladium is largely mined in Russia and South Africa, where Covid-19 lockdowns and social distancing have caused supply disruptions.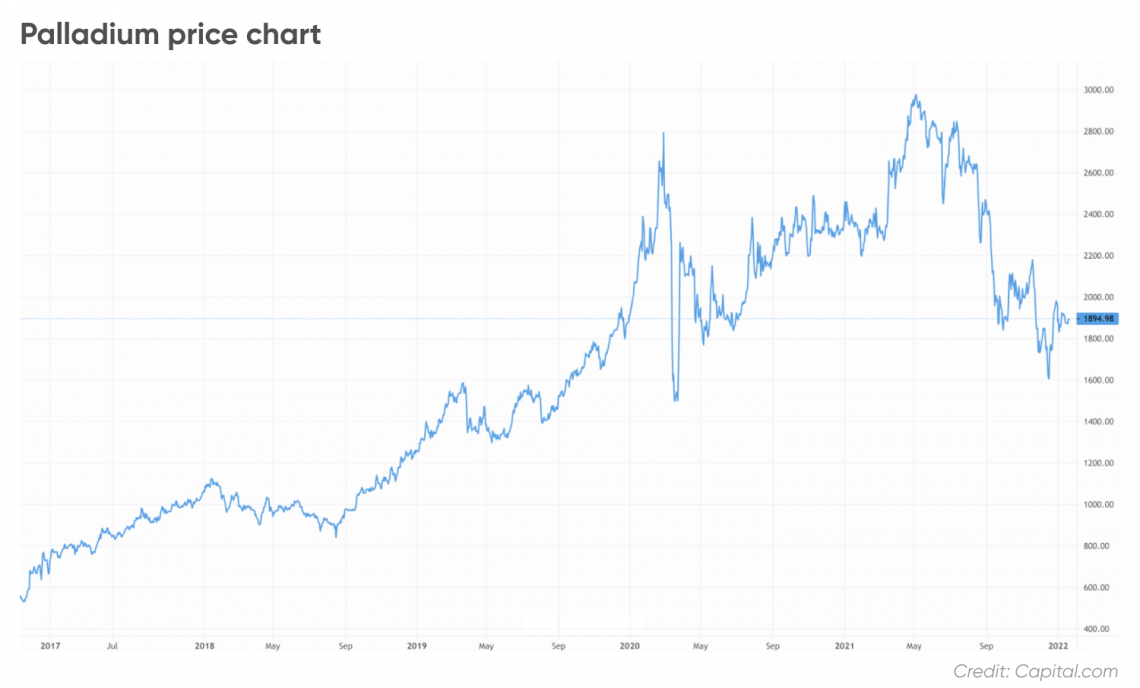 An outage at an Anglo American Platinum plant in South Africa in 2020 further tightened supply. And in February 2021, flooding at a mine and an accident at a concentrator reduced production of PGMs at Norilsk Nickel (Nornickel).
The Russian firm is the world's largest palladium producer, accounting for 41% of global palladium production. The facilities were out of operation for three months. The Oktyabrsky mine only returned to full capacity in May, and the Taimyrsky mine was running at 85% of its full capacity level until December 2021. The concentrator also returned to full capacity by December.
In November, the company said its palladium production had decreased by 7% year-on-year for the first nine months, with output standing at just 1.91 million ounces.
Meanwhile, the global semiconductor chip shortage caused automotive manufacturers worldwide to cut production. This had a knock-on effect on palladium demand in the second half of 2021.
By May 2021, market analysts were forecasting a global automotive production deficit of two to three million vehicles in 2021, with a similar shortfall in 2022. But by November, analysts had revised their estimates for 2022, stating that vehicle manufacturers were likely to be around nine to 10 million shy of their original targets.
At the same time, the Russian firm estimated that primary palladium supply added more than 500,000 ounces in 2021 thanks to a recovery in production in South Africa and the release of stocks built up by Anglo Platinum and other African producers.
The decline in automotive demand and increase in African output was sufficient to offset slowed production in Russia, and the supply deficit narrowed to 200,000 ounces.

Nornickel expects global palladium production to increase by 5% in 2022 to 7.1 million ounces, because of an increase in output from Africa and the continued release of accumulated inventory, as well as a rebound in Russian production. Nornickel's output is expected to recover to 95-105 tonnes (3.1-3.4 million ounces) of palladium and platinum in 2022.
| | |
| --- | --- |
| Long position overnight fee | 0.0324% |
| Short position overnight fee | -0.0539% |
| Overnight fee time | 21:00 (UTC) |
| Spread | 0.20 |
| | |
| --- | --- |
| Long position overnight fee | -0.0050% |
| Short position overnight fee | 0.0018% |
| Overnight fee time | 21:00 (UTC) |
| Spread | 0.18 |
| | |
| --- | --- |
| Long position overnight fee | -0.1234% |
| Short position overnight fee | 0.0884% |
| Overnight fee time | 21:00 (UTC) |
| Spread | 0.005 |
| | |
| --- | --- |
| Long position overnight fee | -0.0038% |
| Short position overnight fee | 0.0008% |
| Overnight fee time | 21:00 (UTC) |
| Spread | 0.020 |
Nornickel forecast that the palladium supply deficit could widen slightly to 300,000 ounces in 2022 on a recovery in the automotive market in the second half of the year, offsetting higher mine production, particularly in Russia, and additional supply from secondary sources.
Automotive demand for palladium in China is forecast to hit a record high of more than 2.5 million ounces in 2022, according to producer Heraeus Precious Metals.
However, the World Platinum Investment Council expects the relatively high price for palladium compared with platinum to prompt some automotive producers to substitute platinum for palladium in some vehicles.
And the transition to electric vehicles (EVs) could result in a long-term decline in palladium demand, as EVs do not require catalysts, although hybrid vehicles have a higher PGM content that helps support demand.
The automotive industry accounts for the majority of palladium demand, with some smaller-scale applications in the chemicals, electronics, medical and jewellery industries. The spike in the palladium price has prompted some substitution with gold in electronics and medical equipment.

Investment demand for palladium through exchange-traded funds (ETFs) remains relatively low. Nornickel noted that ETF holdings grew by 11% from 560,000 ounces at the start of 2021 to 620,000 in early November.
"However, considering the absolute volume of the palladium ETF stocks that are not that far from the multi-year minimums, it is too early to talk about the revival of this form of investment into palladium. An extended period of backwardation taught investors to use other financial vehicles to get the most from their exposure to palladium."
Keep following Capital.com for the latest palladium price news and outlook.
What is your sentiment on Palladium?
Vote to see Traders sentiment!
Palladium price forecast: How will the market perform in 2022?
The palladium price dropped to $1,619 per ounce on 16 December, after the US Federal Reserve announced the previous day that it would accelerate the tapering of its asset purchase programme that has supported the financial markets in the wake of the pandemic.
"Palladium shorts are now at ~500K oz, a 3yr high, which helps to explain the monumental $300 repricing higher from the $1,550 base last week, as presumably fast money exited and took profit before waiting around until the medium term fundamentals really play out," analyst Nicky Shiels at MKS-PAMP noted in late December.
With the palladium price up around $3,058 per ounce today (8 March), where do analysts see the market moving?
"PGMs will be guided by semiconductor availability, the lack of which crippled auto sector growth this year. Market news suggests chip shortages could continue into H1 2022, leaving little hope for a near-term revival of auto catalyst demand. Against this backdrop, we see platinum outperforming palladium due to its broader demand exposure," analysts at ANZ wrote in a research note last month.
"Nearly 85% of palladium demand comes from the auto sector, while platinum exposure is only 35% and the rest comes from jewellery and industrial. In the auto sector, growth in heavy vehicles fared better than the light vehicles (which use more palladium), and that has supported platinum demand. The palladium:platinum price ratio fell from 2.6x to 1.8x, but remains historically high. So the expensive valuation of palladium against platinum along with a structural deficit of palladium is encouraging auto manufacturers to look for a substitution."
But with the semiconductor shortage expected to ease in the second half of 2022, the ANZ analysts project that demand for palladium for automotive catalysts will increase by 449,000 ounces in 2022, with a widening deficit in supply. ANZ's palladium forecast for 2022 has the metal trading around $2,350 per ounce by the end of December, averaging $2,088 per ounce for the year.
Trading Economics is bearish on the outlook for 2022, predicting that palladium will trade at $2,191 per t oz by the end of the first quarter and $1,956 per t oz in 12 months' time.
"We believe there is a strong probability that when the Covid storm finally passes there will be a rapid rebound in both consumer and business demand for new vehicles. That demand will meet an industry running with low inventories of finished goods," analysts at ICBC wrote in a November note to clients.
"And so a demand surge plus restocking cycle could prove to be a powerful force for a recovery in the palladium price, and that recovery may persist for longer than the market anticipates. But in our assessment that scenario is highly unlikely to emerge in the next six months."
Palladium price forecast 2025–2030: The long-term outlook
Analysts at Edison Investment Research expect the palladium price to decline over the coming years. "With the expected recovery in chip supply in mid-2022, we forecast a positive outlook for PGM prices except for palladium, which is likely to suffer from loss of market share because it is used mainly in gasoline ICEs and in diesel to a lesser extent. However, this decline in sales could in part be offset by higher PGM loadings due to stricter emissions regulations, which are likely to be tightened further."
Edison's palladium price prediction has the metal averaging $2,100 per t oz in 2022 and falling to $1,587 per t oz in 2025 and $1,500 per t oz by 2030. "Demand for palladium and rhodium is set to remain firm until around 2025, when gasoline car sales are likely to begin losing market share to EV sales, and prices for these two metals will start to fall," according to the firm's analysis.

It's important to bear in mind when researching price predictions that analysts can and do get their predictions wrong. You should do your own research to make informed trading decisions. Remember that past performance is no guarantee of future returns and never invest more than you can afford to lose.
FAQs
Is palladium a good investment?

Palladium is a highly volatile commodity that is prone to strong price swings in either direction. Whether palladium is a suitable investment for your portfolio depends on your personal circumstances and risk tolerance. You should evaluate the level of risk you are prepared to accept before investing and never invest money that you cannot afford to lose.
Will palladium prices rise or not?

Among other reasons, the direction of the palladium market will probably depend on semiconductor availability, as a supply crunch has forced automotive manufacturers to cut production, in turn reducing demand for catalytic converters using palladium. Prices will also depend on production in Russia and South Africa and the size of the ongoing palladium supply deficit.
What drives palladium prices?

As palladium is predominantly used in automotive catalysts, the market is driven by trends in the automotive industry. Over the long term, the balance between hybrid and EV production will affect palladium demand. Macroeconomic data that reflects expectations of commodity price performance can also have an impact
Read more: Gold price forecast for 2022 and beyond: A buy, hold or sell?