Natural gas price forecast: Will gas price rally again in 2023 and beyond?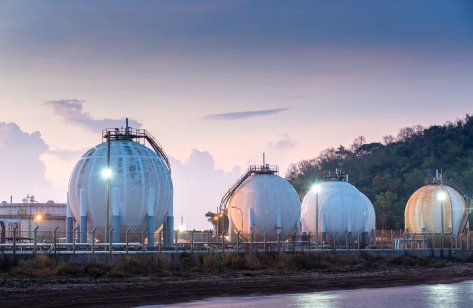 Milder weather has sent natural gas prices in Europe to its lowest level before Russia invaded Ukraine.
With warmer autumn temperatures, Europe did not need to draw more on its gas reserves, which had been built up in anticipation of further Russian supply cuts. Due to the slowing economy and gas-saving measures, household and industrial demand in the region has been subdued for the time being.
And despite the mid-December cold snap, a mild start to the new year has sent prices tumbling.
Dutch Title Transfer Facility (TTF) hub, the European benchmark gas futures price, has dropped more than 85% from its record high in late August, according to ICE data, and currently stands at €39 per megawatt hour (MWh) – down from €150/MWh on 7 December.
Subdued European demand reduced competition for cargoes of liquefied natural gas (LNG) with Asian buyers, putting downward pressure on Asian gas prices.
The Japan-Korea Marker (JKM) – the benchmark price for spot LNG cargoes delivered into Japan, Korea, Taiwan, and China – has also fallen over 80% from its late August peak of nearly $70 per million British thermal units (MMBtu).
The one-month ahead Henry Hub natural gas futures traded on the New York Mercantile Exchange (NYMEX) has also fallen to around $2/MMBtu from $9 in September.
Will natural gas prices rise again in the face of further reductions in Russian gas supply and rebounding Chinese gas demand following the country's complete removal of the Covid-19 restriction?
Read this article for the recent natural gas trend developments and the latest natural gas price predictions from analysts.
Natural gas futures performance 2022
Natural gas prices in Europe have been hitting record highs since last year, even before Russia's invasion of Ukraine. Reduced Russian gas supply and rising energy demand with the reopening of economies after the Covid-19 pandemic, combined with a weak performance by renewables, sent Dutch TTF soaring.
The benchmark briefly touched an all-time high of €345/MWh on 7 March after Russia attacked Ukraine on 24 February, before gradually retreated to below €110/MWh, according to ICE's price chart .
From the second week of March to mid-June, the European gas price was steady in a range of €88/MWh to €110/Mwh despite Gazprom starting to cut supplies to several European countries such as Poland, Bulgaria and The Netherlands.
Crude oil prices falling from multi-year highs of $139 per barrel, and lower liquefied natural gas (LNG) prices in Asia, which reduced competition for cargoes, aided Europe's gas price decline.
The price started to rebound to €120/MWh in mid-June. By the end of July, it crossed above €200/Mwh after Russia further reduced its gas supplies via the Nord Stream pipeline from 100 million cubic metres in mid-June to 33 million cubic metres a day on 25 July.
After touching a fresh high of €346.52 on 26 August, European natural gas prices gradually dropped below €220. Fears of supply shortages for the winter eased after Germany met its October target of filling its gas storage capacity to 80%-85% earlier than expected.
Germany's storage full
Germany's official data indicates that as of 4 January, the country's gas storage was 90.64% full.
ING Group's head of commodity strategy Warren Patterson and commodities strategist Ewa Manthey wrote on 4 January:
"The milder weather has eased concerns and it is looking as though the region will make it through this heating season in a comfortable manner. Concerns also appear to be easing for next winter with the entire TTF forward curve trading below EUR90/MWh. However, there are still clear risks for the market as we move through the year and prices will need to remain elevated in order to ensure the market remains in balance."
Dutch TTF traded around €67.15/Mwh on 5 January, the level not seen since December 2021, before the war in Ukraine broke out in February 2022.
US and Asia gas prices had also come off from their highs as Europe's subdued demand weighed on prices.
US natural gas price has eased to $4 by end of December 2022, from a 14-year high of $9.85/MMBtu on 29 August, data from the US Energy Information Administration (EIA) showed.
The Japan–Korea Marker (JKM) – the benchmark price for spot LNG cargoes delivered into Japan, Korea Taiwan and China – was quoted at $20.34/MMBtu as of 5 January, dropping 58% from the peak $69.95 on 25 August.
Natural gas predictions

: Europe's supply still precarious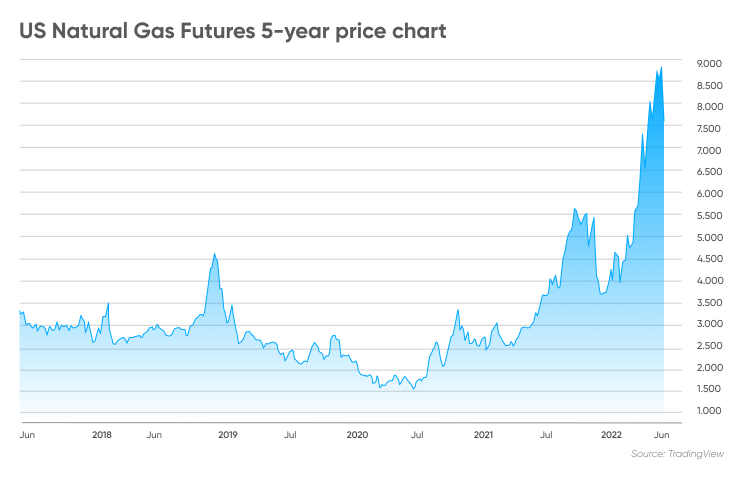 Despite sitting on a full tank of storage, questions remained whether Europe will be able to fill up gas storage when the heating season ends as Russian supply may decline further.
ING projected that annual annual Russian pipeline gas to the EU could fall by a further 60% to around 23 billion cubic metres (bcm) in 2023. In late 2022, daily Russian gas flows to the EU fell around 80% year-over-year (YoY), according to the bank.
"And clearly, there is a very real risk that the remaining flows will be halted," according to ING's
2023 energy outlook
released in December.
Europe may also face ongoing challenges to tap supplies from global LNG markets due to limited new capacity in 2023.
ING forecast global LNG export capacity may grow just by 10.5bcm in 2023, below expectations 19bcm in 2023. This is because sanctions against Russia over its attack on Ukraine may constrain any ramping up of Russian capacity. Russian production makes up for 46% of the total new capacity expected in 2023.
Fitch Solutions' analysts said in a note on 8 December that LNG prices could surge again in 2023 if China's economic rebound in 2023 increases demand for the super-chilled gas.
"The increase in LNG supply as new facilities and facilities under repair and maintenance come on line through the year should help temper any price upside although we except volatility to remain high while extreme weather episodes could see storage levels depleted beyond normal years posing a threat to next year's market balances and adding to the already high price pressures."
Natural gas price forecast 2023 and beyond
On 13 March, Fitch Ratings' natural gas forecast for 2023 saw Henry Hub average $3.5 per 1,000 cubic feet (Mcf), dropping from the previous estimate of $5. The US gas price was expected to drop further to $3 in 2025, according to the firm. From 2026 and beyond, it projected Henry Hub to stay at $2,75/Mcf.
As for the European natural gas price forecast for 2023, Fitch Ratings predicted Dutch TTF to average $20/Mcf, a downward revision from previous estimate of $40. The price was estimated to $20/Mcf in 2024 from $10 Mcf in 2025 and stay at $5.0/Mcf in 2026 and beyond.
"We have halved our 2023 European TTF gas price assumption to USD20/mcf on higher-than-expected gas levels in storage in the EU, supported by demand destruction and ample LNG supplies. We expect the market in Europe to be balanced in 2023, although price volatility may persist, driven by the availability of LNG in global markets and further efforts to curb demand by industrial and residential users."
Fitch Solutions' natural gas price forecast expected Henry Hub to average $6.5/MMBtu in 2023, down from $7 in 2022. It forecast UK's natural gas price National Balancing Point (NBP) to average $34.8MMBtu in 2023, falling from $39 in 2022.
EIA its natural gas price predictions in April, saw Henry Hub spot price to average $2.65/MMBtu in 2023, dropping from $6.48/MMBtu in 2022.
EU Natural Gas was expected to trade at €57.39/MWh by Q1 2023 and €73.44 in 12 months' time, according to economic data provider Trading Economics as of 21 April.
In a forecast on 15 December, ANZ Research saw LNG spot price averaging $32/MMBtu in 2023, falling from $36.8/MMBtu in 2022. The price of the super-chilled natural gas was projected to drop by 26.5% to $23.5 in 2024.
As of 21 April, algorithm-based forecasting service Wallet Investor was bullish on its natural gas price forecast for 2023, noting that it was "an awesome long-term (one year) investment". The service expected the natural gas price to trade at $3.233/MMBtu in December 2023. In its natural gas price forecast for 2025, Wallet Investor's system projected the fuel to rise to $5.599/MMBtu by December, climbing to $8.219 by April 2028.
In September 2022, Deloitte's natural gas price forecast for 2030 predicted US natural gas price to trade at $4.95/Mcf, up from $3.50/Mcf in 2023.
When looking at natural gas predictions, keep in mind that analysts can be wrong. Forecasts shouldn't be used as a substitute for your own research. Always conduct your own due diligence before investing and never invest or trade money you cannot afford to lose.
FAQs
Is natural gas a good investment?

Whether natural gas is a good investment for you or not will be determined by your personal objectives and research. Always draw your own conclusions about the commodity's prospects and the possibility of meeting analysts' targets.

Keep in mind that past performance does not guarantee future results. In addition, never trade money that you cannot afford to lose.
Will gas prices go up or down?

Whether natural gas prices will go up or down will depend on levels of supply and demand. If consumption remains high, leading to demand outstripping supply, prices could potentially increase.
What factors affect natural gas prices?

Natural gas prices are influenced by a variety of factors, including weather-related demand for winter heating and summer air-conditioning. Industrial activity also has an impact on gas demand for electricity to power plant machinery. Furthermore, supply disruptions such as outages at gas fields or problems with transmission/distribution pipelines can cause natural gas prices to rise.
Should I invest in natural gas?

Your decision to invest in natural gas should be based on your risk tolerance, investment objectives, portfolio composition, and experience in the markets. You should do your own research, and never trade money that you cannot afford to lose.