Natural gas price forecast: Will European gas price rebound to another record?
Subscribe to Weekly Highlights
The major market events for the week ahead right in your inbox.
Subscribe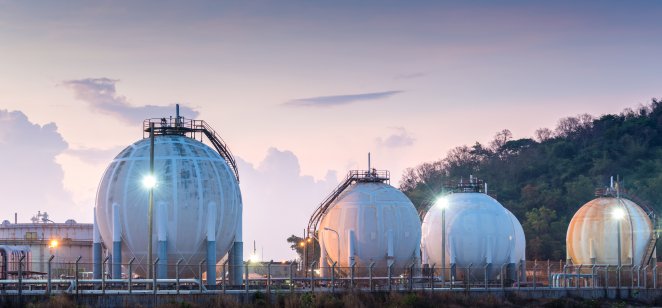 Content
Winter is coming but this time Europe has filled up its gas storage to warm up the coming cold months.
With ample supply, Europe's natural gas demand was subdued for the time being, cooling Europe gas prices and Asian liquefied natural gas (LNG) prices from their peaks.
Slowing demand from China as Covid-19 restrictions slowed the economy and warmer-than-expected weather added downward pressure on prices.
Dutch Title Transfer Facility (TTF) hub, the European benchmark gas futures price, has dropped 66% from its record high in late August, according to ICE data.
The Japan-Korea Marker (JKM) – the benchmark price for spot LNG cargoes delivered into Japan, Korea, Taiwan, and China – has also fallen about 58% from its late August peak of nearly $70 per million British thermal units (MMBtu).
The one-month ahead Henry Hub natural gas futures traded on the New York Mercantile Exchange (NYMEX) has also fallen to around $4/MMBtu from $9 in September.
However, the prolonged curb of Russian gas supply and expectations that weather could turn colder than expected serve as the upside on prices. Will natural gas prices rebound in winter?
Read this article for the recent natural gas trend developments and the latest natural gas price predictions from analysts.
Natural gas futures performance 2022
Natural gas prices in Europe have been hitting record highs since last year, even before Russia's invasion of Ukraine. Reduced Russian gas supply and rising energy demand with the reopening of economies after the Covid-19 pandemic, combined with a weak performance by renewables, sent Dutch TTF soaring.
The benchmark briefly touched an all-time high of €345/MWh on 7 March after Russia attacked Ukraine on 24 February, before gradually retreated to below €110/MWh, per ICE's price chart .
From the second week of March to mid-June, the European gas price was steady in a range of €88/MWh to €110/Mwh despite Gazprom starting to cut supplies to several European countries such as Poland, Bulgaria and The Netherlands.
Crude oil prices falling from multi-year highs of $139 per barrel, and lower liquefied natural gas (LNG) prices in Asia, which reduced competition for cargoes, aided Europe's gas price decline.
The price started to rebound to €120/MWh in mid-June. By the end of July, it crossed above €200/Mwh after Russia further reduced its gas supplies via the Nord Stream pipeline from 100 million cubic metres in mid-June to 33 million cubic metres a day on 25 July.
After touching a fresh high of €346.52 on 26 August, European natural gas prices gradually dropped below €220. Fears of supply shortages for the winter eased after Germany met its October target of filling its gas storage capacity to 80%-85% earlier than expected.
Germany's storage full
Germany's official data indicates that as of 10 November, the country's gas storage was 99.95% full.
Dutch TTF had fallen to €113.114/MMBtu as of 9 November, but it recovered from the low of €99/MMBtu on 24 October. The price was about 67.6% below the record high of €349.87 on 25 August, but still 182% higher than it was a year earlier.
"A raft of LNG tankers offshore, waiting to unload and natural gas storage across the continent at 95% of capacity had helped push prices lower since August," Fitch Solutions' analysts wrote in a note on 3 November.
"This trend was further reinforced by unseasonable warm temperatures which has delayed the start of traditional heating season by weeks further buoying supplies through weak consumption."
| | |
| --- | --- |
| Long position overnight fee | -0.0182% |
| Short position overnight fee | 0.0070% |
| Overnight fee time | 22:00 (UTC) |
| Spread | 0.18 |
| | |
| --- | --- |
| Long position overnight fee | -0.0106% |
| Short position overnight fee | -0.0029% |
| Overnight fee time | 22:00 (UTC) |
| Spread | 0.03 |
| | |
| --- | --- |
| Long position overnight fee | 0.0593% |
| Short position overnight fee | -0.0879% |
| Overnight fee time | 22:00 (UTC) |
| Spread | 0.005 |
| | |
| --- | --- |
| Long position overnight fee | 0.0025% |
| Short position overnight fee | -0.0169% |
| Overnight fee time | 22:00 (UTC) |
| Spread | 0.04 |
US and Asia gas prices had also come off from their highs as Europe's subdued demand weighed on prices.
US natural gas price has eased to $4 as of 8 November, from a 14-year high of $9.85/MMBtu on 29 August, data from the US Energy Information Administration (EIA) showed.
The Japan–Korea Marker (JKM) – the benchmark price for spot LNG cargoes delivered into Japan, Korea Taiwan and China – was quoted at $27.730/MMBtu as of 9 November, dropping 58% from the peak $69.95 on 25 August. It has dropped 9% year-to-date (YTD).
Natural gas predictions

: Europe's supply still very precarious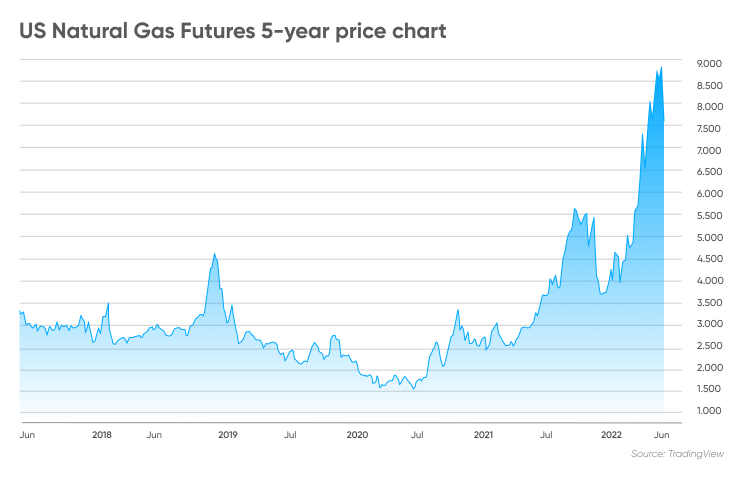 Despite sitting on a full tank of storage, the gas situation in Europe has remained very precarious, according to analysts at Bank of America (BofA) Global Research on 30 September.
"A one standard deviation colder-than-normal winter would leave stocks near empty, on our estimates. A synchronous cold winter in Europe and Asia would trigger a race for gas molecules. Given the drop in nuclear and hydro power generation and the collapse in European natural gas demand elasticity, Europe will keep relying on fuel switching abroad and demand rationing at home to balance TTF," wrote BofA's analysts.
Given the recent sabotage of Nord Stream, BofA analysts stated that restocking the storage in 2023 would be even more difficult should the conflict in Ukraine intensify.
"If these pipes are permanently lost, Europe will need to move decisively to address its structural supply gap," they said.
Fitch Solutions' analysts said that gas consumption was expected to increase in coming weeks as temperatures were going towards seasonal averages. As consumption rises, stock levels should gradually decline, opening up space for offshore LNG to be re-gasified and sent into storage.
"This should support a renewed uptick in prices in the coming weeks as curbs to Russian natural gas flow will keep the fundamental outlook tight and any severe temperature or weather events could add to already elevated volatility," Fitch Solutions analysts wrote.
ANZ Research's analyst Daniel Hynes and Soni Kumari on 10 November estimated that Europe faces a 30 billion cubic metre shortfall next summer to fuel its economy and refill storage facilities. The shortfall will come amid further falls in Russian gas supply and probable higher Chinese demand for LNG.
Natural gas price forecast 2022 and beyond
Fitch Solutions expected US Henry Hub gas to average $5.85/MMBtu in 2022, falling slightly to $5.75 in 2023. It forecast the UK's natural gas price, National Balancing Point (NBP), to average $28.13/MMBtu in 2022, dropping to $17.64 in 2023. The firm will release revised natural gas prices in the near term.
EIA's natural gas price predictions in November saw the Henry Hub spot price average $6.49/MMBtu in 2022, dropping to $5.46/MMBtu in 2023.
EU natural gas was expected to trade at €125.05/MWh by Q4 2022 and €172.88 in 12 months' time, according to economic data provider Trading Economics, as of 10 November.
ANZ Research forecast LNG spot price to average $42.3/MMBtu in 2022. The price of the super-chilled natural gas is expected to drop to $37.5 in 2023 and to $20.5 in 2024.
As of 10 November, algorithm-based forecasting service Wallet Investor was bullish on its natural gas price forecast for 2022, noting that it is a very good long-term (one year) investment. The service expected the natural gas price to trade at $6.174/MMBtu in December 2022. In its natural gas price forecast for 2025, Wallet Investor's system projected the fuel to rise to $10.742/MMBtu, climbing to $13.630 in November 2027.
In its natural gas price forecast for 2025, WalletInvestor projected the fuel to rise to $13.523/MMBtu, climbing to $15.754 in August 2027.
Due to price volatility in the energy market, no analyst provided a long-term natural gas price forecast for 2030.
When looking at natural gas predictions, keep in mind that analysts can be wrong. Forecasts shouldn't be used as a substitute for your own research. Always conduct your own due diligence before investing and never invest or trade money you cannot afford to lose.
FAQs
Is natural gas a good investment?

Whether natural gas is a good investment for you or not will be determined by your personal objectives and research. Always draw your own conclusions about the commodity's prospects and the possibility of meeting analysts' targets.

Keep in mind that past performance does not guarantee future results. In addition, never trade money that you cannot afford to lose.
Will gas prices go up or down?

Whether natural gas prices will go up or down will depend on levels of supply and demand. If consumption remains high, leading to demand outstripping supply, prices could potentially increase.
What factors affect natural gas prices?

Natural gas prices are influenced by a variety of factors, including weather-related demand for winter heating and summer air-conditioning. Industrial activity also has an impact on gas demand for electricity to power plant machinery. Furthermore, supply disruptions such as outages at gas fields or problems with transmission/distribution pipelines can cause natural gas prices to rise.
Should I invest in natural gas?

Your decision to invest in natural gas should be based on your risk tolerance, investment objectives, portfolio composition, and experience in the markets. You should do your own research, and never trade money that you cannot afford to lose.