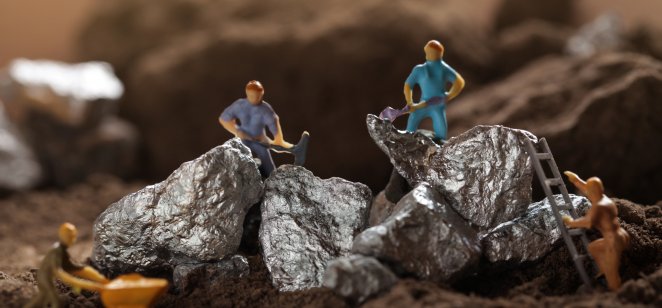 Supply shortages have pushed battery-grade lithium prices to record highs as battery demand soared amid strong global electric vehicle (EV) sales.
Lithium is a key metal in EV batteries and is widely used in the form of lithium carbonate and lithium hydroxide, both raw materials for EV batteries. The two main types of EV batteries are nickel-cobalt-manganese (NCM) and lithium iron phosphate (LIF).
According to the London Metal Exchange (LME) and price reporting agency Fastmarkets, the weekly lithium hydroxide (a minimum of 56.5% LiOH2O battery grade) cost, insurance and freight (CIF) prices jumped to $81.55 a kilogram ($81,550 a tonne) on 1 May, up 23.4% from $66.09 ($66,090 a tonne) on 8 March. The battery mineral has surged and more than doubled in price since the beginning of the year.
Being a relatively small metal market by trading volume, lithium does not have a futures market. The LME partnered with Fastmarkets in June 2019 to launch a reference price based on the weekly physical spot trade index on a CIF China, Japan and Korea basis. As China, Japan and Korea are the biggest markets for the seaborne lithium market, the lithium spot price in those regions is regarded as the industry benchmark for battery-grade lithium.
Are you interested to learn more about the lithium market? Before you invest in lithium, read this analysis for the latest lithium price news and market outlook.
Lithium market overview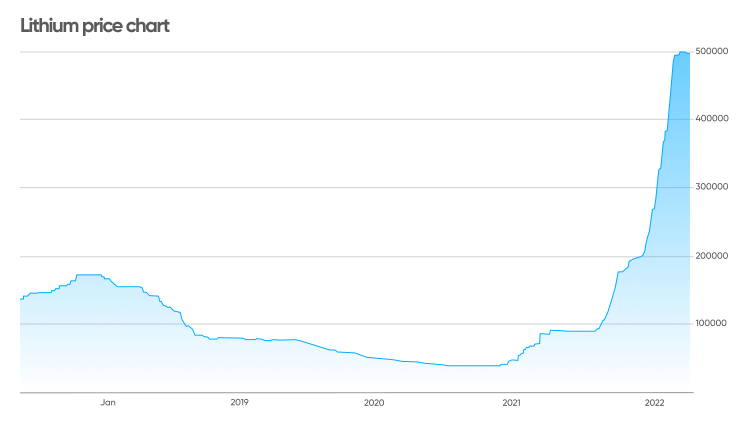 The lithium commodity price crashed in 2021, with lower EV battery demand as the automobile sector was severely impacted by lockdown measures imposed due to the Covid-19 pandemic. Lithium hydroxide on a CIF China, Japan and Korea basis plunged to a low of $8.50-9.50/kg on 27 January 2021, according to Fastmarkets' historical lithium prices.
As the global economy rebounded following the easing of restrictions in the second half of 2021, pent-up demand pushed EV sales higher, leading to a sharp increase in lithium consumption and prices. To date, the lithium hydroxide price has increased nine-fold compared with the $8.50-9.50/kg of late January 2021.
The increased adoption of lithium iron phosphate (LFP) batteries by Chinese carmakers has also pushed demand for battery-grade lithium carbonate significantly higher. The less-refined lithium carbonate is used to manufacture LFP batteries.
As a result, battery-grade lithium carbonate's (minimum 99.5% Li2CO3) CIF China, Japan and Korea spot prices also experienced a meteoric rise to $71.50/kg ($71,500/tonne) on 31 March 2022, up nearly seven-fold from a year ago.
According to Fastmarkets:
"The surge in carbonate demand and price is largely credited to the performance of lithium iron phosphate (LFP) batteries since last year, and their expected medium-term outlook.
"LFP has cemented its position as the leading chemistry among manufacturers in China, currently the single largest market for electric vehicles (EVs)."
Information from the Antaike Nickel and Cobalt Conference in November 2021 revealed that LFP batteries are estimated to account for some 60% of the market in China, with NCM holding the remaining 40% market share.
2021 EV and hybrid sales soared in Europe and China
Despite the manufacturing constraint caused by the global semiconductor shortage since last year, vehicle sales grew in Europe and China. According to the European Automobile Manufacturers' Association (ACEA), the number of newly registered battery electric vehicles (BEV) increased to 878,432 units across the EU in 2021, up by 63.1% compared to the previous year.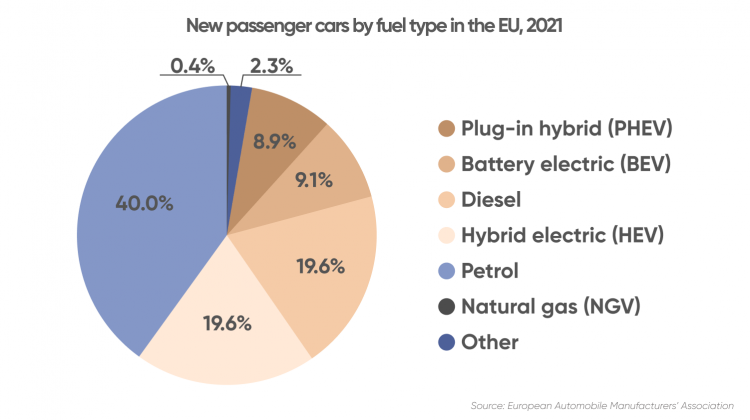 The number of plug-in hybrid electric vehicles (PHEV) also increased by 70.7% year on year to 867,092 units in 2021, ACEA data showed.
In China, the number of electric and hybrid vehicle sales also surged in 2021. EV sales were up to 448,000 units, and hybrid sales rose to 82,000 units, up 1.2-fold from 2020, according to data from the Chinese Ministry of Industry and Information Technology.
Robust EV demand in China in 2022
According to data from the China Association of Automobile Manufacturers (CAAM), EV and hybrid vehicle sales continued to grow in 2022. EV sales rose to 581,000 units in January to February, up 138% from the same period in 2021. Hybrid sales also jumped by 251% to 160,000 units in the first two months of 2022.
However, with rising raw material prices and production costs, many carmakers have had to raise retail prices of EVs, prompting worries that it might dampen sales. Nonetheless, industry analyst Fitch Ratings believes the Chinese EV demand will remain strong in the first half of this year. In a report published on 3 April 2022, it said:
"Fitch maintains a positive view on China's EV market as demand remains strong. We expect EVs' wholesale deliveries to rise by over 50% and market share to exceed 20% in 2022. While the recent price hikes may discourage some EV buyers, 1H22 EV deliveries are likely to be solid as many EV makers have large order backlogs," said Fitch Ratings in its 'What Investors Want to Know: China EVs' report.
Lithium market forecast to be in deficit
With the higher-than-expected EV sales, the lithium market is widely expected to be in deficit in the short term. At the end of 2021, several analysts already forecast a lithium market deficit in 2022 to 2030.
Back then, Australian investment bank Macquarie forecast the lithium market to be in a 2,900-tonne deficit, rising to 20,200 tonnes this year, with the shortfall widening further to 61,000 tonnes in 2023.
Credit Suisse's deficit projections were at 117,000 tonnes and 248,000 tonnes in 2024 and 2025, respectively.
According to Australian producer Pilbara Minerals, lithium is a soft, silvery-white metal that's highly reactive and does not occur in nature in its elemental form. It occurs as compounds within hard rock deposits and salt brines. The hard rock deposits, known as spodumene, are found in Australia, and the salt brines are largely concentrated in South America.
In 2020, almost three-fifths of the world's processed lithium exports came from South America, with the majority recovered in Chile, S&P Global Platts reported, citing data from Panjiva.
Lithium price forecast (2022-2025)
With demand expecting to outstrip supply, as of 12 April, many analysts held a bullish lithium price outlook.
Financial data provider Trading Economics expected the lithium carbonate price in China to be CNY503,252.50/tonne ($79,005/tonne) by the end of the second quarter in 2022, rising to CNY524,055.75 in 12 months' time.
In its lithium analysis, investment bank Citigroup also upgraded its battery-grade lithium carbonate price forecasts to $60,000 a tonne in 2022, citing higher EV demand and sales expectations.
Due to the volatility of the market, many analysts have only provided short-term forecasts and no price prediction was given for 2030.
Remember, analysts' forecasts can be and have been wrong. If you would like to invest in lithium, you should do your own research first. Your investment decision should be based on your attitude to risk, your expertise in this market, the spread of your portfolio and how comfortable you feel about losing money. And never invest more than you can afford to lose.
FAQs
Is lithium a good investment

Rising lithium-ion battery demand driven by EVs is expected to push lithium consumption higher in the next decade. While analysts widely expect this rising demand to support prices, forecasts can be wrong.

Whether it's a good investment for you or not depends on your investing goals and portfolio composition. You should do your own research and never invest what you cannot afford to lose.
Will lithium prices go up or drop?

Several analysts have upgraded their lithium price forecasts in 2022 to 2025 because of the rising EV demand and supply deficit. However, analysts' forecasts can be wrong and have in the past been inaccurate.
What factors affect the price of lithium?

Lithium prices are affected by its supply and demand. A fall in lithium-ion battery demand will be bearish for the mineral, while disruption to its production will generally be bullish for the market.
What are lithium companies to invest in?

Some of the world largest lithium producers are Jiangxi Ganfeng Lithium, Albermarle, Tianqi Lithium, SQM and Pilbara.