Litecoin price prediction: Will LTC surge on 2023 halvening event?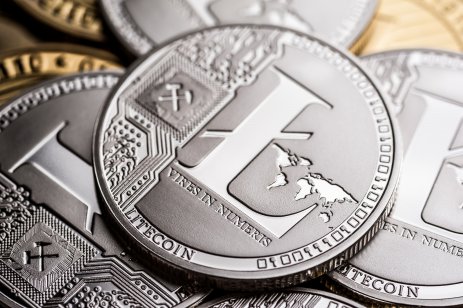 Litecoin (LTC) emerged as the top performing cryptocurrency in November 2022, buoyed by optimism over its upcoming halvening event which will see a 50% reduction in the number of newly-minted LTC tokens.
The LTC halvening event, which is expected to occur in 2023, comes on the back of significant network upgrades seen in 2022.
In May 2022, Litecoin finalised the privacy-focused Mimblewimble Extension Blocks (MWEB) upgrade that improved its prospects as the go-to payments system for confidential transactions.
These positive developments helped LTC buck the bearish investor sentiment and post monthly gains of nearly 40% in November 2022. In contrast, bellwethers bitcoin (BTC) and ether (ETH) posted monthly losses of about 16% and 19%, respectively, in November 2022.
What does the the future of litecoin look like? Let us read about Litecoin, the MWEB upgrade, its next halvening event and the litecoin forecast for 2023 and beyond.
What is litecoin (LTC)?
Litecoin is a peer-to-peer decentralised cryptocurrency that aims to be the "future of global payments".
Litecoin's design was inspired by that of Bitcoin (BTC), and it shares numerous features with the leading cryptocurrency, such as the proof-of-work (PoW) consensus mechanism, halving events and a hard cap.
Litecoin launched in 2011 as "a lite version of bitcoin". It aimed to improve on bitcoin's shortcomings to create a cryptocurrency that is more practical to use in everyday transactions.
The 10-year-old cryptocurrency network provides faster transactions at lower fees than the Bitcoin blockchain.
As of 1 December 2022, data from crypto analytics company Blockchair showed block confirmation time was about two minutes 20 seconds on the Litecoin network, compared to nearly 10 minutes on the Bitcoin network. The average 24-hour transaction fee on Litecoin was close to nil, compared to $1.83 on the Bitcoin network.
Litecoin has an algorithmic architecture called Scrypt that requires less processing power compared to Bitcoin's SHA-256 algorithm. This lowers entry barriers for miners and promotes decentralisation of mining power.
Another difference is the maximum supply of the two cryptocurrencies. While both are hard capped, Litecoin is limited to 84 million units, while Bitcoin is capped at 21 million units.
As bitcoin has evolved into a store of value, litecoin is on a path to become the "silver to Bitcoin's gold", according to its founder Charlie Lee.
Today, litecoin is among the most widely accepted cryptocurrencies for payment. Crypto-native payment processors that accept litecoin payments include Coinbase, BitPay, NOWPayments, CoinGate, Aliant and CoinPayments. E-commerce platforms including Shopify and WooCommerce also give online stores the option to accept Litecoin payments.
Digital currency asset manager Grayscale said in a report:
"Given Litecoin's ability to process transactions in a faster, cheaper, and more accessible manner, it may be able to target entities with high transaction volumes, including exchanges and merchants."
However, over the years, Litecoin's rate of adoption has fallen behind that of Bitcoin.
Data compiled by Messari on 1 December 2022 showed Bitcoin's 24-hour active addresses numbered about 946,754 compared to Litecoin's 24-hour active addresses of 268,827 on the day.
Litecoin founder: Charlie Lee
Litecoin founder Charlie Lee is a computer scientist who was working as software engineer at Google when he founded Litecoin in 2011. Lee also worked at Coinbase (COIN) from July 2013 until June 2017, after which he left to focus on Litecoin full time.
Over the years, Litecoin critics have often pointed out Lee's divestment of his entire Litecoin stake in 2017 as a potential red flag. Lee announced the divestment in a Reddit post on 20 December 2017.
"There will always be a doubt on whether any of my actions were to further my own personal wealth above the success of Litecoin and cryptocurrency in general. For this reason, in the past days, I have sold/donated all my LTC," Lee said.
"It is a conflict of interest for me to hold LTC and tweet about it because I have so much influence," Lee said.
Lee added that he would not quit Litecoin and would spend all his time working on the project.
"When Litecoin succeeds, I will still be rewarded in lots of different ways, just not directly via ownership of coins. I now believe this is the best way for me to continue to oversee Litecoin's growth," Lee said.
As of December 2022, Lee remains a core member of the Litecoin community and is a member of the Litecoin Foundation, a Singapore-based non-profit that promotes the adoption and development of Litecoin.
Litecoin news: MWEB upgrade and more
The MWEB upgrade is Litecoin's biggest upgrade to date. The privacy upgrade, which was first introduced as a Litecoin improvement proposal in 2019, was finally implemented in May 2022.
According to Litecoin's website, MWEB can be seen as an extension of Litecoin's main chain, which can be used to send coins to the extension block and back to the main chain.
Litecoin's website said users will have the option to send confidential litecoin transactions, in which the amounts sent will be known only by the sender and receiver. The upgrade will also increase transaction throughput and allow MWEB addresses to hide account balances.
"One has the choice of continuing to make standard transactions on the main chain or move over to MWEB to gain advantage of its added confidentiality features. By being an opt-in feature, exchanges and wallets have the option of integrating it and would be highly recommended, but not obliged to do so," said Litecoin.
"In terms of fungibility and privacy, I believe MWEB gets you 90% there. For most people that's good enough. It's the difference between living in a glass house vs living in a house with windows. For people who need 100% privacy, they can live in a house with no windows," added Lee.
However, the introduction of the privacy feature has attracted negative attention for Litecoin. South Korea's centralised cryptocurrency exchanges have delisted Litecoin from their exchanges with Bithumb citing "risk of money laundering and public threatening through anonymous digital asset transactions" in a press release.
As of 1 December 2022, LTC was not available on leading South Korean cryptocurrency exchanges Bithumb and Upbit.
In other news, Litecoin's potential to become an all-rounder blockchain been boosted following the launch of a token-creation platform called OmniLite in 2021. OmniLite will allow developers to create custom cryptocurrencies and design NFTs on Litecoin.
Furthermore, Litecoin saw its first NFT marketplace called LiteVerse launch in 2022. Developers have announced the development of a Litecoin-based Lightning Network mobile wallet and user-friendly MWEB-integrated mobile wallets.
The network also saw the formation of a distributed autonomous organisation (DAO) called LTC Labs to support project development on the Litecoin network. According to the Litecoin Foundation, the DAO was formed with 10 founding members, one of whom was Litecoin creator Charlie Lee,
On-chain analysis: 2023 LTC halvening and more
Like Bitcoin, Litecoin's block mining rewards are designed to be reduced by half approximately every four years, or after every 840,000 mined blocks. The block rewards will keep halving until they become zero, which is predicted to happen by 2142.
Litecoin's most recent halving event took place in 2019. The network is expected to see its third halving event in 2023 after its 2.52 millionth block.
As of 1 December 2022, the network has finalised over 2.378 million blocks and its current block mining reward rate is 12.5 coins per block. After the 2023 LTC halvening event, block rewards will be reduced to 6.25 coins.
In a contributor piece for Nasdaq, the Litecoin Foundation wrote on Litecoin future price:
"Historically, in regards to market action, the Litecoin halving has seemed to contribute to two notable events — one, a surge in price leading up to it, and two, a crypto bull market that ensues the years following it, leading into Bitcoin's halving."
In 2019, which was the year of Litecoin's last halvening, LTC posted yearly gains of 38% as it rose from an opening price of $29.78 to a closing price of $41.1, according to Coinbase data.
Litecoin has a maximum supply of 84 million coins. As of 1 December 2022, over 71.7 million litecoins were in circulation, representing about 85% of capped supply.
According to its website, Litecoin's genesis block rewarded miners with 50 litecoins per block.
Litecoin's origin paper published on bitcointalk.org by Lee in 2011 revealed only 150 litecoins were pre-mined.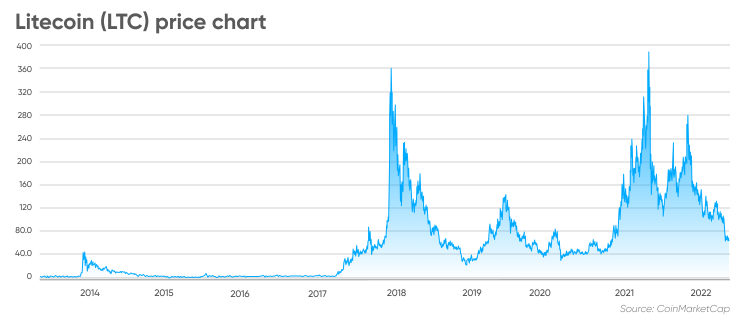 Litecoin: Price analysis
As of 1 December 2022, litecoin was the 13th largest cryptocurrency with a market capitalisation of about $5.5bn.
The payment-focused crypto's all-time high was the $412.96 hit on 10 May 2021. Litecoin was unable to scale this peak when the likes of bitcoin and ether hit record highs in November 2021.
Litecoin has plunged alongside the broader cryptocurrency market in 2022, with prices falling about 48% year-to-date, as of 1 December 2022. LTC was 81% below its all-time high at the time of writing.
More recently, LTC has rebounded to post a gain of 38% in the last 30 days to trade at about $77, as of 1 December 2022.
Litecoin price prediction for 2023 and beyond
In its short-term Litecoin future predictions, CoinCodex on 1 December 2022 saw the LTC price falling to about $73 in one month's time.
WalletInvestor's LTC price prediction for 2023 saw the token trading at an average price of $108 by the end of 2023. WalletInvestor's litecoin price prediction for 2025 saw LTC trading at an average price of $105 by the end of 2025.
Elsewhere, PricePrediction held a bullish view on LTC and saw the token trading at an average price of $1,451 in its litecoin price prediction for 2030.
Finally, DigitalCoinPrice's litecoin projections expected the token to trade at an average price of $92.99 in 2022 and rise to over $400 in five years' time.
Note that making LTC price predictions is a challenging task due to the many unknowns involved. Therefore, it is important to note that analysts and experts can be wrong in their litecoin predictions.
Forecasts shouldn't be used as a substitute for your own research. Always conduct your own due diligence. Remember that your decision to trade or invest should depend on your risk tolerance, expertise in the market, portfolio size, and goals.
Keep in mind that past performance is no guarantee of future results, and never trade money that you cannot afford to lose
FAQs
Is litecoin a good investment?

As of 1 December 2022, litecoin was the 13th largest cryptocurrency with a market capitalisation of about $5.5bn.

Only you can decide whether litecoin is the right investment for you. You should do research into litecoin's potential and base your decision on your portfolio composition, investment goals and risk profile, among other factors. Never invest money that you cannot afford to lose.
Will litecoin go up or down?

Litecoin's all-time low stands at the $1.11 it hit more than seven years ago on 14 January 2015. Litecoin was down over 81% from its record high, as of 1 December 2022.

When looking at litecoin crypto price predictions investors should remember that the market is very volatile. Outlook and forecasts are based on inferences drawn from past performance by analysts and may go wrong, due to market gyrations, changes in policy and other unknown parameters.

Investors should also consider the token's collaborations, partnership deals and fundamentals.
Should I invest in litecoin?

As of 1 December 2022, litecoin was the 13th largest cryptocurrency with a market capitalisation of about $5.5bn.

Only you can decide whether litecoin is the right investment for you. You should research litecoin's potential and base your decision on your portfolio composition, investment goals and risk profile, among other factors. Never invest money that you cannot afford to lose.