JasmyCoin price prediction: Can JASMY make a comeback?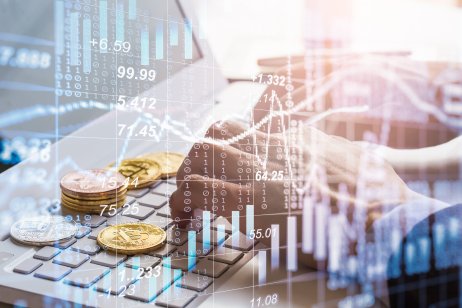 Like much of the world of blockchain technology, the Jasmy platform aims to take people's data away from big tech companies, but what is jasmycoin (JASMY)? Let's take a look and see what we can find out, and also examine some of the jasmycoin price predictions that were being made as of 19 April 2023.
Jasmycoin explained
One of the things that has drawn people to blockchain technology is the way in which it, at least in theory, allows people to regain control of their personal information. All to often in the era of Web 2.0, there have been data leaks, with people's personal information targeted by hackers. Therefore, one particular sector of the cryptoverse deals with helping people regain control of their own information. Another piece of technology that is linked to the concept of the either upcoming or ongoing phase of the net is the Internet of Things (IoT), the idea that everyday items like fridges, cars, heating systems and even clothing can be put online to give them greater connectivity and make them easier to operate.
Jasmy aims to operate at the heart of those two concepts. The platform, which was founded in Japan by former Sony executives Kazumasa Sato, Kunitake Ando and Tadashi Morita, utilises blockchain technology to give IoT users the opportunity to safely store their data.
As the whitepaper says: "When our basic needs such as clothing, food, shelter or transportation are connected via the internet, this will dramatically affect our lives. We are an IoT platform company on a mission to provide the infrastructure which allows anybody to use data safely and securely. We are currently developing and providing the Jasmy Platform to achieve this.
"Unlike the current centralised world, we will build an IoT platform suitable for the idea of a Jasmy Decentralised Data Democracy. Through the Jasmy Platform, we will endeavour to accelerate the use of data and instil the concept of data democracy."
Every blockchain-based platform needs to have its own native token, and Jasmy has the jasmycoin crypto. This is used to as pay for transactions on the network. JASMY is based on the Ethereum network and operates as an ERC-20 token.
This means that, despite its name, it is a token, rather than a coin. However, to avoid unnecessary confusion, we will still call it JasmyCoin – although it would nevertheless be wrong, technically speaking, to talk of such things as a "JASMY coin price prediction".
A total of 50 billion JASMY was issued when the crypto launch, with 30% allocated as rewards to users for allowing third parties to use their data. The rest of the allocation saw 13 given to institutional investors and foreign companies, 18% was allocated to developer programmes, 14% went on business operating funds, return on investor relations, legal and tax consulting fees and commission fees, 20 was given to business financing and 5% allocated for incentives.
JasmyCoin price history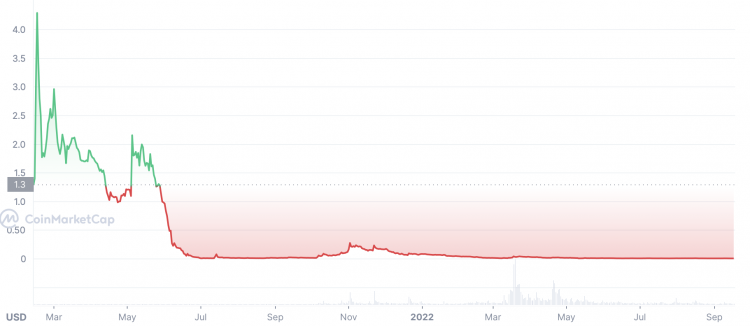 Let's take a look at how the jasmycoin price history. While past performance should never be taken as an indicator of future results, knowing the JASMY price history can give us some much needed context when it comes to either making a jasmycoin price prediction of our own, or interpreting one that already exists.
JASMY's price action has been very volatile since its inception. Based on the earliest available price data on a chart from 2021, the JASMY token price spiked from $1.29 on 12 February 2021 to its all-time high of $4.99 on 16 February 2021, a surge of almost 300%.
However, the price failed to maintain its momentum and in a week fell more than 64% from its peak to $1.77. The token traded with high volatility in the weeks that followed. It tumbled to $0.011 by 12 July 2021 as the market suffered throughout the summer.
In the last quarter of 2021, the token saw a brief rally as its price spiked over 1,000% to hit $0.27 by 2 November 2021, helped by its listing on the international crypto exchange Coinbase, although it then declined to close the year at $0.08544.
In 2022, JASMY remained below the $0.09 mark throughout the year. Data from Coinbase showed JASMY posted monthly losses in five months out of six in the first half of 2022.
On 18 June 2022, JASMY hit a low of $0.008124 as the token tumbled amid a wider crash in cryptocurrency prices. Following that, the token recovered somewhat, most notably to $0.01219 on 17 August, before it fell back down again.
On 9 November, it hit a new nadir of $0.00338, and things got worse when it sank to an all-time low of $0.002747 on 29 December. The token closed the year at $0.002944, representing an annual drop of more than 96.5%.
2023 so far has seen crypto making something of a recovery, and JASMY has been one of the many tokens whose price has improved over the course of the year so far. A bouyant market saw it peak at $0.008285 on 7 February before it fell to $0.00431 on 27 March. On 19 April 2023, the token was worth about $0.006385.
At that time, there were just under 4.76 billion JASMY in circulation out of a total supply of 50 billion. This gave the token a market cap of about $303.7m, making it the 125th largest crypto by that metric.
JasmyCoin price predictions
With that all out of the way, let's take a look at some of the jasmycoin price predictions that were being made as of 19 April 2023. It is important to remember that price forecasts, especially for something as potentially volatile as cryptocurrency, very often end up being wrong. Also, keep in mind that many crypto price predictions are made using an algorithm, which means that they can change at a moment's notice.
CoinCodex had a short-term JasmyCoin price prediction for 2023 which suggested the token's value could fall to $0.006047 by 24 April before continuing to drop to stand at $0.00482 on 24 May. The site's technical analysis was, unsurprisingly, bearish, with 18 indicators sending downbeat signals and 10 making bullish ones.
Wallet Investor was even more pessimistic in its JASMY crypto price prediction, suggesting the token could be in for a torrid time over the upcoming 12 months, reaching a mere $0.000284 in April 2024.
DigitalCoinPrice had a more bullish view of JASMY's price performance for the long term. According to its JasmyCoin price prediction for 2030, DigitalCoinPrice had the potential to rise to an average price of $0.0663.
However, DigitalCoinPrice's long-term Jasmy crypto price prediction did not think the token could pass its current all-time high of $4.99 in the next 10 years.
Finally, Gov Capital had a JASMY price prediction that spelled doom for investors, saying that the token could be effectively worthless by 6 May, with a one-year forecast of $0.
When considering a JASMY token price prediction, it is important to keep in mind that cryptocurrency markets remain extremely volatile, making it difficult to accurately predict what a coin or token's price will be in a few hours, and even harder to give long-term estimates. As such, analysts and algorithm-based forecasters can and do get their predictions wrong.
If you are considering investing in cryptocurrency tokens, we recommend that you always do your own research. Look at the latest market trends, news, technical and fundamental analysis, and expert opinion before making any investment decision. Keep in mind that past performance is no guarantee of future returns, and never trade with money that you cannot afford to lose.
FAQs
Is JasmyCoin a good investment?

The token has reached new lows recently, and we do not know if it can get back to former highs. Much will depend on how the crypto market, in general, behaves.

Remember, you should always carry out your own thorough research before making an investment. Even high market cap cryptocurrencies have proved vulnerable to the current bear markets. Investors should be prepared to make losses and never purchase more than they can afford to lose.
Will JasmyCoin go up or down?

A JasmyCoin price prediction is difficult to call. While DigitalCoinPrice was fairly optimistic about the token's future, other sites such as Gov Capital were far more negative. Price predictions are often wrong, and that prices will go down as well as up.

In volatile cryptocurrency markets, it is important to do your own research on a coin or token to determine if it is a good fit for your investment portfolio. Whether JASMY is a suitable investment for you depends on your risk tolerance and how much you intend to invest, among other factors.

Keep in mind that past performance is no guarantee of future returns, and never invest money that you cannot afford to lose.
Should I invest in JasmyCoin?

This is a question that you will have to answer for yourself. Before you do so, however, you will need to conduct your own research. Never put at risk more money than you can afford to lose, because prices will go down as well as up.