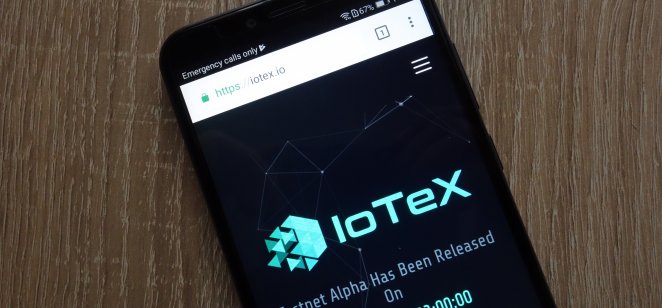 Following a price boost from a string of announcements from IoTeX, the IOT blockchain, the price of its coin IOTX turned distinctly bearish. In April it has lost 38% of its value so far with the price today (28 April) at $0.071.
On 21 March the organsiation announced a $100m ecosystem fund, that another major release of the mainnet had gone live, introduced a new NFT, and later that its wallet ioPay 2.0 has gone multichain.
It is unclear whether any of these announcements had a direct effect on the price but nonetheless it rose 53% to peak at $0.114 on 31 March. And then the sentiment changed and the price went downhill.
Blockchains and their smart contracts seem well suited for the Internet of Things (IoT), the connecting of remote sensors and devices that collect and exchange data sometimes for micro payments. Processing the data and logging and collecting payments is one of the key aims of the blockchain of IoTeX.
IoTeX wants to be the leading blockchain powering this emerging ecosystem by providing the infrastructure needed to process the vast amount of data that is expected to flow through IoT devices.
According to data from market research firm Statista, the IoT could be worth more than $1.5trn by the end of 2025. The focus could be on products, services, operating systems and protocols designed to support this industry segment.
Its token, the IOTX, will be used to pay for the transactions as well as staking and governance. Having reached an all time high value in November, can the token take flight again as its protocol becomes more widely adopted for IoT devices? Or is the IoT failing to meet expectations? What is a realistic target price in the near future?
Join us in the following IoTeX price prediction as we take a look at the latest forecasts and developments that could possibly influence the price of the IOTX token.
What is IOTX coin?
IOTX project is founded on the idea that the massive amounts of data flowing to and from our devices is currently processed by companies and government institutions for their own benefit.
IoTeX seeks to give users more control over the data they share with these entities, while also enabling them to monetise that data if and when they decide to give it out.
By the end of 2020, the market capitalisation of IOTX, IoTeX's native token, was around $30m. That value surged in 2021, propelling the market capitalisation to as much as $1.2bn, according to CoinMarketCap, as of 22 December 2021.
However that momentum has slipped away in the following few weeks and currently the IOTX is at $0.07, at the time of writing (28 April 2022) with a market capitalisation of $671m placing it 100th in the crypto league.
IoTEX news: Pebble Tracker, Chainlink integration and MachineFi
The IOTX token had been posting a series of higher highs since the year started. November in particular was an outstanding month for the token, delivering gains of 159%.
Below are three news items shared by the developing team that could have prompted that uptick:
On 1 November, IoTeX announced that its Pebble Tracker device had completed final testing and was ready for shipment. This device is essentially an advanced GPS powered by a decentralised network – in this case, the IoTeX blockchain. It comes with a wide array of sensors that can track things like acceleration, temperature, humidity, air pressure and other variables.
Various decentralised applications (dApps) are being built. Users can make the most out of these devices, including the possibility of earning rewards for the data they share with third parties.
On 4 November, IoTeX and Chainlink, a popular crypto project that integrates real-world data with on-chain solutions, hosted a panel discussion. They discussed the possibility of an integration between the two projects.
Any collaboration between the two companies could merge historical and real-world data to produce information that could further enrich smart contracts created and powered by the blockchain, potentially increasing the number of practical use cases for IoTeX-powered solutions and dApps.
"The combination of Chainlink's historical data and IoTeX's live real-world data makes for a powerful match for individual users and enterprises alike," the IoTEX team stated in a press release that further explained the scope and reach of this partnership.
On 5 November, IoTeX revealed an ambitious project called MachineFi. It seeks to power computers and devices so they can become self-sovereign. This means that every machine that powers the MachineFi ecosystem will be rewarded for its effort to keep the IoTeX network secure and operational. This protocol seeks to change the way the Internet works.
Currently, the Internet is highly centralised – data flows through servers that are owned, operated and leased by corporations. What IoTeX proposes through MachineFi and IoTEX 2.0 is to propel the world toward the so-called Web 3.0, an ecosystem that operates in a decentralised way and wherein users have more power over their data.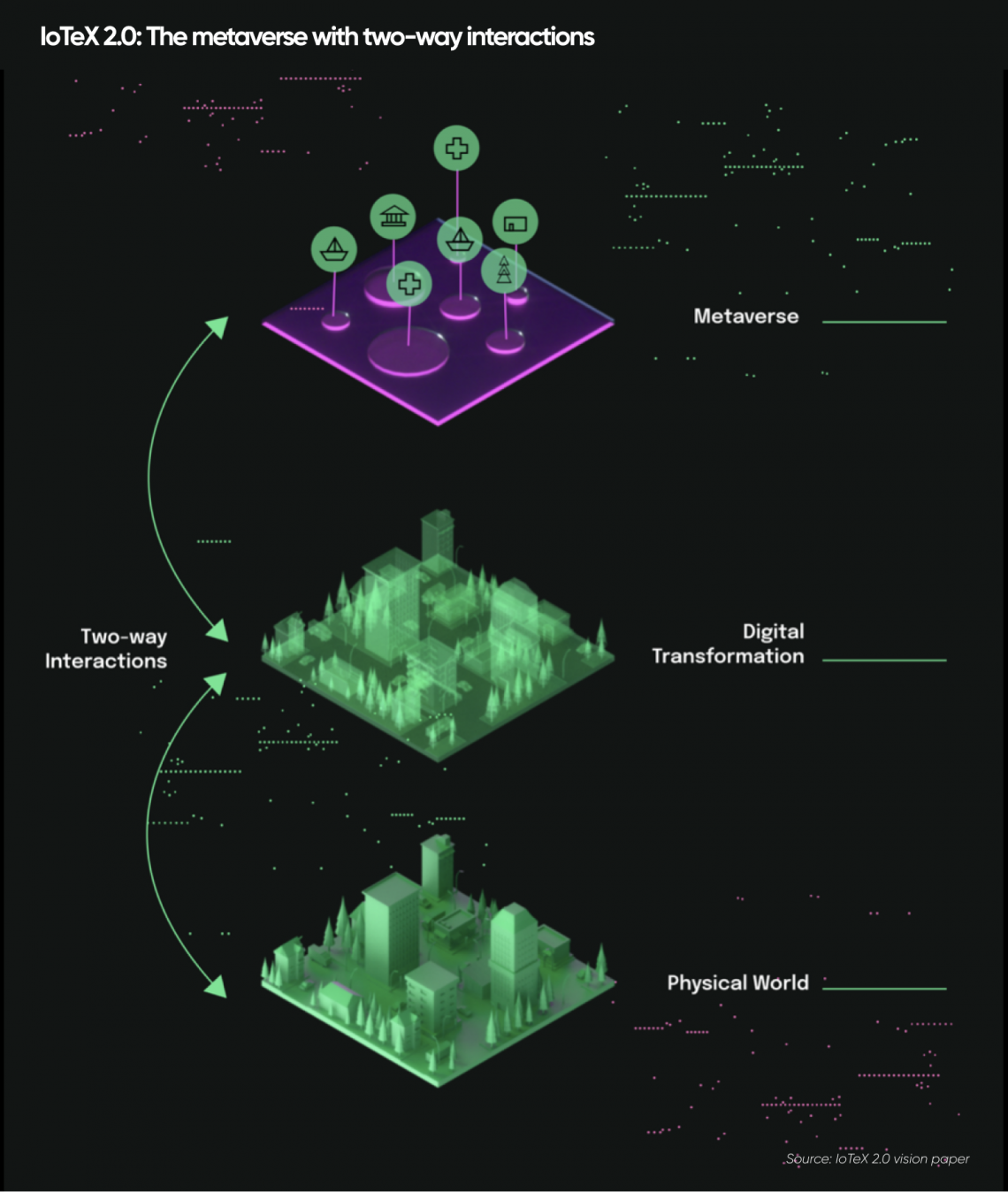 The combination of these three developments has helped push the price of IOTX to all-time highs in November.
Since these deals IoTeX has announced further partnerships with: Cartesi, the first OS on the blockchain; Swash, the data union; Galaxy Blitz, a NFT strategy game; Covalent, a unified API; and Treasureland, a cross-chain NFT platform.
On 26 January the exchange Binance added IOTX as a borrowable asset on its Loans platform. "Binance Loans enables users to use their crypto as collateral to get a loan in IOTX, USDT (Tether) and BUSD (Binance coin) and other crypto-assets without fees or credit checks" said IoTeX.
On 2 February multifaceted DeFi platform Ankr announced it is teaming up with IoTeX to build a robust global network of nodes in a move aimed at making development of the internet connected device project, MachineFi, faster and easier.
Under the deal Ankr will also incentivise IoTeX node operators to add their nodes to Ankr's new publicly available Remote Procedure Call (RPC) in return for ANKR tokens, with the aim of creating a more extensive network.
IoTeX has made it easier for people to sell their data and do it in a more controlled way. On 17 February it introduced Meta-Pebble a device that connects to IoTeX's MachineFi portal through which users can access a suite of decentralised applications (dApps) that will pay them to grant access to the data that they generate going about their daily business. Where they travel, where they eat, where they shop, the weather, are all typical applications where organisations may be willing to pay or reward for data.
IOTX crypto price prediction: analyst sentiment and price targets
Despite the recent highs and the project's latest developments, Capital.com's analyst Mikhail Karkhalev shared a bearish view on the IOTX price prediction. He highlighted several factors to consider:
"The Internet of Things is a once-promising technology whose development has so far been shelved. Today, it is difficult to find any well-known company that has implemented the technology or that has created any product based on the IoT. Simply put, the technology has been discussed for many years, but it has not been used," said Karkhalev.
"As for IoTeX, it has a serious competitor in the crypto market, a project with a similar name, IOTA. IOTA's main advantage, not only over IoTeX, but over other projects, is its incredible scalability for the crypto market. In simple terms, the point is that while other blockchains get overloaded by the increasing number of transactions, the IOTA blockchain is designed in such a way that the more transactions, the more powerful the throughput. IoTeX can't do that and is inferior to its competitor.
"On top of that, a sluggish development of IoT technology itself makes IoTeX's prospects very dim. Like 99% of tokens on the crypto market, I would attribute the rise in token value more to a good marketing strategy than to prospects and serious attention from the community."
Some IOTX crypto price predictions from algorithm-based forecasting services, as of 28 April, look more positive:
In its IoTeX coin price prediction Gov Capital suggested that IOTX will be at $0.15 in a year's time then rise to a price of $0.68 in five years' time.

Wallet Investor's IoTeX crypto price prediction saw the token rising to around $0.14 by this time next year and believes the price could hit $0.43 by April 2027.

Trading Beasts' IOTX prediction was it would hit $0.1 by the end of 2022 and be at $0.13 at the end of 2025.
When looking for IOTX coin price predictions, it's important to bear in mind that analysts' forecasts can be wrong. Analysts' projections are based on making a fundamental and technical study of a crypto's performance. Past performance is no guarantee of future results.
It's important to do your own research, and always remember that your decision to trade depends on your attitude to risk, your expertise in the market, the spread of your investment portfolio and how comfortable you feel about losing money. You should never invest money that you cannot afford to lose.


FAQs
Cryptocurrencies, and altcoins in particular, are highly volatile financial assets. This means that while the upside potential might be high, so is the downside risk. Make sure you are trading only with money you can afford to lose since the IOTX price action can suddenly change its direction.
According to the three IoTeX predictions cited above, the price of IOTX should rise by the end of 2022. However, these predictions can be wrong as they are drafted based on the current trend.
Many variables could affect the performance of the IOTX token in the future and investors should do their own research before making any investment decision.
Various forecasting services, including WalletInvestor, Gov Capital and TradingBeasts, provide various price targets for IoTeX crypto. All of the forecasts and opinions shared above are drafted upon assessing the latest price action and trend of the IOTX token.
However, many variables could affect the actual performance of this cryptocurrency in the future and results could deviate significantly from these predictions. Therefore, none of these opinions should be considered a recommendation to buy or sell IOTX.