Internet Computer price prediction: Has the ICP price bottomed out?
Subscribe to Weekly Highlights
The major market events for the week ahead right in your inbox.
Subscribe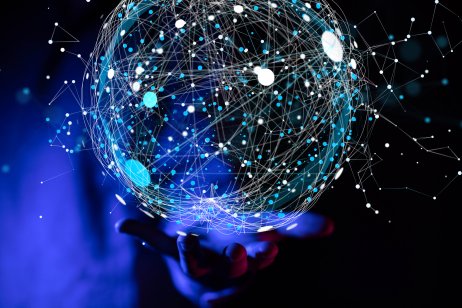 Content
After a brief spike at the end of July, the price for the coin of the infinite-capacity blockchain Internet Computer (ICP) has continued on its downtrend. The value of ICP has plunged heavily since it launched last May.
The coin is a shadow of its former self, having lost 98% of its value.
After such a spectacular and sustained fall from its $750 peak, investors may be wondering if this cryptocurrency has any expectations for future growth. What would be a realistic target price?
This article examines what ICP is and what is driving its price, and reviews the latest ICP price predictions and analysis to help you assess if ICP should be a part of your portfolio.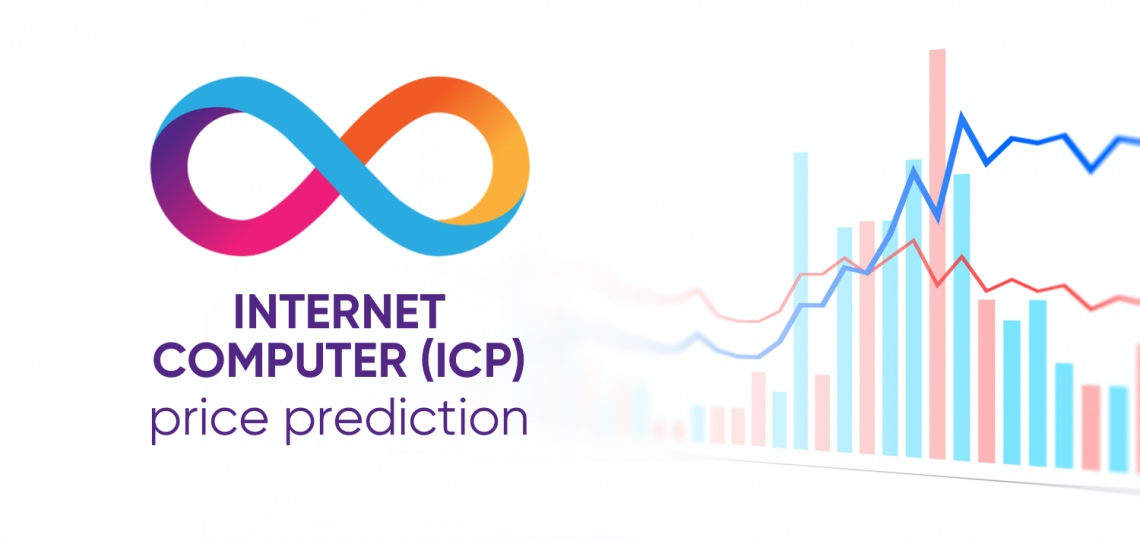 What is ICP? Blockchain aims to spark an internet evolution
Internet Computer is a blockchain-powered public network that provides a limitless environment for smart contracts to run at web speed and scale while helping to reduce computing costs.
The project claims to be the third-greatest crypto innovation after Bitcoin, which plays the role of digital gold, and Ethereum, which is powering the decentralised finance (DeFi) revolution.
Internet Computer has set an ambitious goal to "reimagine how you build everything", creating a blockchain with infinite capacity. The platform enables developers to build anything from DeFi apps to mass-market, tokenised social media services.
According to Dominic Williams, founder and chief scientist of Dfinity, which was responsible for building the Internet Computer, the platform could help curb the dominance of 'Big Tech' companies such as Google and Facebook, thus revolutionising the internet and creating an "open and free" worldwide Web 3.0.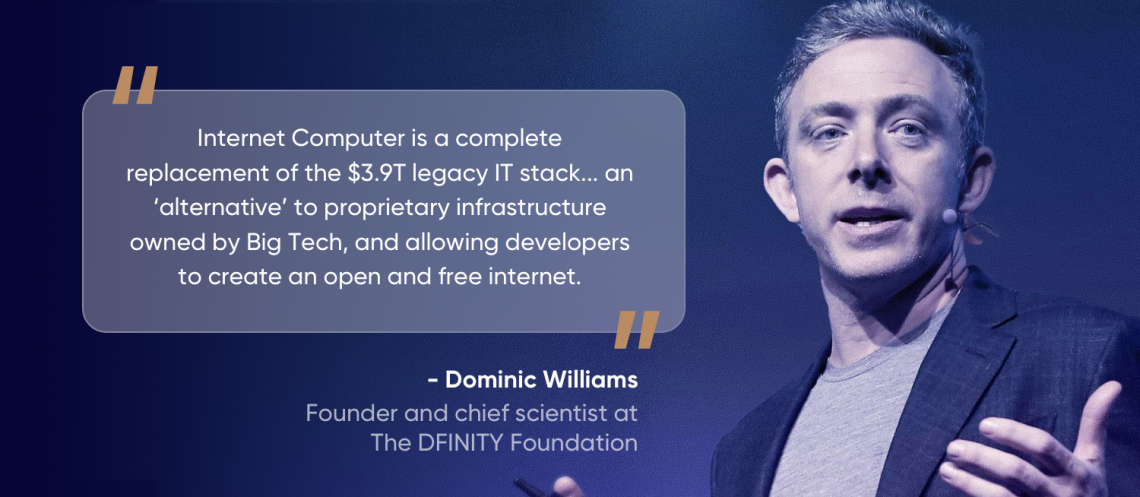 How does Internet Computer work?
Internet Computer expands the internet's functionality so that it can host back-end software, transforming it into a global computing platform. The platform allows the building of websites and enterprise IT systems by installing code directly on the public internet without using commercial cloud services and server computers.
The major goals of the Internet Computer project are two-fold:
To increase the speed of most blockchain technologies;

To limit the presence of Big Tech protocols such as Amazon Web Services (AWS), which are widely used by many websites and blockchains.
Internet Computer uses a decentralised protocol called ICP (Internet Computer Protocol), which is run by a network of independent data centres around the world. When it launched on 10 May 2021, Internet Computer was powered by 48 data centres from Europe, Asia and North America, together running 1,300 nodes.
The network was designed to grow exponentially to support the creation of new decentralised applications (dApps), with 123 data centres running 4,300 nodes by the end of 2021. It set up an ambitious plan involving thousands of data centres running millions of nodes, with the goal of creating a new "open internet" within 10 years.
Internet Computer's key breakthrough technology is chain-key technology – the 'engine' that consists of a set of protocols that orchestrate the nodes within the platform. It enables the system to have a single public key, thereby allowing any device – from phones to smart watches – to verify the authenticity of artifacts from Internet Computer. It also allows Internet Computer to process transactions within one to two seconds.
The project aims to solve long-standing IT issues such as system security. The platform can host native software in an environment that allows systems to be built that do not require back-ups and firewalls.
Internet Computer is designed to make internet software systems self-contained and reduce their complexity, and to cut the cost of IT services. The creation of 'autonomous software' (software that runs without the owner) will address the increasing monopolisation of internet services by Big Tech companies.
On 21 September 2021, the DFINITY Foundation – the company behind the Internet Computer blockchain – announced an integration with the Bitcoin network, which should result in smart contracts that will directly operate on Bitcoin balances.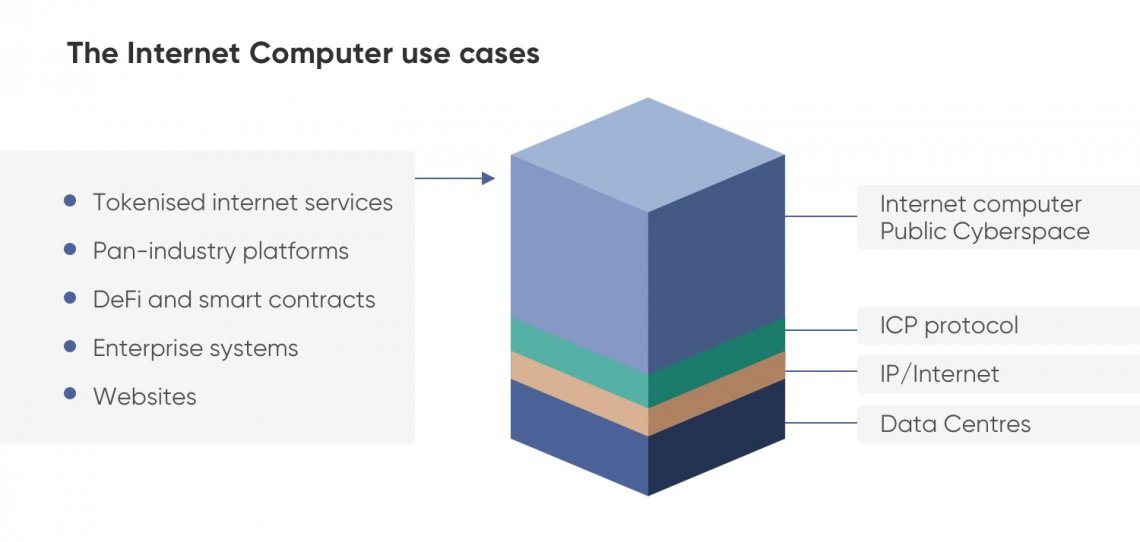 ICP crypto news: Bitcoin API launch
On 4 August 2022, DFINITY announced the beta release of ICP's Bitcoin testnet application programming interface (API), enabling direct integration with the Bitcoin network without the need for an intermediary or bridge.
"The BTC integration allows canister
smart contracts
to leverage the world's largest cryptocurrency, enabling new
DeFi
and
dApp
use cases," the statement said. "This milestone paves the way toward a successful general availability (GA) release in the coming months, delivering innovative smart contract functionality for Bitcoin on the highly scalable Internet Computer blockchain, with fast finality and low transaction cost."
DFINITY tweeted on 13 July 2022 that the Internet Computer blockchain had surpassed one billion blocks. On 13 August, it added that "IC recently eclipsed a milestone of 100,000 canisters, and is well on its way to reaching 150,000 canisters".
Applications built on Internet Computer are attracting interest from investors. DSCVR, a Web 3.0 social content network running on the Internet Computer blockchain, raised $9m in a seed round in July led by Polychain Capital.
Internet Computer founders: DFINITY Foundation
The project was started in 2016 by the DFINITY Foundation, a not-for-profit scientific research organisation.
The DFINITY team includes programming and distributed systems experts and some of the world's top cryptographers, who collectively have 200 patents and more than 100,000 academic citations.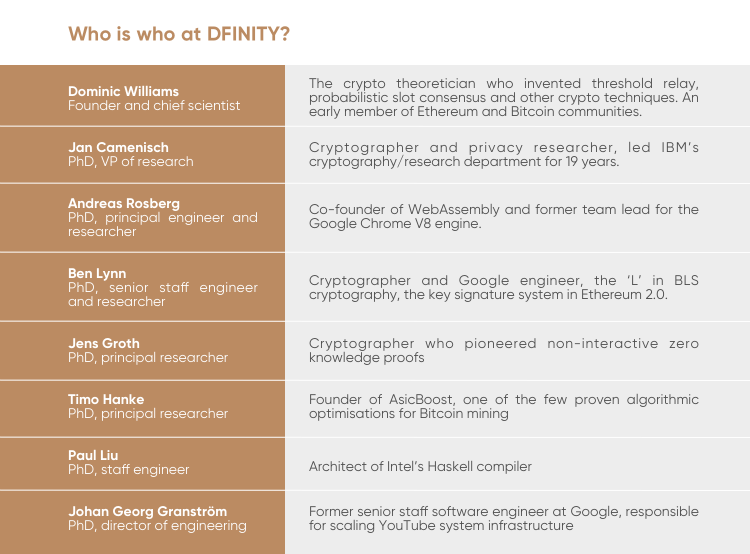 ICP coin analysis: Token plunges from launch value
ICP, the native token of the Internet Computer network, is mainly used for processing the network's power. The total supply of ICP tokens is a little over 488.5 million, of which 268.41 million were in circulation as of 19 October 2022, giving the cryptocurrency a market capitalisation of $1.32bn.
ICP tokens are also used as a reward for users, who play a significant role in enhancing network functions.
The ICP price immediately plunged from its launch price of $750 on 10 May 2021, dropping to $364.79 the following day. While the price moved up to $387.60 on 12 May, it was unable to hold onto the gains amid a sharp sell-off in cryptocurrency prices and plunged below $100 on 19 May 2021.
By July 2021, ICP was trading at $27. While a September crypto rally lifted the ICP price to $86.86, it fell again to end the year at $24.43.
ICP traded up to $37.73 on 5 January 2022, but subsequently fell into a downward trend in line with bearish sentiment across the cryptocurrency markets. By 18 June 2022, ICP was trading down at $5.14. The token then turned higher, bouncing to $9.77 on 31 July 2022.
It fell down to the $8 mark in the beginning of August, and further to $6 at for most of September. As of 19 October 2022, ICP was trading at $4.92.
Although the ICP price has drastically plunged from its peak, has it now bottomed out? What is the outlook for the longer-term ICP price prediction?
Internet Computer's integration with Bitcoin could provide support to the ICP future price.
According to Dominic Williams: "The Internet Computer is powered by novel 'chain key cryptography' that allows it to sign transactions for other blockchains such as Bitcoin. This capability will be used to provide smart contracts hosted on the Internet Computer with native Bitcoin addresses via a direct integration of the networks.
"Internet Computer smart contracts will gain access to Bitcoin liquidity, and Bitcoin will gain powerful new smart contract functionality without the need for insecure and cumbersome [but] trusted bridging services," added Williams.
"This will help realise Satoshi's vision by allowing Bitcoin to power a new generation of Web 3.0 internet services."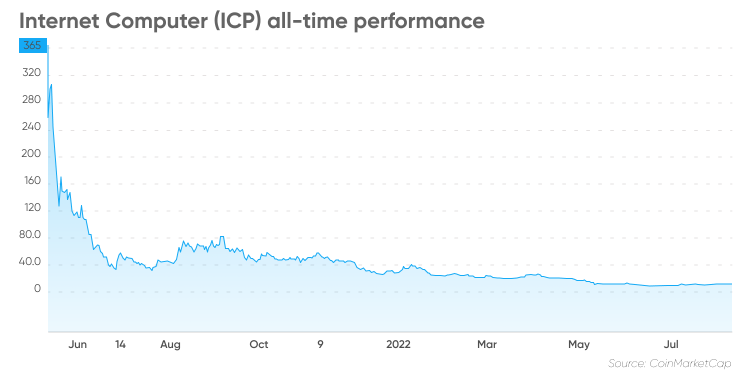 Internet Computer (ICP) price prediction: Analysts' views
Commenting on Internet Computer's future prospects, Capital.com analyst Mikhail Karkhalev said:
"Internet Computer is quite an ambitious project and another Ethereum-killer. It is hard to say whether it is worth positioning itself like that, because Ethereum and ICP have absolutely different goals and objectives – Ethereum acts as a global computer for creating and developing decentralised applications, while Internet Computer actually acts as a decentralised internet, which sounds more interesting and large-scale".
"The project's ambitious plans have been backed by more than $100m in investments from prominent funds, which is perhaps an advantage because venture capitalists invest in cryptocurrency start-ups after more meticulous and in-depth due diligence than in traditional IT," adds Karkhalev. "And if an ICP manages to get funding, it means there is indeed a strong team behind the project and full-scale work is being done".
However, the analyst highlighted that over-ambitious goals are not always a good thing and do not guarantee success.
"In 99% of cases, those Ethereum-killers or complex technology projects have simply drowned in their own ambition without getting close to the goal," Kharkov said. "Internet Computer does have very ambitious and even revolutionary plans for the crypto industry and has received funding from experienced investors, but it's one thing to make plans, another thing to build a business.
"The project is worth paying attention to, but we should pay closer attention to the milestones and their implementation in the roadmap."
The short-term outlook for the ICP price was bearish at the time of writing on 19 October 2022, according to crypto data service CoinCodex. There were 25 technical analysis indicators showing bearish signals and four showing bullish signals. However, CoinCodex's Internet Computer price prediction indicated the token could rise to $5.40 by 24 October.
Algorithm-based forecasting service Wallet Investor's Internet Computer price prediction for 2022 was also bearish, projecting the price could fall to $0.616 by the end of the year. The website's ICP crypto price prediction indicated that the price could then move up to $0.617 by the end of 2023 and $0.7082 by the end of 2025. The token could trade at $0.378 by October 2027.
DigitalCoinPrice gave a much more bullish view in its Internet Computer price prediction. The data service estimated the ICP price could average $5.20 in 2022 and $8.07 in 2023. Its Internet Computer price prediction for 2025 showed that the price could move to an average of $13.03, rising further to $27.18 by 2030.
Can ICP coin reach $100? PricePrediction's Internet Computer price prediction for 2030 was even more bullish, estimating that ICP could average $103.98, up from $16.70 in 2025 and $5.60 in 2022.
However, the ICP coin price prediction from Gov Capital expected the token to fail, forecasting that the price could plunge to zero in a year's time.
If you're looking for an Internet Computer price prediction to inform your investing, it's important to keep in mind that cryptocurrency markets remain extremely volatile, making it difficult to accurately predict what a coin's price will be in a few hours, and even harder to give long-term estimates. As such, analysts and algorithm-based forecasters can and do get their predictions wrong.
Keep in mind that past performance does not promise future returns. Do your own research and always remember your decision to trade depends on your attitude to risk, your expertise in this market, the spread of your investment portfolio and how comfortable you feel about losing money. And never trade more than you can afford to lose.
FAQs
Is Internet Computer a good investment?

In volatile cryptocurrency markets, it is important to do your own research on a coin or token to determine if it is a good fit for your investment portfolio. Whether the token is a suitable investment for you will depend on your risk tolerance and how much you intend to invest. Never invest money that you cannot afford to lose.
Will Internet Computer go up or down?

The direction of the ICP price will depend on its continued adoption by the cryptocurrency community and the direction of the crypto markets.

You should do your own research to come up with an informed view of where the token could trade in the future.
Should I invest in Internet Computer?

Investing in a specific asset such as ICP is a personal choice that only you can make, based on your personal circumstances, risk tolerance and trading experience. You should always do your own research so you can make informed trading decisions, and never invest money that you cannot afford to lose.
Related reading