Illuvium price prediction: What is ILV?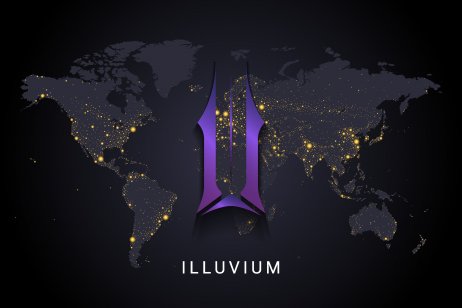 Play-to-earn (P2E) games were successful in 2021. Illuvium's native token, ILV, surged by more than 3,800% between its launch in April 2021 at $47.31 to an all-time high of $1,846.88 in December that same year.
Negative market sentiment has brought a dip in the ILV to USD price, seeing the coin lose its gains, hitting $47.30 on 9 December 2022.
With the platform announcing the launch of its new games Illuvium:Overworld on 12 December 2022, can the token resurface and what does the future Illuvium price prediction suggest?
What is Illuvium (ILV)?
Illuvium is the first-ever interoperable blockchain game (IBG), a term coined by the platform itself, meaning that it consists of a number of blockchain-based games linked to one another. It was built on the Ethereum network, and has been in development since 2020.
"Welcome to the world of Illuvium. A shattered land of beauty and wonder. Travel the vast and varied landscape hunting dangerous beasts, then capture them to battle in the Arenas or trade via the exchange," the platform said in its whitepaper.
The game is set in an alien ecosystem where players can explore the universe by playing three games:
Illuvium Arena: players are tasked to build a team and survive the onslaught of powerful Illuvials, the platform's beasts ruling the alien world. This is an autobattler game where teams challenge one another

Illuvium Zero (coming soon): players can build their own industrial complex, extract resources, create non-fungible token (NFT) blueprints and reap rewards

Illuvium Overworld (private beta version coming 12 December 2022): players can capture Illuvials, mine for resources, harvest plants and help their team members survive
The game's key features include open-world exploration and the collection of Illuvials, which act as the game's non-fungible tokens (NFTs).
Players can collect, hunt and discover over 100 unique NFT Illuvials, each of which possesses a number of unique abilities and synergies. Illuvials can be fused together to create a new beast and upgrade their power. The more unique an Illuvial's powers and features, the more valuable the NFT.
The platform works as a play-to-earn game. Players can earn Illuvium's native cryptocurrency, ILV, for participating in in-game quests, performing special achievements, and winning prizes in tournaments and events. ILV can also be earned through the selling of Illuvials and Lands in the game's marketplace.
In addition to owning Illuvials, players can also purchase Lands and thereby expand their in-game territory.
According to Illuvium's documentation, the platform is unique due to its feature allowing stakers to receive regular distributions of rewards and their right to vote on everything from issues related to tokenomics to in-game features.
In addition, compared to other prominent earn-to-play games, Illuvium "players are not bombarded by constant GAS fees for every little change to their collection. And transactions happen much faster, so players can stay focused on what they came here to do: Explore, Collect, Battle, and Earn."
ILV benefits from popularity of P2E games in 2021
ILV launched on CoinMarketCap on 1 April 2021 at $47.31. It was fluctuating between highs surpassing $110 and lows of $30 before embarking on a steady climb in August 2021 as the platform was preparing for the release of its auto battler trailer in the following month.
Between the start of August 2021 and the beginning of November 2021, ILV gained over 415%, surging from $243.67 to $1,267.07 – a then all-time high. During this time, the coin benefited from being listed on a number of exchanges, including Binance, Kucoin and Crypto.com.
ILV to USD chart, April 2021 – December 2022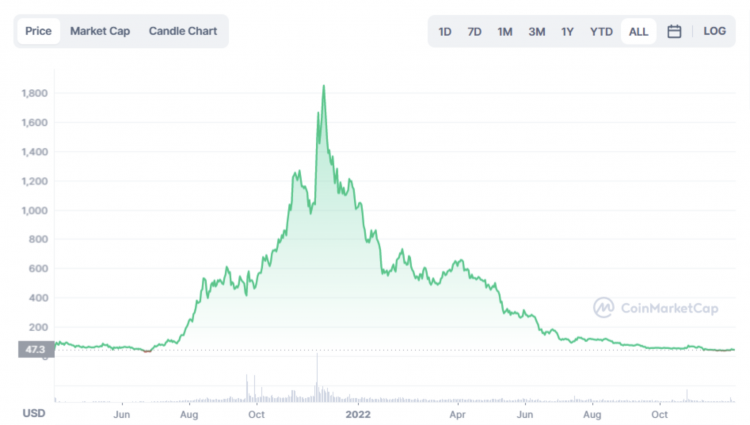 Source: CoinMarketCap
The positive run, however, was abruptly cut as the coin lost 23.3% of its gains in 10 days, dropping to $972.19 by 19 November 2021. By 26 November 2021, ILV had managed to regain all of its losses as it rose to a new high of $1,662.30.
On 1 December 2021, the token managed to reach its all-time high of $1,846.88. The surge came at a time when play-to-earn games were soaring, DappRadar's 2021 dApp industry report published in mid-December 2021 noted:
"Despite the latest dip in the cryptocurrencies market, metaverse tokens, including those backing up blockchain games, are still overperforming most of their peers."
However, this was the last time when the token saw such highs. It started to fall amid a deteriorating economic situation worldwide. Between its all-time high on 1 December 2021 and 1 July 2022, the token lost over 90% of its value falling to $140.85. By 9 December 2022, the token lost an additional 66% reaching $47.30.
According to data published on CoinMarketCap, as of 10 December 2022, the maximum amount of ILV coins cannot exceed 10 million.
Illuvium: Overworld private beta version date revealed
According to Illuvium's roadmap, the platform is currently developing its private beta versions of the Arena, Overworld and Zero games. While a release date for the beta version of Zero is yet to be announced, Illuvium said on 9 December 2022 that the Illuvium: Overworld Private Beta version will be launched on 12 December 2022.
"You've waited a long time, Rangers, and we are thrilled to officially announce that starting on December 12th at 7PM UTC, we begin deployment of Illuvium: Overworld's Private Beta," the game said on Twitter.
In addition, the platform is also developing a mobile version of its games and preparing for a second major Illuvium title release.
On 1 December 2022, Illuvium leaked examples of its upcoming merchandise, hinting that the platform is expanding beyond the gaming and blockchain sector as it continues to see a growing fanbase. In addition, the game showcased some of its new Overworld gameplay and animation as the game continues to be developed.
The updates brought a minor jump in the ILV price, as it grew by around 9% from $38.72 on 29 November 2022 to $42.25 on 1 December 2022.
Moreover, Illuvium had also launched an advent calendar together with DeQuest, an onboarding platform for the metaverse, where the platform would uncover "25 days of activities in partnership with some of the most exciting players in #web3". Partnerships involved in this event include the NFT play-to-earn game Fancy Birds, Carv, the platform for building ID infrastructure for gaming, and decentralised fundraising platform Polkastarter Gaming.
On 21 November 2022 the platform held its very first Council Debate that saw Illuvinati nominees for a seat in the ecosystem's Town Hall participate in a question-and-answer session.
Jason Fernandes, co-founder of Adlunam, told Capital.com that the recent price peaks in the ILV to USD chart on 5 and 9 December 2022 and 11 November 2022 correspond to price peaks in the bitcoin (BTC) to USD chart, meaning the coin's price may also be dependent on how the overall crypto market performs.
"All three of these peaks correspond perfectly with similar price action from Bitcoin on those days, indicating that Illuvium's recent spike has more to do with its correlation to Bitcoin as an asset than anything particular to the Illuvium ecosystem itself," he said.
Illuvium price prediction
So, what does the Illuvium price prediction suggest?
In line with the latest downward price action, algorithm-based forecasting service Wallet Investor gave a bearish ILV price prediction at the time of writing (9 December), noting that the coin was "a bad long-term investment".
Based on its analysis of past price performance, Wallet Investor predicted that the Illuvium price prediction for 2023 could fall to $5.141. The site did not provide an Illuvium crypto price prediction for 2027.
Similarly to Wallet Investor, DigitalCoinPrice also noted that the "current sentiment [on ILV] is bearish" as of 9 December, but gave a more upbeat long-term Illuvium coin price prediction, seeing the token reach $116.71 on average in 2023. Its Illuvium price prediction for 2025 saw the coin surging to $198.77 on average, growing past $240 in 2027 and reaching $336.98 in 2028.
DigitalCoinPrice's Illuvium price prediction for 2030 saw the token averaging $664.96.
The CEO and founder of Quantum Economics, Mati Greenspan, also gave a more upbeat Illuvium price prediction: "It's great to see some of these Blockchain games, like Illuvium, building through the bear market. I have a feeling that they'll be leading the charge during the next bull market and be a positive force for the online gaming industry."
Note that ILV/USD predictions can be wrong and shouldn't be used as a substitute for your own research. Always conduct your own due diligence looking at fundamental and technical analysis, a wide range of commentary and latest news. Remember that past performance does not guarantee future returns. And never trade money that you cannot afford to lose.
FAQs
Is Illuvium a good investment?

Whether ILV is a good investment for you depends on your personal circumstances and risk appetite. Cryptocurrencies are high-risk assets. You should do your own research and evaluate the level of risk you are prepared to accept before investing. Never invest money you cannot afford to lose.
Will Illuvium go up or down?

As of 9 December, algorithm-based forecasting service Wallet Investor predicted that the ILV token price could fall to $5.141 in 2023. On the other hand, DigitalCoinPrice forecast that the token could reach $116.71 on average in 2023, grow past $240 in 2027 and surge to $664.96 in 2030. Note that algorithm-based forecasts can be wrong. You should do your own research to make informed trading decisions. Keep in mind that past performance is no guarantee of future returns. And never invest money you cannot afford to lose.
Should I invest in Illuvium?

Whether you should invest in ILV depends on your personal circumstances and risk appetite. Cryptocurrencies are high-risk assets. You should do your own research and evaluate the level of risk you are prepared to accept before investing. And never invest or trade money you cannot afford to lose.