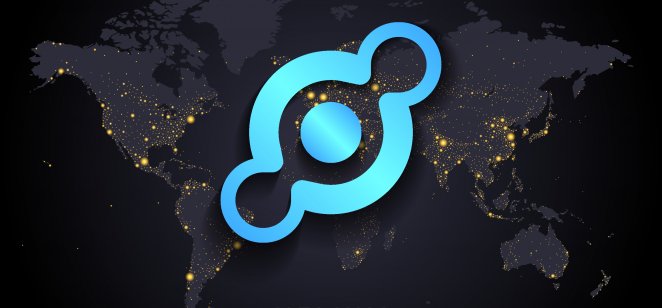 Billed as the new cryptocurrency sensation of the Internet of Things (IoT) and aimed at improving communities, the Helium (HNT) blockchain is less than a decade old but saw a successful 2021.
Developed with the goal of creating a physical, decentralised wireless network, Helium pays individuals in its native token, HNT, to operate LoRaWAN (a low-power, wide area network protocol designed to wirelessly connect IoT devices to the web) hotspots, which communicate to wireless internet connections, instead of producing such links themselves.
The Helium coin enjoyed a positive 2021, with a surge of nearly 705% between March and November, when the Helium coin value reached its all-time high of $52.71.
However, since its November highs, the token has lost 53.95% of its value and is currently trading at $24.41 (29 March 2022). Can HNT regain its past highs and what factors are driving the Helium crypto price prediction?
What is Helium coin?
Helium's origins date back to 2013, when three individuals came together with one goal in mind: to make building connected devices much easier.
The Helium blockchain, however, didn't launch until six years later, on 29 July 2019, when it began to power the largest, public, decentralised LoRaWAN globally.
The company aims to create a "people-powered network" by strengthening communities through a shared internet hotspots system, instead of using big cellular towers to distribute wireless internet connection through communities.
By using an algorithm-based mechanism called Proof of Coverage (PoC) to check the locations and legitimacy of hotspots, Helium rewards users who are contributing to the distribution of the internet by allowing them to mine the Helium token.
Once a user purchases a Helium hotspot, they become part of The People's Network and thus have the opportunity to mine HNT.
Helium hotspot owners earn Helium tokens for providing internet connectivity to neighbouring devices. Helium tokens can be exchanged for data credits, US dollar-pegged utility tokens, which are what aid the hotspot device to surf the Helium network, or US dollars.
Individuals with hotspots receive a portion of Helium tokens based on how much they contribute to the network. Generally, HNT tokens can be earned in three simple ways:
By transferring data from devices on the Helium network. PoC is used to validate wireless coverage, which amounts to approximately 0.9% of earnings.

By participating in PoC challenges and validating others' wireless coverage. Each hotspot involved in the challenge earns a portion of the HNT allocated for the task.

By monitoring PoC activity of other hotspots.
In addition to HNT, the platform also has:
Data credits, which are used as transaction fees by devices so they can send data to the network. Data credits are fixed in value and created by burning HNT.

Net emissions, which recycle burned HNT into rewards for hotspots as the issuance of new HNTs decreases over time.
With a community of 676,626 total hotspots in 169 countries and a circulating supply of over 115 million HNT, the blockchain was ranked second among IoT tokens by market capitalisation, beating IoT token giants such as IOTA and IOTX, as of 28 March.
The total number of HNT tokens issued by the platform amounts to 223 million. Over 115 million coins are currently in circulation, according to data provided by CoinMarketCap at the time of writing.
The coin currently has a market capitalisation surpassing $2.8bn and is ranked as the 51st largest cryptocurrency.
Helium token price has been feeling bearish
At the start of February 2022, the token was riding high as it peaked at $30.35 on 9 February following HNT news that the company was partnering with X-TELIA in Canada to expand its roaming network. Yet that peak was far from the all-time high of $52.71 achieved on 14 November 2021, following the partnership with Dish.
This year's uptrend, however, did not last long as the token's price dropped to $21.43 by 21 February 2022 amid broad negative market sentiment as tensions rose on the Russia-Ukraine border.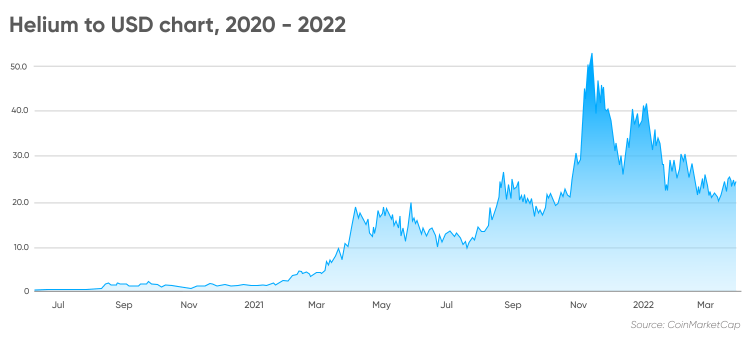 The Helium token managed to rebound a little on 28 February 2022 as its value reached $25.73, a 20% surge amid the firm's announcement that software development company Media Sourcery was using the Helium Network to battle climate change.
HNT's price continued to decrease for the next two weeks, falling to $20.12 on 13 March 2022, its lowest value that month. In the remaining weeks of March, the coin continued to rise and fall, fluctuating between the $22 and $25 marks. As of 29 March, the HNT token is valued at $24.41.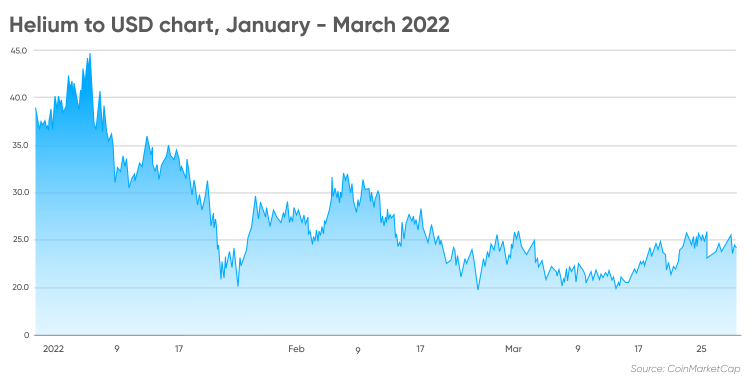 Previously, the price action seemed hopeful as it surged twice between 13 and 22 December 2021:
What is your sentiment on HNT/USD?
Vote to see Traders sentiment!
On 17 December, it stood at $33.83 amid news of 400,000 new Helium hotspots having been activated in 30 days and the company's collaboration with Senet Inc, an IoT company that aimed to help Helium further expand its coverage.

On 22 December, the price hit $40.30 following Helium coin news that the company had started powering the Dronedek Corp and the launch of the first 5G mobile plan on the Helium Network.
Year to date, the coin disappointed its holders with a 35% loss, while in the last year it delivered a 142% return. In terms of Helium token technical analysis at the time of writing (29 March), a Relative Strength Index (RSI) reading of 58 was neither in overbought or oversold territory, which means a trend reversal was unlikely. The token was trading below its 10-day moving average, yet below its R1 resistance level.
What factors will shape the HNT crypto forecast?
In more recent Helium coin news, the platform announced:
The launch of Helium Roaming Services, which will allow providers and their customers to expand into new markets globally.

Its latest partnership with Techtenna to further expand connectivity in Europe.

A new development for the Helium app and the launch of the Helium Wallet app.

A series of network and developer updates aimed at bettering the platform.
BigONE Exchange chair in Asia, Anndy Lian, told Capital.com that because of its simple business logic, the HNT token can reach a broader range of consumers.
"Helium's business logic can be easily related and understood by the general public based on what I can see. Its Proof of Coverage concept is interesting and it is basically having encrypted hotspots transmit data packets over the air to communicate with each other," he told Capital.com.
"The more coverage it can generate, the more rewards the people can get. This concept can help to lessen the load on teleco and will be a good utility," Lian said.
However, he also noted that Helium's multi-token system keeps the platform from expanding even further.
"One thing I did not really like is that it has three different tokens in its ecosystem. It should be kept simple to see exponential growth."
Invezz data analyst, Dan Ashmore, added that the network has managed to gain a lot of attention from mainstream media, which, in addition to Helium's "easy access to the otherwise-complex world of blockchain validation", introduced the platform to casual crypto fans.
As the network expands to have over 600,000 hotspots, the token has seen a 16% rise over the last month, he added.
"Coupled with a bounce in the wider market, the token has risen accordingly; it is up 20% in the last two weeks.
"I believe this 'novice mining', if I can use that analogy, is a sector that will continue to grow – it wouldn't surprise me to see Helium surpass a $3.5bn market cap in the near future," Ashmore told Capital.com.
Former traditional finance (TradFi) investor Monero Mahesh tweeted that HNT is a "fantastic business, with a great macro story", however he also underlined some of the token's key risks, which include high competition and its burn-mint model creating a vicious cycle of HNT being minted when usage and network value are falling, thus decreasing the token's value.
Helium (HNT) coin price prediction 2025-2030
Despite the latest downward price action, algorithm-based forecasting service WalletInvestor gave a bullish Helium token price prediction, noting that it is "an awesome long-term investment", adding that it has a long-term earning potential amounting to 463.89%.
Based on its analysis of past price performance, Wallet Investor predicted that HNT could cost $45.473 in 2023 and reach $139.094 by 2027.
DigitalCoinPrice supported the positive Helium price prediction 2022 but saw a much slower pace of growth in the following years, expecting the token to grow to $34.54 by the end of 2022 and reach $42.89 by the end of 2026.
The site predicted that the Helium future price could surpass its November all-time high by the end of 2027, at $63.83. Its long-term HNT coin forecast showed the cryptocurrency reaching $113.62 by 2030.
Note that predictions about the future of HNT can be wrong. Forecasts and analyst expectations shouldn't be used as a substitute for your own research. Always conduct your own due diligence and rely on your own projections, and never invest or trade money you cannot afford to lose.
FAQs
Is Helium coin a good investment?

Whether HNT is a good investment for you depends on your personal circumstances and risk appetite. Cryptocurrencies are high-risk assets, and HNT price predictions shouldn't be a substitute for your own research. Always conduct due diligence and evaluate the level of risk you are prepared to accept before investing, and never invest money you cannot afford to lose.
Can Helium coin reach $45.473 in 2023?

The algorithm-based company WalletInvestor gave positive Helium predictions, suggesting that the HNT price could reach $45.473 in 2023 and rise up to $139.094 by 2027.

Note that HNT predictions can be wrong. Forecasts shouldn't be used as a substitute for your own research. Always conduct your own due diligence before investing. And never invest or trade money you cannot afford to lose.
Why is Helium going down?

On 1 December 2021, Helium announced that its blockchain had faced a series of disruptions between 15 and 23 November, which could have triggered the 25% dip in the coin's price since 24 November.

Overall negative market sentiment amid rising tensions at the Russia-Ukraine border at the beginning of February 2022, as well as the start of the war at the end of the month, could also have affected the HNT coin value.
Read more: