Harmony (ONE) price prediction: Can it halt the slide?
ONE, the coin of fast and secure decentralised applications (dApps) platform, Harmony which had been on the skids through April, has taken a sudden and deep fall of 17% today (11 May) to $0.06 as a selling wave sweeps through the cryptocurrency sector.
Through April it lost 40% of its value but another 20% has now gone in May so far and leaving it 85% off its all time high last October.
Can the ONE token rebound? What is a realistic target price? Is Harmony ONE a good investment?
Let's consider the project's fundamentals and latest developments to get a clearer outlook? We will also look at the latest analyst Harmony price prediction analysis to set expectations of a plausible Harmony forecast.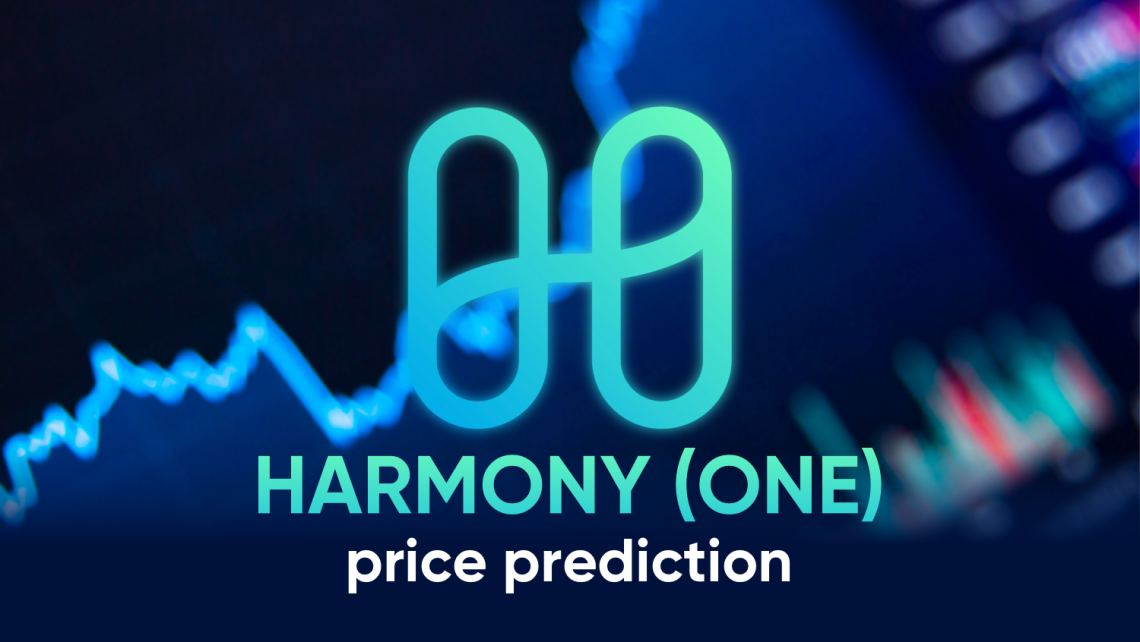 What is Harmony (ONE)?
Harmony is a layer-2 protocol built on ethereum that seeks to help dApps scale up by offering faster and cheaper settlements. The production mainnet supports 4 shards of 1,000 nodes, which produce blocks in two seconds.
Harmony's mission is to create an open network of nodes, governed and operated by a large community. This node community is referred to as Pangaea. In line with thousands of Ethereum and Bitcoin nodes, 800 Harmony nodes are run by the community. Pangaea gathers validators from over 100 countries.
Unlike other sharding-based blockchains that use a proof-of-work (PoW) consensus mechanism to choose validators, Harmony deploys an Effective Proof-of-Stake (EPoS) protocol, which helps to reduce centralisation and increase transaction speeds.
Focusing on validation and processing speed, Harmony strives to make block creation faster to support scalability. The sharding process, introduced by the developers, significantly cuts down the time needed to validate a transaction.
Harmony's website defines it as a "sharding protocol with a trustless Ethereum bridge". A sharding protocol is a database partitioning technique used by blockchain companies to upscale and conduct more transactions a second. Sharding improves the network speed by splitting it into separate 'shards'.
Harmony's sharding process is regarded as secure. It uses a distributed randomness generation (DRG) algorithm that is unpredictable, unbiased, verifiable and scalable. Harmony also reshards the network to protect against attacks.
What is Harmony one used for? What does the Harmony coin do? What gives Harmony ONE value?
In practice, Harmony helps businesses create marketplaces for fungible token usage (for example, energy credits or loyalty points) and non-fungible assets (such as in-game digital assets). In summary, Harmony is an efficient layer-2 protocol for decentralised applications built on Ethereum and other infrastructure blockchains.
According to its
whitepaper
: "Harmony provides the world with a scalable and secure blockchain system that is able to support the emerging decentralised economy. Harmony will enable applications which were not previously feasible on blockchain, including high-volume decentralised exchanges, interactive fair games, Visa-scale payment systems, and Internet-of-Things transactions. Harmony strives to scale trust for billions of people and create a radically fair economy."
ONE is the Harmony network's utility and governance token. It's used to pay for a variety of fees, including transaction fees, storage fees and gas fees.
Moreover, it's used for Harmony staking, with holders earning block rewards for staking their tokens to validators. Additionally, holders of ONE get voting rights as part of the platform's governance mechanism.
How many Harmony coins are there? As of 11 May there are 12.06 billion Harmony One in the circulating supply out of a total of 13.45 billion according to CoinMarketCap.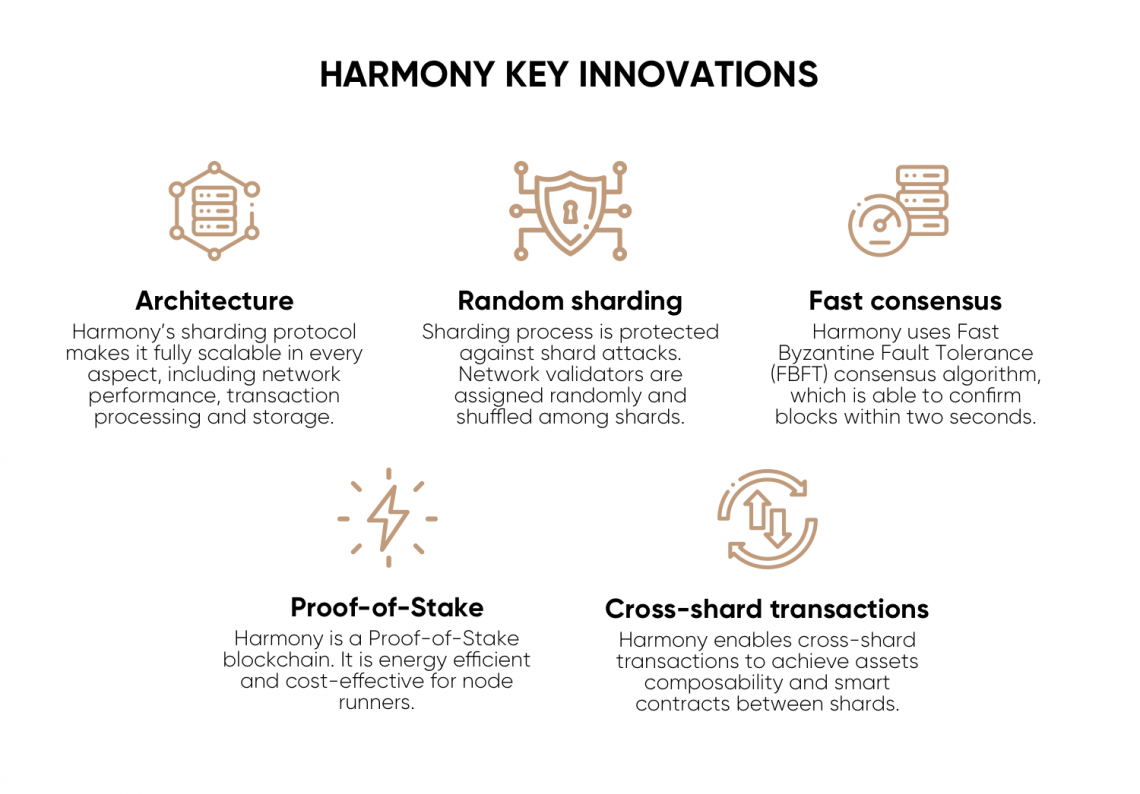 Harmony crypto news and price drivers
Harmony gained traction after Ethereum's gas fees spiked to record highs in early February 2021, making many decentralised finance protocols unattainable for casual investors. On 4 February 2021, Harmony announced full Ethereum compatibility. The developers managed to port their ether.js and web3.js applications to Harmony.
On 5 February, Blits Labs announced the launch of its mainnet beta version of a cross-chain lending marketplace between Ethereum and Harmony. The protocol enabled users to use their ether as collateral to take out a loan on Harmony.
Since then, the Harmony project has undergone a number of important milestones and developments on its roadmap, which may drive the Harmony token price:
Harmony started May 2021 with some big news. It announced that OIN Finance, a decentralised stablecoin issuance and trading platform, will use Harmony to create a ONE-backed or ONE-denominated stablecoin.
The launch of the ONE-stablecoin is a milestone for Harmony, as it will help to grow its DeFi ecosystem and build an important DeFi primitive, which can be applied in every DeFi protocol.
DeFi primitive is considered the basis of any decentralised finance system. You can build a structure on it. The major DeFi primitive is a stablecoin. The stablecoin on Harmony will be collateralised, or backed by, the ONE token.
Called OINDAO, it represents a decentralised stablecoin issuance platform. OIN's vision is to deliver DeFi functionalities to all cryptocurrency projects. Users will be able to apply stablecoins for ecosystem-specific utilities as leverage to buy additional tokens or swap them for other coins, such as DAI or USDC.
In a press-release, on 11 January 2022, the company confirmed that the ONE-backed stablecoin was to be released:
"Called the oneUSD, the on-chain Harmony stablecoin will be collateralised through the ONE token. Through the OINDAO, users will be able to deposit their ONE tokens and mint the oneUSD up to 160% collateralisation rate, providing users a great way to leverage and transact, all the while allowing them to hold onto their beloved ONE assets!"
Integration of Chainlink price feeds
In December 2021, the Harmony network integrated Chainlink price feeds to assist designers in constructing various DeFi applications, including money markets, stablecoins, synthetic assets, automated trading methods, future contracts and payment solutions.

Chainlink price feeds are decentralised oracle networks that maintain on-chain reference contracts with the most recent value of different assets and financial market data. Additionally, Harmony states that Chainlink price feeds are native to the Harmony blockchain and function fast while being cost-effective.
Partnership with Hummingbot network to launch Liquidity DAO
The Harmony network partnered with Hummingbot foundation in November 2021 to launch Liquidity DAO, an open, independent organisation dedicated to promoting liquidity on the Harmony blockchain for its native token ONE, primarily through the development of open-source Hummingbot infrastructure.
Additionally, Harmony pledged a $2m contribution to support the development of Liquidity DAO over the next four years. As an autonomous entity, Liquidity DAO's first move was to hold an open election of nine governors to manage the DAO and award funds to different activities. Liquidity DAO would acquire autonomy in determining which projects to undertake and which activities to sponsor.
Launch of cross-chain NFT bridge
Harmony introduced a cross-chain non-fungible-token (NFT) bridge in November 2021 to enable the transfer of ERC721/ERC1155 tokens between Ethereum to Harmony and vice versa.
Harmony highlighted that Ethereum's high gas fee might deter new users from joining the NFT market. As a result, content creators and collectors could use Harmony to mint and collect NFTs at a cheaper transaction cost and transfer fee.
Additionally, the NFT bridge would assist native Harmony NFTs. Artists on the Harmony network could mint their first batch of NFTs on the Harmony blockchain or learn how to operate the blockchain.
Leo Chen, VP of Engineering at Harmony, said in the press-release: "We are living in a multi-chain world already and we are embracing the upcoming metaverse. The multi-chain world and the metaverse require inter-connected blockchains, not just the fungible tokens, but also non-fungible tokens. A bridging infrastructure may empower new kinds of dApps to be built, such as games cross [sic] multiple chains."
Harmony (ONE) crypto analysis
According to CoinMarketCap, Harmony's native token ONE had been one of the fastest-growing cryptocurrencies, yielding an ROI of 1,677% since its listing, as of 11 May 2022.
Based on the earliest available price data and the Harmony ONE chart, 2019 and 2020 showed no significant rallies. The token entered 2021 on a bullish note, and its price reached $0.035 by 14 February – a rise of more than 775% from the 2020 closing price of $0.004253.
Bears pushed the price to $0.021 on 23 February, but the rally restored, and the price reached $0.202 on 28 March, a surge of 860%. The ONE token spiked again and reached $0.216 on 12 September before falling to $0.121 on 21 September.
Trading upward, the ONE token reached its all-time-high price of $0.379 on 26 October 2021. It closed the year at $0.377, as of 31 December 2021.
Price action had initially been bullish for the ONE token in 2022. It nearly tested the all-time-high on 14 January when it reached $0.377, marking its 7-day and 30-day high. Butn then it all turned sour and at the time of writing (11 May), it was trading at $0.06 giving a Harmony One market capitalisation of $674m, ranking it 82nd among the top 100 cryptocurrency projects, according to CoinMarketCap.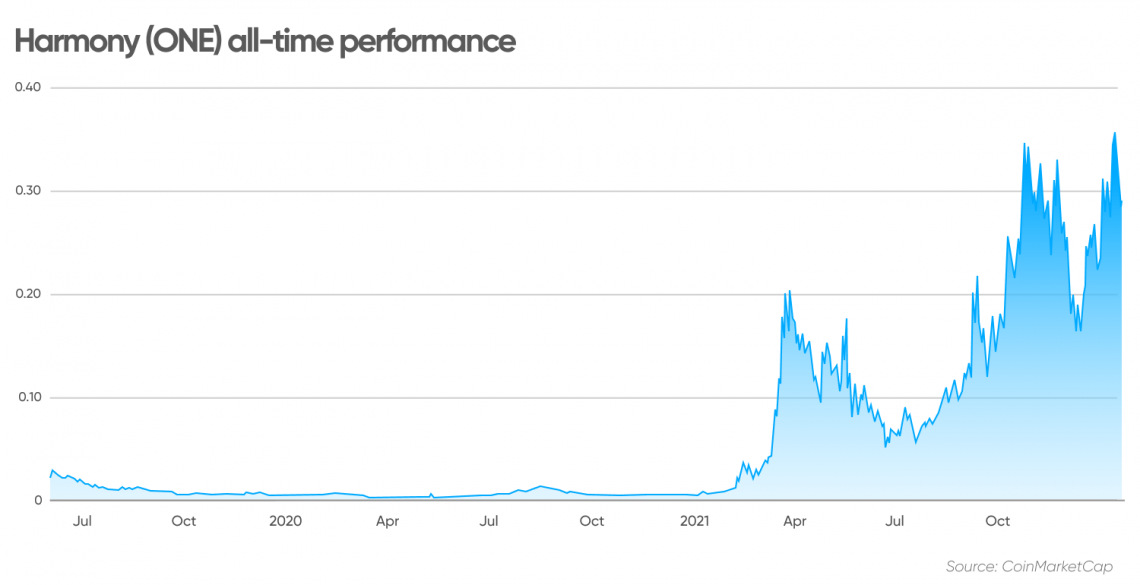 Harmony (ONE) price prediction: Targets for 2022, 2025 and 2030
Commenting on a plausible Harmony crypto forecast, Mikhail Karkhalev, analyst at Capital.com, said: "Harmony is an interesting project, if only because the developers plan to increase transaction processing speed to 1 million transactions per second in the near future, and to 10 million transactions per second in the long term. That sounds promising, but as one of the co-founders of Solana said, blockchain bandwidth and scalability are no longer an issue in the crypto market.
"The competition for dApps platforms is intense:
ethereum
,
cardano
and
solana
, regardless of bandwidth, are the market leaders and it will be a challenge to displace them from their positions. In my opinion, Harmony will be able to find its audience and help a couple of promising projects grow, possibly from the IoT or the financial space. However, the project might remain in the shadow of more popular brands, as it has nothing principally new to offer. But, of course, no one is taking away the potential value and future prospects. If they manage to build a competent marketing policy, growth of the project is inevitable".
How high will Harmony ONE go? According to a short-term Harmony price prediction from CoinCodex (as of 11May), the sentiment was bearish with three technical analysis indicators offering bullish signals, and 27 with bearish signals. Its Harmony crypto price prediction was it could fall 4% to $0.05 by 16 May 2022.
Meanwhile, various algorithm-based forecasters shared long-term ONE price predictions:
According to Wallet Investor's ONE prediction the average price could reach $0.2 in a year's time and its five-year estimate for ONE/USD indicated that it could reach $0.73 in May 2027.

According to Digital Coin's Harmony ONE coin crypto price prediction, the average price in 2022 could be $0.073, moving up to $0.08 in 2023, $0.11 in 2025 and $0.25 in 2030.

According to the Harmony One coin price prediction from the site Price Prediction, the average price could reach $0.19 in 2022, $0.54 in 2025 and $3.7 in 2030.
When looking for a Harmony crypto forecast, bear in mind that analysts' and algorithm-based predictions can be wrong. Their ONE projections are based on fundamental and technical studies of a cryptocurrency's past performance. Past performance is no guarantee of future results.
It's essential to do your research and always remember your decision to trade depends on your attitude to risk, your expertise in the market, the spread of your investment portfolio and how comfortable you feel about losing money. You should never invest money that you cannot afford to lose.
FAQs
Is Harmony ONE a good investment?

Although the Harmony cryptocurrency is involved in some popular blockchain fields, such as DeFi and NFTs, this digital currency faces tough competition from other dApp platforms, including ethereum, cardano and solana. Still, whether the ONE token has potential for your investment portfolio depends on your circumstances and risk tolerance. Before you invest in Harmony ONE you should estimate the level of risk you are ready to take before investing. And never invest money that you cannot afford to lose.
Will the Harmony crypto price go up

Algorithmic forecasting tools, including Wallet Investor, Digital Coin and Price Prediction (as of 25 April), suggested that the outlook for coin had potential for gains. Their price targets varied greatly. According to the Harmony to USD forecast of Price Prediction it could exceed $5.6 by 2031.
How many Harmony (ONE) coins are there?

According to CoinMarketCap, Harmony has a total supply of 13.4 billion tokens and a circulating supply of 12.06 billion tokens (as of 11 May 2022).
Read more: Bitcoin analysis: Where is BTC heading in 2022?