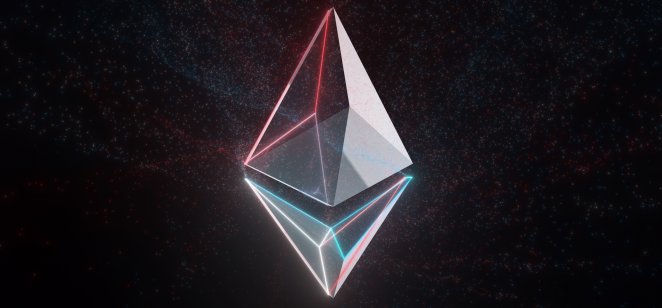 Ethereum (ETH) dropped below the $2,000 mark last week as the collapse of Terra's LUNA and UST coins spread bearish sentiment throughout digital currency markets.
The ether price dropped to a low of $1,748.30 on 12 May, its lowest level since July last year and a 52.5% loss from where it started 2022.
Should you consider buying or selling ether now to profit from the heightened price volatility? In this article we look at the ethereum long term forecast from forecasters and analysts.
Ether price plunges on crypto selloff
The collapse of the Terra coin last week dragged down the bitcoin (BTC) price – the Luna Foundation that backs the coin sold off its bitcoin holdings in an attempt to stabilise UST and LUNA. That selloff weighed on prices for other coins such as ether.
The ETH price dropped from $2,517.46 on 8 May to the nine-month low seen on 12 May and has been unable to rebound above $2,150. The coin was trading around $1,948 at the time of writing on 19 May.
"With macro uncertainties around inflation, rate hikes, UST blowing up, stablecoin regulations, this week saw the highest trading volume for ETH (even more than the previous melt down in Jan 2022) and looks like that's some decent capitulation volume," according to cryptocurrency analytics company
Santiment
.
The macroeconomic environment has driven investors into risk-off mode, selling off assets like cryptocurrencies and technology stocks in favour of holding the US dollar, which climbed to a near 20-year high against a basket of other currencies on 12 May.
"What a bloodbath it has been for the month of May and we are not even halfway through it."
Ethereum has also come under pressure as the network's transition from a Proof of Work (PoW) consensus to Proof of Stake (PoS) has been delayed from July and is now expected to happen a few months later.
Ethereum's development team announced on 14 May that the first public test of the switch to PoS, which it calls "The Merge", is estimated to run on 8 June, bringing it a step closer.
As Mads Eberhardt, cryptocurrency analyst at Dutch bank Saxo, noted this week: "For the past months, there have been a total of five tests, but this is the first public test of an existing network called Ropsten, marking that we are one step closer to the merge. Following Ropsten, it is planned to merge two other test networks prior to the merge.
"If everything turns out well with Ropsten and the following two test networks, it is realistic to assume that the merge takes place in August. The merge will reduce Ethereum's energy consumption by over 99.95%, reduce its inflation from 5.4mn to 0.5mn Ether yearly, and distribute staking rewards of up to 10% annually to stakers of Ethereum."
On 17 May, Ethereum co-founder Vitalik Buterin detailed some of the "contradictions" in his vision for how the network should develop over the long term in a Twitter thread, including "my desire to see Ethereum become a more Bitcoin-like system emphasizing long-term stability and stability, including culturally, and my realization that getting there requires quite a lot of active coordinated short-term change."
Contradiction between my desire to see Ethereum become an L1 that can survive truly extreme circumstances and my realization that many key apps on Ethereum already rely on far more fragile security assumptions than anything we consider acceptable in Ethereum protocol design.

— vitalik.eth (@VitalikButerin) May 17, 2022
Ethereum future value: Short-term uncertainty
For the short term, the ETH price is likely to remain particularly volatile. Analysts at Santiment pointed to the uncertain outlook for the stock market as limiting upside for crypto markets, but noted that sentiment indicates ether could be forming a bottom:
"As usual, with the macro factors in play, if there's no chill on SPX [S&P 500], there's very little probability that crypto (risker asset class) would pick up any bullish steam. That said... as soon as the SPX bounce, it is likely we see a greater bounce from crypto. Also, given how brutal it has been, with 6 - 7 weeks of red, we are really overdue for a relief.
"Question now is.... what's next? Further increase is well, likely to fuel further drops but also signaling that people are giving up altogether. On a sentiment note, this is good. ETH's [Market Value by Realised Value] MVRV 90D which measures the mid-term profit/loss of holders is showing that we are almost into the opportunity zone, which historically saw a local bottom being developed with a decent R/R. Sentiment out there is pretty bad at the moment, bringing us one step closer to forming a bottom."
While the short-term outlook has become more uncertain, has the recent price drop affected the prospects for the future price of ethereum over the long term? Are you considering investing in ether with an extended time horizon, running into the next couple of decades? If so, take a look at the long-term expectations for the price below.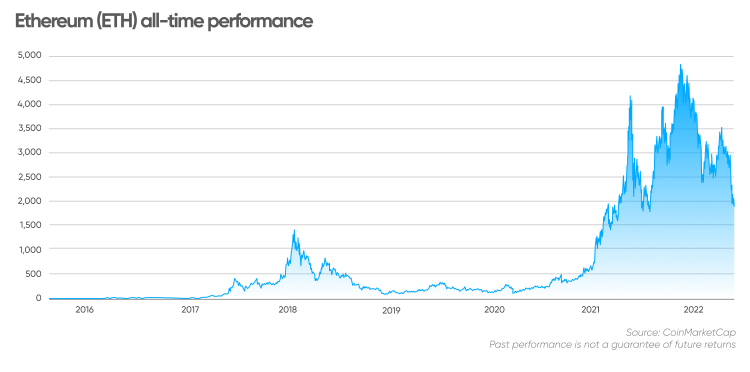 Ethereum price predictions 2030-2050: Where will it trade in the coming decades?
Analysts tend to remain bullish on ether's projected growth potential over the long term. At the time of writing (19 May) algorithm-based forecast website Wallet Investor expected the price to surpass the previous all-time high of $4,891.70 hit in November 2021 and reach $11,786.40 in 5 years.
What is your sentiment on ETH/USD?
Vote to see Traders sentiment!
Looking ahead to the end of the decade, DigitalCoinPrice predicted a slower pace of growth, indicating that the ethereum price in 2030 could reach $8,814.75, based on historical data.
The ETH price prediction from CoinPriceForecast had the coin trading at $11,722 by the end of 2030 and $12,533 in 10 years. By the end of 2033, ether could trade at $14,667, putting it on track for further gains by 2035.
Based on its deep artificial intelligence-assisted technical analysis, Price Prediction's ethereum price forecast was by far the most bullish, estimating that the coin could soar to $49,740.33 by 2030.
For an even longer range outlook, Telegaon predicted that ether could climb from an average of $6,117.24 in 2025 to $9,798.93 in 2030, $23,871.42 in 2040 and $45,128.53 in 2050.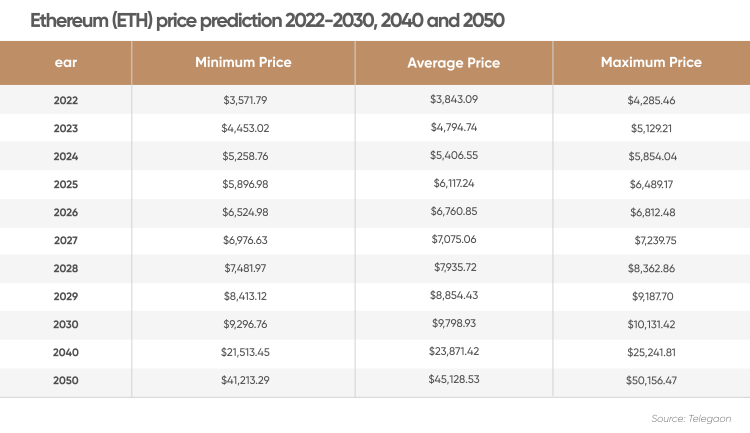 When looking for ethereum's future value, it's important to keep in mind that cryptocurrency markets remain extremely volatile, making it difficult to accurately predict what a coin's price will be in a few hours, and even harder to give long-term estimates. As such, analysts and algorithm-based forecasters can and do get their predictions wrong.
If you are considering investing in cryptocurrency tokens for the short or long term, we recommend that you always do your own research. Look at the latest market trends, news, technical and fundamental analysis, and expert opinion before making any investment decision. Keep in mind that past performance and projected price forecasts are no guarantee of future returns. And never invest money that you cannot afford to lose.
How high can ethereum go?
Forecasts as of 19 May varied widely for how high the ETH price could trade in the future, highlighting the importance of doing your own research to come up with an informed view of the coin's potential value.
Is ethereum a good investment?
Whether ether is a good fit for your investment portfolio will depend on your risk tolerance, portfolio strategy and how much you intend to invest. Cryptocurrencies are high-risk assets. Never invest money that you cannot afford to lose.
FAQs
How to predict the ethereum price?

The future value of ether will depend on the performance of the cryptocurrency markets, stock markets and macroeconomic sentiment, as well as the development of the Ethereum blockchain and its associated applications. Keeping track of these factors can help you to take a view on the direction of the ether price.
Is ethereum the next bitcoin?

While bitcoin aims to become the primary digital currency, Ethereum does not compete directly but provides a smart contract platform for developers to build decentralised applications for finance, gaming and asset tokenisation such as non-fungible tokens (NFTs). As the blockchain's native coin used to process transactions, the ether price has been expected to rise with the expanded adoption of the blockchain.