Ethereum price prediction 2021-2025: is the target of $9,000 realistic?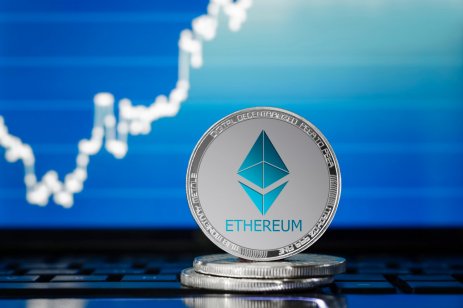 Content
After a chaotic 2018 and 2019, the crypto industry had a great time in 2020. Bitcoin (BTC) has recently surged past its previous all-time high and traded at $24,209 on December 20, while Ether (ETH) enjoyed a steady hike that peaked at $673 on December 17.
This year's rally has attracted increased interest from both retail and institutional investors. Square (SQ) bought 4,709 Bitcoins for $50m, while MicroStrategy purchased $1.13bn worth of BTC. In the meantime, the world-renowned digital payment service PayPal (PYPL) launched a new service that allowed users to buy, hold and sell cryptocurrencies within its digital wallet.
Only a few days ago, the largest cryptocurrency exchange in the US – Coinbase – announced its plans to go public after submitting a draft registration statement on Form S-1 with the SEC.
While the overall optimistic sentiment continues to drive the market higher, many wonder whether the bulls will make this rally last into 2021.
In this article, we take a look at the second-largest cryptocurrency – ETH. Will Ethereum go up to set new records next year, or will the rally run out of breath and what will shape ETH prediction going forward? To figure this out, we review the coin's recent performance, the project's latest developments and analysts' Ethereum predictions for 2021 and beyond.
Ethereum price analysis: what has happened to ETH in 2020?
The coin started the year at $130, quickly rallying to $284 by mid-February. But after fluctuating above the $200 level for almost a month, its price dropped to $106 on March 12 driven by the broad sell-off in financial markets at the start of the Covid-19 crisis.

The plunge did not last long and ETH entered upside momentum that lasted until September 1 when the coin peaked at $483, with its market cap reaching $54.4bn. While the price slid to $322 by September 23, Ether's market cap grew 60 per cent in the third quarter of 2020, going from $25bn to $40.5bn by the end of September.
In the following weeks, the cryptocurrency enjoyed steady growth, which took ETH up by more than $300 with the coin hitting $673.83 on December 17. This price represented a year-to-date growth of more than 420 per cent.
A correction then followed and, at the time of writing on December 21, ETH traded at around $615. While the coin has yet to achieve its $1,432 all-time high, it has been on its way to the top this year, rising slowly but surely.
But how high will Ethereum go? And what will determine the future price of Ethereum?
What is your sentiment on MATIC/USD?
Vote to see Traders sentiment!
What will determine the future of Ethereum?
The release of the long-awaited Ethereum 2.0 was postponed several times, leaving the project's community frustrated. However, November finally saw the arrival of the deposit contract. Only a week after the launch, the contract hit $22.5m, with more than 50,000 ETH deposited. On December 17, there was more than $1bn-worth of ETH locked in deposit contracts.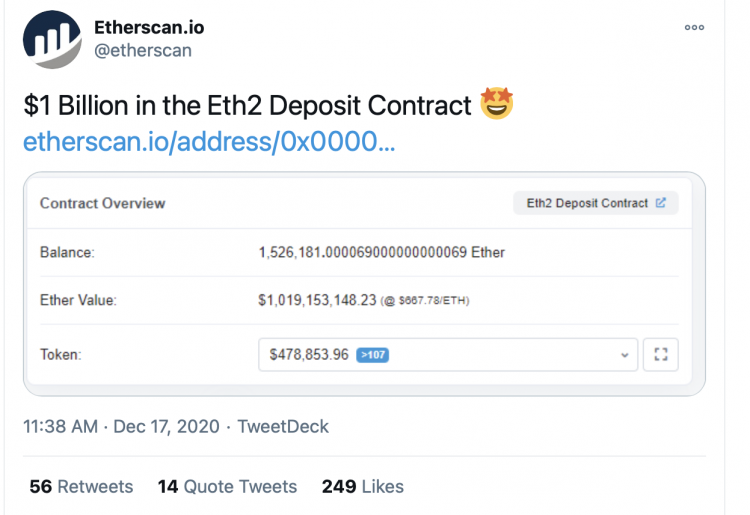 On December 1, with more than 21,000 validators and over 674,000 ETH staked, a separate proof-of-stake blockchain network called the Beacon Chain was rolled out. The launch concluded Phase 0 of Ethereum's consensus mechanism transition, which will fundamentally solve several issues, including scalability.
Danny Ryan, Ethereum Foundation researcher, commented on the event: "The launch of the Beacon Chain is a huge accomplishment and lays the foundation for Ethereum's more scalable, secure and sustainable home.
"There is still much work to do, but today, we celebrate."
In the meantime, Ethereum is standing at the forefront of the decentralised finance (DeFi) boom. There is now $16.24bn locked in DeFi applications. The figure is 2,300 per cent higher than the number seen at the start of 2020. If the trend is to continue, it could drive interest of both individual and institutional investors in ETH even higher.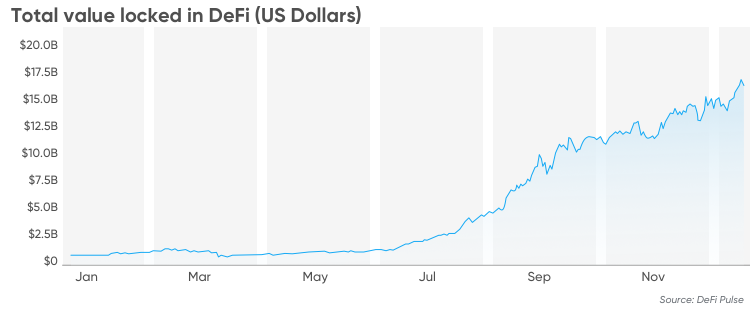 As per other recent news, on December 16 a global derivatives marketplace CME Group revealed its plans to launch Ether futures on February 8, 2021. The new contract will be cash-settled, based on the CME CF Ether-Dollar Reference Rate.
Tim McCourt, the global head of equity index and alternative investment products at CME Group, commented: "Based on increasing client demand and robust growth in our Bitcoin futures and options markets, we believe the addition of Ether futures will provide our clients with a valuable tool to trade and hedge this growing cryptocurrency.
"Ethereum is the second-largest cryptocurrency by both market capitalization and daily volume. The introduction of listed Ether futures to our time-tested, regulated CME Group derivatives marketplace will help to create a forward curve, so Ethereum market participants can better manage price risk."
What do all these developments mean for the Ethereum price in 2021? While nothing can be known for sure when it comes to such a dynamic market such as cryptocurrencies, successful Ethereum 2.0 upgrade, increasing adoption rate and growing DeFi popularity will likely support the coin's price going forward.
Now, let's check out what the latest Ethereum price prediction looks like according to analysts, crypto experts and other online sources.
Ethereum forecast for 2021-2025: a stellar rally awaits ahead?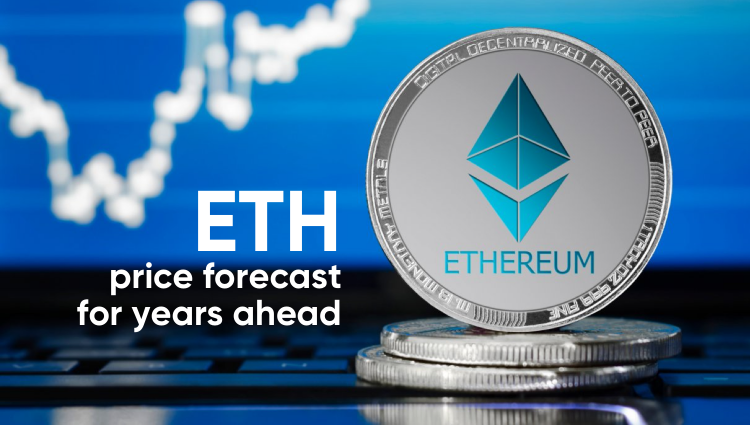 Earlier this year, prominent Bitcoin trader Josh Olszewicz set his short-to-medium-term ETH price target at $780.
Another short-term Ethereum crypto price prediction from Simon Dedic, co-founder of Blockfyre and managing partner at Moonrock Capital, sees ETH changing hands at $800. As for the long term, Dedic believes the coin will eventually rise to trade at $9,000.
James Todaro, another crypto capitalist and managing partner at Blocktown Capital, thinks that ETH has the potential to reach a $1tr market cap on the back of the growing DeFi industry. According to this estimate, the price of Ethereum could surge to $9,000.
According to the ETH price prediction offered by WalletInvestor.com, an online forecasting service, the coin is set to rise to $872 by the end of 2021 and to $1,076 by the end of 2022.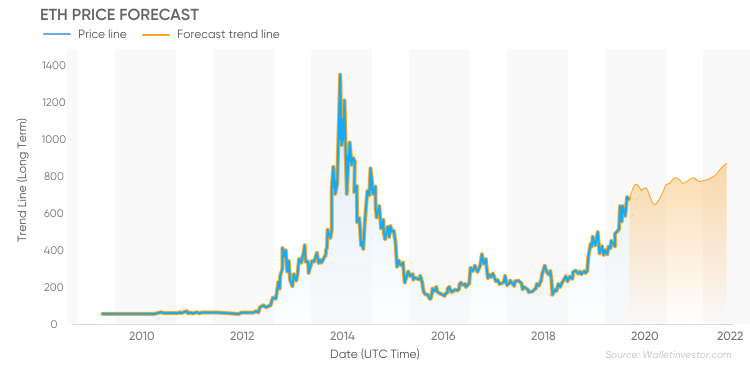 Looking further ahead, the website predicts Ether to soar all the way to $1,650 by mid-December 2025.
Based on Ethereum projections from DigitalCoinPrice.com, the coin's price is expected to rise significantly, trading at around $1,493 in one year, at $1,614 in December 2023 and at $2,222 in December 2025.
Longforecast also predicts ETH to reach $1,694 by the end of 2021.
However, not everyone shares such a bullish stance. For instance, Mike McGlone, a BI senior commodity strategist for Bloomberg Intelligence, said in the latest report that Ethereum and Ripple's outperformance of Bitcoin in 2020 was "indicative of the enduring nature of fintech in a world increasingly dominated by zero or negative rates and quantitative easing".
In McGlone's Ether forecast, the coin trades in a range of $500-$700 in 2021.
Ryan Selkis, co-founder and CEO at Messari, sounded rather optimistic in a recent note, saying: "Bitcoin may be primed for a big year due to its macro positioning, but it's Ethereum that has taken flight as crypto's most important platform… one that could power an entirely new financial system, and a more open, resilient internet."
However, the analyst reminded that Ether is not money, and increasing demand does not necessarily mean new price records: "Bitcoin will remain the most valuable digital currency, crypto or dollarised, indefinitely, but the same isn't necessarily true for Ethereum and its ilk."
TradingBeasts.com also sees the ETH average price fluctuating within the $500-630 range throughout 2021. By the end of next year, the median price per coin is expected to be $629.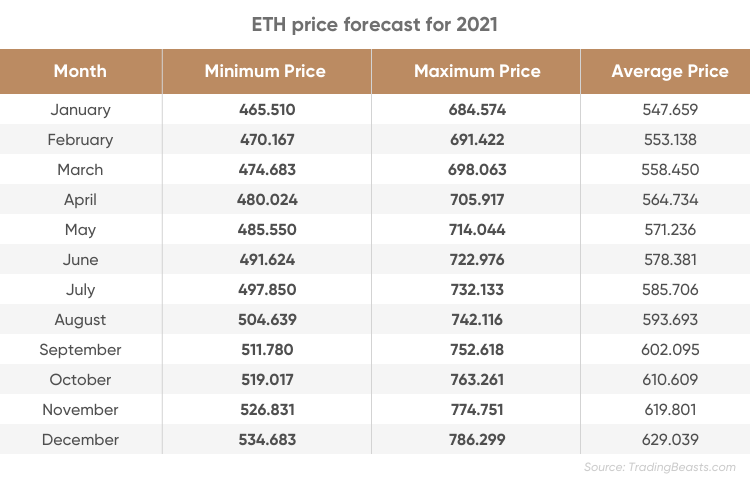 As for the longer-term Ethereum price forecast, ETH is predicted to experience steady growth, surging to $762 by December 2022 and $910 by December 2023.
Should you add ETH to your portfolio today?
Although the majority of forecasts look rather bullish, cryptocurrencies remain as volatile as always. Crypto bull markets are known for their quick corrections. Thus, even if ETH is set to hit fresh record highs some time soon, you should still get yourself prepared for a bumpy ride.
What is your ETH crypto price prediction?
Read more: Top 10 cryptocurrencies to invest in 2021: portfolio of coins set to explode