​​Decentraland price prediction: What is Decentraland (MANA)?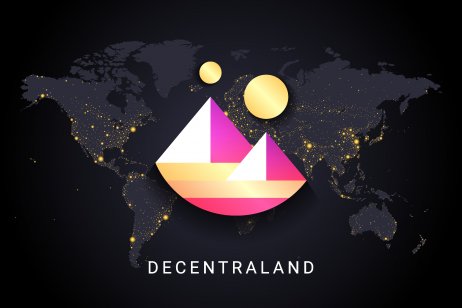 It is one of the biggest players in the metaverse, but what is decentraland (MANA)?
Let's take a look and see what we can find out, and examine some of the decentraland price predictions that were being made on 6 March 2023.
What is the metaverse?
Decentraland is a token based on the Ethereum (ETH) blockchain, which is used to power a metaverse. In case you don't know what that is, let us explain.
The metaverse is a fairly straightforward concept. The idea is that, at some point in the future, all humans will interact in a virtual world with their own avatars. The concept has been around for a while, with the early 1990s boom in virtual reality a key driver behind it.
However, there has not been one single online existence that has linked humanity together. There are, though, smaller virtual worlds where people can log in, explore the space and interact with other users. These are called metaverses.
So, what does that have to do with cryptocurrency? Well, a lot of the virtual worlds at present are powered by blockchain. Having a crypto token associated with a metaverse can, in many cases, help give participants in that metaverse the power to help govern the space.
Also, in many metaverses, there is the option to buy products such as non-fungible tokens (NFTs) using the cryptocurrency.
Decentraland is one such metaverse, not entirely dissimilar to 2000s online experience Second Life, comprising 90,601 parcels of land. It was originally a pixelated grid but, as time has gone on, it has become a full three-dimensional experience.
Users can buy a portion of the land and then decorate it with NFTs that they purchase within the system itself.
Decentraland explained
According to the project's whitepaper, Decentraland is a decentralised virtual reality platform that is based on the Ethereum blockchain.
"Unlike other virtual worlds and social networks, Decentraland is not controlled by a centralised organisation. There is no single agent with the power to modify the rules of the software, contents of land, economics of the currency, or prevent others from accessing the world," said Decentraland.
The platform, co-founded by Ariel Meilich and Esteban Ordano in 2015, was launched in 2017 following a $24m initial coin offering (ICO). It was opened to public users in February 2020.
Every blockchain-based platform needs to have its own crypto, and Decentraland has the conveniently-named decentraland token, also known by its ticker handle of MANA. This token is used to buy and sell land, as well as goods and services, within the network.
Users can buy the limited land in this virtual reality world and develop assets into real estate. This in turn creates a hub and drives the creation of content and services.
"With scarce land, developers can acquire users by purchasing land in high-traffic areas. This will allow secondary markets to develop around land ownership and rentals, as is already happening on district0x.io," said Decentraland.
According to Decentraland, unclaimed land can be bought at the same exchange rate (1,000 MANA = 1 LAND). Property owners can trade at different prices on a secondary market in the virtual platform. After the purchase of land with MANA tokens, the currency will be 'burned' and a new entry in the LAND registry created.
Decentraland is governed by a decentralised autonomous organisation (DAO). MANA token holders control the agenda and vote on policies, such as rules governing land auctions and what types of content are allowed.
"There are no technical specifications to what could be built in Decentraland," the whitepaper said.
Users can create advertisements, digital collectibles and interactive games. Decentraland also said that "other use cases could emerge, such as training and professional development, education, therapy, 3D design and virtual tourism, among others".
It is important to note here that, because MANA is based on the Ethereum blockchain, it is a token rather than a coin. While you might see references to such things as a MANA coin or a decentraland coin price prediction, those are, technically speaking, wrong.
Decentraland price history

Let's now take a look at the MANA price history. While past performance should never be taken as an indicator of future results, knowing what the token has done in the past can help us get some very useful context if we want to either interpret a decentraland price prediction or else make one of our own.
MANA started trading on the open market in the autumn of 2017. On 21 September of that year, it was worth under $0.02, and for most of the next three years or so it stayed between $0.01 and about $0.10. Although it reached an all-time low of $0.007883 on 13 October 2017, it soon recovered and closed 2020 at $0.07825.
The first few months of 2021 were a positive time for cryptocurrency and, with the market booming, Decentraland responded well, reaching periodic highs of $1.55 on 28 and 29 April. After that, though, the market cooled, with the after-effects of the great crypto day crash of 19 May 2021 seeing it slump to $0.58 at the end of June.
August 2021 saw things turn around, as NFTs and, by extension, metaverses became a hot topic in the world of cryptocurrency. MANA responded in kind, going on a bull run which culminated in a high of $1.08 on 5 and 6 September.
After that, there was a slump and then a recovery, with MANA trading at $0.9259 on 29 October, before climbing to an intraday high of $1.48. On 30 October 2021, it continued its stratospheric rise, peaking at a high of $4.69 before closing the month at $2.89.
November 2021 was another productive month for decentraland, with it reaching an all-time high of $5.90 on 25 November, but in December the market slumped and MANA closed the year at $3.27, a year-on-year rise of more than 4,000%.
Although 2021 was a good year for crypto in general and MANA in particular, things have not been so upbeat in 2022 so far. Although the token reached a high of $3.48 on 8 February, things have gone downhill since then. Most notably, the depegging of the UST stablecoin and the collapse of the LUNA cryptocurrency sent the market into turmoil, and MANA dropped to $0.6307 on 12 May.
Although there was some recovery, June's news that withdrawals had been cancelled on the Celsius (CEL) crypto-lending platform confirmed the bear market, sending the decentraland token down to $0.7314 on 18 June.
Although there was a recovery to levels over $1 in August, things fell apart again. On 7 October 2022, a report from decentralised finance (DeFi) analytics firm DappRadar claimed that Decentraland had less than 40 daily active users.
Then on 11 October, a DappRadar blog post stated: "The development of metaverse worlds is fast moving, as more users and brands find their way into this virtual universe. The key metrics DappRadar provides are based on smart contracts, which are mainly submitted by dapp developers. The Decentraland team is currently updating their list of smart contracts and we're therefore recalculating their metrics."
The metaverse may still be a new place, but it certainly is not a lonely one. ❤️

Defining 'Active Users' in the metaverse can be tricky and varied approaches can result in the spread of misinformation.

Let's dive into what this means????

— Decentraland (@decentraland) October 11, 2022
This led to the price hovering at somewhere between $0.65 and $0.70 throughout October. November saw MANA initally go up, with it reaching $0.7406 by 5 November. After that, though, the collapse of the FTX (FTT) exchange saw the crypto market collapse yet again, with decentraland closing the year at $0.297, representing an annual loss of more than 90%.
So far, 2023 has been a better year for crypto than its predecessor. Decentraland has made something of a recovery, boosted by a bouyant market and, on 23 February, it traded at a high of $0.8178, its best price for nearly six months. However, not even the second metaverse fashion week taking place in March could prevent it from falling back down and, on 6 March 2023, it was worth a little over $0.60. At that time, there were 1,855,084,192 MANA in circulation out of a total supply of 2,193,539,027. This meant the crypto had a market cap of around $1.12bn, making it something like the 44th-largest crypto by that metric.
Decentraland price prediction
With that all out of the way, let's take a look at some of the decentraland price predictions that were being made as of 6 March 2023.
Keep in mind that price forecasts, especially for something as potentially volatile as cryptocurrency, are very often wrong. Also, long-term crypto price predictions are often made using an algorithm, which can change at a moment's notice.
First, CryptoPredictions.com made a MANA price prediction that said the token could close 2023 at around $0.7043, before going on to potentially trade at $0.80815 in March 2024. The site went on to make a decentraland price prediction for 2025 that saw it start the year at a potential $0.8916, before saying it could rise past the dollar in June and close the year at a fraction of a cent below $1.12.
DigitalCoinPrice had a Decentraland price prediction for 2023 saw the token averaging a potential $1.23, reaching an average price of $1.39 in 2024 and $2.03 in 2025. According to the website's MANA price prediction for 2030, the token could possibly trade at an average of $6.25 that year.
PricePrediction made a MANA price prediction which said it could average $0.77 in 2023, $1.09 in 2024 and $1.57 in 2025. By 2026, the site said that the crypto could potentially reach $2.30, before possibly reaching $3.31 in 2027 and $5.04 in 2028. By the end of the decade, PricePrediction said MANA could be worth $7.47, before potentially going on to break past $10 to $11.06 in 2030..
WalletInvestor's decentraland crypto price prediction argued that the token could collapse over the next 12 months, with it trading at a mere $0.0192 in early March 2024.
When considering a MANA token price prediction, it's important to keep in mind that cryptocurrency markets remain extremely volatile, making it difficult to accurately predict what a coin or token's price will be in a few hours, and even harder to give long-term estimates. As such, analysts and algorithm-based forecasters can and do get their predictions wrong.
If you are considering investing in cryptocurrency tokens, we recommend that you always do your own research. Look at the latest market trends, news, technical and fundamental analysis, and expert opinion before making any investment decision. Keep in mind that past performance is no guarantee of future returns, and never trade with money that you cannot afford to lose.
FAQs
Is decentraland a good investment?

It is hard to say. The token suffered, along with other metaverse cryptos, in 2022, so we shall have to see what, if anything, can be done to turn things around.

Remember, you should always carry out your own thorough research before making an investment. Even high-market-cap cryptocurrencies have proved vulnerable to the current bear markets. Investors should be prepared to make losses and never invest more money than they can afford to lose.
Will decentraland go up or down?

It is difficult to tell. A lot will depend on the overall performance of the crypto market, as well as whether or not the metaverse sector can recover the spark in had in the last few months of 2021.

In volatile cryptocurrency markets, it is important to do your own research on a coin or token to determine if it is a good fit for your portfolio. Whether MANA is a suitable investment for you depends on your risk tolerance and how much you intend to invest, among other factors. When researching a MANA crypto price prediction, keep in mind that past performance is no guarantee of future returns, and never invest any money that you cannot afford to lose.
Should I invest in decentraland?

This is a question that you will have to answer for yourself. Before you do so, however, you will need to conduct your own research. Never invest more money than you can afford to lose, because prices can go down as well as up.
How many MANA tokens are there?

As of 6 March 2023, there were there were 1,855,084,192 MANA in circulation out of a total supply of 2,193,539,027.
How much will decentraland be worth in five years?

A MANA coin price prediction by DigitalCoinPrice suggested it could reach $3.21 in 2028, while PricePrediction said it could be worth $5.04.

But prediction sites are frequently wrong and you should always do your own research first. Never invest more money than you can stand to lose.