Dash price prediction: Will DASH recover in 2022?
Subscribe to Weekly Highlights
The major market events for the week ahead right in your inbox.
Subscribe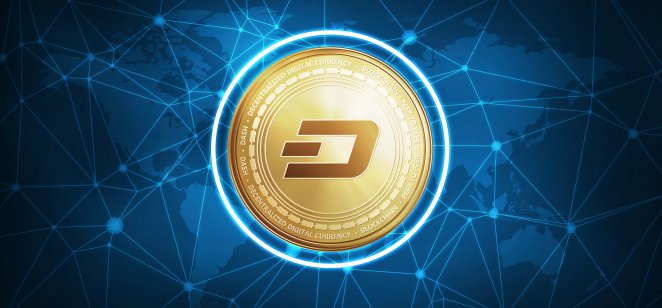 Content
The payment protocol Dash (DASH) has started to rebound after reaching a one-year low in early November.
Dash was designed to be the "most user-friendly" and scalable payment provider in the world. This mission not only takes on crypto rivals like BitPay, but also technology giants such as PayPal.
As of 23 November, the native DASH cryptocurrency was one of the top gainers, up 19% in the past 24 hours.
DASH to USD
How will the latest news affect DASH coin price action in the coming days? Let's take a look at the project's fundamentals and developments to get a clearer view of a plausible dash price prediction.

What is dash crypto and how does it work?
Dash is a blockchain-based peer-to-peer payment transfer protocol launched by Evan Duffield in 2014 as a fungible and secure digital currency to enable quick online payments.
Dash coins are minted through proof-of-work (PoW) mining, a very energy-intensive mechanism. However, Dash employs the X11 hashing algorithm to save power and guarantee an efficient allocation of dash throughout the ecosystem. Unlike bitcoin, which is based on a single algorithm, X11 uses eleven cryptographic techniques designed to protect the network against any potential vulnerabilities in one or more hash functions.
Dash coin has several similarities to bitcoin (BTC). Dash is completely decentralised and secured through cryptography. During the first several years of development, the dash coin team concentrated on making this a viable alternative to standard payment methods.
According to the project's documentation: "Dash aims to be the most user-friendly and scalable payments system in the world."
As a result, dash processed over 29,000 transactions a day in Q2 of 2021, with payment volumes totalling $6.48bn. It had over 90,000 daily active users.
The most common Dash feature is InstantSend, which uses masternodes that allow for the instant confirmation of transactions. While cryptocurrency transactions could take from 15 minutes to an hour before final confirmation, masternodes work on verifying the authenticity of the funds instantly.
Dash also ensures private transactions through its CoinJoin function. It operates a self-governing and self-funding model to pay individuals and businesses for work that adds value to the network. According to the documentation: "This decentralised governance and budgeting system makes it one of the first ever successful decentralised autonomous organisations (DAO)."
DASH/USD price analysis
According to CoinMarketCap, dash has returned a ROI of 19,486%, as of 23 November. The oldest available price data shows that the price increased significantly between 2014 and 2017, surging by 7,035 % in three years, from $0.31 on 15 February 2014 to $22.12 on 22 February 2017.
The Dash coin had an extraordinary 2017, with the price moving to a high of $1,642.22 on 20 December 2017 – a gain of 7,324% in less than a year. It closed the year at $1,051.68, as of 31 December 2017, almost 40% below its all-time-high price.
| | |
| --- | --- |
| Long position overnight fee | -0.0500% |
| Short position overnight fee | 0.0140% |
| Overnight fee time | 22:00 (UTC) |
| Spread | 0.0012155 |
| | |
| --- | --- |
| Long position overnight fee | -0.0500% |
| Short position overnight fee | -0.0500% |
| Overnight fee time | 22:00 (UTC) |
| Spread | 0.00000688 |
| | |
| --- | --- |
| Long position overnight fee | -0.0500% |
| Short position overnight fee | 0.0140% |
| Overnight fee time | 22:00 (UTC) |
| Spread | 0.00314 |
| | |
| --- | --- |
| Long position overnight fee | -0.0500% |
| Short position overnight fee | 0.0140% |
| Overnight fee time | 22:00 (UTC) |
| Spread | 5.00 |
In 2018, the price fell to $136.54 on 22 August and $59.69 on 14 December. It closed the year at $79.06.
Dash coin struggled in a bear market during 2019 and 2020, and its price never gained much traction. It closed 2020 at $99.61.
The coin gathered momentum in 2021, after a lengthy bear market. Its price increased to $325.25 on 19 February and spiked to $440.89 on 6 May. However, the coin fell to $119.16 on 22 June, a decline of over 73% from the May high. It closed the year at $134.01.
Dash started 2022 on a high with it reaching a 30-day-peak of $155.27 on 11 January 2022. However, the price soon fell victim to the wider bear market and dropped below the $100 mark by the end of January.
It continued this downward trend throughout the year and stooped to a 52-week low of $31.39 on 9 November. However, DASH has since bounced back from this low and was trading at $42 on 23 November. At the time of writing, the cryptocurrency was up 24% in the past seven days.
There is not a clear driver behind this price rise. The latest upgrade for the DASH cryptocurrency went live months ago when the project forked to version 18 on 13 September to improve user experience.
A
blog post
said: "Version 18.0 introduces a number of improvements to Dash, including governance updates, quorum improvements, InstantSend optimizations, and numerous enhancements through Bitcoin backports. Below are a few key highlights of this release. Comprehensive details will be found in the release notes."
Dash coin price prediction: Targets for 2022, 2025 and 2030
According to CoinCodex's dash technical analysis, short-term sentiment for the coin was neutral, with 18 indicators showing bullish signals and 13 bearish, as of 23 November 2022.
Most of the daily simple moving averages (SMA) and exponential moving averages (EMA) gave "buy" signals. Meanwhile, all of the weekly moving averages gave "sell" signals
The DASH coin price prediction from CoinCodex suggested the token price could have rise by 3% to reach $42.31 by 23 December 2022.
Speculating on the dash coin future, algorithm-based forecasters shared mixed long-term DASH price predictions as of 23 November. According to Wallet Investor, DASH was a "bad" investment and could have continued falling. Its dash price prediction for 2023 said it would have plummeted to $4.20 in a year's time.
Meanwhile, DigitalCoinPrice's dash crypto price prediction was more optimitic and said it would have averaged at $107.59 in 2023. Its dash price prediction for 2025 estimated the cryptocurrency to have reached $176.43 and climbed to $594.87 in 2030.
Price Prediction was similarly bullish with its forecast. It gave average prices of $58.59 in 2023 and $127.34 in 2025. The site's dash price prediction for 2030 said it would have hit $778.
When looking for dash coin price predictions, bear in mind that analysts' and algorithm-based targets can be wrong. These DASH predictions are based on fundamental and technical studies of past performance. Past performance is no guarantee of future results.
It's essential to do your research and always remember your decision to trade depends on your attitude to risk, your expertise in the market, the spread of your investment portfolio and how comfortable you feel about losing money. You should never invest money that you cannot afford to lose.
FAQs
Is dash a good investment?

Dash coin is one of the oldest cryptocurrencies with a track record of successful partnerships and use cases. Still, whether the coin is a good fit for your investment portfolio depends on your circumstances and risk tolerance. You should estimate the level of risk you are ready to take before investing. And never invest money that you cannot afford to lose.
Will dash go up or down?

As of 23 November, algorithmic forecasting tools, including DigitalCoinPrice and Price Prediction, suggested that the coin had potential for gains. However, Wallet Investor predicted that the cryptocurrency would plunge in the next year and fall below $5.

In volatile cryptocurrency markets, it is important to do your own research on a coin or token to determine if it is a good fit for your investment portfolio. Whether DASH is a suitable investment for you depends on your risk tolerance and how much you intend to invest, among other factors. Keep in mind that past performance is no guarantee of future returns. And never invest money that you cannot afford to lose.
Should I invest in dash?

Whether you should invest in dash is a question that you will have to answer for yourself. Before you do so, however, you will need to conduct your own research and never invest more money than you can afford to lose because prices can go down as well as up
Related reading