Copper price forecast: Is the metal a buy on China reopening expectations?
Subscribe to Weekly Highlights
The major market events for the week ahead right in your inbox.
Subscribe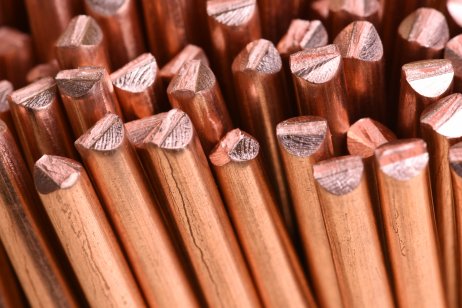 Content
The price of copper has made some headway after falling to its lowest level since November 2020 on 15 July 2022. The metal was trading at around $3.90 as of the time of writing on 14 December 2022, although base metal prices have retreated significantly since the record highs seen in March.
Metals markets remain highly volatile in the face of macroeconomic pressures. The price of copper came under particular pressure this year due to fears of a global recession, weaker demand from Chinese manufacturing giants and China's zero-Covid policy, a higher dollar, and a mass sell-off on the London Metal Exchange (LME).
Over the closing months of the year, however, the metal began to recover as investors once again flocked to cyclical metals in response to a lower USD and rising prospects for a reopening in China.
Live Copper Spot Price Chart
Is the current price a buying opportunity, or would a short position on copper be more profitable?
In this article, we look at the drivers for the recent market volatility, and examine some copper price predictions from a few analysts.
Copper retreats from record highs
The price trend of copper was choppy at the start of the year, as pandemic-related lockdowns across several regions in China raised concerns about a slowdown in economic growth just as industrial production had ramped up following the Lunar New Year holiday.
Manufacturing plants in Changchun suspended operations and construction work was halted in Shanghai, reducing consumption in the world's largest copper market.
At the end of February, traders weighed the impact of the Russia-Ukraine conflict on commodities and stockpiled industrial metals. On rising demand and tightening supply, prices for copper – as well as aluminium, tin and zinc – reached record highs in March.
The COMEX copper price chart shows that the metal climbed by 130% from the March 2020 low at the start of Covid-19 lockdowns to trade up to $5 a pound in early March 2022.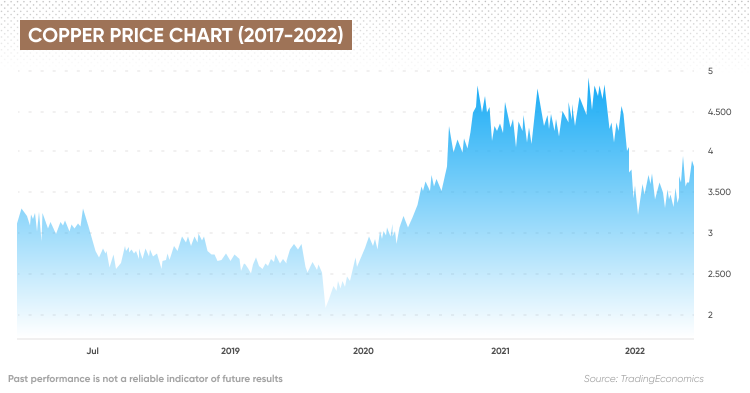 In addition to the recovery in demand after the pandemic, there are several long-term demand trends that have been supportive to copper.
The transition to clean energy requires larger quantities of copper, which is used for wiring in electric vehicles (EVs) and solar panels. Higher crude oil and gas prices are raising operational costs for copper producers, but also accelerating the energy transition and in turn increasing copper demand.
The pandemic also saw a boom in demand for manufactured goods, including electronics and household appliances, as consumers turned to home entertainment and home improvement during lockdowns.
What's more, while demand has climbed, output from copper mines has not kept pace, tightening the supply balance.
However, copper prices have retreated by about 25% from their March highs. The London Metal Exchange (LME) Index recorded its sharpest quarterly drop since the 2008 global financial crisis during the second quarter.
Aggressive interest rate rises by central banks, including the US Federal Reserve (Fed), to tackle 40-year-high inflation have increased concerns among traders that the global economy could be facing a hard landing.
On 14 December, the Fed is widely expected to raise rates for the seventh time this year, probably approving a 0.5% hike – a more typical pace compared with the super-size 75 basis point (bps) moves at each of the last four meetings. This would push benchmark borrowing rates to a target range of 4.25% to 4.5%.
The Caixin Manufacturing Purchasing Managers' Index (PMI) for China slipped to 49.4 in November 2022, from 49.2 in October, above market forecasts of 48.9. However, the reading marked the fourth straight month of decline in factory activity, amid a new wave of Covid-19 cases and tough curbs in many parts of the country. Output fell for the third month running, new orders were under pressure and foreign sales remained weak.
Also, firms cut back on buying activity, contributing to a further drop in staff numbers. Further, there was a deterioration in supplier performance, which fell the most since May. On prices, input cost inflation accelerated slightly while output charges fell slightly.
"The pandemic continued to take a toll on the economy," said Dr Wang Zhe, an economist at Caixin Insight Group. "Beijing should further coordinate fiscal and monetary policies to expand domestic demand and boost incomes."
In the most recent Caixin China General Manufacturing PMI press release, the report highlighted the impact of Covid restrictions on the manufacturing sector:
"Ongoing Covid-19 containment measures continued to weigh on the performance of China's manufacturing sector during November. Firms registered a further fall in output, with the rate of contraction picking up slightly from October, amid a sustained reduction in sales. That said, the latest drop in new work was the weakest recorded in four months. Pandemic restrictions and reduced production requirements also led firms to cut back on purchasing activity and contributed to a further drop in staff numbers.

"At the same time, there was a notable deterioration in supplier performance, which declined at the fastest rate since May. Looking ahead, optimism around the 12-month outlook for production remained subdued in the context of historical data, but improved to a three-month high. Prices data meanwhile signalled a slight acceleration in the rate of input cost inflation, while output charges fell fractionally.

"The headline seasonally adjusted PMI – a composite indicator designed to provide a single-figure snapshot of operating conditions in the manufacturing economy – rose from 49.2 in October to 49.4 in November, to signal a deterioration in the health of the manufacturing sector for the fourth month in a row. That said, the rate of decline was the slowest seen since August and only slight."
In the latest copper news, Chile, which accounts for about a quarter of the world supply of copper, just registered its first year-on-year output increase since July 2021, according to data quoted by ING Group commodity strategist Warren Patterson in early December. October production edged up 2.2% from the same month last year, according to data from the National Statistics Institute. Month-on-month output jumped 11%.
Chile's copper production has struggled for much of this year amid lacklustre ore grades, labour woes and water scarcity.

ING's Ewa Manthey shed light on the Dutch bank's expectations for China's Covid-19 situation in an article on 30 November:
"We believe the Chinese government is likely to stick to its zero-Covid policy through winter and will look at easing some of the curbs further after the National People's Congress in March or April next year. Preferential policies on property developer financing could limit the further increase in uncompleted residential projects. We expect China to gradually improve but remain sluggish until 2H23 with its zero-Covid strategy likely to remain in place until then."
The metal was trading at around $3.90 per pound as of 14 December 2022, down from its record high of $5.03 on 7 March and $4.46 at the start of the year. However, the market remains well above the March 2020 low of $2.17.
The copper price history shows the market has been trending higher since 2018, turning around an extended decline that started in 2010.
What is the long-term copper outlook? Do analysts expect prices to rise or fall? We look at some of the latest copper price forecasts and analysis below.
Copper price forecast: Should you buy, hold or sell?
On 14 December 2022, analysis of copper on the Comex exchange in the US by brokerage Zaner was hesitant to show a bullish forecast for the short-term price trend of copper:
"The copper market is trading in positive ground this morning despite headlines from Beijing indicating Covid cases have exploded in the capital city. On the other hand, portions of the trade continue to expect China to support its economy with an infrastructure push. Given this week's events in China, the downtick in US inflation, and signs of a redeveloping downtrend in the dollar we suggest that the $3.80 level is becoming firmer support.

"However, there are reports that a Chinese web application documenting daily infections was taken down and the government is apparently no longer counting asymptomatic cases, which seems to show a government willing to accept a surge in infections. While the lessening of restrictions could help Chinese copper demand improve in the future, reports from CNN overnight suggest the streets and shopping centers in Beijing are deserted, which clearly signals an economy facing significant adversity. Uptrend channel support in March copper today is $3.8230 and the 200-day Moving Average sits as resistance up at $3.9015."
Capital.com analyst Piero Cingari highlighted the metal's price dependence on the situation in China in his copper price outlook for 2023:
"Copper's chances of hitting the $4.00 zone and shattering it increase the sooner China announces an economic openness. $4.62 might be an intriguing bullish target for the first half of 2023, as it would represent a 78.6% retracement of the range of 2022.

"If the scenario doesn't play out as expected and copper retraces to the downside, the $3.50–$3.58 support area, if reached, may likely reinstate bull buying action on dips. Copper traded at these levels when Chinese authorities first announced efforts to ease Covid restrictions in November."

"A fall to $3.50 or below would signal a complete reversal of Chinese authorities' attempts to unlock the economy and a broader dollar surge on the basis of fresh hawkish fears from the Fed, and thus a retest of such levels seems to have fewer probabilities at this time."
Analysis by TradingEconomics also leaned towards the bearish side on the future price, expecting copper to trade at $3.79 a pound by the end of the current quarter and $3.54 in 12 months' time.
Algorithm-based forecasting site Wallet Investor was more positive regarding the longer-term market outlook, predicting the price could rise over the coming years. The website's copper price forecast for 2023 estimated that the price could reach $4.371 by the end of the year, while its copper price forecast for 2025 suggested a copper price target of $5.274.
According to Mining.com: "While the copper price has seen some recent turmoil due to fast-rising interest rates and weak economic data, what remains steadfast is how much the world needs copper, as the highly conductive metal is a key component of industrial infrastructure and electric vehicles."
Earlier in August, Sucden Financial noted in its quarterly metals report: "The macroeconomic environment has weakened significantly as growth fears rise, amid persistently high inflation. Central banks are data-dependent and this could mean they slow rate hikes as growth starts to slow, this has meant a downside to the US 10-year yield, but also we see downside to rate hikes in Q4. Europe will likely enter a recession before the US and will take longer to recover, but material availability is significantly lower, shown by low inventories.
"Off-exchange stocks are high but the low liquidity, volumes and inventories indicate higher volatility and sharp moves, although the options market shows traders positioned for the downside. Higher interest rates will slow growth, but the labour market is still strong and signs of weakness for employment will accentuate recession fears. End-user demand is poor and this will continue in Q3.
"Premiums in China increased in June and July as downstream demand improved, but the latest Mfg PMI data was contractionary. China's Covid policy caps upside potential of stimulus measures as the property and construction sectors are weak. Mine supply is improving and H2 2022 output will be stronger than H1, with operating rates for producers in China high we expect production to outstrip demand.
"Inventory levels of raw materials and finished products are low, suggesting we could see restocking of social inventories. Macro sentiment is deteriorating as data weakens and this will weigh on copper due to its macro links. We expect prices to be sold above $8,500/t with our downside target $6,800/t with buying pressure around $7,200/t," Sucden Financial concluded.
On 26 September 2022, analysts at Fitch Solutions revised down their forecasts, suggesting copper could average $8,800 a tonne in 2022 and $8,400 in 2023. "While we forecast a slight surplus in 2022, the market will tip back into deficit in 2023 as demand increases. The deficit will grow out towards the middle of the decade as demand accelerates, mainly driven by consumption related to the green transition," they said.
Analysts at Canada's TD Securities see the potential for further downside, writing in a copper price analysis: "Timing a market squeeze is an art, particularly amid poor liquidity conditions. Under the crushing weight of a collapse in commodity demand, copper prices have slashed through every support level."
On 27 September 2022, TD Securities analysts forecast copper prices of $3.60 per pound in Q4 2022, and $3.59 in Q4 2023. However, by Q4 2024, the price is expected to be $3.66. Their copper price forecast said: "We took profits on our tactical short in copper, but global macro pressures continue to build... The relentless pressure from slowing commodity demand has not been supportive for a bear market rally to gather steam, but instead has led to a consolidation for the time being.
"After all, the world has already overstocked, metals supply risk no longer provides insulation against a quickly deteriorating outlook for growth as central banks fight inflation and as the lagged effect of Chinese deleveraging continues to constrain growth. We still look to re-engage downside in copper."
In its October commodities forecast, the World Bank expected prices to decline over the next few years, from £8,700 a tonne in 2022 to $7,300 in 2023 and $7,361 in 2024.
Citi previously predicted in its copper price forecast for 2030 that the metal could trade at $10,756 a tonne by the end of the decade, with a bull case of $14,341 and a bear case of $8,963.
When considering any market predictions, it's important to keep in mind that commodity prices are highly volatile, making it difficult to accurately predict where prices will be at any given time in the future. You should always do your own research.
Remember that past performance is no guarantee of future returns, and never invest any money that you cannot afford to lose.
FAQs
Is copper a good investment?

Copper is a highly volatile commodity, offering the potential for high returns with the switch to electric vehicles but, like any commodity, is also at risk from economic fluctuations.

Whether copper is a good fit for your portfolio depends on your risk tolerance, investing strategy and portfolio composition, among other factors. You should do your own research, and never invest any money that you cannot afford to lose.
Will copper prices go up or down?

As of 14 December 2022 the outlook for the copper market was mixed. Some forecasts suggested prices could rise while others expected them to fall.

This emphasises the importance of doing your own research to take a view of the market. Always keep in mind that analysts can and do get their predictions wrong.
Should I invest in copper?

Whether you should invest in copper is a personal decision you should make based on your risk tolerance, portfolio goals and how much money you have to invest. You should do your own research on the market.

Keep in mind that past performance is no guarantee of future returns, and never invest more than you can afford to lose.
What affects the price of copper?

Copper prices are driven by factors such as demand and supply, the value of the US dollar, government monetary policy and overall sentiment on the global economy, among other factors.

The move to more environmentally-friendly forms of energy generation such as wind and solar, and the coming ban in many parts of the world on the sale of new vehicles with internal combusion engines, should boost the price of copper over the longer term. However, commodities can be highly volatile in the short term.
Related reading