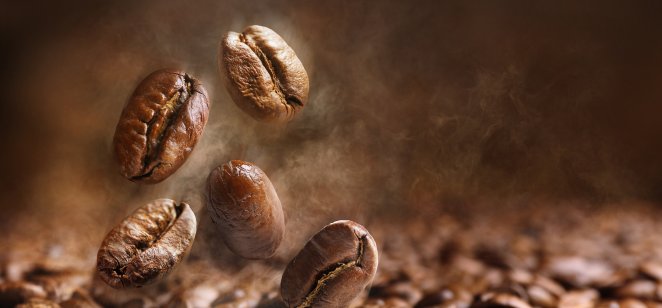 Content
After consistently breaking new multi-year highs since 2021, the coffee price rally has started to lose steam. Since reaching a fresh high for the decade at above $2.50 a pound in February, the price of most popular Arabica coffee beans has been falling.
Coffee Arabica price chart
On the demand side, tightening monetary policy around the world has raised concern about a recession that could dent demand for the world's most popular drink.
On the supply side, production from the top coffee producer, Brazil, is expected to rebound after the devastating frost that hit production last year.
Will the coffee price rally begin to slow? Let's look at our latest coffee price forecast.
What is coffee? The origin of a cup of Java
When we type 'Java' into online dictionaries, the two top definitions for the word are a computer programming language and a cup of coffee.
The first coffee seeds were brought to the Indonesian island of Java in 1696 by the East India Company, also known by its Dutch acronym VOC (Vereenigde Oost-Indische Compagnie), according to global food and agri-business firm, Olam Group.
By 1725, more than 1 million pounds of coffee from Java were sold every year at auction in Amsterdam. Today, coffee beans are planted in more than 50 countries around the world, from Southeast Asia to Latin Americas and Africa.
There are two main types of beans: Arabica and Robusta. Arabica is the most popular coffee bean due to its complex flavours, smoother, sweeter and less acidic taste. Arabica is preferred by coffee connoisseurs and global coffee chains, such as Starbucks (SBUX).
Robusta beans have a deeper and stronger taste than Arabica because the bean has higher caffeine content. Robusta is used in the production of instant coffee, such as for the brand Nescafe, owned by food and beverages giant Nestle (NESN). Vietnam is the world's largest producer and exporter of Robusta beans.
Brazil is the world's biggest producer of the Arabica variety and the world's largest producer of coffee. Vietnam is the second largest coffee producer. Arabica beans account for 70% of all coffee traded on the market, with Robusta accounting for the remaining 30%.
Arabica and Robusta are traded using options and futures contracts on the Intercontinental Exchange (ICE). Arabica coffee is also traded in futures contracts on the New York Mercantile Exchange (NYMEX), which is operated by the Chicago Mercantile Exchange (CME) Group.
What is your sentiment on Coffee Arabica?
Vote to see Traders sentiment!
Coffee prices historical performance
Coffee prices were under pressure during 2020. Covid-19 pandemic restrictions reduced coffee consumption in many markets as cafes, restaurants and offices closed to curb the spread of the disease.
The US Department of Agriculture (USDA) in December 2020 estimated global coffee output for marketing year 2020/2021 to rise by 7 million 60 kilogram bags year-on-year (YOY) to 175.5 million. Brazil accounted for most of the gain due to seasonal factors – its Robusta crop reached record output.
Arabica beans were trading as low as $0.95 a pound (lb) at the ICE in June 2020, plummeting from around $1.19 in early January. The price had recovered to hit $1.34/lb in August before retreating and closed the year at around $1.23/lb, according to TradingView. The Arabica price at ICE fell about 1.3% over 2020.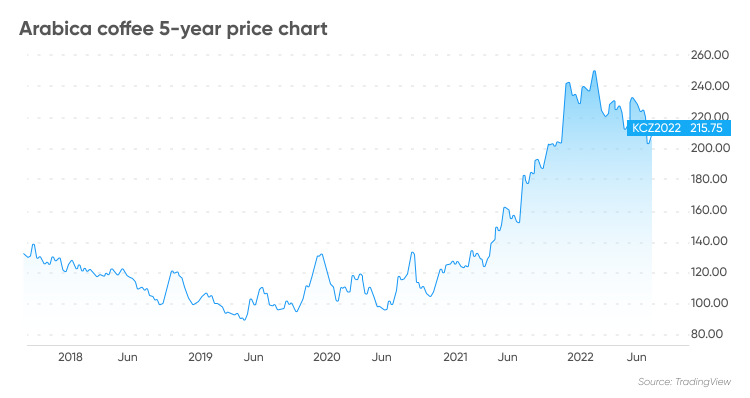 Robusta coffee futures at ICE also dropped, briefly trading below $1,162 per tonne on 20 April and $1,172 on 22 June 2022 before rebounding to end the year at above $1,300, as the TradingView's chart shows.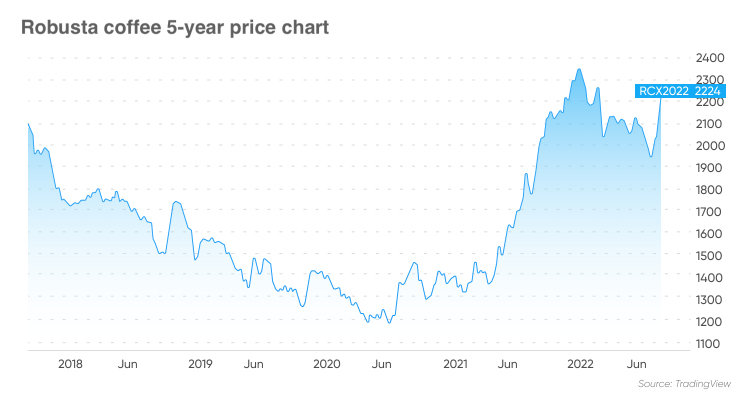 The Arabica coffee price had gradually rebounded from the start of 2021 mainly because of declining production from Brazil. Severe frost due to freezing weather in June and July 2021 damaged coffee cherries in Brazil's Arabica coffee belt of Minas Gerais, São Paulo and Parana. Arabica beans account for 70% of Brazil's coffee output.
In its July 2022 report, the International Coffee Organization (ICO) estimated total production from October 2021 to September 2022 remained unchanged at 167.2 million bags, a 2.1% decrease from the previous year's 170.83 million bags.
World coffee consumption is projected to grow by 3.3% to 170.3 million 60kg bags in 2021/22, compared to 164.9 million for 2020/21. In 2021/22, consumption is expected to exceed production by 3.1 million bags.
Arabica futures at ICE traded at around $1.24/lb in early January 2021, continuing its rally for most of the year due tight global supply and hitting a fresh 10-year high at $2.49/lb on 6 December last year.
Coffee price analysis: Retreats from 10-year high
Since peaking in early December 2021, the coffee price cooled until Arabica futures briefly topped a new 10-year high of $2.59/lb on 9 February. However, Arabica futures did not manage to surpass the 2011 record high of $3/lb.
| | |
| --- | --- |
| Long position overnight fee | -0.0050% |
| Short position overnight fee | 0.0018% |
| Overnight fee time | 21:00 (UTC) |
| Spread | 0.18 |
| | |
| --- | --- |
| Long position overnight fee | 0.0191% |
| Short position overnight fee | -0.0373% |
| Overnight fee time | 21:00 (UTC) |
| Spread | 0.03 |
| | |
| --- | --- |
| Long position overnight fee | -0.1234% |
| Short position overnight fee | 0.0884% |
| Overnight fee time | 21:00 (UTC) |
| Spread | 0.005 |
| | |
| --- | --- |
| Long position overnight fee | 0.0324% |
| Short position overnight fee | -0.0539% |
| Overnight fee time | 21:00 (UTC) |
| Spread | 0.04 |
The Arabica coffee price has continued to fall since the February peak. At the time of writing (18 August), ICE's Arabica futures contract was trading at $2.144/lb. Tight supply is expected to ease and there are concerns that recession may hit demand. The price has dropped 5.20% this year, but is up 18.06% year-on-year.
ICO reported in July that its ICO Composite Indicator Price (I-CIP) was down 5.7% in July 2022 from the previous month, averaging $1.90/lb. In July 2022, the I-CIP fluctuated between 181.71 and 197.83 US cents/lb.
Analysts at Seoul-based agricultural trading platform Tridge told Capital.com:
"Recession fear is the main driver of retreating the price of coffee in the futures market. The amount of inventory is gradually rising, as consumers start to cut food spending, including coffee, to fight off inflationary fear. In this trend, some hedge funds are liquidating its long positions, strengthening the current downward trend."
Coffee price forecast: Analysts views
"While the coffee futures prices are lower than in February 2022, they remain high and it is anticipated that the higher prices will continue in the coming months, if supply conditions get worse," analysts at Tridge said.
Data from ICO showed ICE certified coffee stocks both at the New York and London warehouses have continued to drop as logistics issues persist. In New York, coffee inventories fell to 0.70 million 60kg bags in July 2022, from 2.31 million in August 2021. Coffee stocks in London also dropped to 1.70 million bags in July 2022, from 2.31 million in August 2021.
In a note on 15 August, Fitch Solutions estimated that weakening demand would be the main cause of lower prices in the short-term:
"We anticipate a widespread tightening of monetary policy (in the face of broad-based price inflation) and weaker global economic growth, which will both weigh on consumer sentiment and result in reduced household spending on coffee and coffee-based products.
"In addition, barring another outbreak of the Covid-19 virus, we expect the continued unwinding of Covid-era logistical bottlenecks and logjams to further loosen the global coffee market."
However, low inventories could offer some support until Brazilian coffee beans from the 2022/2023 crop, which is harvested in September, enter markets.
For the long term, Fitch Solutions forecast that a surplus in production through to 2026 would continue to weigh on prices. It expected a surplus of 7 million bags in 2022/23, 2.5 million bags in 2023/24, 11.3 million bags in 2024/25 and 5.5 million bags in 2025/26, which will allow for the accumulation of coffee stocks (at the global level).
It forecast global production to grow by a compound annual growth rate (CAGR) of 2%, while global demand will rise at a CAGR of 1.7%, adding:
"The fluctuations in our expected production balances between individual years reflects that while production will retain a strong cyclical component (most notably in Brazil), we expect global consumption growth to be relatively stable in the long run, in spite of uneven developments at the sub-global level."
The USDA reported in June that global coffee production for 2022/23 could rebound by 7.8 million bags from the previous year to 175 million bags, primarily due to Brazil's Arabia crop. It expected global consumption to rise 1.8 million bags to 167 million.
Coffee price forecast: Price target 2022-2026
In its coffee price forecast for 2022, Fitch Solutions revised up its projection for Arabica coffee futures this year to $2.15/lb from $2.1445 in its previous forecast.
The price is expected to drop to $1.90/lb in 2023 and $1.80 in 2024. For coffee price forecast for 2025, Fitch Solutions expected the price to edge lower at $1.60 before dropping to $1.50/lb in 2026.
Algorithm-based price forecasting service Wallet Investor was bullish on the Arabica coffee price, calling it a good long-term (one year) investment.
Wallet Investor predicted the Arabica coffee price to trade at $2.306/lb in December 2023, as of 18 August. In its coffee price forecast for 2025, the service expected the price to hit $3.569/lb in December 2025 and climb to $4.243/lb in August 2027.
Economic data provider Trading Economics also has a bullish outlook, forecasting the Arabica coffee price to trade at $2.33/lb by the end of this quarter, rising to $2.53/lb in a year's time.
Bear in mind that like other commodities, coffee is a volatile asset. Prices are driven by unpredictable factors such as weather, geopolitical environment and consumption patterns. Analysts' and algorithm-based coffee price predictions can be wrong and shouldn't be used as substitutes for your own research.
Always conduct your own research. Remember that your decision to trade or invest should depend on your risk tolerance, expertise in the market, portfolio size and goals. Keep in mind that past performance doesn't guarantee future returns. And never invest or trade money you cannot afford to lose.
FAQs
Is coffee a good investment?

Whether coffee is the right investment for you will be determined by your personal objectives and research. Always draw your own conclusions about the commodity's prospects and the possibility of meeting analysts' targets. Keep in mind that past performance does not guarantee future results. In addition, never trade money that you cannot afford to lose.
Will coffee prices go up?

As of 18 August, Trading Economics and algorithm-based forecasting service Wallet Investor forecast the Arabica coffee price could go up in the long term. However, Fitch Solutions had a bearish outlook, expecting the price to drop due to rising surplus and relatively steady consumption.

Note that commodities, including coffee, are volatile assets. The rise and fall in coffee prices are affected by factors that are difficult to forecast, particularly weather. We suggest that you always conduct your own research, looking at technical and fundamental analysis.
Should I invest in coffee?

Your decision to invest in coffee should be based on your risk tolerance, investment objectives, portfolio composition, and market experience. You should conduct your own research. Furthermore, never trade with money that you cannot afford to lose.