Celo price prediction: What is celo?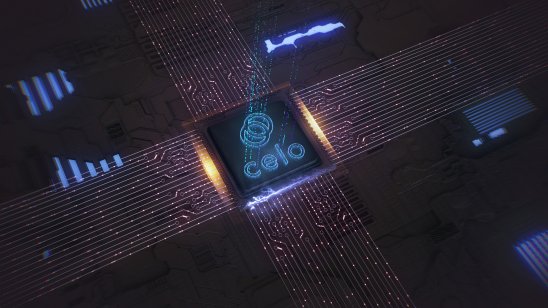 Celo is a mobile-based blockchain platform that aims to make financial decentralised applications (DApps) and cryptocurrency payments accessible to smartphone users anywhere in the world, including those who do not have traditional bank accounts. In the past month its token, celo, has spiked twice from a low of $0.4208 to highs of as much as $0.7247, and was at around &0.58 at the time of writing.
Let's take a closer look, and also examine some of the celo price predictions that were being made as of 15 December 2022.
Celo explained
Celo now has more than three million wallet addresses across more than 100 countries. It was founded by a large team of contributors from the public and private sectors, technology companies, non-profit organisations and non-governmental organisations. They are involved with pilots, committees and working groups, including with the World Economic Forum, World Bank Group and the Chamber of Digital Commerce. The key players behind the platform, however, are GoDaddy executives Rene Reinsberg and Marek Olszewski, along with the MIT professor Sep Kamvar.
The platform, which was established in 2017, uses people's phone numbers and email addresses as public keys, allowing them to be used to prove who people are on the network.
Every blockchain-based network needs to have its own native token, and fortunately for fans of crypto, Celo has four. There are three stablecoins: CUSD, pegged to the US Dollar, CEUR, pegged to the Euro, and CREAL, pegged to the Brazilian Real. Perhaps more importantly, it has its own eponymous cryptocurrency. This coin is used to pay for transaction fees on the platform, and people who hold CELO can also vote on proposed changes to the network. Although CELO is based on its own blockchain, it is also compatible with the Ethereum (ETH) blockchain. According to Celo's whitepaper:
"The Celo protocol introduces a mobile block-reward mechanism in which all users involved in transactions are also able to participate in verifications, creating a broad participant base and making block rewards more accessible to day-to-day users."
On 8 March 2022, Celo underwent its delayed second hard fork. The company said that the hardfork, called Espresso Hardfork, would make Celo "fully compatible with the latest upgrades to the Ethereum network, including the addition of the Berlin and London hardforks, and several EIPs [Ethereum Improvement Proposals]. The changes made to the Celo protocol are great for dApp developers looking to migrate or deploy their contracts to Celo".
Celo price history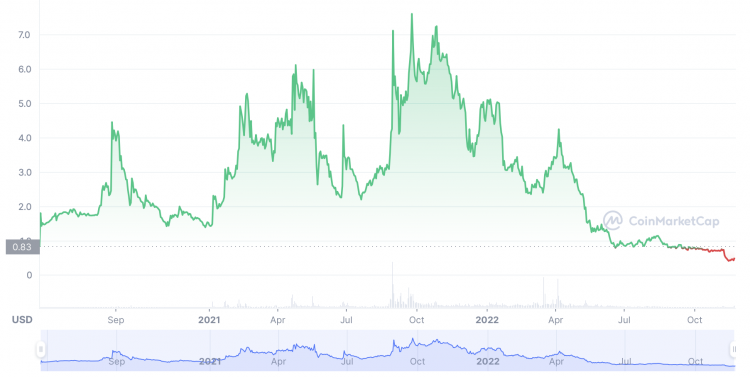 Celo price history from launch to present - Credit: CoinMarketCap
Let's now take a look at celo's price history. While past performance should never be taken as an indicator of future results, knowing what the coin has done in the time that it has been trading can help us when it comes to either making or interpreting a celo price prediction.
When celo first came onto the open market in May 2020, it was worth about $2.50 but it quickly dipped to spend the summer around the $1.70 mark. There was a small bull run in August, with it briefly topping $4, but then it settled back down to previous levels. In 2021, though, things changed, as the crypto market boomed and celo responded well, with it reaching a high of $7.24 on 21 April. After that, things settled down before it shot back up to an all-time high of $10.66 on 30 August, then steadily declining to close the year at $4.85.
If 2021 was a good time for crypto and CELO, 2022 has proven to be anything but. After Russia's invasion of Ukraine CELO fell to $2.06 on 24 February and, although there was a recovery to a high of $5.19 on 5 April, a series of market crashes meant it dropped to $0.7428 on 18 June. TIn the aftermath of the collapse of the FTX (FTT) exchange , CELO fell to an all-time low of $0.4043 on 14 November.
With the coin boosted by the news that the Curve Finance (CRV) protocol was now compatible with Celo, it rallied to reach $0.727 on 4 December. Celo has subsequently drifted down, and on 15 December 2022 it was worth about $0.584. At that time, there were just under 479 million CELO in circulation out of a total supply of one billion. This gave the token a market cap of about $279.7m, making it the 99th largest crypto by that measurement.
Celo price predictions
Let's now take a look at some of the celo price predictions that were being made as of 15 December 2022. It is important to remember that price forecasts, especially when it comes to something as potentially volatile as cryptocurrency, very often turn out to be wrong. Also, many long-term crypto price predictions are made using an algorithm, meaning that they can change at a moment's notice.
CoinCodex had a short-term celo coin price prediction that suggested that the crypto could go up to $0.6338 by 20 December before continuing its rise to potentally reach $0.65862 on 14 January 2023. The site's technical analysis was, despite that, bearish, with 15 indicators making downbeat predictions against 14 making bullish ones.
Next, DigitalCoinPrice made a celo crypto price prediction that said the coin could be worth $0.72 this year, $1.38 next year and $2.02 the year after that, with it potentially standing at $2.49 in 2025 and 2026. By 2027, the site said, CELO could be worth $2.95, reaching $4.16 in 2028 and potentially closing the decade at $6.09. The site then went on to make a celo price prediction for 2030 of $8.34, before arguing that it could go up to $11.26 by 2031.
Meanwhile, CoinsKid had a CELO price prediction that said the crypto could close this year at around $0.5562 before reaching $1.14 in December 2023. The site then went on to make a celo price prediction for 2025 that saw the token open the year at $1.95, and potentially close the year at $2.34.
Finally, WalletInvestor had a celo price prediction for 2023 that indicated that the coin could have a tough 12 months ahead, with it predicting it to collapse to a mere $0.0824 by December next year.
When considering a CELO coin price prediction, it's important to keep in mind that cryptocurrency markets remain extremely volatile, making it difficult to accurately predict what a coin or token's price will be in a few hours, and even harder to give long-term estimates. As such, analysts and algorithm-based forecasters can and do get their predictions wrong.
If you are considering investing in cryptocurrency coins or tokens, we recommend that you always do your own research. Look at the latest market trends, news, technical and fundamental analysis, and expert opinion before making any investment decision. Keep in mind that past performance is no guarantee of future returns. And never trade with money that you cannot afford to lose.
FAQs
Is celo a good investment?

It is hard to say. Let's not forget that the coin has suffered a recent all-time low, so while it might be uphill from here, things might equally get even worse. A lot will depend on how the market as a whole performs.

Remember, you should always carry out your own thorough research before making an investment. Even high market cap cryptocurrencies can be affected by bear markets. So investors should be prepared to make losses and never purchase more than they can afford to lose.
Will celo go up or down?

No one can really tell right now. While sites like CoinsKid are optimistic, the likes of WalletInvestor take a far more downbeat stance on the potential celo future price. Let's not forget the price predictions very often wind up being wrong and that prices can, and do, go down as well as up.

In volatile cryptocurrency markets, it is important to do your own research on a coin or token to determine if it is a good fit for your investment portfolio. Whether CELO is a suitable investment for you depends on your risk tolerance and how much you intend to invest, among other factors. Keep in mind that past performance is no guarantee of future returns. And never invest money that you cannot afford to lose.
Should I invest in celo?

Before you decide whether or not to invest in celo, you should do your own research, not only on the coin itself, but also on other mobile-related coins and tokens.

Ultimately, though, this is a question that you will have to answer for yourself. Before you do so, however, you will need to conduct your own research and never invest more money than you can afford to lose because prices can go down as well as up.