Casper price prediction: CSPR rises up the charts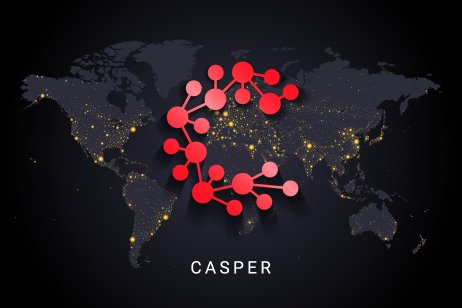 The Casper (CSPR) cryptocurrency token made gains in the past week, having fallen earlier in the month after the development team launched a $25m accelerator fund on 23 November.
The price movement reflects trends on the broader crypto markets, with bitcoin (BTC) down in the past month but up on the week.
So, what is the Casper cryptocurrency, and what factors will influence the direction of the price in the future?
Casper expands blockchain partnerships
Casper is an enterprise-focused blockchain that enables businesses to build private or permissioned applications, aiming to accelerate business and developer adoption of blockchain technologies. It offers upgradeable contracts, predictable gas fees and WebAssembly (WASM) coding so that the protocol can evolve as businesses expand their use.
"Casper also solves the scalability trilemma. Notably, the network is optimised for security, decentralisation, and high throughput… Other essential features include an account permissions model that allows the recovery of lost keys and a permissions model to securely share state between accounts and contracts (without expensive cryptographic checks)," the project website
states
.
CSPR is the native coin of the Casper proof-of-stake (PoS) blockchain, which rewards validators for staking their coins to participate in the consensus mechanism. CSPR is also used to pay transaction fees on the network. In August 2022, the Casper blockchain reached 1 million blocks.
The Casper network uses the Casper Correct by Construction (CBC) consensus mechanism, which was developed by Vlad Zamfir, who also helped to create the Ethereum network. Ethereum (ETH) is in the process of transitioning from the proof-of-work (PoW) consensus to PoS for Ethereum 2.0, which will use a hybrid protocol called Casper Friendly Finality Gadget (CFFG).
The Casper mainnet was launched on 31 March 2021. Casper held an initial coin offering (ICO) in April on the CoinList exchange, enabling early investors to buy it for $0.03 ahead of its public launch. The token was listed on some small exchanges, and was trading above $1.30 during the cryptocurrency rally in May. CSPR was listed on the Huobi exchange on 11 May 2021.
Casper announced several partnerships following its launch. On 13 April 2021, it said the Terra Virtua collectibles platform would use the Casper network to provide users with verified authentication of physical assets.
On 14 April 2021, Casper announced that BIGtoken, a privacy-focused, opt-in data marketplace where users can monetise their data, would migrate its infrastructure to the Casper blockchain. It also announced a partnership with WiseKey to build a digital identification non-fungible token (NFT) marketplace on the Casper network.
On 27 April 2021, CasperLabs announced a partnership with Lead Ventures to accelerate blockchain adoption in the Middle East and North Africa.
Other partnerships formed last year include identity validation and data anchoring with the Shyft Network; supply chain modelling with QuEST Global; digital certificate verification with Credentia; building a secure, non-custodial wallet with AMLSafe; and building decentralised finance (DeFi) software infrastructure with the Arcadia Group.
CasperLabs has partnered with the SJM Group to promote next-generation internet (Web3) adoption in the UAE and the wider Middle East. Metacask and CasperLabs have partnered to develop an NFT marketplace for rare whisky.
Robot Cache, a blockchain-powered game distribution and resale platform, will use the Casper network to track PC game distribution. CasperLabs has also partnered with PureFi, which offers full-cycle analytics of cryptocurrency assets.
At the time of writing on 1 December, CSPR had a market capitalisation of $312.24m, ranking it the 90th largest cryptocurrency. This was up from 94th place in October. There were 10.56bn CSPR coins in circulation, of a total supply of 11.33bn.
In a recent update, CasperLabs announced a change to its reporting methodology for CSPR's circulating supply. The change means CoinList sale tokens, unlocked private validator sale tokens, tokens used for developer and ecosystem incentives, and unlocked tokens held by CasperLabs and the Casper Association are now included.
Previously, "a token had only been counted in circulating supply once it had been transferred from its genesis wallet. This led to some curious effects; for instance, more tokens being staked to the network than reported as circulating," according to the announcement.
The update adjusted the total number of tokens in circulation to 10.4bn, with 8.3bn tokens (80% of circulating supply and 74% of total supply) staked and bonded to the network. There were no new tokens added to the supply.
What is your sentiment on ETH/USD?
Vote to see Traders sentiment!
"This update simply puts Casper more in line with the way in which most other leading blockchains report circulating supply," CasperLabs stated.
Casper price attempts to stabilise from crypto selloff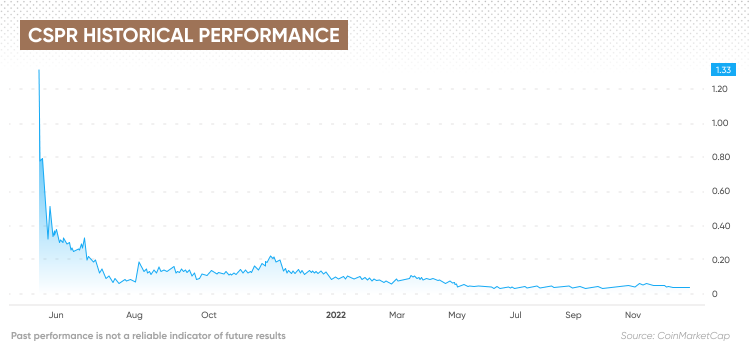 CSPR traded at its all-time high of $1.36 on its launch day during the cryptocurrency rally in May 2021, which quickly turned to a sharp selloff. By the end of the day the token was down to $0.7935 and a week later had dropped to $0.2521.
The CSPR price more than halved in value again to $0.1144 at the end of 2021.
The price has continued to decline in 2022 as cryptocurrency markets have turned bearish in the past year. It fell to the $0.05 level in mid-March and was unable to maintain a rebound to $0.10 at the start of April.
The collapse of the Terra Luna cryptocurrency ecosystem in May exacerbated the market turmoil and CSPR dropped to $0.03. By June, the token was trading down at $0.02235.
The CSPR price stabilised around $0.03 until October, when it moved up to $0.05363 mid-month, but retreated to the $0.04 range by the end of the month and dropped to $0.02674 on 17 November.
It then returned to the $0.03 level on 23 November, where it held for the rest of the month.
On 23 November, CasperLabs launched a new $25m Casper Accelerate Grant Program "to support developers and innovators building on the powerful Casper public blockchain worldwide. The multi-year grant program will provide funding to projects building apps to support infrastructure, end-user applications, and research innovation on the Casper blockchain."
So what does this all mean in terms of a Casper price prediction? What do the latest forecasts show?
Casper price prediction: Will the price rise or fall in the future?
As of 1 December, a technical analysis from CoinCodex showed that short-term sentiment was bearish, with 22 indicators showing sell or neutral signals, compared with three buy signals.
CoinCodex's Casper crypto price prediction indicated that the token could fall to $0.028851 by 6 December and $0.023072 by 31 December.
The CSPR price prediction from Wallet Investor was also bearish on the long-term outlook, projecting that the price could fall from $0.003094 at the start of 2023 to $0.00122 by the end of the year. The Casper price prediction showed that the price could drop further to $0.000353 by the end of 2025 and $0.0000797 in five years' time.
In contrast the Casper price prediction for 2023 from DigitalCoinPrice was bullish, estimating that the CSPR price could double from the current level to average $0.0742. The site's Casper coin price prediction indicated that the price could then rise to an average of $0.13 in 2025 and $0.43 in 2030.
CoinArbitrageBot projected that the CSPR price could average $0.24335 in 2023. Its Casper price prediction for 2025 suggested it could rise to $0.70077 and surpass the $1 mark to average $1.13385 in 2026.
PricePrediction estimated that the token could average $0.046 in 2023, $0.095 in 2025, while its Casper price prediction for 2030 was $0.64.
If you are looking for a Casper price prediction to decide how to trade the cryptocurrency, it's important to keep in mind that crypto markets remain extremely volatile, making it difficult to accurately predict what a token's price will be in a few hours, and even harder to give long-term estimates. As such, analysts and algorithm-based forecasters can and do get their CSPR price predictions wrong.
We recommend that you always do your own research, and consider the latest Casper coin news, market trends, technical and fundamental analysis, and expert opinion before making any investment decision. Keep in mind that past performance is no guarantee of future returns. And never invest more than you can afford to lose.
FAQs
Is Casper a good investment?

Whether CSPR is a good investment for you depends on your personal circumstances and risk appetite. Cryptocurrencies are high-risk, highly volatile assets. None of the aforementioned predictions shouldn't be used as a substitute for your own research.

Always conduct your own due diligence before trading, looking at the latest news, a wide range of commentary, technical and fundamental analysis.

Remember, past performance does not guarantee future returns. And never trade money you cannot afford to lose.
Will Casper go up or down?

Forecasters can and do get their predictions wrong. You should do your own research to make informed trading decisions. The future direction of the CSPR price will depend on the project's development and sentiment on the cryptocurrency markets. Keep in mind that past performance is no guarantee of future returns.
Should I invest in Casper?

Whether you should invest in Casper is a personal decision only you can make depending on your risk tolerance and investing strategy. You should do your own research to take an informed view of the market. Evaluate the level of risk you are prepared to accept before investing. And never invest money you cannot afford to lose.