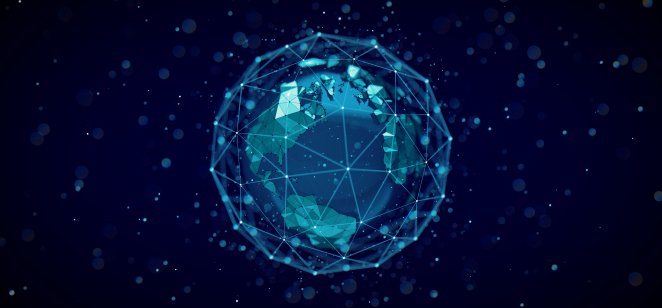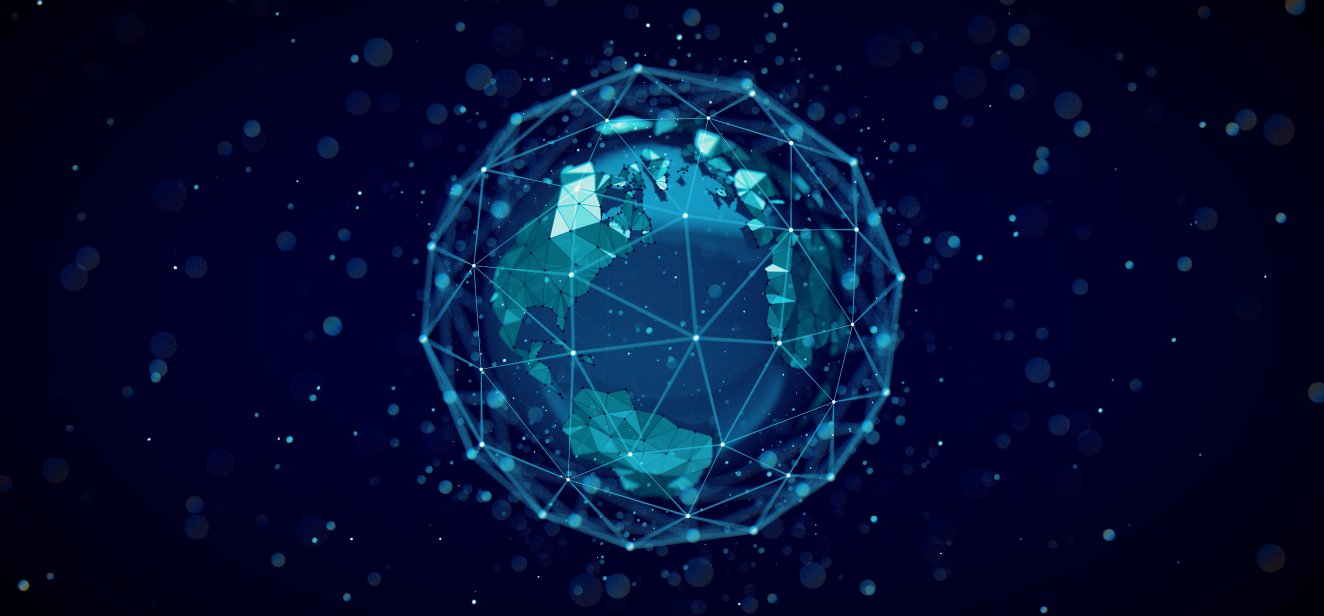 The baby doge coin (BABYDOGE) has been trending on social media in the past week. The price has turned higher after dropping to its lowest level since the start of the year, as the project prepares to mint its first non-fungible tokens (NFTs).
What is baby doge? How does it differ from the popular dogecoin (DOGE) and the other dog-themed cryptocurrency memecoins?
In this article, we look at the project's latest news and some price projections from forecast sites.
Baby doge aims to build on memecoin protocols
The baby doge cryptocurrency is among a growing number of coins and tokens based on the Shiba Inu dog Internet meme, from dogecoin to shiba inu (SHIB), floki inu (FLOKI), dogelon mars (ELON) and more.
Dogecoin was launched as a joke, parodying the proliferation of cryptocurrency projects. But it has developed a strong community focused on the potential for small investors to get involved. According to the project's whitepaper:
"Baby Doge Coin was born June 1st 2021 with the goal of being a decentralised meme project with a purpose. Baby Doge is a fun meme with a serious mission to rescue dogs in need, bring crypto adoption to the mainstream with new concepts such as rewards, NFTS, decentralised exchanges, and credit card for crypto payment on our website."
Baby doge aims to build on the work of dogecoin with faster transaction speeds and deflation to support the token's value.
"Baby Doge has learned a few tricks and lessons from his meme father, Doge. A new crypto birthed by fans of the Doge Meme online community. Baby Doge seeks to impress his father by showing his new improved transaction speeds & adorableness," says the website.
"He is Hyper-deflationary with static reflection that rewards holders, so more baby doge coins are being automatically added to your wallet each transaction. Simply Love, pet, and hold as 5% from each transaction is automatically redistributed to baby doge holders."
Like other dog-themed memecoins, the developers behind the project are anonymous. Baby doge runs on the Binance Smart Chain (BSC). It's compatible with the Ethereum blockchain and users can bridge their assets across the chains.
The protocol features three basic functions: reflection, liquidity pool acquisition and burn. Each trade incurs a 10% transaction fee, which is split in two ways:
5% is distributed automatically to token holders as a reward

5% is split, with half sold into binance coin (BNB) and the other half added to the BABYDOGE/BNB liquidity pair on the PancakeSwap decentralised exchange (DEX). The majority of the initial liquidity pool tokens are locked and some burned
Of the total baby doge token supply of 420 quadrillion, a dead wallet holds 41%, burning coins with each transaction.
The project has a designated charity wallet that receives redistributions to be donated to its charity partners.
The baby doge coin launched at $0.000000000175 on 1 June 2021. It soared to $0.000000007 on 5 July. Celebrities and prominent figures such as musical artist Lil Mook and Tesla (TSLA) CEO Elon Musk tweeted about the token on social media in the first month, attracting investors' attention.
Baby Doge, doo, doo, doo, doo, doo,
Baby Doge, doo, doo, doo, doo, doo,
Baby Doge, doo, doo, doo, doo, doo,
Baby Doge

— Elon Musk (@elonmusk) July 1, 2021
The baby doge price dropped back to $0.000000000481 in early September but rose to $0.000000005006 at the end of October as cryptocurrency prices rallied. The token retreated to $0.000000001314 in mid-December but rebounded to $0.000000006356 on 16 January, its highest level since July's spike. Baby doge was unable to hold onto the gains, selling off with the broader markets to $0.000000004135 on 22 January.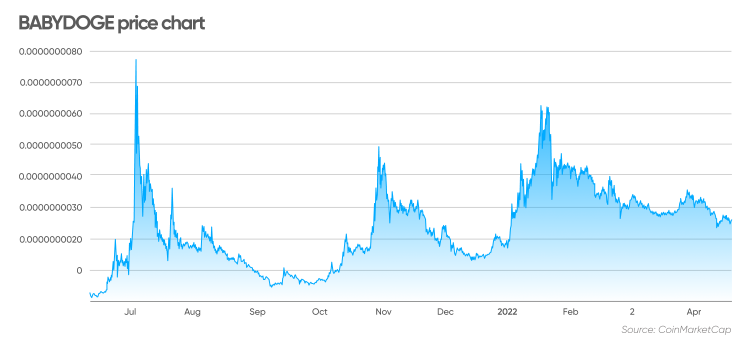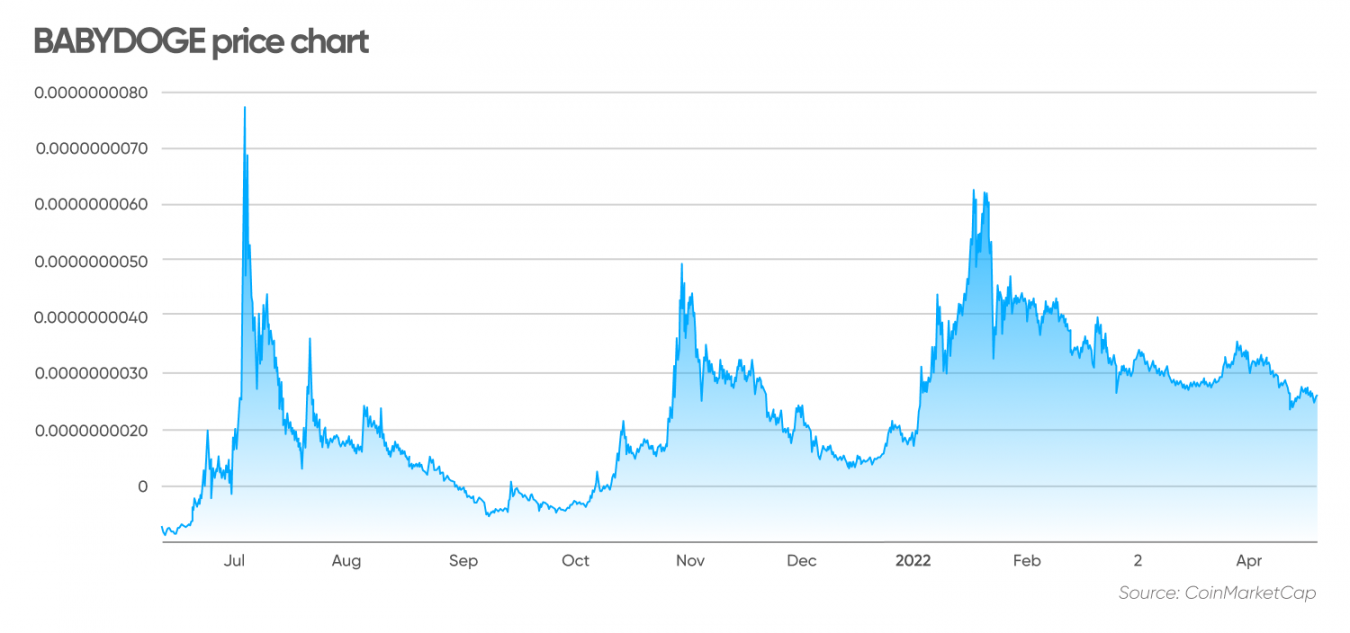 The token price has remained volatile as cryptocurrency markets have struggled to break out. The price moved to $0.000000003625 on 28 March, dropped to $0.000000002156 on 11 April and rose to $0.000000002786 on 15 April.
In the latest baby doge news, the developers announced on 4 April that the project's NFT collection will launch on 20 April. All members who won spots on the whitelist for preferential access to the collection were notified on 15 April. The #BabyDogeCoin trended again on Twitter (TWTR).
What is the potential for the baby doge token price? Can it replicate the strong gains seen at its launch, or has the opportunity passed?
What is your sentiment on DOGE/USD?
Vote to see Traders sentiment!
Below, we look at some of the latest expectations from forecast sites.
Baby doge price prediction: the short-term view
Technical analysis from CoinCodex was bearish on the short-term outlook for baby doge coin at the time of writing (18 April), with 21 indicators showing bearish signals and six bullish signals. CoinCodex was bearish in its baby doge price prediction, estimating that the token price could drop to $0.0000000022 by 23 April.
Baby doge coin price prediction 2022-2025
At the time of writing (18 April), the baby doge crypto price prediction from algorithm-based forecasting site Wallet Investor expected the price to trend higher, rising from 0.000000004 by the end of 2022 to $0.000000007 by the end of 2023, $0.000000010 by the end of 2024, $0.000000013 in 20205 and $0.000000017 in five years' time.
The baby doge forecast from DigitalCoin has it averaging $0.00000000339 in 2022, $0.00000000364 in 2023 and $0.00000000385 in 2024, based on historical data. The price could then average $0.00000000495 in 2025 and $0.0000000119 in 2030, the data showed.
The forecast from Price Prediction was more bullish, projecting that the baby doge coin could rise to an average of $0.00000007 by 2030, up from $0.00000001 before 2025.
Baby doge predictions for 2030-2050
Crypto analytics platform Telegaon predicted that the price could average $15.41 by 2050, up from $0.00023 in 2030 and $0.0000017 in 2025, based on historical data and technical analysis.
Will baby doge go up?
It's important to keep in mind that cryptocurrency markets remain extremely volatile, making it difficult to accurately predict what a coin's price will be in a few hours and even harder to give long-term estimates. As such, analysts and algorithm-based forecasters can and do get their predictions wrong.
If you are considering investing in cryptocurrency tokens, we recommend that you always do your own research. Look at the latest market trends, news, technical and fundamental analysis, and expert opinion before making any investment decision. Keep in mind that past performance is no guarantee of future returns.
Is baby doge a good investment?
In volatile cryptocurrency markets, it is important to do your own research on a coin or token to determine if it is a good fit for your investment portfolio. Whether babydoge is a suitable investment for you depends on your risk tolerance and how much you intend to invest, among other factors. And never invest money that you cannot afford to lose.
If you're wondering how to buy baby doge, you could trade the token on numerous cryptocurrency exchanges, including BitForex, Gate.io, OKEx and PancakeSwap.
Does baby doge have a future?
The future of the baby doge coin will depend on a number of factors, including its adoption among cryptocurrency users as well as investors' continued interest in memecoins. The baby doge future price will also likely be influenced by overall trends in the cryptocurrency markets.
FAQs
Will baby doge reach $0.01?

At the time of writing (18 April), even the most bullish forecasts did not expect the baby doge token price to reach $0.01. It is also worth noting that the coin has a maximum supply of 420 quadrillion, limiting how high the price can go.
How high can baby doge go?

At the time of writing (18 April), some forecast sites estimated that the baby doge price could rise over the long term. But it is important to keep in mind that cryptocurrency prices are highly volatile and difficult to predict with any degree of accuracy. Forecasters can and do get their predictions wrong. You should do your own research to take a view on the token's potential and make informed trading decisions. Keep in mind that past performance is no guarantee of future returns. And never invest money you cannot afford to lose.