Axie infinity price prediction: What is axie infinity (AXS)?
Subscribe to Weekly Highlights
The major market events for the week ahead right in your inbox.
Subscribe
Content
It was one of the most prominent play-to-earn cryptos to emerge during the metaverse boom, but what is axie infinity (AXS)?
Let's see what we can find out, and also cast our eyes over some of the axie infinity price predictions that were being made as of 19 December 2022.
What is axie infinity?
One of the most notable crypto-related trends to hit headlines in 2021 was that of The Metaverse. While the idea that people could enter an online world and interact with other people via their computer-generated avatars had been around since the virtual reality craze of the early 1990s at least, it was in 2021 that the concept really started to take over.
People linked up their online spaces with non-fungible tokens (NFTs), the rights to individual pieces of digital art, and despite the fact that metaverse-related coins and tokens seem to have borne the brunt of 2022's bearish crypto market, they are still a notable sector of the crypto world.
One sector of the metaverse takes the idea that people can buy and sell NFTs to another level. There are some games on the blockchain that allow people to utilise their in-game NFTs to take part in things like battles and challenges, getting the chance to earn both NFTs and regular cryptocurrency tokens in the process.
Since the various kinds of tokens can be traded for a theoretical profit, that means that these games can, again theoretically, make people a profit. This particular sector of games are called, appropriately, play-to-earn, or p2e for short.
One of the most prominent play-to-earn games is Axie Infinity. This game was created by Vietnamese company Sky Mavis and allows participants to compete by battling to collect individual cards representing cartoon monsters. These creatures, called Axies, fight each other, with the winner getting rewards.
These rewards take the form of the two native tokens of the Axie Infinity game, axie infinity shards (AXS), more commonly known as axie infinity, and small love potion (SLP). AXS is the rarer crypto, and therefore it is more valuable. The cards are all individual NFTs, and they can be bought, sold and traded on the game's marketplace.
As the system's whitepaper says: "Axie infinity shards (AXS) are an ERC-20 governance token for the Axie Universe. AXS holders will be able to claim rewards if they stake their tokens, play the game, and participate in key governance votes.
"Players will also be able to earn AXS when they play various games within the Axie Infinity Universe and through user-generated content initiatives."
The site also says that the goal of axie infinity is "to align the incentives between the players of the game and the developers in novel and exciting ways".
There is one particular issue that we need to address. Axie Infinity first made headlines in 2020, when it was reported that an unspecified number of people in the Philippines were supplementing their incomes by playing Axie Infinity. This was all well and good, but the truth was that the piece in question was written by the director of a consulting firm who represented play-to-earn games, including those by Sky Mavis investor Animoca Brands, in the Asia Pacific region.
Also, the one person named as making money from playing the game's social media presence appears to be a Twitter feed that started just after the original article was released – which was before AXS was widely traded – and has not been updated since January 2021. That might suggest that the reports may not have been as accurate as some people, keen to display their enthusiasm for crypto as a harbinger of a new industrial revolution, believed, having quite possibly fallen for an unverified, glorified press release.
Even when the ever-changing crypto world moved on, there were still hold-outs who took the piece at face value, giving AXS a prominence it may not have deserved.
One other thing to point out is that the Axie Infinity game's blockchain, Ronin (RON), fell victim to the largest crypto hack in history in April 2022, when hackers took control of the network and transferred more than $600m worth of crypto into a wallet.
Talking of blockchains, since the AXS crypto itself operates on Ethereum (ETH), that means that it is a token, rather than a coin. You might see references to such things as an 'AXS coin price prediction', but such terms are, technically speaking, incorrect.
What is your sentiment on AXS/USD?
Vote to see Traders sentiment!
Axie infinity price history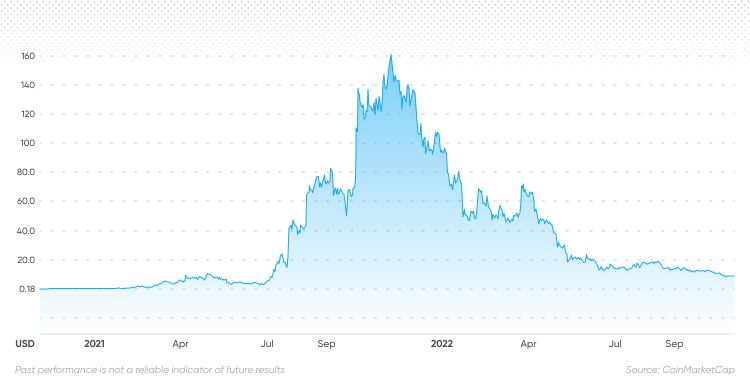 AXS price history from launch to present – Credit: Capital.com
Let's now take a quick look at some of the AXS price history. While past performance should never be taken as an indicator of future results, knowing what the token has done previously can help give us some important context when it comes to either interpreting an axie infinity price prediction or making one of our own.
When AXS first came onto the open market in November 2020, it was worth about $0.18. After that, it got caught up in the crypto boom of early 2021 and reached a periodic high of $10.85 on 28 April that year. There was then a dip as the market slumped over the summer, but the news that bitcoin (BTC) had reached record levels later on in the year, coupled with a growing interest in play-to-earn, the Metaverse and NFTs, saw it reach an all-time high of $160.36. That high could not be sustained and it closed the year at $93.30.
While 2021 was a very good year for axie infinity, the same could not be said of 2022. While AXS initially peaked at $97.78 on 3 January, it was downhill to a low of $42.11 as Russia invaded Ukraine on 24 February. There was something of a recovery to $74.37 on 25 March, but it was back down from there, as the Ronin hack and a series of market crashes left it at a low of $11.92 on 18 June 2022.
Although there was a small recovery after that, the collapse of the FTX (FTT) exchange sent the market into turmoil and AXS dropped to a low of $5.84 on 9 November before it made a small recovery which culminated in a high of $9.54 on 6 December. After that, though, it fell back down again and, on 19 December 2022, it was worth about $6.95.
At that time, there were about 99.6 million AXS in circulation out of a total supply of 270 million. This gave the token a market cap of about $690m, making it the 53rd-largest crypto by that metric.
Axie infinity price prediction round-up
With all that over and done with, let's take a look at some of the axie infinity price predictions that were being made as of 19 December 2022. It is important to remember that price forecasts, especially when it comes to a commodity as potentially volatile as cryptocurrency, often turn out to be wrong. Also, you should note that many long-term price predictions are made using an algorithm, which means that they can change at a moment's notice.
First, CoinCodex had a rather gloomy short-term axie infinity crypto price prediction. The site argued that the token could fall to $6.84 by 24 December and continue to drop to $6.42 by 18 January 2023. The site's technical analysis was bearish, with 22 indicators sending negative signals and just eight making bullish ones.
Next, DigitalCoinPrice made an AXS price prediction that said the token could trade at $7.84 this year, $16.50 in 2023 and $24.44 the year in 2024. By 2025, the site said that axie infinity could potentially be worth $30.15 and stay there throughout 2026 before resuming its rise to reach $35.64 in 2027 and $49.99 in 2028, then potentially closing the decade at $69.75.
The site then made an axie infinity price prediction for 2030 of $97.51, before claiming that it could break through the $100 barrier to trade at a potential $132.99 the following year.
Meanwhile, CoinsKid had an AXS token price prediction that suggested the crypto could close 2022 at $7.09 before possibly reaching $10.61 in December 2023 and $13.60 12 months on from then. The site then went on to make an axie infinity price prediction for 2025 that said it could start the year at $16.17, and then possibly close the year at about $20.98 before closing 2026 at $19.19.
Finally, Wallet Investor was far more downbeat and bearish when it came to making an axie infinity price prediction for 2023, saying that the token was in for a tough 12 months, forecasting it to fall to a mere $0.687 by the middle of December 2023.
When considering an AXS token price prediction, it's important to keep in mind that cryptocurrency markets remain extremely volatile, making it difficult to accurately predict what a coin or token's price will be in a few hours, and even harder to give long-term estimates. As such, analysts and algorithm-based forecasters can and do get their predictions wrong.
If you are considering investing in cryptocurrency coins and tokens, we recommend that you always do your own research. Look at the latest market trends, news, technical and fundamental analysis, and expert opinion before making any investment decision. Keep in mind that past performance is no guarantee of future returns, and never trade with money that you cannot afford to lose.
FAQs
Is axie infinity a good investment?

It is hard to tell right now. A lot will depend on whether play-to-earn, NFTs or the metaverse can stage a recovery and how the market performs as a whole.

Remember, you should always carry out your own thorough research before making an investment. Even high market cap cryptocurrencies can be affected by bear markets, so investors should be prepared to make losses and never purchase more than they can afford to lose.
Will axie infinity go up or down?

No one can really tell right now. While the likes of DigitalCoinPrice were optimistic when it comes to the axie infinity future price as of 19 December 2022, others sites such as Wallet Investor were far more bearish. Remember, too, that price predictions often end up being wrong and prices can, and do, go down as well as up.

In volatile cryptocurrency markets, it is important to do your own research on a coin or token to determine if it is a good fit for your investment portfolio. Whether AXS is a suitable investment for you depends on your risk tolerance and how much you intend to invest, among other factors. Keep in mind that past performance is no guarantee of future returns, and never invest money that you cannot afford to lose.
Is axie infinity legit?

While Axie Infinity has been around long enough to be considered a genuine crypto project, there is a rather large neon question mark surrounding certain parts of the media coverage it has managed to get for itself. In any case, just because a crypto is not a scam, that does not mean it is not going to fail.

You will need to do your own research, remember that prices can go down as well as up, and never invest more money than you can afford to lose.
How many axie infinity are there?

As of 19 December 2022, there were about 99.6 million AXS in circulation out of a total supply of 270 million.
Should I invest in axie infinity?

Before you decide whether or not to invest in axie infinity, you will have to carry out your own research, not only on AXS but on other play-to-earn games.

Ultimately, this is a question that you will have to answer for yourself. Before you do so, however, you will need to conduct your own research. Never invest more money than you can afford to lose because prices can go down as well as up.
Related reading