How much will Apple stock be worth in 10 years?
Subscribe to Weekly Highlights
The major market events for the week ahead right in your inbox.
Subscribe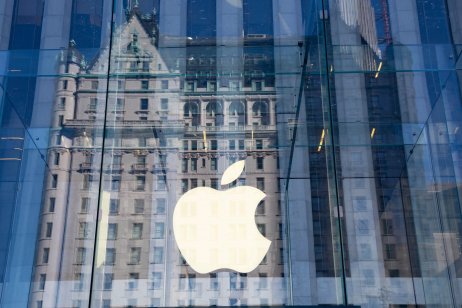 Content
US technology giant Apple (AAPL)'s share price has come a long way over the past four decades. What do the next 10 years have in store?
The innovative firm replaced ExxonMobil (XOM) as the world's largest company in 2011, and became the first trillion-dollar public company seven years later. But where will it go next? Technology moves rapidly, so the question for investors is whether Apple can stay one step ahead of its fierce competition.
In this Apple long-term stock forecast, we look at how the company makes its money, outline its plans for the future, and ask how much Apple stock will be worth in 10 years' time.
Live AAPL Stock Price Chart
What is Apple?
Apple has been a technological success story. Founded back in the 1970s, it has grown into a multinational giant and a leading name in the sector. Its hugely popular range of mobile phones and computers boast an intensely loyal fanbase around the world, eager to snap up the latest models.
Apple is probably best known for its iconic iPhones. The first iPhone appeared 15 years ago, and each new launch triggers a buying frenzy at stores around the world.
This success is one of the reasons why Apple remains the world's largest company, with a market capitalisation of more than $2trn, according to CompaniesMarketCap.
How has the AAPL stock price performed?
Apple went public on 12 December 1980 with the price at $22 a share. The company's stock has split five times since – on a split-adjusted basis, the IPO price was $10.
Long-term investors in Apple have every right to celebrate – AAPL stock has risen a remarkable 546% over the past 10 years. Back in January 2013, shares stood at a modest $19.60, but hit their all-time high of $180.73 on 3 January 2022. However, a difficult 2022 saw the multinational technology company lose 30% of its stock value. As the market closed on 4 January, 2023, the price was $126.60.
However, Apple is still currently worth more than Alphabet (GOOGL) and Amazon (AMZN) combined.
Over the past 15 years, meanwhile, the company has achieved trailing returns of 22.39% – ahead of the 20.31% recorded by the industry, according to Morningstar data to the same date.

Apple (AAPL) 10Y Stock Price Chart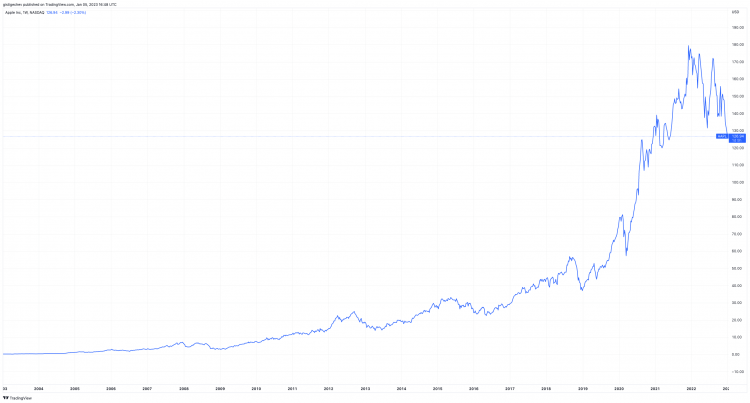 Past performance is not a reliable indicator of future returns. – Source: TradingView, NASDAQ
What factors drive the price of Apple stock?
Of course, Apple hasn't been immune to stock market turbulence, and has been affected by last year's lack of enthusiasm for growth stocks. This is one of the main reasons why AAPL shares fell 30% over the course of 2022.
The company's strong results are a significant driver of the Apple stock price – along with the popularity of its evolving range of products.
Apple recently announced a fourth-quarter revenue record of $90.1bn and quarterly earnings per diluted share of $6.11, up 9% year over year. It also declared a cash dividend of $0.23 per share of its common stock.

Apple CEO Tim Cook commented:
"This quarter's results reflect Apple's commitment to our customers, to the pursuit of innovation, and to leaving the world better than we found it. As we head into the holiday season with our most powerful line-up ever, we are leading with our values in every action we take and every decision we make."

"We are deeply committed to protecting the environment, to securing user privacy, to strengthening accessibility, and to creating products and services that can unlock humanity's full creative potential."
AAPL stock predictions: US investment plans
In April 2022, the company announced an acceleration of its US investments, with plans to make new contributions of more than $430bn – and create 20,000 jobs – over the next five years.
It also stated that its contributions in the US over the past three years have "significantly outpaced" its original five-year goal of $350bn set in 2018.
Cook said Apple was "doubling down" on its commitment to US innovation with an investment reaching communities across all 50 states.
"We're creating jobs in cutting-edge fields – from 5G to silicon engineering to artificial intelligence – investing in the next generation of innovative new businesses, and in all our work, building toward a greener and more equitable future."
Currently, Apple supports more than two million jobs across the United States through direct employment, spending with US suppliers and manufacturers, and developer jobs in the thriving iOS app economy.
The company also has one eye on its broader responsibilities.
"We have an ambitious goal to be carbon neutral across our entire business, including products, by 2030," it has stated.
How much will Apple stock be worth in 10 years?
Accurately predicting what will happen to a company and its share price over the coming decade is practically impossible. However, market analysts and algorithm-based websites regularly provide approximations and price projections based on models and historical data.
As of 5 January 2023, AAPL was a 'strong buy', based on the Apple stock predictions of 27 analysts compiled by TipRanks.
While 22 analysts believed AAPL was a 'buy', the remaining five gave it a 'hold' rating. No analyst rating suggested the stock should be sold.
Their consensus view was that the stock could rise to $176.70 over the coming year. The most optimistic believed it could hit $210, with the lowest prediction coming in at $140.
Taking a closer look at the Apple stock projections of analysts, Daniel Ives of Wedbush recently reiterated his 'buy' recommendation with a $175 target price. However, Jerome Ramel has downgraded his to 'hold' with a $140 target price.
According to the algorithmic forecasting website Wallet Investor, Apple is "a bad long-term (one year) investment", with the AAPL stock price expected to fall 14% to $108.77 over the next 12 months.
Over the longer term, the site's five-year AAPL stock forecast was even worse, with the stock expected to be trading at $38.26 by January 2028.
The Apple stock forecast 2030 from CoinPriceForecast, as of 4 January 2023, suggested the stock could hit $165 by the end of this year, and move up to $235 by the end of 2025.
Where will Apple stock be in 10 years? CoinPriceForecast anticipated AAPL could be at $417 by the end of 2033 and hit $439 by the end of the following year.
Apple (AAPL) long term stock forecast: What do the analysts think?
So where will Apple stock be in 10 years' time?

David Jones, former chief market strategist at Capital.com, pointed out that the Apple stock price has risen by more than 500% over the past decade, which represents an incredible return for anyone who has managed to hold shares for that long. Jones added:
"Of course, we've seen a lot of technological change since then. The growth of smartphones and tablets is probably not going to be the same again over the next 10 years, but arguably there is a much bigger market of people who now see these devices as a part of their everyday lives. If Apple continues to innovate as it has in the past, then this continues the trend of people buying the next greatest thing."
However, there are some concerns. According to Susannah Streeter, senior investment and markets analyst at Hargreaves Lansdown, Apple's disappointing iPhone sales are problematic.
"Hardware sales are Apple's core," she wrote. "The Services arm – things like the App store or Apple Music – can't ensnare customers unless all products are flying off the shelves."
Apple is putting a lot of pressure on its brand to offset the very real pressures of inflation. Streeter opined that the company's performance in the coming months would remain stable, despite the headwinds:
"With the US entering a technical recession and consumer confidence at significant lows, overall performance shouldn't really be knocked in our opinion. Revenue still beat expectations overall in the fourth quarter. Apple's ability to sell highly-priced hardware in the current environment, at the pace that it has done, is impressive."
Streeter also pointed out that competitors were closing the gap on Apple, with some boasting an "even larger installed product base" and better prices. This, of course, could have a bearing on the Apple stock price in 10 years' time. She added:
"If Apple's brand ever slips, like we've seen with some heavily branded clothes, the shine would very quickly rust on that tiny famous apple."
Apple stock in 10 years: Is there room for growth?
The Apple share price may have fallen last year, along with other technology stocks, but there are reasons for longer-term optimism, according to Danni Hewson, a financial analyst at AJ Bell.
"It's consumer loyalty where it really earns its stripes as people love its products," she told Capital.com. "It designs stuff that makes our lives easier, and it does so in a way that does deliver a certain amount of cachet to the user, whether they are 15 or 50 years old."
However, a lot of the company's future success will depend on how it handles the problems affecting its business, no matter how long they last.
"It does have headwinds to contend with, not least the potential for further supply chain disruption from Covid lockdowns in China and a slowing of growth in that lucrative market," she said.
Hewson pointed out that it also has to contend with the ruling by EU officials that any mobile electronic devices sold within the region must come with a USB-C charging port by autumn 2024.
"It's got to think hard about the charging issue after an EU ruling forced them to make the switch, but it's got a strong back and those headwinds shouldn't slow it down by much," she added.
Looking forward to the Apple stock price in 10 years' time, note that analysts' and algorithm-based predictions can go wrong. They are based on fundamental and technical analysis of the stock's past performance, but that never guarantees future results.
It's important to do your own research and always remember that your decision to trade depends on your attitude to risk, your expertise in the market, the spread of your portfolio and how comfortable you feel about losing money. You should never trade more than you can afford to lose.
FAQs
What will Apple stock be worth in 10 years?

The company is a technology giant that makes products hugely popular around the world. Its share price has been strong over the past five years, but you must carry out your own analysis to decide if it's likely to rise over the coming decade. Ten years is a very long time span for accurate stock price predictions.

As of 4 January 2023, the average market rating for Apple stock was 'strong buy', according to data compiled by TipRanks.
Is Apple stock a buy right now
?

No-one knows for sure. It's crucial to do your own research to form an opinion of a company's performance and likelihood of achieving analysts' targets.

You must also remember that markets are volatile, and that past performance is no indication of future returns. Never invest any money that you cannot afford to lose.
Is Apple a good long-term investment?

Whether AAPL stock is a suitable investment for you will depend on your personal research, trading strategy and investment needs. You need to perform your own due diligence and decide if the stock meets your needs and appetite for risk. Never invest any money that you cannot afford to lose.
Related reading