Apple stock forecast: Can AAPL stock recover as its market value falls below $2tn mark?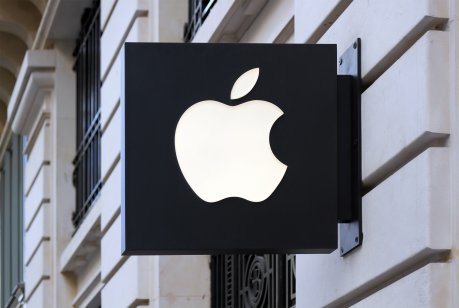 US technology giant Apple (AAPL) has seen its market value falling below $2trn as AAPL stock price continues to tumble.
The world's largest company by market capitalisation, which produces an innovative range of mobile phones and computers, has built up a ferociously loyal international customer base.
But the California-based firm has seen its share price slump 30% over the past year due to a lack of enthusiasm for growth stocks, supply constraints and softer demand in China.
Apple (AAPL) live stock price
In this Apple share price forecast we look at the company's fundamentals, explore why the stock price has hit problems this year, and reveal the AAPL stock forecast of analysts.
What is Apple?
There's no denying that Apple has become one of the business success stories of the past half a century and built up a phenomenally loyal customer base.
The innovative business, which was founded back in the mid-1970s, is best known for its iPhones, with each new launch triggering a buying frenzy around the world.
Its remarkable success has helped make Apple the world's largest company, with a market capitalisation of $2.08tn – just ahead of Saudi Aramco and Microsoft (MSFT).
Apple stock has been a long-time favourite of Warren Buffett. As of the third quarter of 2022, Buffett's Berkshire Hathaway (BRKb) had Apple as its biggest holding.
What is your sentiment on AAPL?
Vote to see Traders sentiment!
AAPL stock performance and price analysis
The first step in evaluating the Apple stock forecast is examining how the company's stock has performed – and it's fair to say investors in Apple have had an enjoyable five years, with the share price up 186%.
The AAPL stock price has delivered a trailing return of 22.39% over the past 15 years, according to Morningstar, as of 4 January 2023. This is ahead of the 20.31% achieved by the wider industry.
Over the past year, the share price has been volatile. After hitting an all-time high of $180.73 on 3 January, 2022, the trend has been downwards.
However, the performance over the past year has been more troubled, with the AAPL stock price having slumped 30% to $126.60 as the market closed on 4 January 2023.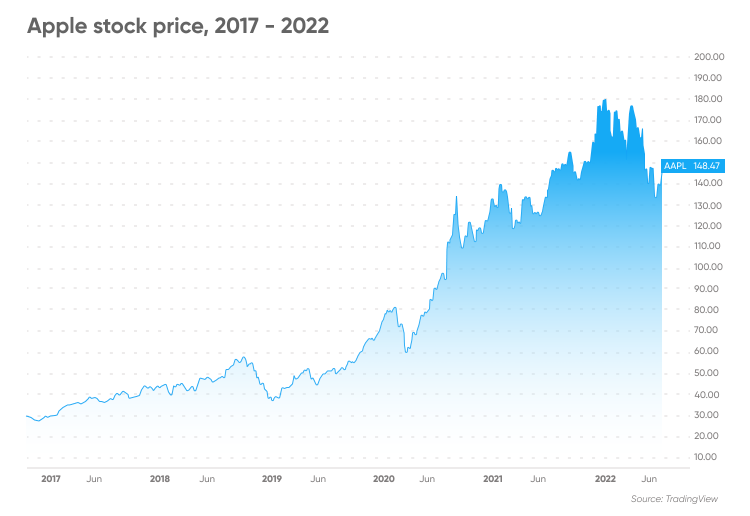 Record results for the fourth quarter
Apple also delighted the market in October 2022 by revealing a fourth-quarter revenue record of $90.1bn, with quarterly earnings per diluted share of $6.11, up 9% year over year. It also declared a cash dividend of $0.23 a share of its common stock.
According to Tim Cook, Apple's chief executive, the results reflected the company's commitment to its customers, the pursuit of innovation, and to leaving the world better than it was found. He said:
"We are deeply committed to protecting the environment, to securing user privacy, to strengthening accessibility, and to creating products and services that can unlock humanity's full creative potential."
Luca Maestri, Apple's chief financial officer, insisted the results continued to demonstrate Apple's ability to "execute effectively" in spite of a "challenging and volatile" macroeconomic backdrop.
"We continued to invest in our long-term growth plans, generated over $24bn in operating cash flow, and returned over $29bn to our shareholders during the quarter," he said.
"The strength of our ecosystem, unmatched customer loyalty, and record sales spurred our active installed base of devices to a new all-time high. This quarter capped another record-breaking year for Apple, with revenue growing over $28bn and operating cash flow up $18bn versus last year."
iPhones were the top sellers during the fourth quarter, recording net sales of $42.6bn, compared to $38.8bn in the corresponding period of 2021.
Mac computers weighed in with $11.5bn of net sales – up $2.3bn year-on-year, while iPad sales declined by just over $1bn to $7.2bn.
Wearables, home and accessories contributed $9.6bn, compared to $8.8bn in the fourth quarter of 2021, while services increased $911m to $19.2bn.
As far as regions were concerned, net sales increased in the Americas, Europe, Greater China and the rest of the Asia Pacific region during the quarter. However, they declined in Japan.
Investors need reassurance
It's been a very tough year for Apple shareholders who will be looking for reassurance when the tech giant delivers its first quarter results, according to Russ Mould, investment director at AJ Bell.
"Apple stands in marked contrast to Meta, Amazon, Netflix, Google's parent Alphabet and Microsoft, as it did not issue a profit warning or miss analysts' expectations during calendar 2022," he said.
However, he believes a stronger dollar, a softer economy, competition, sagging consumer confidence, and supply chain disruption in China hurting iPhone 14 shipments as potential reasons behind the share price slump. Mould added:
"Apple did grow its sales and earnings yet again in the last reported quarter, the three months to the end of September, (as) iPad sales stumbled once more, but wearables and accessories again performed strongly, and September's launch of the iPhone 14 helped that revenue stream."
Mould pointed out that Apple's market cap was an impressive $3trn at its peak – more than the gross domestic product (GDP) of the UK – but has since lost $1trn from that figure, noting:
"At the moment, all the stock has done is round-tripped back to late 2020, when central banks and governments were throwing cash at the economy in their fight to fend off the events of the pandemic and lockdowns."
Of course, the tech giant isn't alone. "Apple has now joined Amazon in losing $1trn in market cap from its all-time high," he said. "Meanwhile, Alphabet has shed $840bn, Microsoft $785bn, Meta Platforms $745bn and Netflix $174bn."
Apple stock forecast: Where will the price go next?
So, what are the Apple stock predictions of analysts?
As of 5 January 2023, AAPL was a 'strong buy', based on the Apple stock predictions of 27 analysts compiled by TipRanks as of 5 January.
While 22 analysts believed AAPL was a 'buy', the remaining five gave it a 'hold' rating. No analyst rating suggested the stock should be sold.
Their consensus Apple stock forecast 2023 was that the stock could rise to $176.70 over the coming year. The most optimistic believed it could hit $210, with the lowest prediction coming in at $140.
However, the algorithmic forecasting of WalletInvestor, as of 5 January, declared Apple was "a bad long-term (one year) investment", with the AAPL stock price expected to fall to $108.77 over the next 12 months.
The site's Apple stock forecast 2025 put the price down to $73 by January 2025.
Note that any analysts or algorithm-based AAPL stock forecast can be wrong and shouldn't be used as a substitute for your own research. Always conduct your own due diligence before investing or trading. And never invest or trade money you cannot afford to lose.
FAQs
Is Apple a good stock to buy?

The company is a technology giant that makes products that are hugely popular around the world. The Apple share price has been strong over the past five years, but you must carry out your own analysis to decide if it's likely to rise further in the future. And never invest or trade money you cannot afford to lose.
Will Apple stock go up or down?

This depends on a number of variables. It's crucial to do your own research to form an opinion of Apple stock performance and likelihood of achieving analysts' targets. You must also remember that markets are volatile and past performance is no indication of future returns.
Should I invest in Apple stock?

Whether AAPL stock is a suitable investment for you will depend on your personal research, trading strategy and investment needs. You need to perform your own due diligence and decide if the stock meets your needs and appetite for risk. And never invest or trade money you cannot afford to lose.